No-knead crusty bread is such a genius way for baking artisan bread with a crisp and crunchy crust. Simply So Good posted crusty bread in March of 2010 and have had over 1.3 million shares on social media because this recipe is so easy to make besides that it's delicious.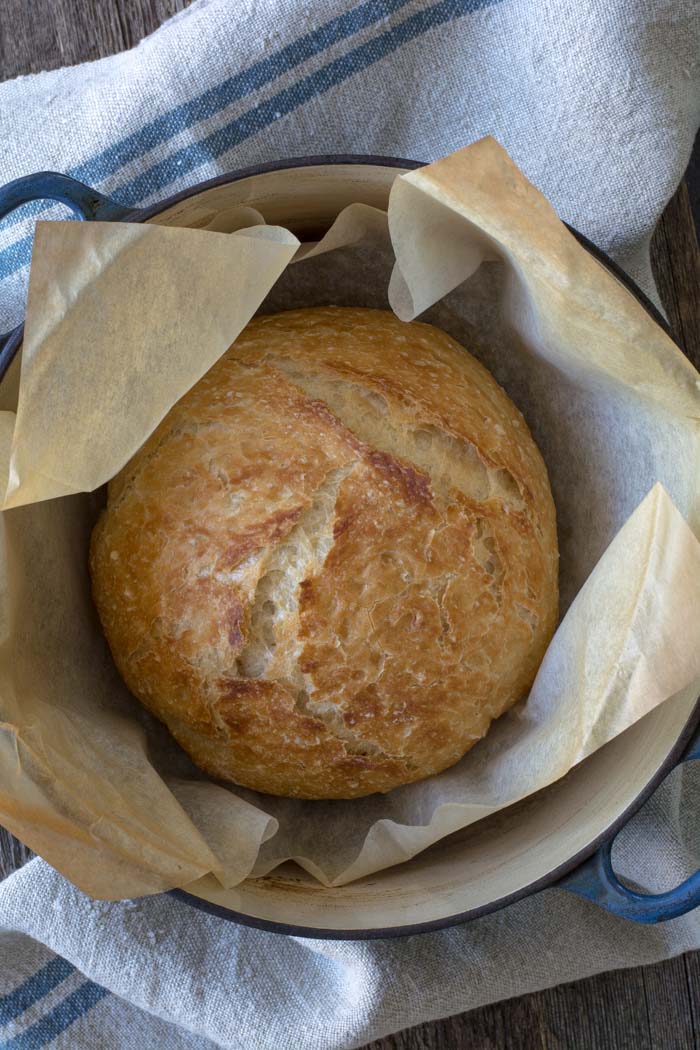 The original post was so long it was necessary to shorten for mobile use and because it required a lot of scrolling, scrolling, and more scrolling. All comments and suggestions in the comment section below. Any question you may have, you will find it in the many thousands of comments at the bottom of the page.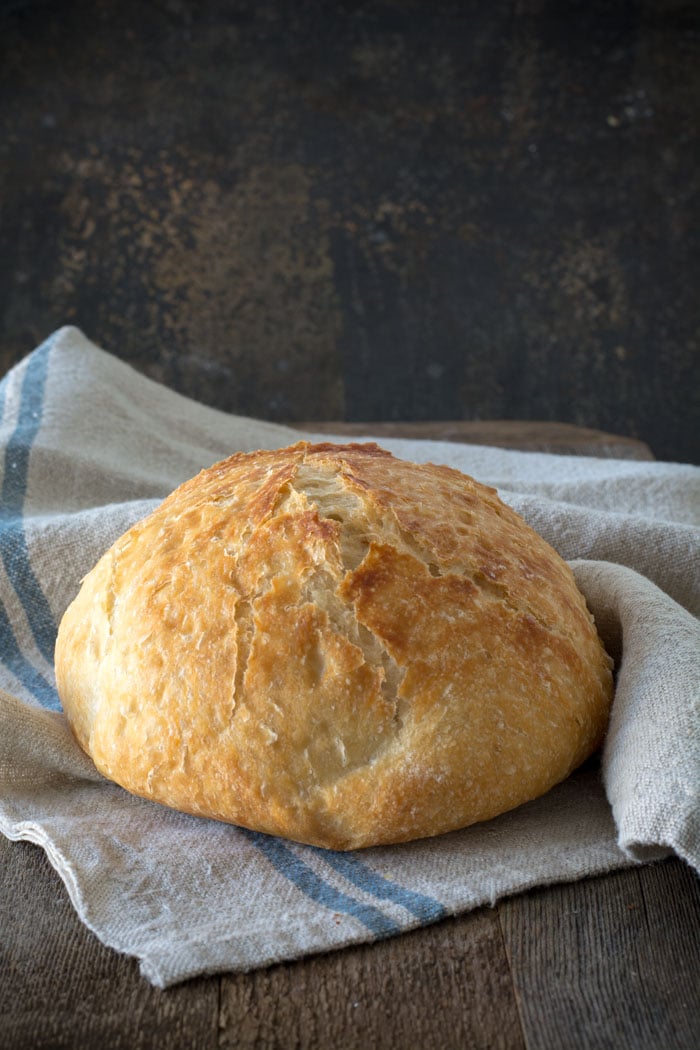 For your viewing pleasure, you can easily watch the video below with step-by-step instructions for 3 different flavors of Crusty Bread.
Let's make No-knead crusty bread: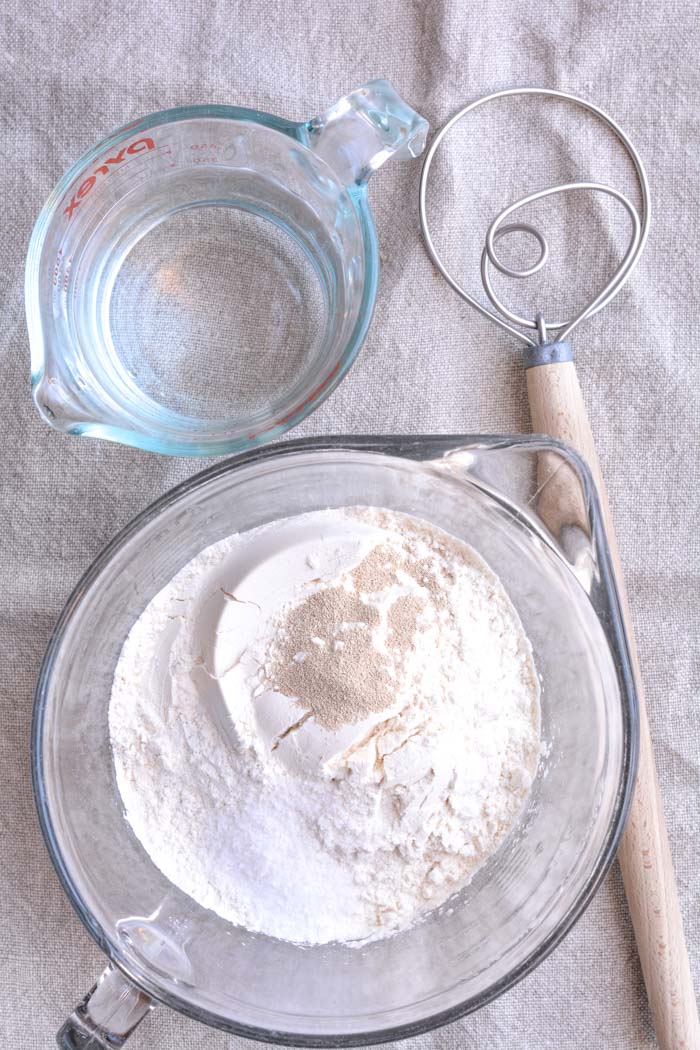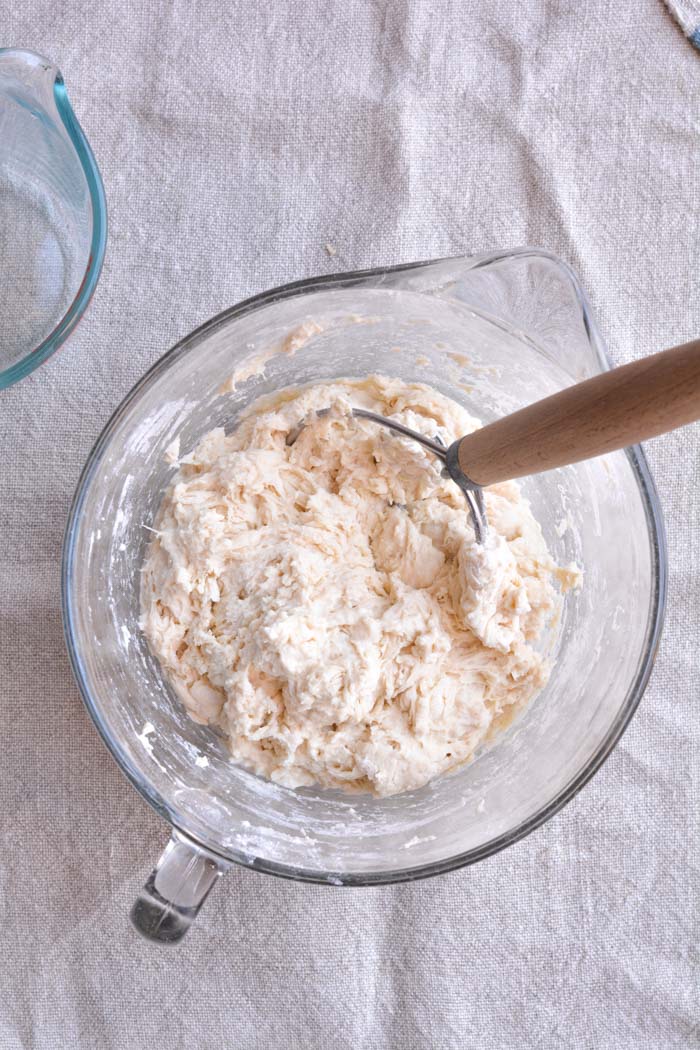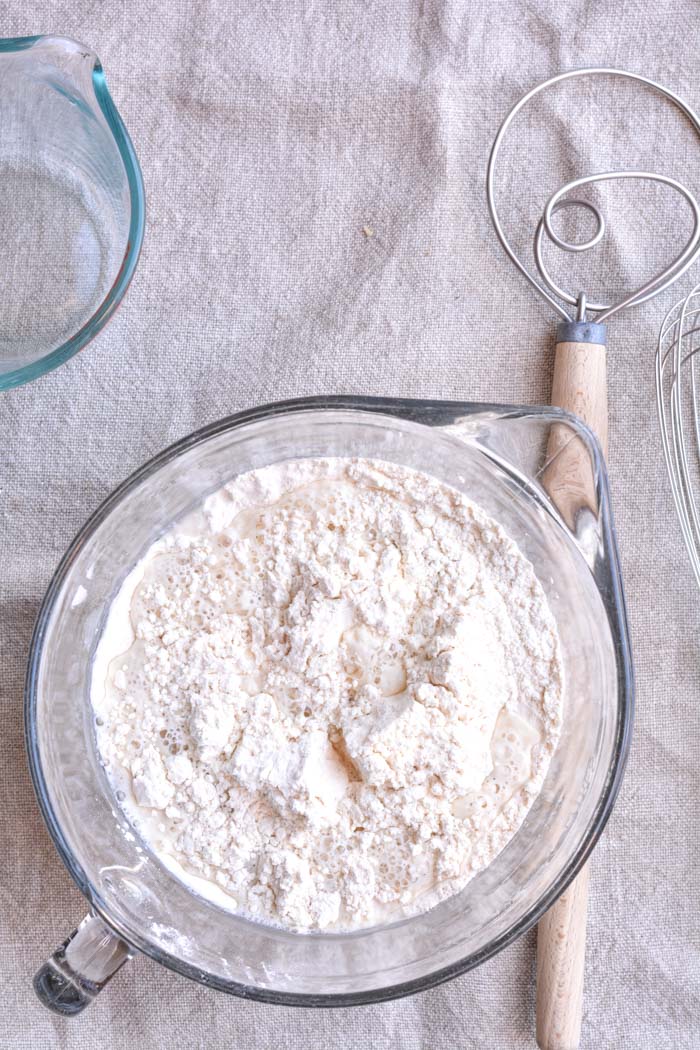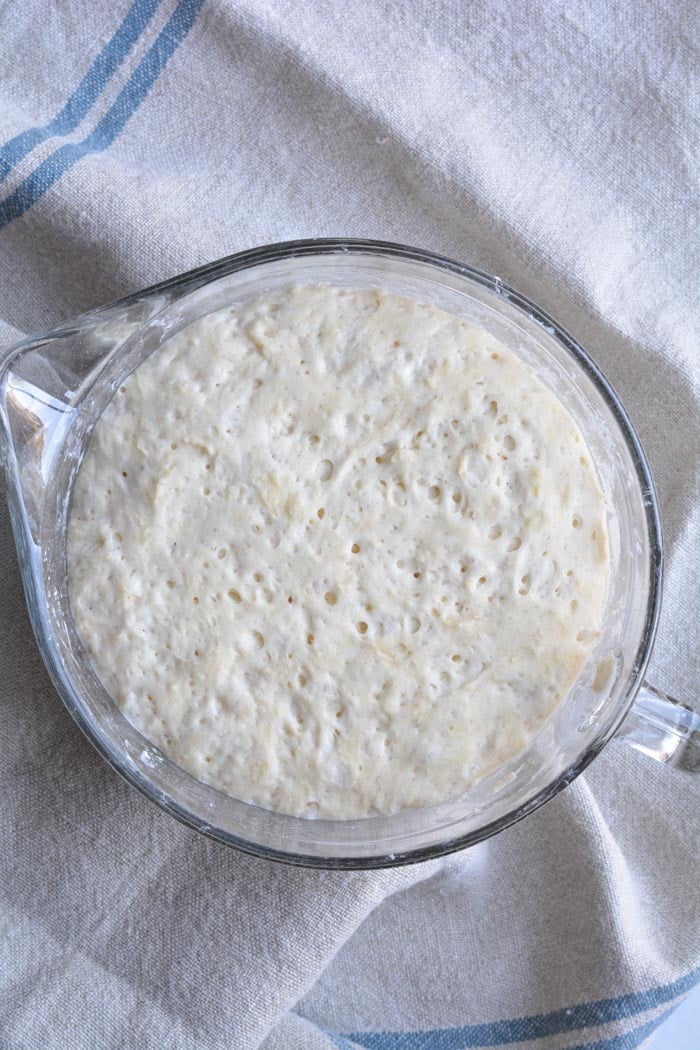 In a large mixing bowl, add flour, kosher salt, and yeast. Whisk together.
Add water. Mix just until all of the flour has combined with the water.

The dough will look like a shaggy mess. That's ok.
Cover the bowl with plastic wrap and let it set for 12 – 18 hours on the counter top. DO NOT REFRIGERATE. This is not optional. It takes that much time to proof the dough. The reason why you need a large bowl, is because the dough will start to rise.
After 12 hours the dough will look like this. It's pretty sticky, but that's ok it's supposed to be.
Shaping and baking the bread: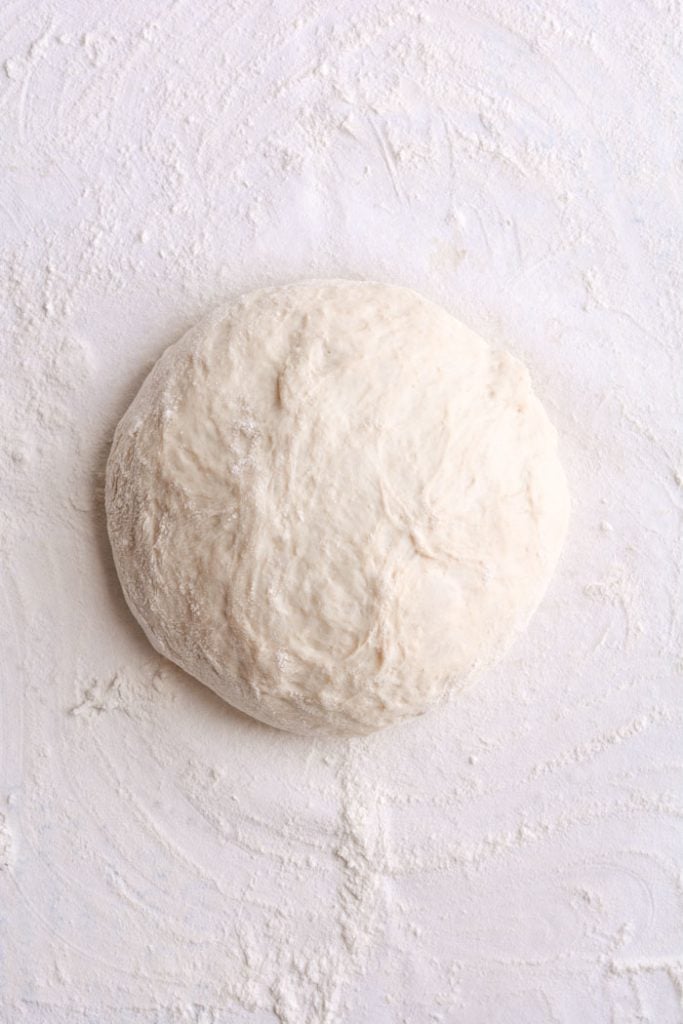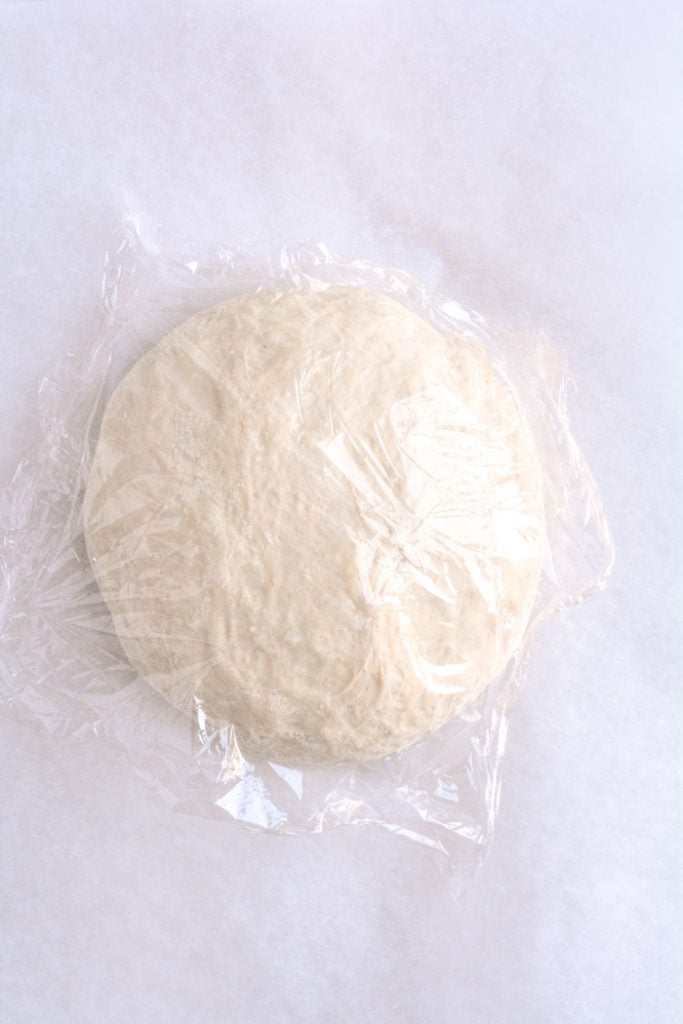 Pre-heat your oven to 450 degrees. As soon as it has heated to 450 degrees place your pot with the lid in the oven and pre-heat the pot for 30 minutes.

Right after you put the pan in the oven to pre-heat, dump the dough out onto a HEAVILY floured surface. Shape it into a round ball and place on a sheet of parchment paper. Parchment makes it so easy to transfer the dough into a hot pot and then remove it after baking. The parchment paper stays in the pot. This will rest for 30 minutes while the pan is heating. Cover with plastic wrap.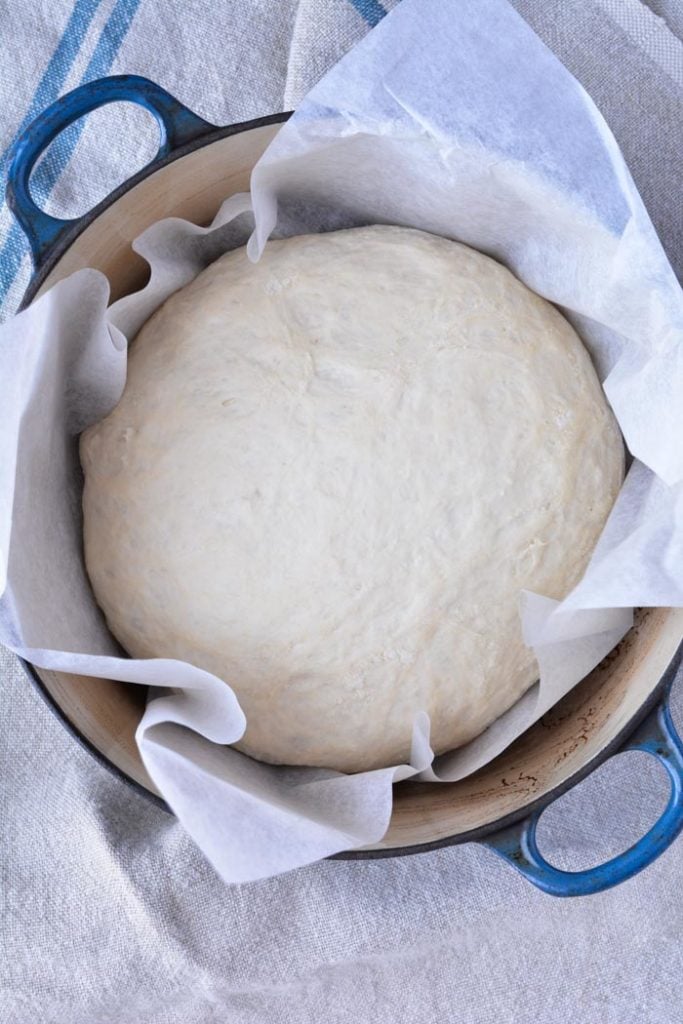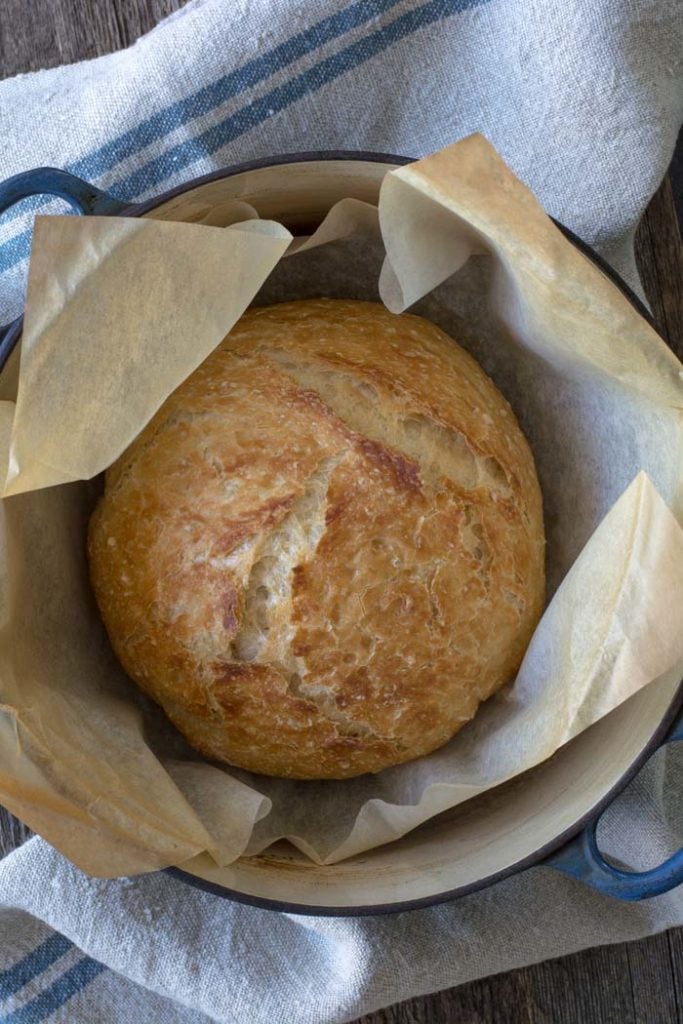 Remove pot from the oven and carefully pick up the parchment and drop dough into the pot. Be careful the pan is HOT. Put the lid on the pot and return it to the oven for 30 minutes.
After 30 minutes remove the lid from the pan. Bake for an additional 15 minutes or until nicely browned. You can test with an instant read thermometer to make sure the bread is fully cooked on the inside. The temp should be between 190F and 200F degrees. Remove from the oven and carefully remove bread from the pot by lifting the edges of the parchment paper.
Holy cow! Can you believe how gorgeous that is. It's best to wait for the bread to cool before slicing. Because I love warm bread I sliced it right away. That's it! You did it! How easy was that?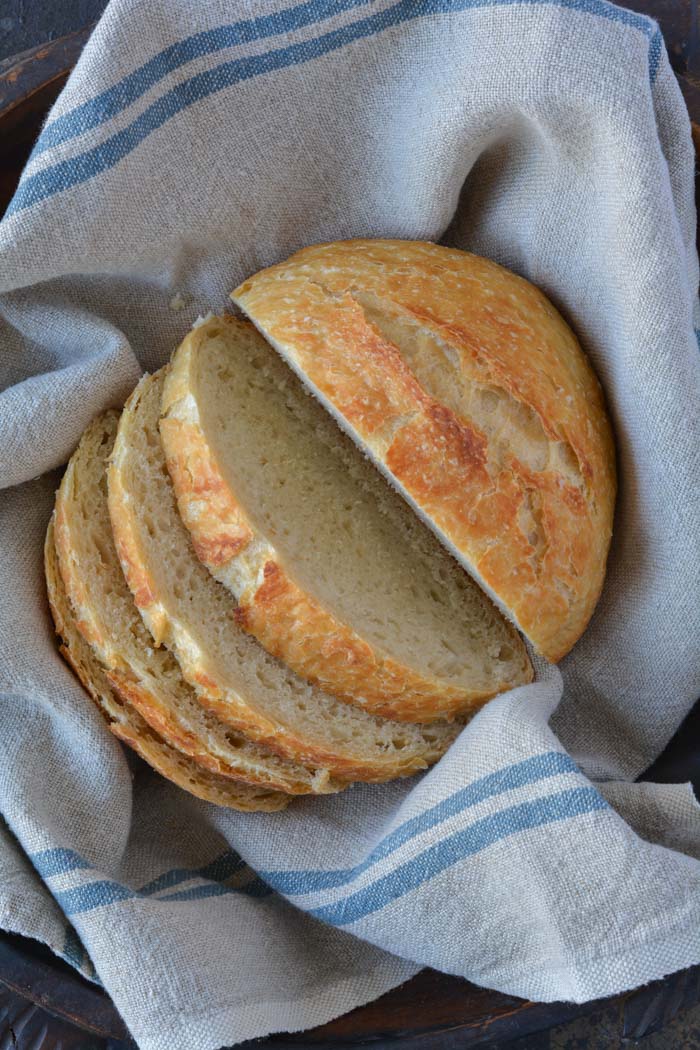 When you put the dough into the pan, it looks like a shaggy mess and when you take of the lid, you have a masterpiece. This is when you can start patting yourself on the back while telling yourself how awesome you are…because you ARE.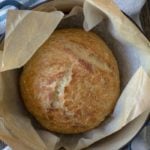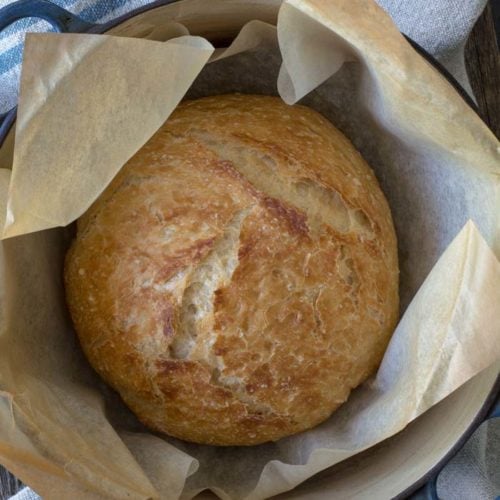 No-Knead Crusty Bread
Wonderful yet easy artisan bread with a crisp crust. Prep takes just a few minutes with an overnight rise. Baked in a pot with a lid to create a steam oven. Bread can be made with many flavors and variations.
overnight rise
18
hours
3
minutes
Ingredients
3

cups

+ 2 tablespoons unbleached all purpose flour

1 3/4

teaspoons

Kosher salt

1/2

teaspoon

Instant or Rapid-rise yeast

1 1/2

cups

water

cool
Instructions
In a large mixing bowl, whisk together flour, salt and yeast.

Add water and mix until a shaggy mixture forms.

Cover bowl with plastic wrap and set aside for 12 - 18 hours. Overnight works great.

Heat oven to 450 degrees. When the oven has reached 450 degrees place a cast iron pot with a lid in the oven and heat the pot for 30 minutes. OR pot can be placed in cold oven while oven is preheating leave in oven for 30 minutes.

Meanwhile, pour dough onto a heavily floured surface and shape into a ball. Cover with plastic wrap and let set while the pot is heating.

Remove hot pot from the oven and drop in the dough. Cover and return to oven for 30 minutes. After 30 minutes remove the lid and bake an additional 15 minutes. Remove bread from oven and place on a cooling rack to cool.
Recipe Notes
FAQ's
Q: Do I have to use an enamel covered cast iron pan?
A: NO. You can use anything that can take the heat. The following have been used that I know of:
Clay pots with lids, Pizza stone with a bowl to cover the bread, insert from a crockpot, pyrex baking dish with a lid, stainless steel pot with a lid, baking dish covered with aluminum foil, old cast iron dutch oven.
Q: Do I have to use unbleached flour?
A: I always use unbleached flour. You can try bleached flour.
Q: Can I use self rising flour?
A: I don't know. I would just stick to all-purpose.
Q: What size is my pan?
A: My smallest pan is 5.5 quart. You can use as small as a 3 quart.
Q: What type of yeast do I use?
A: I use SAF instant yeast. Any yeast should work.
Q: Why is my bread turning out flat?
A: I don't know. You could try using less 1/4 cup less liquid. Or add a bit more flour. Make sure you dough appears to be dry when you first mix it. It will have more moisture during the rising time.
Q: Can my dough sit out longer than 18 hours? Does it HAVE to be between 12-18 hours?
A: I have let some dough sit as long as 24 hours and the bread was beautiful.
Q: Have you tried Gluten-free?
A: No. I'm still waiting for someone to venture into the realm of Gluten-free. If you try it, let everyone know.
Q: Do I have to grease or oil the pan? Will my bread stick?
A: No you don't need to grease the pan. I have never had the bread stick when using a cast iron pot. I haven't tried anything else. The best way to be certain that the bread won't stick is to form the loaf on a sheet of parchment paper and lift the bread into the pan using the sides of the parchment. Leave the paper in the pan. It's won't burn. When the bread has baked, just lift the sides of the parchment out of the pan. Voila!
More Notes:
Regular active yeast can be used in place of the instant or rapid rise yeast. It will need to be activated in 1/4 cup warm water. Stir and let sit for 5-10 minutes. However, most of the comments I have received state that the rapid raise works the best. You choose. Whisk the flour, salt and yeast together.
Nutrition Facts
No-Knead Crusty Bread
Amount Per Serving
Calories 138
% Daily Value*
Sodium 409mg 17%
Potassium 45mg 1%
Total Carbohydrates 28g 9%
Protein 4g 8%
* Percent Daily Values are based on a 2000 calorie diet.
Check out other ways to use No-knead crusty bread:
Cranberry Orange Almond Crusty Bread