The air is feeling cooler and my garden is winding down. I keep hoping the green tomatoes clinging to the vines will turn red. I only have a few more weeks of my local farmers market. As I raced to the farmers market last Friday to snatch up the last of the peaches I noticed a stand with BERRIES! I thought berries were long gone. I snatched up a flat of mixed berries, blackberries and red raspberries. I left that market down right giddy with the harvest in the back of my car. I bought a flat of berries, one last bushel of peaches, a large bag of onions and potatoes, corn, a Crenshaw melon, a huge watermelon all locally grown. Then my eye caught a lug of Concord grapes. I skipped to my car with my treasures. (I actually had to make 5 separate trips to unload).
I decided I would try to recreate my grandmother's jam. I really miss how wonderful her jams were.
This will be my first attempt at making jam without using a commercial pectin powder. The results were amazing.
For the jam you will need:
5 lbs of berries
4 cups sugar
1/4 cup lemon juice
I like to wash the berries in a large sink full of cold water. Swish the berries around. The dirt will fall to the bottom of the sink while leaves and such will float to the top.
Pick out anything that doesn't look like a berry.
Carefully strain the berries.
Place the berries in a large mixing bowl.
Add the sugar.
Gently stir.
Cover the bowl and refrigerate the berries overnight.
The next day your will have beautiful macerated berries and the sugar should be completely dissolved.
Since berries are loaded with seeds, I want to remove most of them. I know what you're thinking…why didn't she just make jelly?
I want to keep the pulp of the fruit. I'm calling this jam my "almost seedless jam".
Removing the seeds can be tedious, but worth it in the end.
If you have a food mill, it helps make the process easier.
Add the berries to the food mill land turn the handle. It's just about that easy.
If you don't have a food mill then a wire strainer can be used along with a plastic dough scraper.
Either way you choose, try to preserve as much as the pulp as possible.
Place the juice/pulp in a large pot with a heavy bottom.
I like to use fresh lemon juice. I really don't like the flavor of the bottled juice.
Add the juice to the berry sugar mixture.
Stir over medium low heat.
Bring the jam to a simmer stirring occasionally.
Meanwhile add jars to a large pan of hot water and bring to a simmer.
I always wash my jars first in hot soapy water. My dishwasher has a sanitize cycle that I like to run them through.
Right before sealing the jars I toss in the lids. I will generally simmer the lids in a separate pan, but I just have a small amount.
Cook the jam down until int begins to thicken. There will be a noticeable difference in the way the jam bubbles. I test the jam by putting a tablespoon amount onto a place. Place the plate in the freezer for a few
minutes.
Remove from the freezer and try to get the mixture to mound.
As you can see my mixture isn't setting enough to be jam. As I liked my finger, I realized this would be amazing pancake syrup.
I hurried a ladled some of the syrup onto a bottle and placed it in the refrigerator for pancakes over the weekend. Yum! Go me!
As you can see the mixture has thickened.
I'm doing another test.
After a few minutes in the freezer, I do another test.
It is beginning to mound…perfect.
Ladle into hot jars.
Wipe around the rim of the jar with a damp, clean cloth.
Remove lid from the hot water.
Place on jar. I'm sure you're wondering where I found these darling jars. I will give a link at the end of this post.
For the basic jars with lids and screw bands, place the lid on then screw on a band, but not too tight.
Place the jars of jam in a pot of water and bring to a boil. Cover and allow the jars to simmer for 10 minutes. Remove the lid.
Carefully remove the jars from the boiling water.
Place on layers of towels until cool. I let my jars set out for 24 hours.
Make sure each jar has sealed by pushing on the center of the lid. The lid should be "sucked" in. If the center of the lid has some give, chances are it hasn't sealed properly. You can try to reseal or I just refrigerate that jar and use it first.
I'm pretty sure this jam won't last long. It's delicious and tastes just like my grandma's.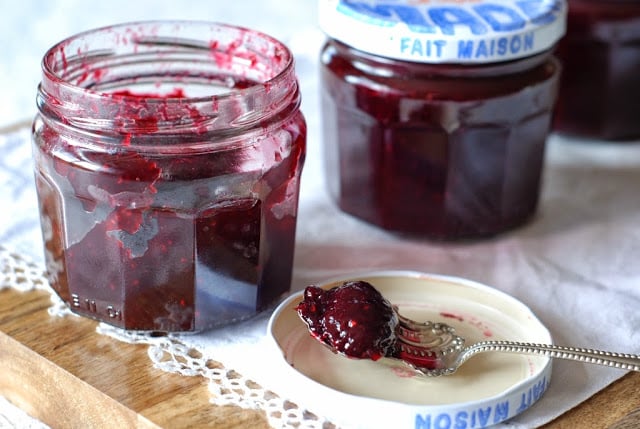 The jam should store for about a year in a cool dark place. I'm thinking this jam will be long gone soon. I better hide a jar for Thanksgiving.
Jars purchased through Provisions at Food52: Le Parfait 11-oz jelly jars
Blackberry Raspberry Jam
5-6 lbs assortment of blackberries and raspberries
4 cups sugar
1/4 cup fresh lemon juice
6-8 8-oz jars with unused lids
1. Rinse berries gently in cold water. Strain.
2. Place berries in a large bowl and gently stir in sugar. Place in refrigerator overnight to allow berries to macerate and sugar to dissolve.
3. Press the mixture through a food mill or through a mesh strainer to remove seeds.
4. Pour the mixture into a large heavy pot and simmer until mixture begins to thicken. Test the jam by putting a tablespoon of the mixture on a plate then placing in the freezer for a few minutes. Remove from freezer, if the jam holds a mound, it is done.
5. Meanwhile place jars and lids in a large pot of hot water. Keep hot while jam cooks.
6. Ladle jam into hot jars.
7. Wipe the rims of the jars with a wet damp cloth.
8. Screw on lid and bands
9. Place in a pot of boiling water. Make sure the jars are covered with 2-inches of water. Boil for 10 minutes. Remove from water and place on layers of clean towels until cool and jars have sealed.
Makes about 6-8 8-oz jars