What do you think about a a simple way to may fougasse? What is fougasse? It's basically a French version of Italian focaccia bread. The flat bread can be slashed to form shapes and topped with an herb topping.
If I can make focaccia out of the "no knead" dough recipe, why not use the same technique to make fougasse? It's easy. It doesn't have a lot of prep time and it will blow the socks off your fam.
Instead of topping the fougasse with herbs, I put some fresh rosemary in the dough. I made a completely addicting olive oil dip with fresh herbs and red pepper flakes.
If you are big into dipping, you may want to double the batch.
You will need:
3 3/4 cup flour
2 teaspoons salt
1/4 teaspoon yeast
1 tablespoon fresh rosemary
1/2 cup chopped Kalamata olives
1 1/2 cups water
I'm using my mixer because the dough is a bit stiffer and I want to make sure I get all of the flour mixed in well so I don't have any dry spots. This can definitely be mixed by hand. Tonight I'm lazy.
In my mixer bowl, I have just added 3 3/4 cup flour and 2 teaspoons of sea salt.
Add 1/4 teaspoon of instant yeast. If using active dry yeast, dissolve the yeast in 1/4 cup water before adding to the flour mixture
I realize this doesn't seem like much, but the dough is going to rise for 18 hours and I don't want a strong yeast flavor overpowering my fougasse.
Add 1 tablespoon fresh rosemary, chopped.
Add 1/2 cup finely chopped kalamata olives.
Using the paddle attachment, mix all the ingredients together.
Pour the water in all at once. I used water straight from the tap. It's cool to the touch.
Mix just until all of the ingredients are wet and there are no dry flour spots.
Cover the bowl with plastic wrap and let sit at room temperature for 18 hours. Plan your timing accordingly. I have let the dough sit for as long as 24 hours with no problems.
Don't touch the dough. Don't refrigerate the dough. Just ignore it for 18 hours. Just walk away. Don't punch it down or mess with it. Just let it sit.
After 18 hours the dough will have risen.
The dough isn't as sticky as the no-knead bread dough, but I still heavily four my pastry cloth.
Dump the dough out onto any floured surface.
Sprinkle your hands and the top of the dough with flour. DO NOT knead the dough. DO NOT be tempted to knead the dough. Just leave the air bubbles alone.
Divide the dough in half.
Using your fingers, gently press the dough into a 5 x 10-inch rectangle.
You can gently pull the dough if needed. Just make sure you are gentle.


Place the rectangle on a baking sheet lined with parchment.
Using a pizza wheel slash a slit down the center of the rectangle one inch from the top down to one inch from the bottom.
Carefully pull the slash apart slightly.
This is pulled a little more than slightly. I got a little carried away and exaggerated a bit for the camera.
Now make 3 slashes on an angle down each side of the dough.
Gently open the slashes to form holes.
I like to heavily brush the dough with a good flavored olive oil.
Lightly sprinkle with flaked sea salt. I'm using Maldon Flaked Sea Salt. Love this stuff.
Lightly cover with plastic wrap and let rise for a good hour.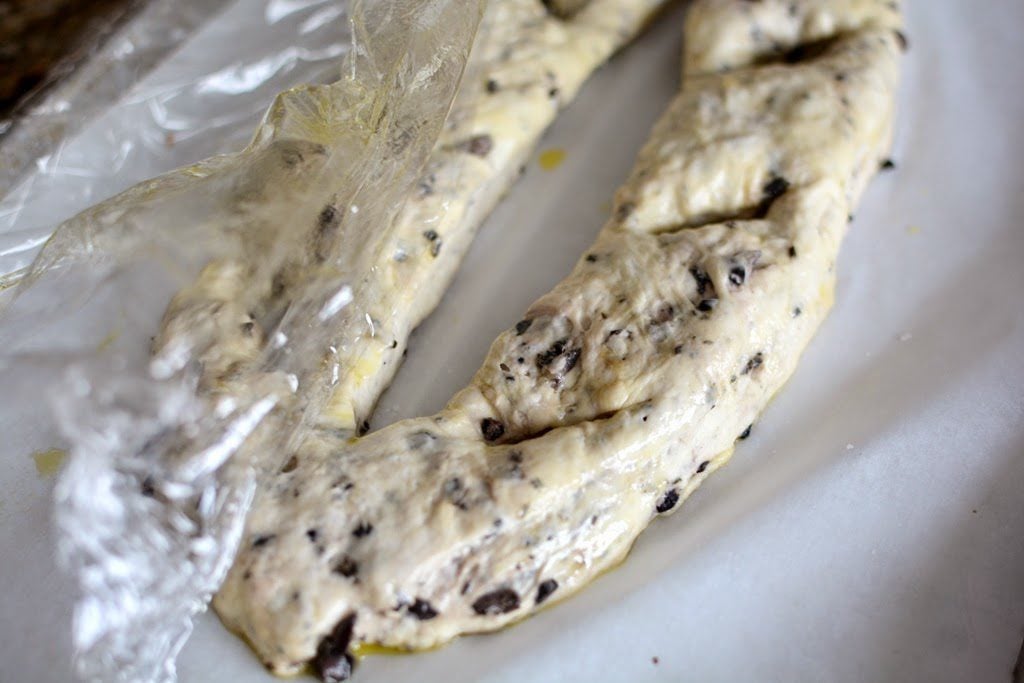 Uncover and place in a preheated 425 degree F oven and bake for 25 minutes or until golden brown.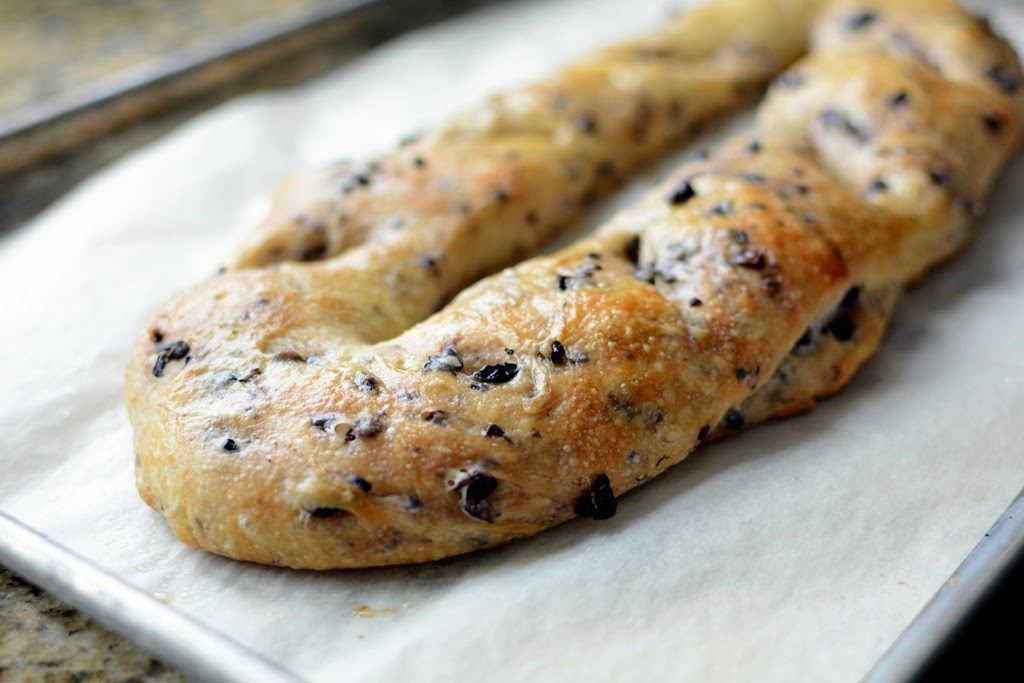 Pretty.
While the bread is rising I like to make the dipping oil.
For this amazing dipping oil you will need:
1/3 cup good quality olive oil
2 garlic cloves, chopped
2 teaspoons fresh rosemary, chopped
1/4 teaspoon sea salt, I used Pink Himalayan
1/4 teaspoon fresh coarsely ground pepper
1/4 teaspoon red pepper flakes
This could not be more simple.
Pour 1/3 cup olive oil in a shallow bowl. Add 2 chopped garlic cloves.
2 teaspoons chopped fresh rosemary.
1/4 teaspoon sea salt.
1/4 teaspoon coarse fresh ground black pepper.
1/4 teaspoon dried red pepper flakes.
Stir.
Let stand while the dough is rising and the fougasse is baking. This will allow for the flavors to blend.