Fresh Peach Pie is made with sliced peaches mixed with a fresh peach glaze in a buttery crust. Topped with sweetened whipped cream Perfectly ripe peaches offer a sweet flavor, balancing sugar and acid for a well-rounded flavor. Add a dollop of sweetened whipped cream for the perfect end-of-summer pie.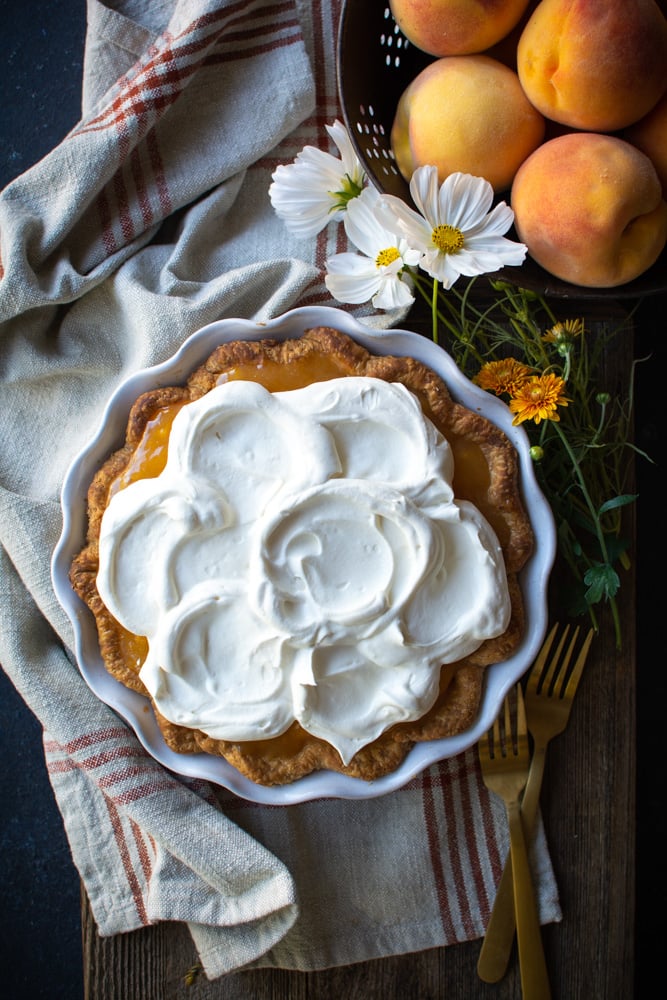 Storing Fresh Peaches
You just purchased a bushel of peaches from your local Farmer's Market…Now what? Sadly peaches have a very short shelf life. The following tips will help preserve your fresh peaches.
Go through the peaches and separate peaches that seem to be a bit green from the ripe peaches. You will know they are ripe because they will dent and bruise easily. DO NOT WASH them!
If the peaches are a bit firm and green, arrange them on their sides in a single layer. I like to use baking sheets lined with towels or paper towels. Let set out at room temperature for a day or two until they have ripened.
Arrange all ripe peaches in a single layer and refrigerate immediately. I have had peaches store well for up to 1 week.
Start eating those peaches! Morning, noon, and night…not kidding.
What To Make With Fresh Peaches
Fresh peach pie, peach ice cream, peach cobbler, peach shake, fresh peach freezer jam.
My personal favorite breakfast is sliced peaches on top of oatmeal with a dash of cinnamon and maple syrup.
Chopped in stirred muffins or pancakes.
In a crepe with whipped cream.
How about just a huge bowl of sliced peaches and a big spoon!
I love putting sliced peaches in a veggie wrap. Best!
Let's Make a Fresh Peach Pie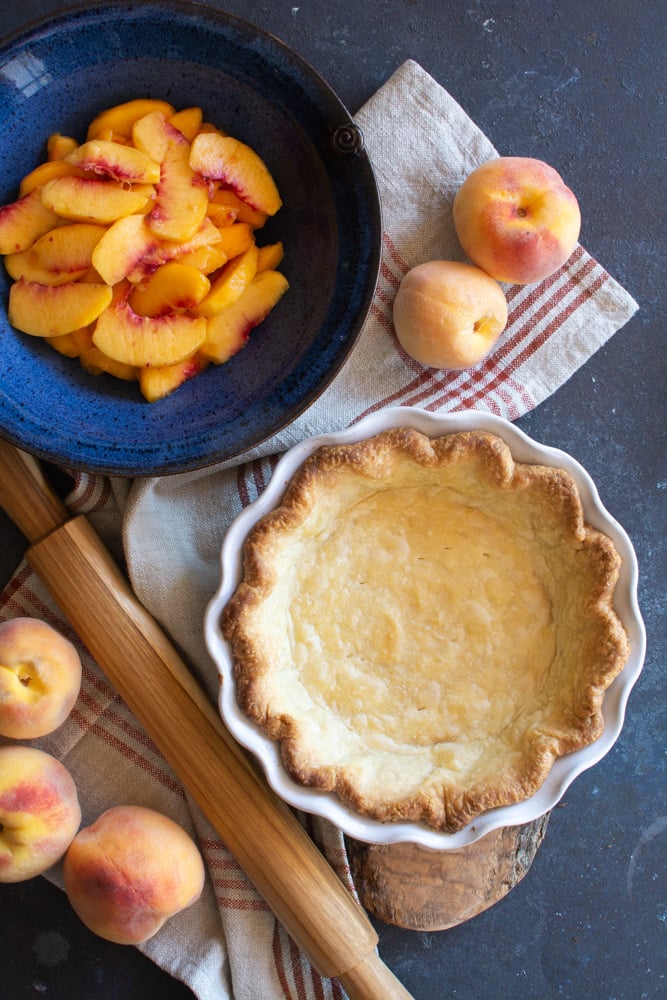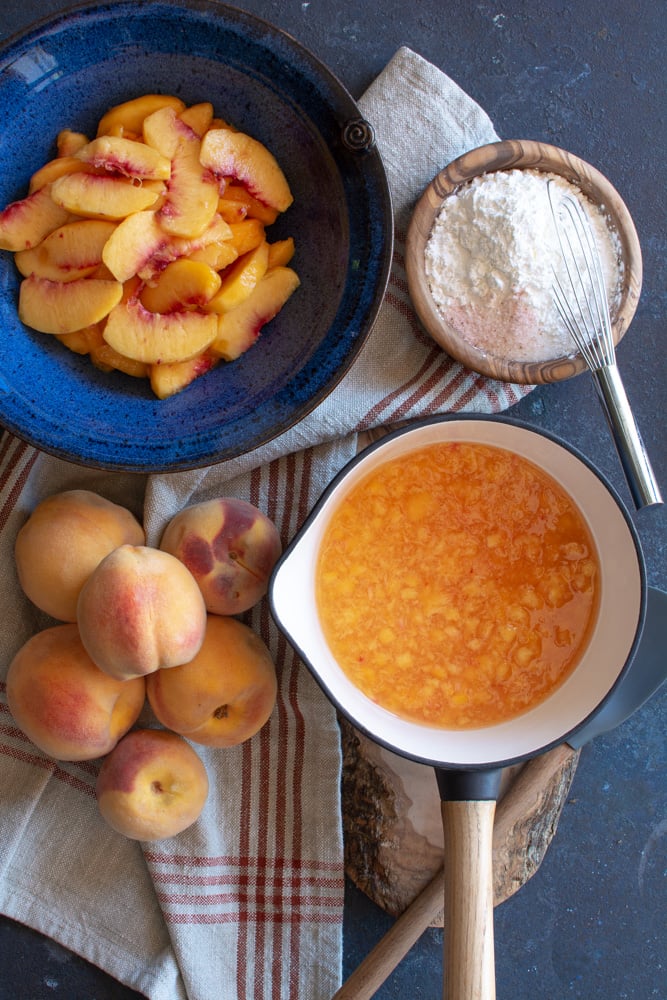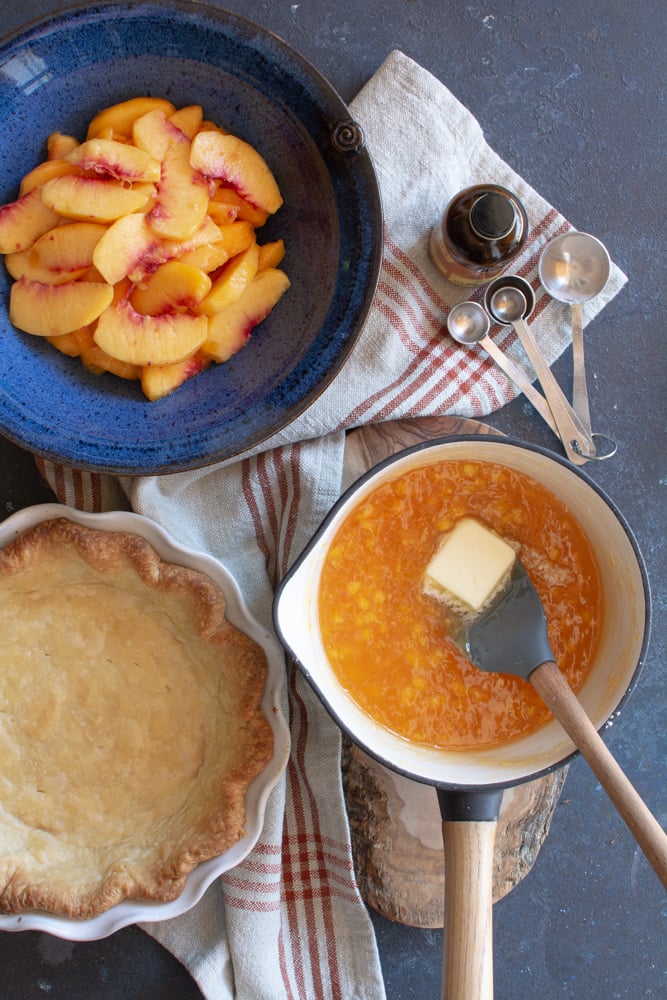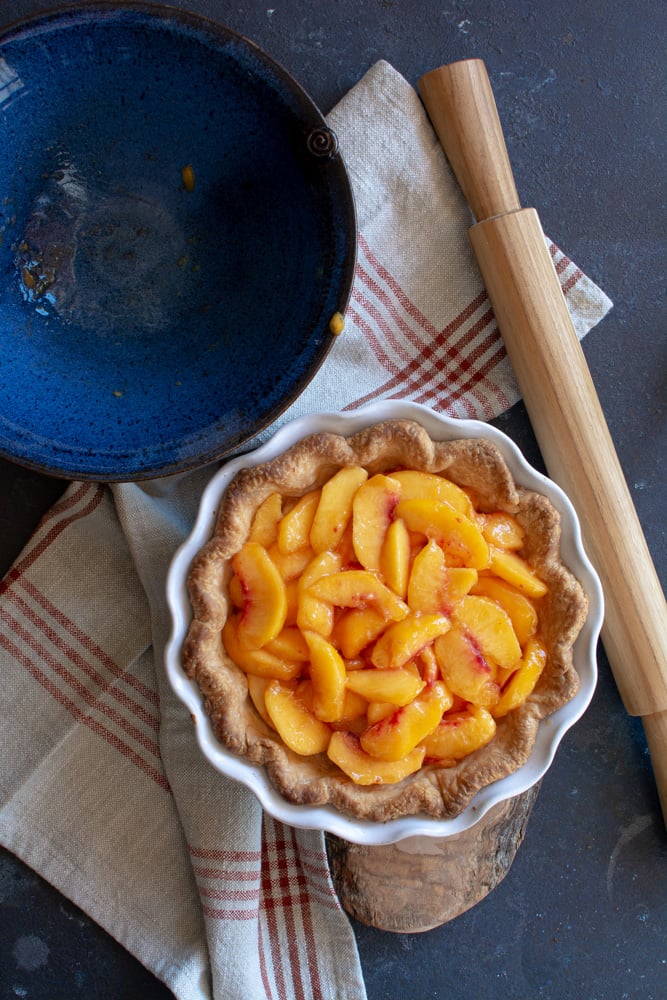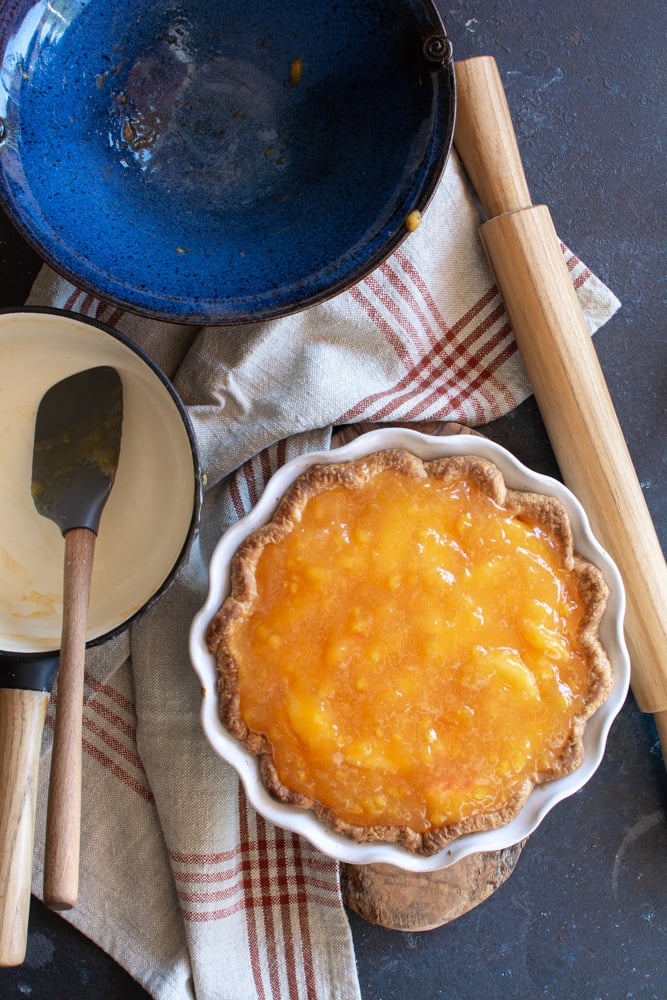 You will need a baked and cooled 9-inch pie shell. Try my buttery Pie Crust 101 Tutorial for a delicious flakey pie. Peel and slice 4-5 peaches. Approximately 3-4 cups. 4 cups if you are making a deep-dish pie. Make sure the pie shell is completely cooled. Set aside.
In a medium-size saucepan add 1 cup of mashed peeled and pitted peaches. Stir cornstarch, sugar, and a pinch of salt together then add to the mashed peaches. Cook over medium heat until the mixture begins to boil. Continue cooking until the thickened.
Remove the peach sauce from the heat and add the butter. Stir until the butter has melted and is mixed in completely. Let the mixture cool.
Add the prepared peaches to the baked pie shell and arrange to fill in empty spaces.
Pour the cooled sauce over top of the sliced peaches. I like to gently shake the pie to help the sauce settle into the spaces. Place the pie in the refrigerator and chill for 3-4 hours.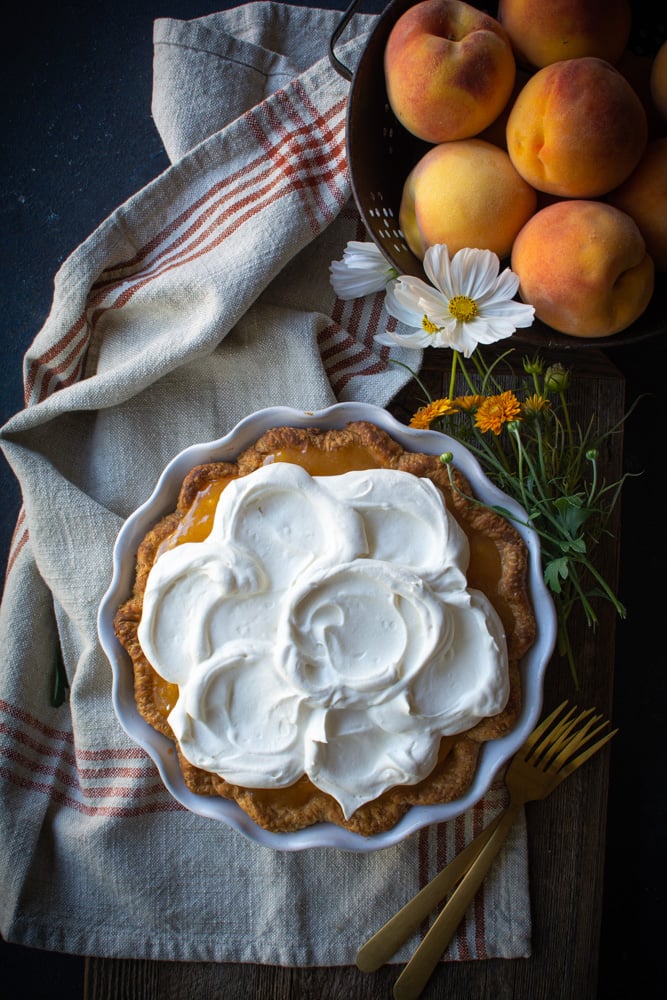 Finish the pie by topping it with the sweetened whipped cream. It's best to serve the pie the same day it is made. Refrigerate any leftover pie. Rarely do I have any leftovers. 😋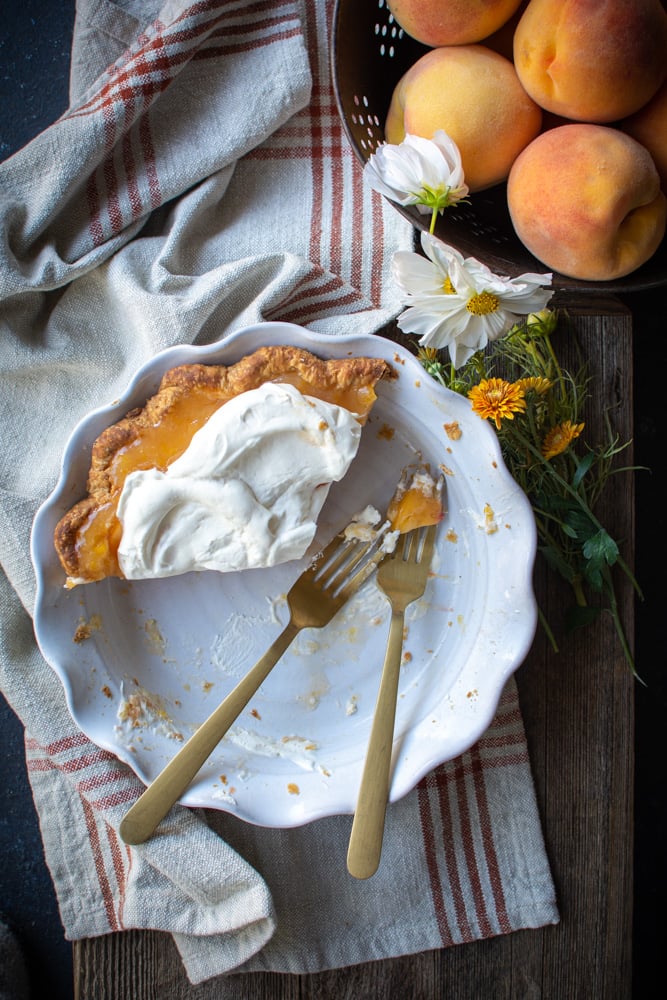 If you make this Fresh Peach Pie be sure to leave a comment and/or give this recipe a rating! Above all, I love to read your comments and I try to respond quickly. If you do make this recipe, don't forget to tag me on Instagram! I love looking through the photos of recipes you make. ❤️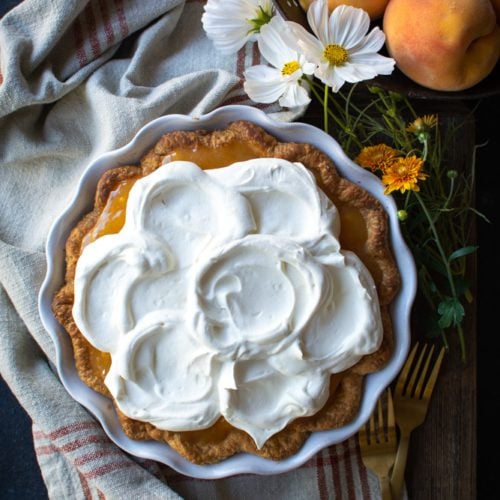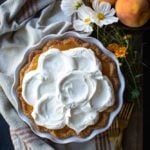 Fresh Peach Pie
Fresh sliced peaches mixed with a fresh peach glaze with a buttery crust. Topped with sweetened whipped cream
Total Time
4
hours
25
minutes
Ingredients
1 9-

inch

prepared and baked pie crust

4

cups

peaches

peeled and sliced
Pie Glaze
1

cup

mashed fresh peaches

1/2

cup

water

3/4

cup

sugar

3 1/2

tablespoons

cornstarch

2

tbsp

fresh lemon juice

1/4

teaspoon

almond extract

optional

pinch

of salt

1

tbsp

butter
Whipped Cream Topping
1

cup

whipping cream

2

tbsp

confectioners sugar

powdered sugar

1

tsp

vanilla
Instructions
Pie Glaze
In a medium-sized saucepan add 1 cup of mashed peaches and water. In a small bowl mix the sugar and cornstarch together. Stir in mashed peach and water mixture. Bring to a boil over medium heat. The sauce will thicken up and be a nice thick glaze. Remove from heat and add the lemon juice, almond extract, salt, and butter. Stir until the butter is melted and then let the mixture cool while preparing peaches.
Peach Filling
Peel and slice the peaches. Arrange the sliced peaches in the bottom of the cooked and cooled pie crust. Pour the peach glaze over the top. Gently shake the pie a bit to help the glaze settle between the peaches a bit. Chill in the refrigerator for 3-4 hours or until chilled and firm.
Whipped Cream Topping
In a chilled bowl, beat whipping cream, sugar, and vanilla until thick and smooth. Spread on top of chilled peach pie.
Recipe Notes
Make sure peaches are completely ripe. Green peaches will be hard and extremely tart or bitter.
This pie is best eaten the same day it is made. But can be stored in the refrigerator overnight.
Refrigerate any leftovers...rarely do I have leftovers.
The baked pie shell can be made in advance, wrapped in foil, and frozen for 2-3 weeks.