Several years ago I went to Massachusetts to visit a dear friend. It was my first visit to New England. The rolling hills were covered with beautiful colors of Autumn. I was in awe at the beauty I saw. Each night my friend prepared the most amazing New England meals. They were warming and so delicious. I have mentioned once before how this friend influenced my desire to cook fabulous foods. One night for dinner she served Anadama bread. I loved the crunch of the cornmeal mixed with the wheat flour. The flavor of molasses was very pronounced. I later wrote to her and asked for the recipe. She included the history of the name of this warming bread.
So what does "Anadama" mean? Local legend overwhelmingly credits a Gloucester fisherman with coining the term as a not-so-loving tribute to his wife, Anna. It seems Anna wasn't blessed with talent in the kitchen, and after numerous bowls of molasses and cornmeal porridge for supper, the fisherman angrily tossed in some flour and yeast one evening and threw the mixture into the oven. While it baked he sat muttering, "Anna, Damn her!", and the name was born.
Fortunately, so was this delicious bread. The molasses and cornmeal make for a sweet and nutty aroma while it bakes, which carries over into the flavor.
(Yankee, New England's web site)
Love it!
For Anadama bread you will need:
1 tablespoon sugar
2 teaspoons salt
Add the yeast to the 1/4 cup warm water.
Let sit for a few minutes to soften.
Repeat after me. Yeast is my friend, yeast is my friend.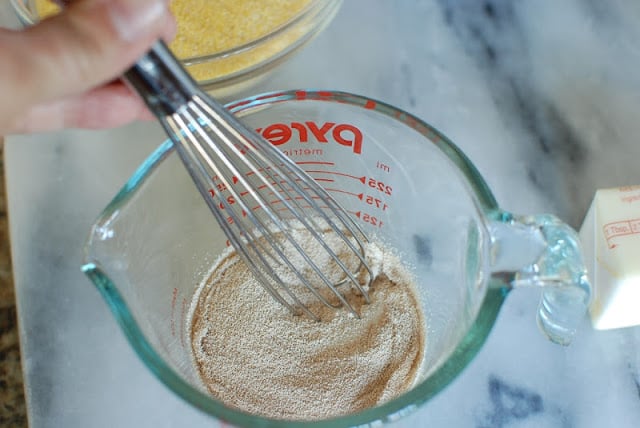 Whisk to dissolve the yeast.
Salt.

3 cups of white flour.
Mix until the mixture is smooth.
Add the dissolved yeast.
Mix thoroughly.
Add cornmeal
and the wheat flour 1 cup at a time.
Mix until the dough begins to pull away from the sides of the bowl. You may need to to add a bit more flour OR you may not need to add all of the flour. That's why you just add 1 cup at a time. The amounts vary from the flour you use to the humidity in your area. Use your best judgement. Can I trust you to do that?
Drizzle 1-2 tablespoons of oil into a large bowl.
Add the dough to the bowl and turn it to oil the top of the dough.
Cover with a clean cloth and set aside for 1-2 hours or until the dough has doubled in size.
Now that the dough has doubled in size. Punch down the dough.
Remove from the bowl and divide the dough in half.
Form the two halves of dough into nice round balls of dough. Let rest while you grease the bread pans.
Place the dough into the greased pan.
This is how I shape my loaves. If you have a special way you do it, then do what works for you.
Once again, cover the loaves with a clean cloth and allow to rise until double in size about 1 hour.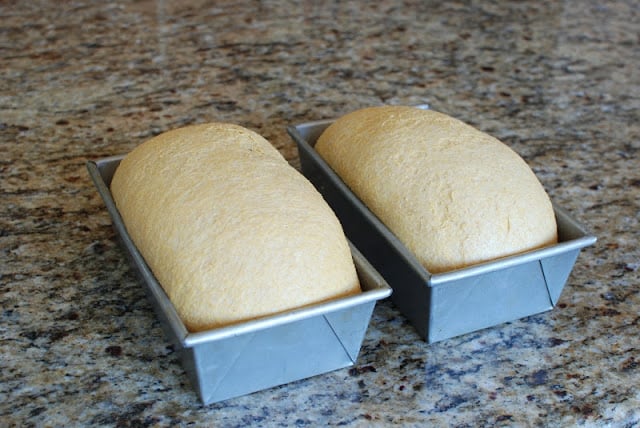 Uncover the loaves and place in a preheated 375 degree oven.
Bake for 30-40 minutes or until golden brown.
Remove the bread from the pan immediately .
I like to let my bread cool on its side. I think it holds the shape better that way.
Two beautiful loaves of Anadma bread.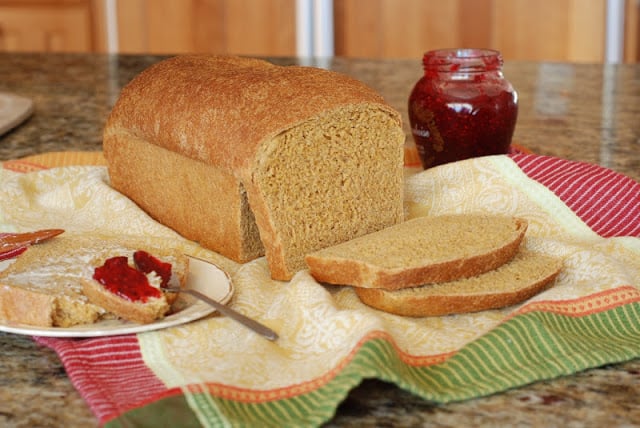 Whether you enjoy Anadama bread warm
from oven, toasted with butter, or as a sweet alternative
to your everyday sandwich bread, you can be sure that with every bite you are
eating like a true New Englander.
Anadama Bread
Recipe from
Ann Luther
1/4 cup warm
water
2 tablespoons dry yeast
2 1/4 cups warm water
1/2 cup butter, softened
3/4 cup molasses
1 tablespoon sugar
2 teaspoons salt
1 1/4 cups cornmeal
4 cups wheat flour
3 cups white flour
Sprinkle yeast over 1/4 cup warm
water. Allow to set for 5 minutes. After 5 minutes mix the yeast into the water
to fully dissolve. In a large mixing
bowl add warm water, salt, sugar, butter and molasses. Mix in the white flour. Then pour in yeast. Add cornmeal and blend well. slowly mix in wheat flour. Mix until the dough pulls away from sides of
bowl. Place in a greased bowl and
cover. Allow to rise until double in
size. Punch down and cut dough into 2
balls of dough. Allow to rest while
greasing the pans. Grease two 9 x 5-inch
bread loaf pans. Shape dough into loaves
and place into greased pans. Cover and
let rise until double in size. Bake in a 375 degree oven for 30-40 minutes
or until golden brown. Makes 2 loaves.