I'm not kidding when I say you can have this Focaccia made using about 5 minutes of prep time.
My son-in-law was helping me make a video showing how to make the No-knead bread. I had a bowl of dough that had been over worked and it had sat out for longer than 24 hours. I hated to throw it away. I oiled up an 8 x 8-inch square pan with a ton of olive oil. Dropped the dough into the oil, sprinkled it with salt and fresh rosemary. I covered the pan with foil and popped it into the oven.
After it was baked, we devoured it while still hot in seconds.
The dough is the same recipe as the No-Knead bread and the Crusty bread that I have already posted.
I'll go through the quick process again.
You will need:
3 cups all-purpose flour
1 3/4 teaspoons kosher salt
1/2 teaspoon yeast
1 1/2 cups water (cool to room temperature. It doesn't need to be warm)
For the topping:
Extra-virgin Olive Oil
Sea salt (love Maldon)
Fresh rosemary
Place the 3 cups of flour in a large mixing bowl.
Add 1/2 teaspoon yeast.
Add 1 3/4 teaspoons kosher salt.
Whisk to blend.
Pour in 1 1/2 cups water all at once.
Stir.
Stir just until the flour is absorbed. No need to knead…just leave it just like this photo above.
Cover the bowl with plastic wrap and walk away. Do not refrigerate the dough. Leave it out at room temperature for 12 – 18 hours. Trust me…just walk away and leave it.
After the dough has set for 12 – 18 hours it will be all bubbly and super sticky. That means it's perfect.
Right now go an preheat your oven to 450F.
Cover an 8 x 8-inch square pan with olive oil. Use as the best extra-virgin olive oil that you can afford. Yes, it does make a difference in the overall flavor of the focaccia. I use about 1/4 – 1/3 cup.
I know it's a lot. Not to worry. The dough will absorb the oil and create the most delicious crust.
Just cover the pan.
Scoop the dough out of the bowl.
And drop it immediately into the pan with the gallon of olive oil.
Using your fingers gently press dimples into the dough. There is no need try to stretch it or make it fit completely into the pan. Work the dough as little as possible. As I press the dough I dip my fingers into the olive oil so the oil fills in to the little dimples.
I know…it looks like a ton of olive oil. Go with it.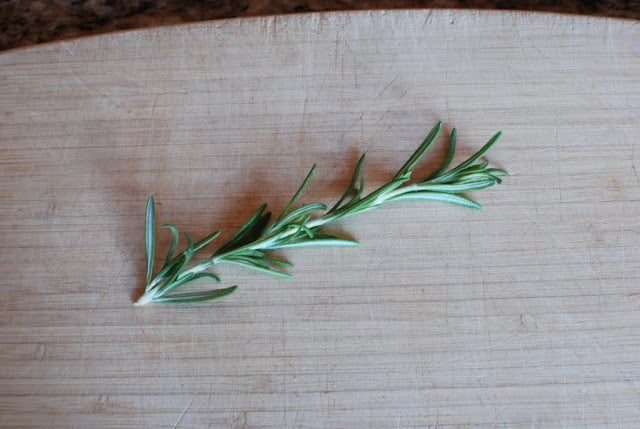 Chop a spring of fresh rosemary.
Sprinkle over the top of the dough along with some coarse sea salt. I love Maldon salt. It's like flaky crystals. It's a fabulous finishing salt. Amazon is a resource for Maldon sea salt, if you can't find it in your local stores.
Cover the pan with aluminum foil. Let the focaccia sit while the oven is heating.
Place in a preheated 450 degree oven. Bake for 20 minutes.
Remove the foil.
Bake for an additional 20 minutes.
Or until golden brown. Immediately remove from the pan.
Serve on a cute kitty cutting board.
Notice the texture and the large holes.
Just look at the bottom crust. The dough absorbed all of the olive oil. It's so crisp. So addicting.
Don't stop with rosemary and sea salt. Create your own 5 minute Focaccia. I'm thinking Kalamata olives.