If you ate at lease 3 pounds of homemade chocolates over the holidays, raise your hand.
If you snarfed down Becky's baklava, raise your hand.
If you had several helpings of Steamed Carrot Pudding, raise your hand.
If you over ate in general over the holidays, raise your hand.
If you have sworn off sugar and are cleansing your body from holiday overload, raise your hand.
I'm probably the only one with both hands high above my head!
I was lucky enough to have my most of my children home for the holidays along with my grandchildren. Most of our enjoyment came from food, however, which is the way it's supposed to be…right?
My oldest daughter was diagnosed with Ulcerative Colitis several years ago. After several attempts with medication, including injections, without significant results, she decided to try to cure her colitis by strictly following a Specific Carbohydrate Diet (SCD). She has become very creative in the kitchen thanks to the site Against All Grain that shares many recipes for those who are following a Paleo diet as well as SCD that have an autoimmune disease.
She cannot have dairy in her diet, so she began making her own nut milks. Most commercial almond milks contains an additives and thickeners such as carrageenan. She shared with me her quick version of almond milk using almond flour. It is additive and preservative free.
I know what you are thinking…duh you an buy Almond milk…right? Sure you can buy your own almond milk, but let me tell you once again that homemade is ALWAYS best. Besides, by the time you find your car keys to go to the store to purchase almond milk, you can have this recipe made and chilling in the refrigerator.
This is how my daughter makes her Almond Milk. you will need:
1 cup (230 gr) blanched Almond flour
pinch of sea salt
2 medjool dates, pits removed
1/2 vanilla bean or 1 teaspoon of vanilla
4-5 cups water (filtered is good)
Using Almond flour makes the recipe very quick and easy. You don't have to soak almonds in water for 12 hours before making the milk.
Of course, if you have whole almonds and would like to use them instead of flour, simply soak 2 cups whole almonds for 12 hours. After 12 hours drain the water off of the almonds and use in place of the almond flour.
Using a good quality blender, add 1 cup almond flour.
Drop in 2 pitted dates (for sweetness) and 1/2 vanilla bean or 1 teaspoon vanilla extract.
A healthy pinch of sea salt.
I start with 4 cups of water so that I don't blow the lid off of my blender. Using filtered water is always a good idea.
Turn on the blender.
Allow the blender to run for a 3-4 minutes. Making sure the dates and vanilla bean and ground down and mixed in well.
I'm adding the remaining cup of water with the blender on low speed.
My daughter suggested using a thin dish cloth instead of cheese cloth because the cheese cloth allows for some of the grit to flow through. You can, also, purchase a nut bag. I think my flour sack cloth works just great.
I like to wet the cloth and line a wire mesh strainer. Place the strainer over a large bowl.
Pour the milk into the lined strainer.
The milk will flow through the cloth into the bowl.
Use a rubber spatula to stir the remaining almond meal to release more of the milk.
Gather up the cloth, twist and gently squeeze to release as much of the milk as possible.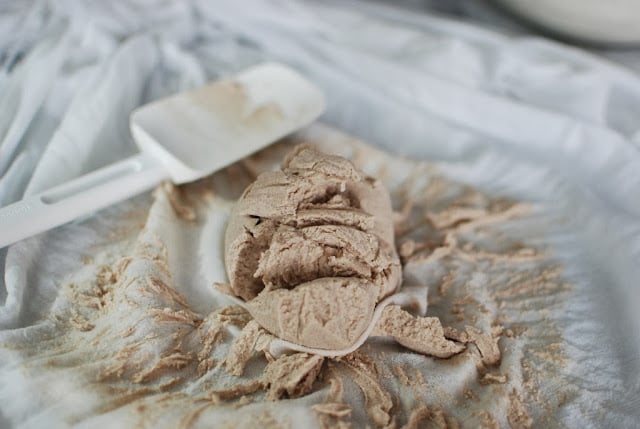 Reserve the almond meal. I spread the meal out on a baking sheet and placed it in a 140F oven until it was dry. I will use it again for making cookies or something.
Ta Da! That's it.
Refrigerate until cold.
Here's to a happy and healthy 2014.
Homemade Almond Milk
1 cup (230 gr) almond flour or 2 cups whole almonds soaked in water for 12 hours**
2 Medjool dates, pitted
1/2 vanilla bean or 1 teaspoon (5 mL) vanilla extract
5 cups (960 mL) water
generous pinch of sea salt
Combine all ingredients in a blender with a tight fitting lid. Blend on high speed for 3-4 minutes. Pour liquid through a cloth lined strainer placed over a large bowl. Strain almond milk through strainer. Reserve almond meal for another use. Refrigerate to chill.
Makes approx 5 cups almond milk
*Hazelnuts, pecans, cashews, etc.