Quick homemade almond milk that is sweetened with dates and vanilla. No additives or preservatives. A batch can be blended and refrigerated in less than 10 minutes.
It's easy as blending filtered water, almond flour or soaked almonds. The nut milk is sweetened with 2 dates and vanilla with a pinch of salt, which is completely optional.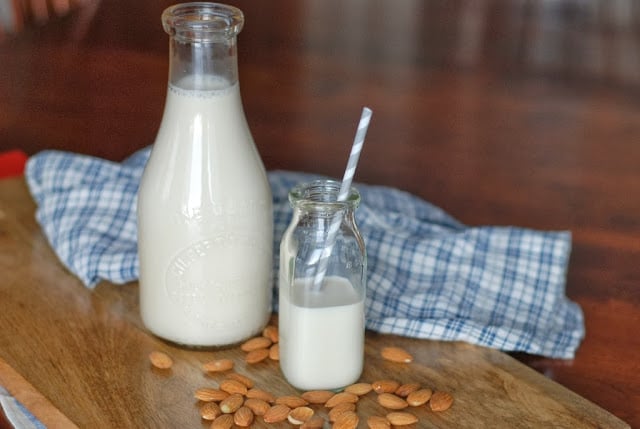 Quick and easy almond milk:
I know what you are thinking…duh you can buy Almond milk…right? Sure you can buy your own almond milk, but let me tell you once again that homemade is ALWAYS best. Besides, by the time you find your car keys to go to the store to purchase almond milk, you can have this recipe made and chilling in the refrigerator.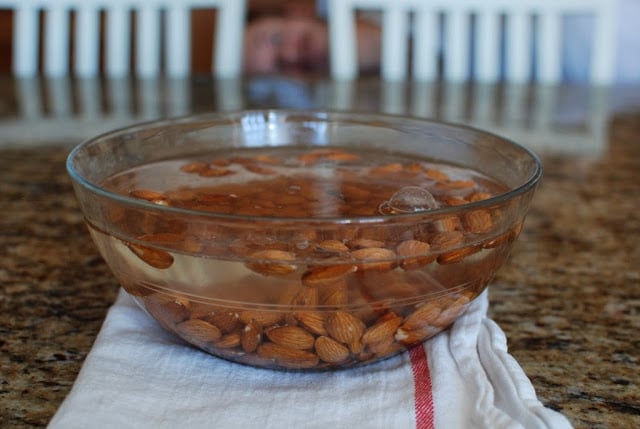 Of course, if you have whole almonds and would like to use them instead of flour, simply soak 1 cup whole almonds for 8-12 hours. After 12 hours drain the water off of the almonds and use in place of the almond flour.
To a high-speed blender, add 1 cup almond flour, 2 pitted dates (for sweetness), 1/2 vanilla bean or 1 teaspoon vanilla extract, and a healthy pinch of sea salt. I start with 4 cups of water so that I don't blow the lid off of my blender. Using filtered water is always a good idea.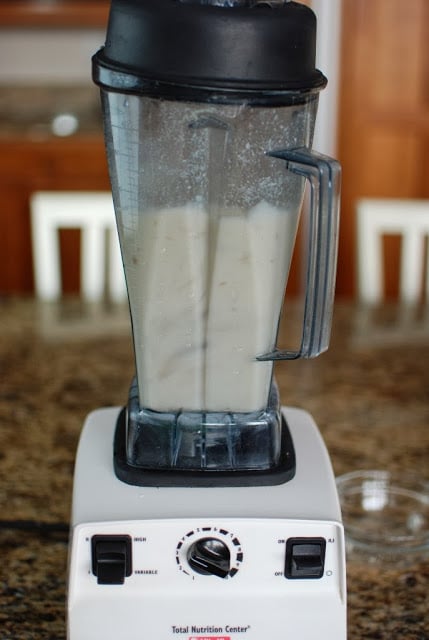 Allow the blender to run for 3-4 minutes. Making sure the dates and vanilla bean and ground down and mixed in well.
I'm adding the remaining cup of water with the blender on low speed.
My daughter suggested using a tightly woven dishcloth instead of cheesecloth because the cheesecloth allows for some of the grit to flow through besides I think my dishcloth works just great. Place the strainer over a large bow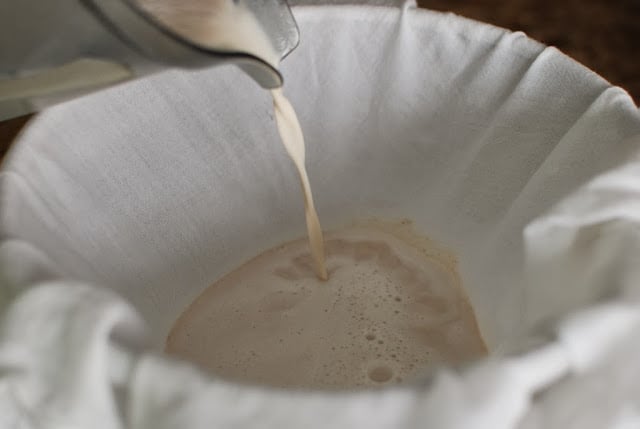 Pour the milk into the lined strainer. The milk will flow through the cloth into the bowl.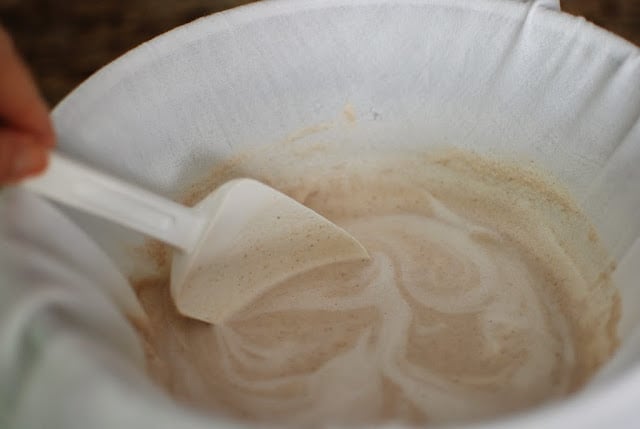 Use a rubber spatula to stir the remaining almond meal to release more of the nut milk.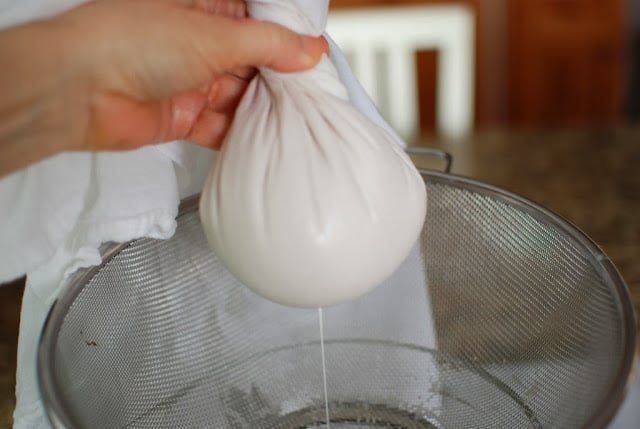 Gather up the cloth, twist and gently squeeze to release as much of the milk as possible.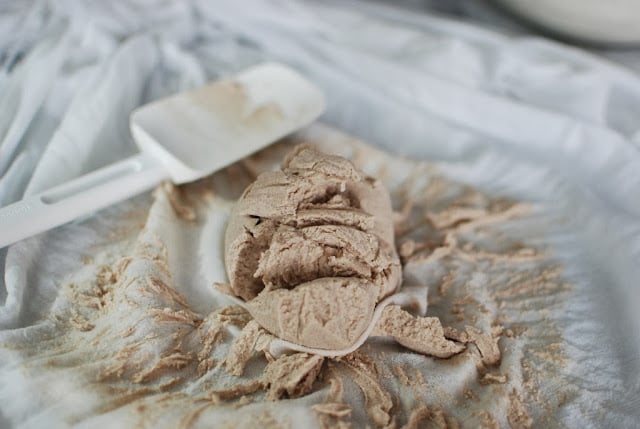 Reserve the almond meal. I spread the meal out on a baking sheet and placed it in a 140F oven until it was dry. I will use it again for making cookies or something.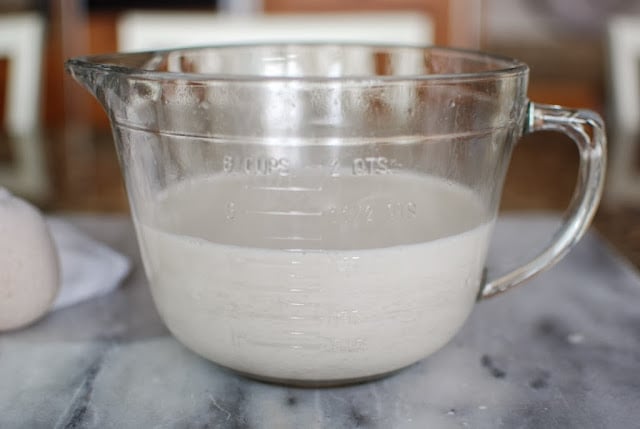 Ta Da! That's it. Refrigerate until cold. Here's to a happy and healthy 2014 with simple nut milk.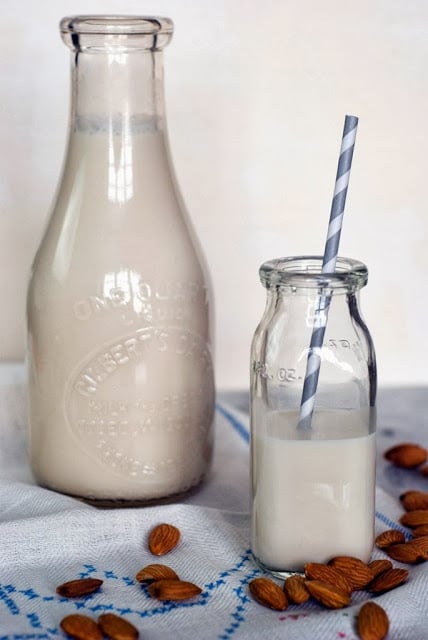 Homemade Almond Milk
Simple almond milk made with almond flour. Sweetened with dates and vanilla.
Ingredients
1

cup

almond flour

98 gr or 1/2 cup whole almonds

2

Medjool dates

pitted

1/2

vanilla bean

or 1 teaspoon (5 mL) vanilla extract

5

cups

water

960 mL

generous pinch of sea salt
Instructions
Combine all ingredients in a blender with a tight-fitting lid. Blend on high speed for 3-4 minutes. Pour liquid through a cloth-lined strainer placed over a large bowl. Strain almond milk through the strainer. Reserve almond meal for another use. Refrigerate to chill.
Recipe Notes
Hazelnuts, pecans, cashews, hemp seed, etc. may be used in place of almond flour or almonds.  
soak hard nuts overnight or 8-12 hours.  
Nutrition Facts
Homemade Almond Milk
Amount Per Serving (1 cup)
Calories 154
Calories from Fat 99
% Daily Value*
Fat 11g17%
Cholesterol 0mg0%
Sodium 12mg1%
Potassium 66mg2%
Carbohydrates 12g4%
Protein 4g8%
Vitamin A 15IU0%
Calcium 61mg6%
Iron 0.9mg5%
* Percent Daily Values are based on a 2000 calorie diet.
Recipes you might like:
Chocolate Cupcakes with Strawberry Swiss Meringue Buttercream
Vanilla and Chocolate Party Cakes for Kids