I'm not sure if the old man is getting burgers for Father's Day or these "bone suckin'" cherry cola glazed ribs.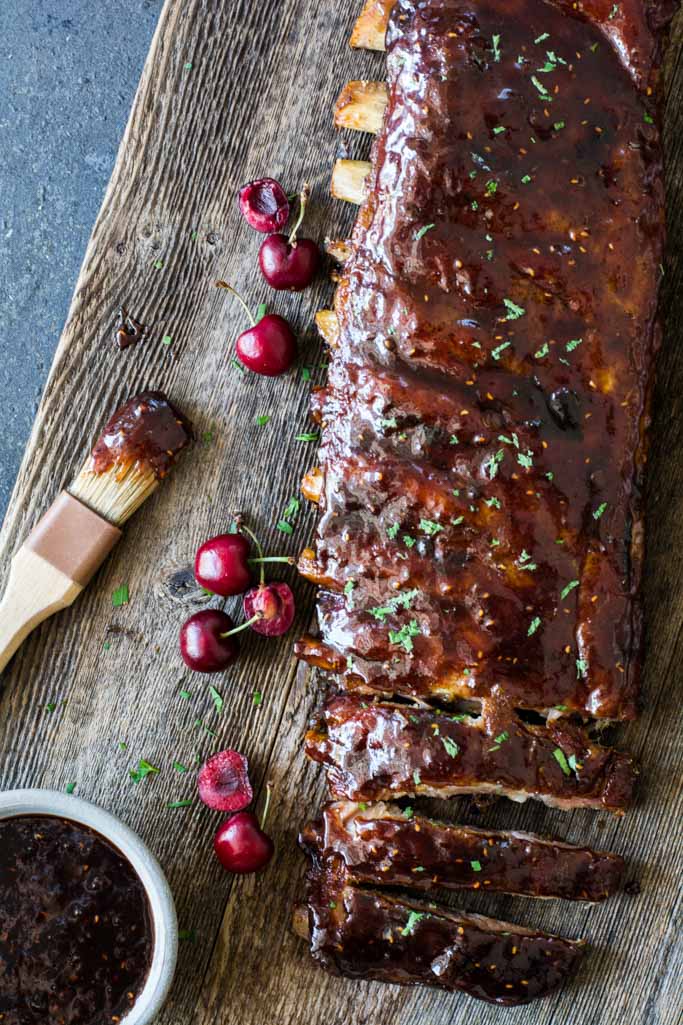 The cherry cola glaze is finger licking fabulous and so easy to make.  Who needs bottled sauce?  The ribs are pre-baked then finished and glazed on the grill for 10 minutes.
I love that I can cook cherry cola glazed ribs in advance, then finish and glaze on the grill.
Gather and measure all ingredients.
Start off by pouring the cherry cola into a bowl and let stand until the soda is flat or all of the fizzy is gone.  If you don't like cola drinks you can use any cherry soda.
This could take a few hours.  It's not a big deal if it seems to have a bit of fizz left.
Meanwhile, trim the ribs by removing the silver skin on the back and removing any excess fat.
I need to mention how much I hate getting that silver skin off the back.  It seriously can take me hours.  How on earth do people just pull it off in one sheet?  I have tried all kinds of hints.  Even using  a screw driving to lift the membrane from the ribs.  I'm up for any suggestions.
Place each rack on a large sheet of heavy duty aluminum foil.  Sprinkle with salt.
 and fresh ground pepper.
Tightly seal the aluminum foil around the ribs.  Place on a baking sheet and put into a preheated 325 F degree oven.  Bake for 2 hours or until meat is tender.
While the ribs are baking prepare the glaze.  Pour the flat cola into a large heavy sauce pan.
Bring to a boil and let simmer for about 45 minutes or until reduced to 2 cups.
 You can eyeball it or to be sure pour the reduced cola into a measuring cup to be certain.
Pour the reduce cola back into the pan.
Add cherry preserves.
3 tablespoons of soy sauce.
2 tablespoons apple cider vinegar.
If you use 2/3 cup spicy brown mustard the glaze will have a good kick to it.  To soften the heat you can add equal parts of spicy brown and Dijon.
You know I love my heat, but I thought I would reduce it a bit on tonight's ribs.
Whisk to blend.
Bring to a slow simmer and cook until thick and reduced to about 2 1/2 – 3 cups.  This can be made a few days in advance and refrigerated until ready to use.  Now that's a plus.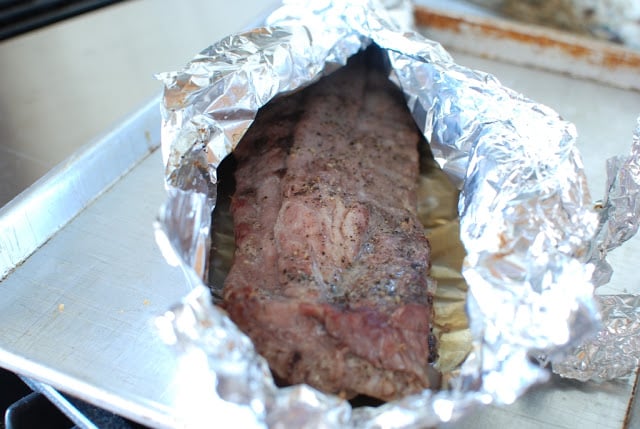 Remove the ribs from the oven and carefully  unwrap the foil.
I like to cut the large racks in half.  It just makes it easier to handle on the grill.  Especially if the ribs and beginning to fall of the meat.
Brush the ribs with glaze on both sides.
Place on a hot grill.  Grill until glazed and brown for about 5 minutes per side.
I like to brush more glaze over the ribs each time I turn them.  Watch them close.  The glaze is loaded with sugar that can burn.
Remove ribs from the grill and allow to sit for about 15 minutes before carving.
Slice between each rib bone.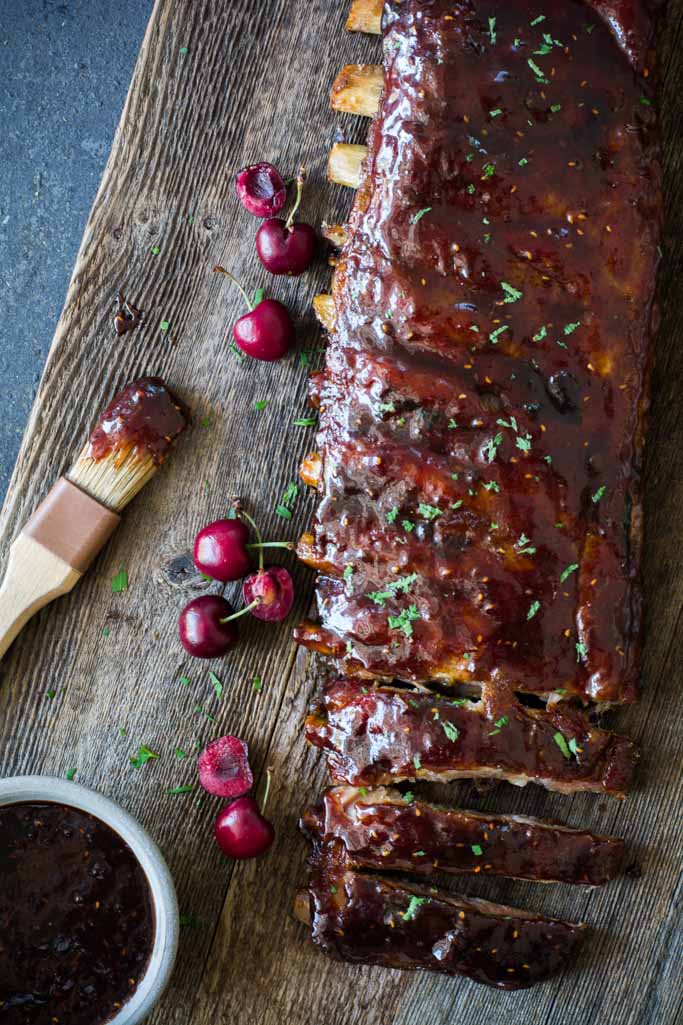 You'll suck the bones dry.
Try these amazing ribs:  Apricot Ginger Beer Glazed Ribs.  Let me know which ones you like the best.
Repost from 2013