It's not Grandma's famous macaroni and cheese if it's not made with aged Vermont cheddar cheese, cream and a hint of nutmeg.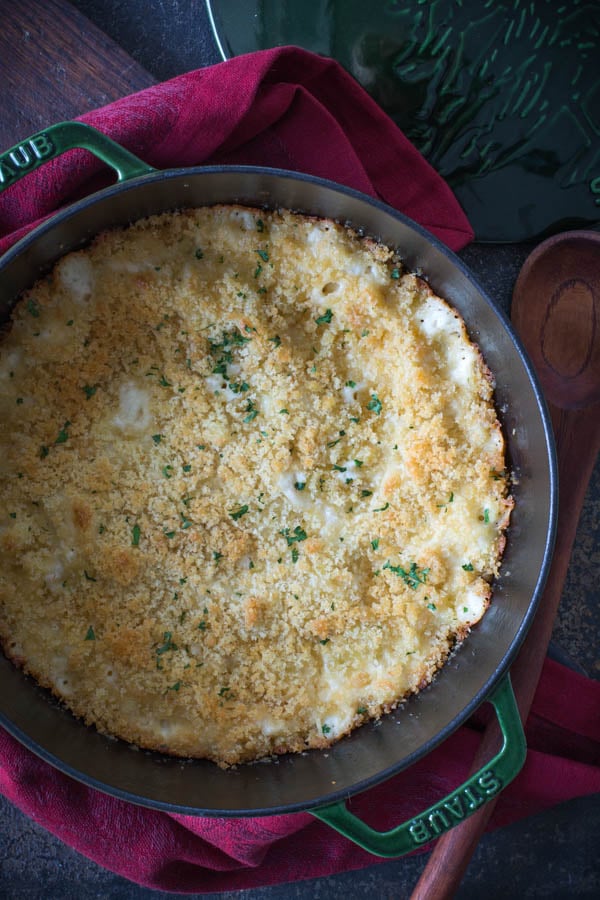 My grandkids titled this recipe "Grandma's Famous". Who knew they were talking about MY mac and cheese. They won't put up with any substitutions. This is their perfect version of macaroni and cheese.
What puts the famous in Grandma's mac and cheese?
Not much actually but to my grandkids, there are a few items that this recipe cannot do without. Drumroll, please.
Vermont aged cheddar
Cream
Breadcrumb topping
A shocker isn't it? I'm sure this didn't knock you off your chair. The recipe is pretty simple and straightforward but to my grandkids it's famous. Who knew?
Making Grandmas famous mac-n-cheese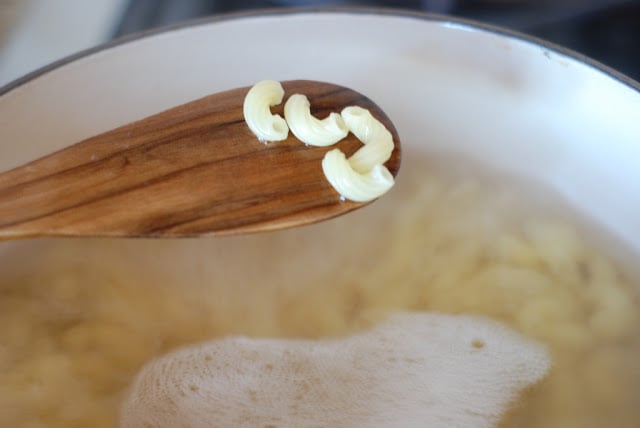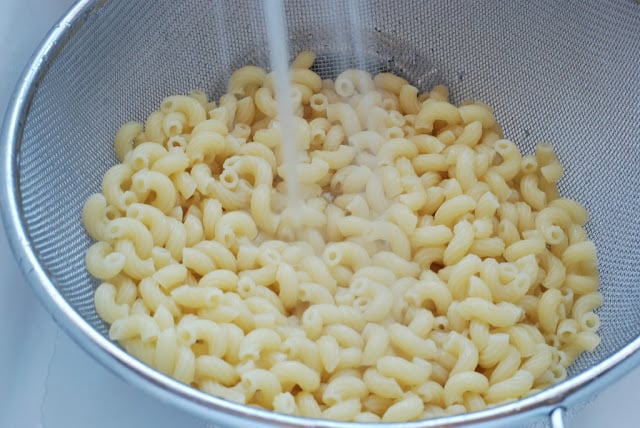 Add a good amount of salt to a large pot of boiling water. Enough salt to make the water taste like the sea. To the boiling water add elbow macaroni. Boil stirring occasionally. Cook the macaroni until it is a little less than al dente. It will finish cooking while it bakes. Make sure the macaroni still has a bite to it. Overcooked macaroni will result in mushy baked mac and cheese.
Drain the macaroni. Rinse with cold water and set aside.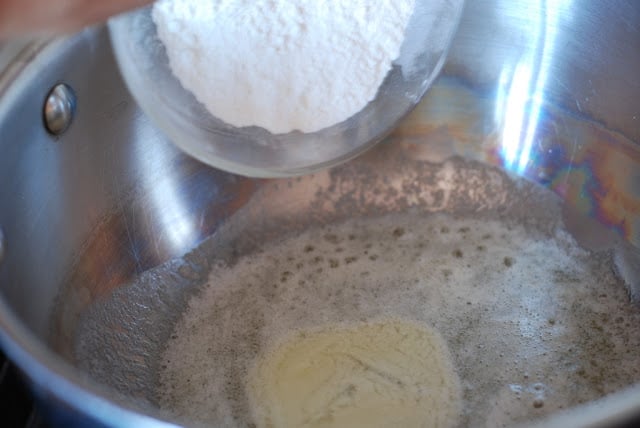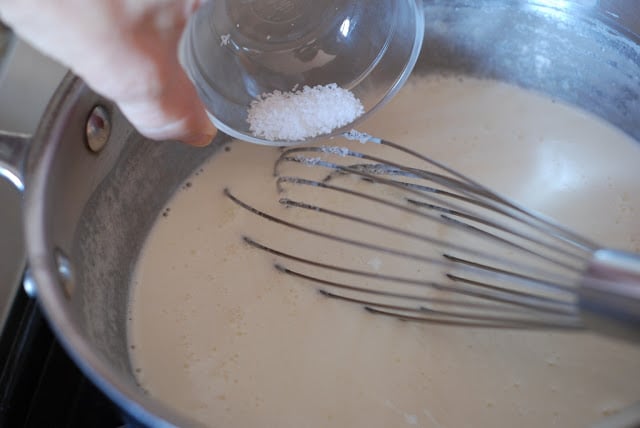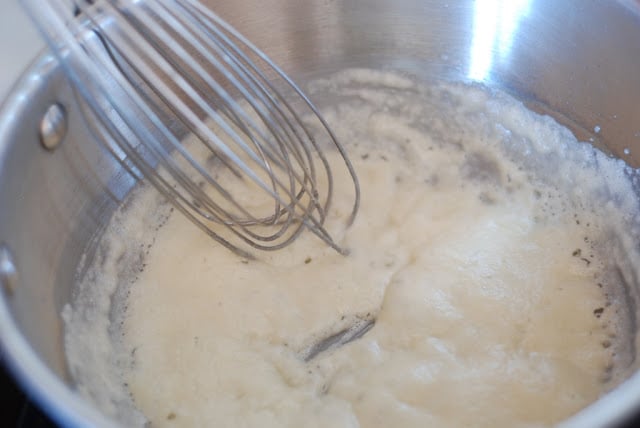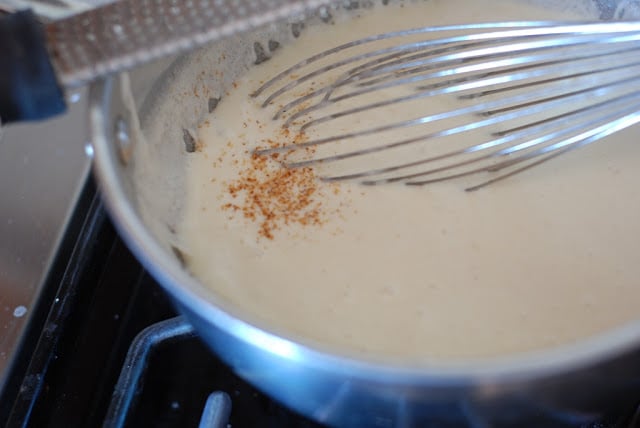 In a saucepan melt only 3 tablespoons butter. Add 2 tablespoons of flour.
Stir with a whisk so there are no lumps. Cook until the mixture begins to smell like English Toffee cooking or lightly browned butter. (I'm assuming everyone knows the smell of English Toffee)
Add cream to the butter mixture. Bring to a simmer whisking constantly until smooth. You don't have to use cream. You can use half and half, whole milk, 2%, 1% or even skim. However, If you do, you are no longer making my FAMOUS mac-n-cheese.
Add salt to taste (1 teaspoon), a pinch of nutmeg and a few grinds of pepper. Remove from heat.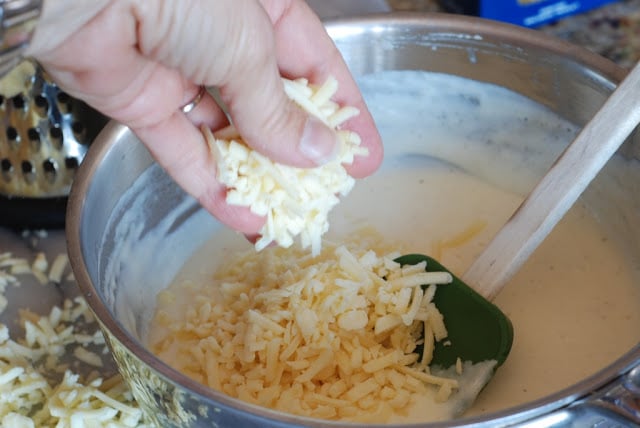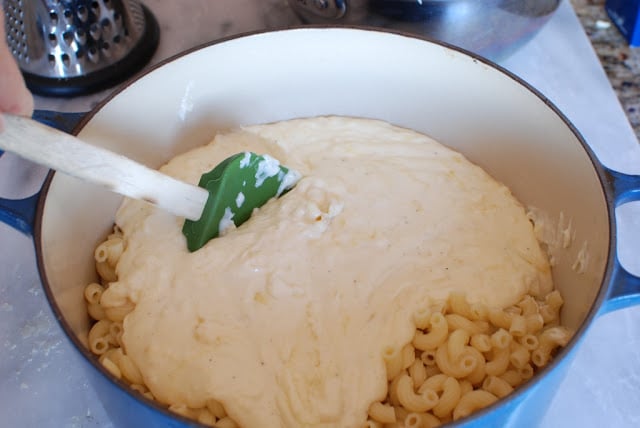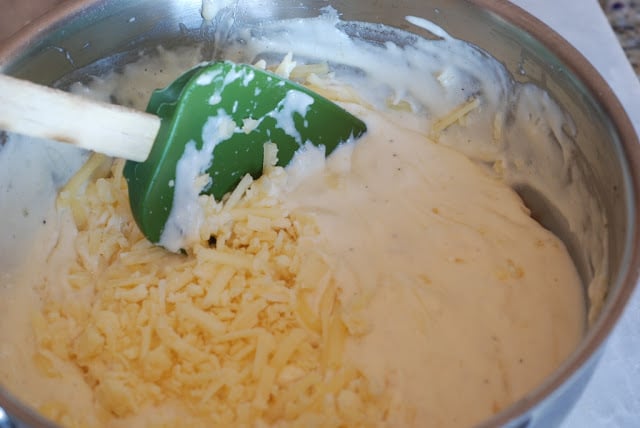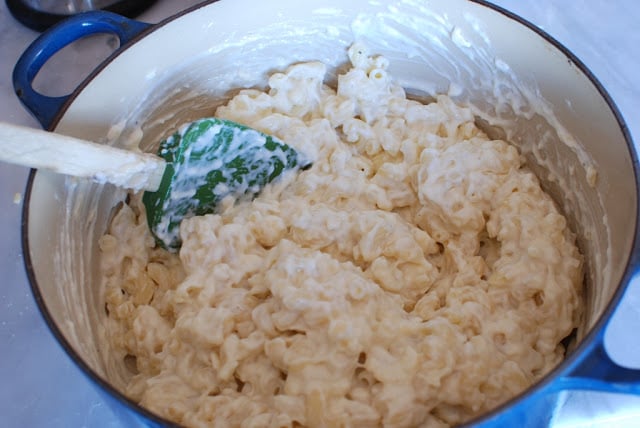 Add grated cheddar cheese and stir. Don't worry about the cheese melting. It will completely melt during baking. NOTE: Gruyere cheese is deliciously rich in this recipe.
Pour over cooked macaroni.
Stir until the macaroni is evenly coated.
Pour into a buttered casserole dish, 9 x 9-inch baking dish, or a 10-inch cast iron skillet.
Crunchy breadcrumb topping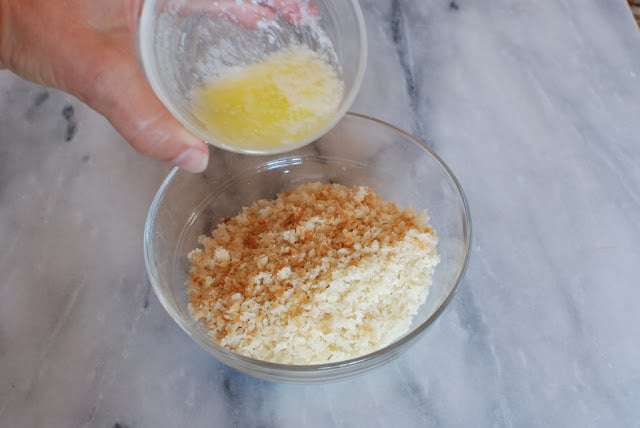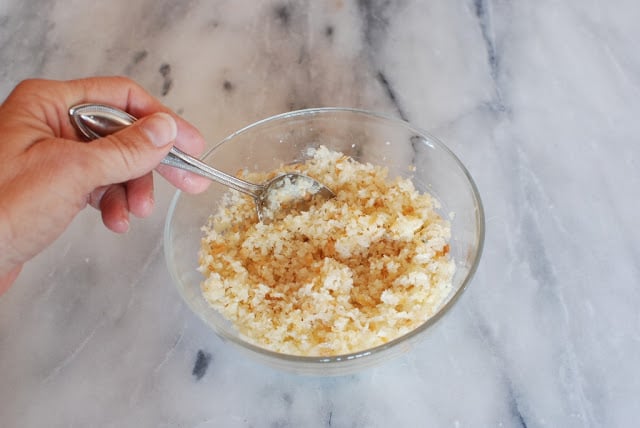 Melt 1 tablespoon butter. Pour over bread crumbs.
Stir to combine.
Sprinkle bread crumbs over the top of macaroni and cheese. Bake in a preheated 350 degree preheated oven. Bake for 30-40 minutes or until edges are browning and bubbles appear under the breadcrumb topping.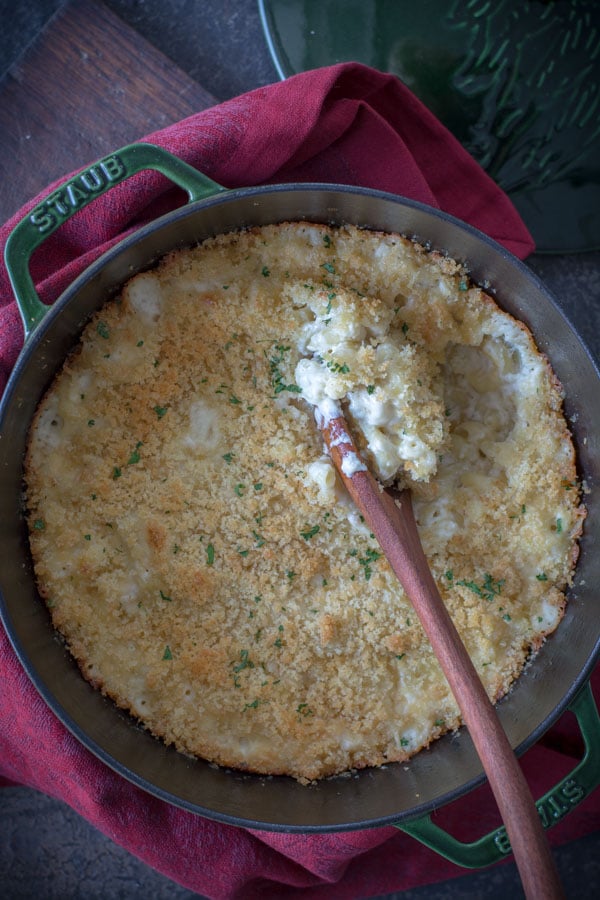 Pairs perfectly with:
Southern Pecan Glazed Ham, which is amazing. If you are planning on baking a ham for Christmas, please let me suggest this ham. You're welcome.
No time to bake macaroni and cheese?
Check out this recipe for how to make The Best Stovetop Macaroni and Cheese from the Kitchn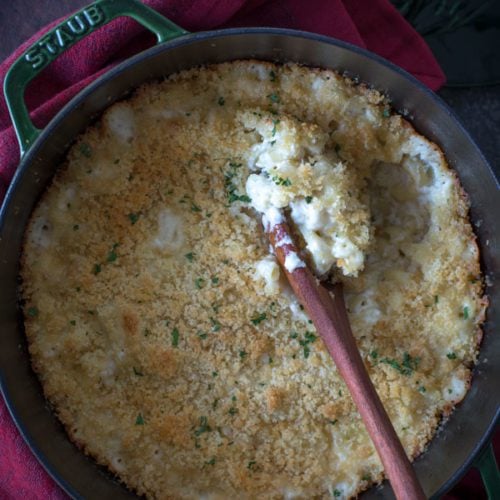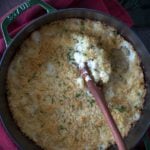 Grandma's Famous Macaroni and Cheese
Creamy homemade macaroni and cheese made with aged Vermont Cheddar with a crispy breadcrumb toppie.
Total Time
1
hour
10
minutes
Ingredients
8

oz

elbow macaroni

uncooked

3

tablespoons

butter

2

tablespoons

flour

2 1/2

cups

cream

1/2 - 1

teaspoon

salt

pinch

nutmeg

fresh ground black pepper

2

cups

aged Vermont cheddar cheese

shredded
Breadcrumb topping
1

cup

fresh breadcrumbs

or Panko breadcrumbs

1

tablespoon

butter

melted
Instructions
Cook macaroni in a pot of salted boiling water until slightly less than al dente. Drain and rinse with cold water. Set aside.

In a medium-size saucepan, melt 3 tablespoons butter. Add flour and whisk until smooth. Add cream and continue whisking until sauce begins to thicken. Add salt, nutmeg and ground pepper. Remove from heat. Stir in cheddar cheese. Pour over reserved macaroni. Pour into a buttered 9 x 9-inch baking dish, casserole dish, or 10-inch cast iron skillet
Breadcrumb topping
Melt remaining 1 tablespoon butter and mix with breadcrumbs. Sprinkle over the top of macaroni and cheese. Bake in a preheated 350℉ oven for 35-45 minutes.
Recipe Notes
Make sure not to overcook the macaroni. It should still have a bite to it. If you overcook the macaroni then it will become too soft while baking and will be a bit mushy.
Using all cream makes a very rich and creamy texture. It's pretty darn good.
Vermont aged cheddar gives the mac and cheese a nutty flavor that is so delicious. Actually, any cheddar may be used. Mild to strong cheddar cheese. Gruyere is amazing. A mixture of cheeses can be added as well.
Cooking the butter until it begins to brown a bit adds another dimension to the overall flavor. I associate the smell of making English Toffee.
Breadcrumb topping is also an option, but not to my family. Leave it naked or throw on some extra cheddar.
Be sure to butter a baking dish. The size really depends on if you'd like a deep dish macaroni and cheese or a shallow one baked in a 9 x 13-inch dish. It's up to you. Hey, it's your bake. Bake it how you like it.
This pairs great with a lovely baked ham.
Nutrition Facts
Grandma's Famous Macaroni and Cheese
Amount Per Serving
Calories 554
Calories from Fat 387
% Daily Value*
Fat 43g66%
Cholesterol 146mg49%
Sodium 296mg12%
Potassium 157mg4%
Carbohydrates 29g10%
Protein 13g26%
Vitamin A 1550IU31%
Vitamin C 0.4mg0%
Calcium 270mg27%
Iron 0.9mg5%
* Percent Daily Values are based on a 2000 calorie diet.