Fire up the grill! It's time for some serious grilled Hawaiian Huli Huli Chicken. Chicken halves are quick brined in an easy brown sugar/salt solution, rubbed with spices, and grilled while basting with an amazing pineapple, soy, ginger barbecue sauce.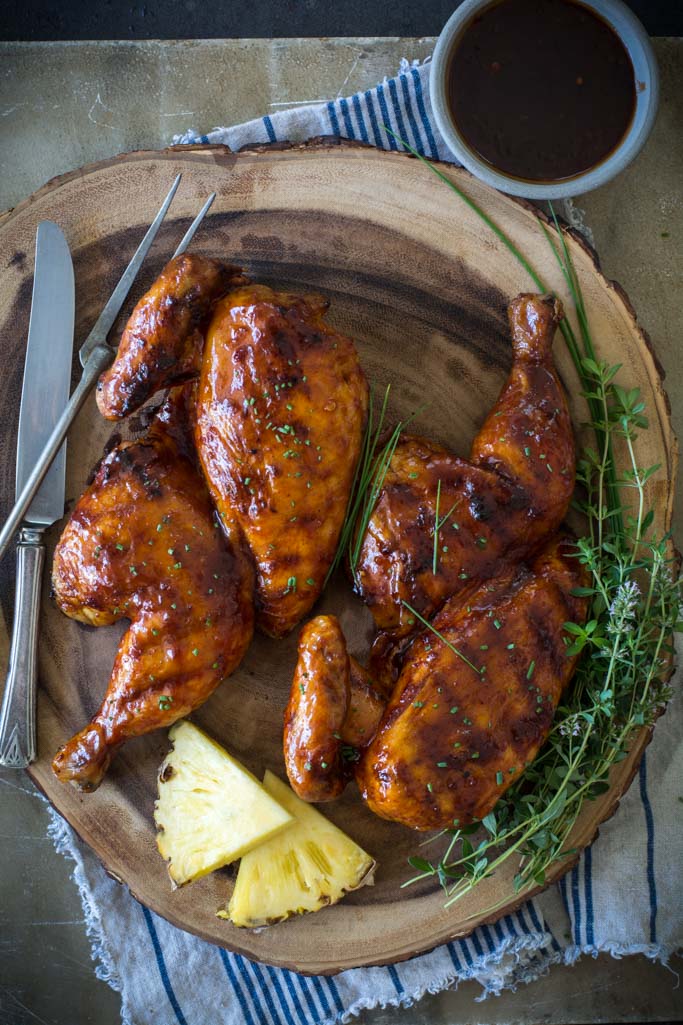 Grilled Hawaiian Huli Huli chicken is so moist with a sweet sticky glaze, perfect for summer cookouts.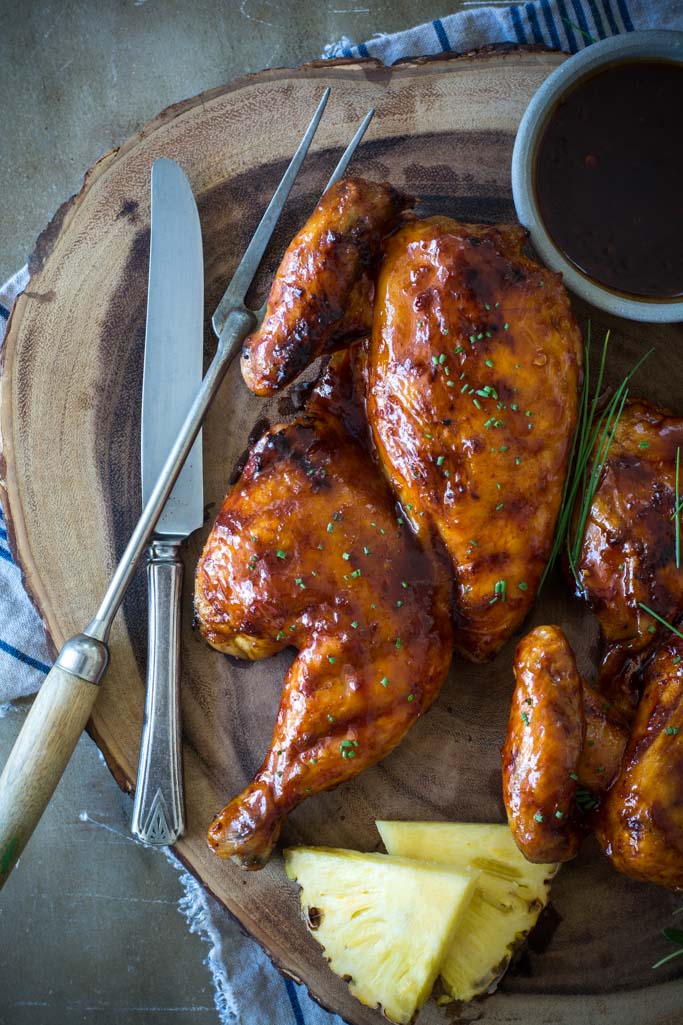 Doing a quick brine for 2-3 hours, makes the chicken moist and flavorful all the way to the bone. I love to layer flavors when cooking so the rub down of spices and a bath of BBQ sauce, make an explosion of flavors in your mouth. Seriously!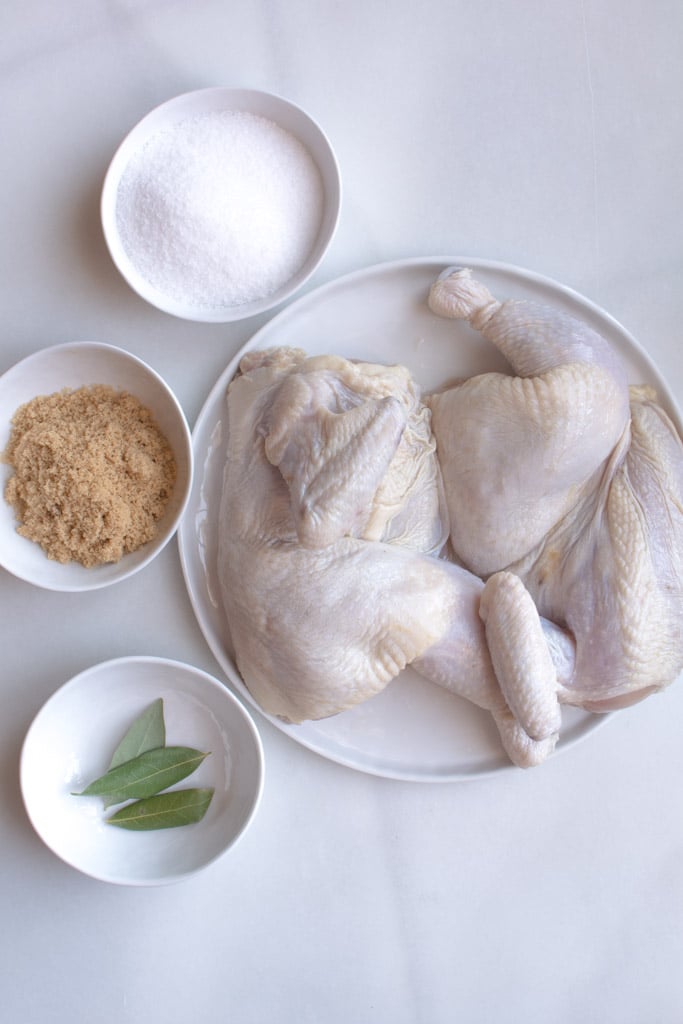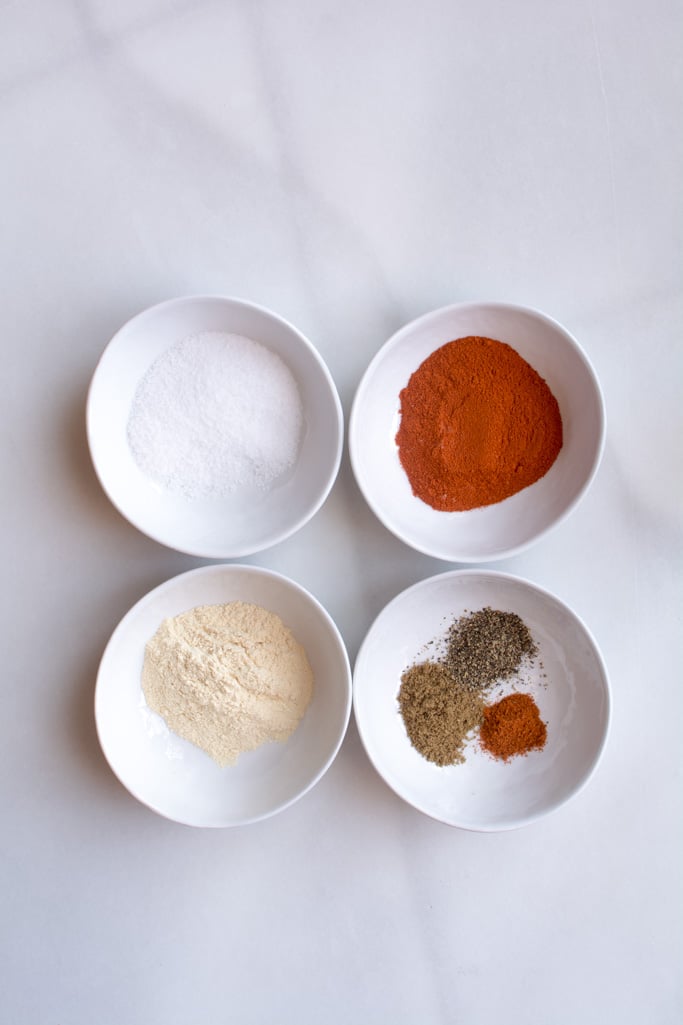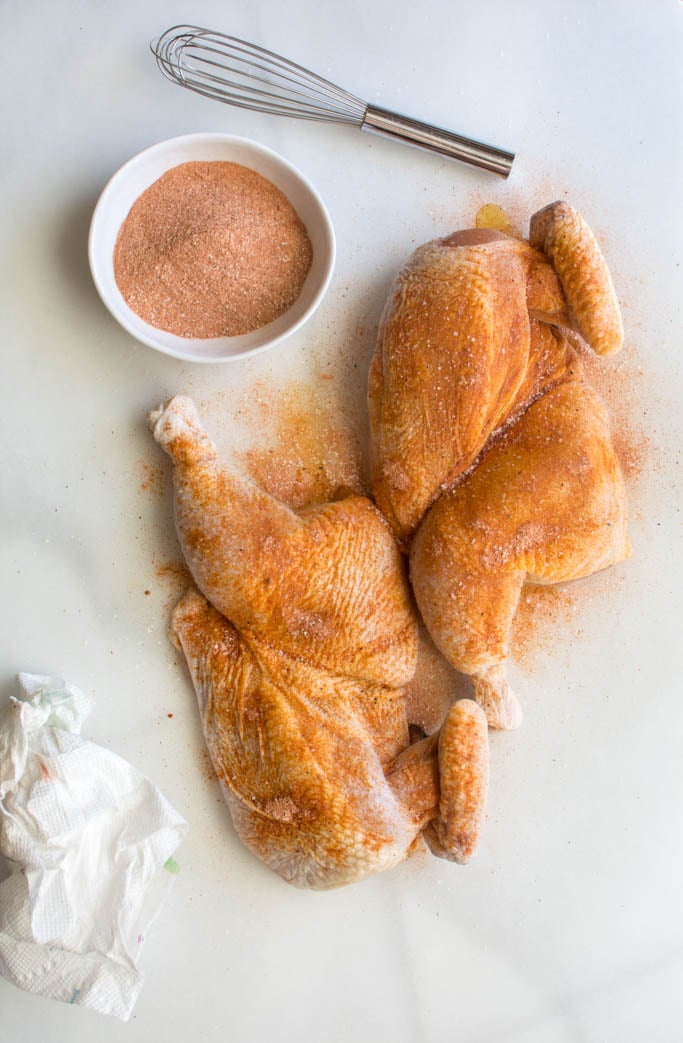 For the quick brine: Combine a gallon of water with kosher salt, brown sugar, and 2 sage leaves. Stir to make sure the salt has completely dissolved. Warm water will help with this process, just make sure the water is cool before adding the chicken. Place the cut chicken into the brining solution, cover, and place in refrigerator. Brine for 2-3 hours.
For the spice rub: Place all ingredients in a bowl and stir to combine. Once the chicken has finished brining, remove and pat dry with a paper towel. Drizzle with a bit of olive oil and rub with approximately two tablespoons of the spice rub. Save remaining rub for another use.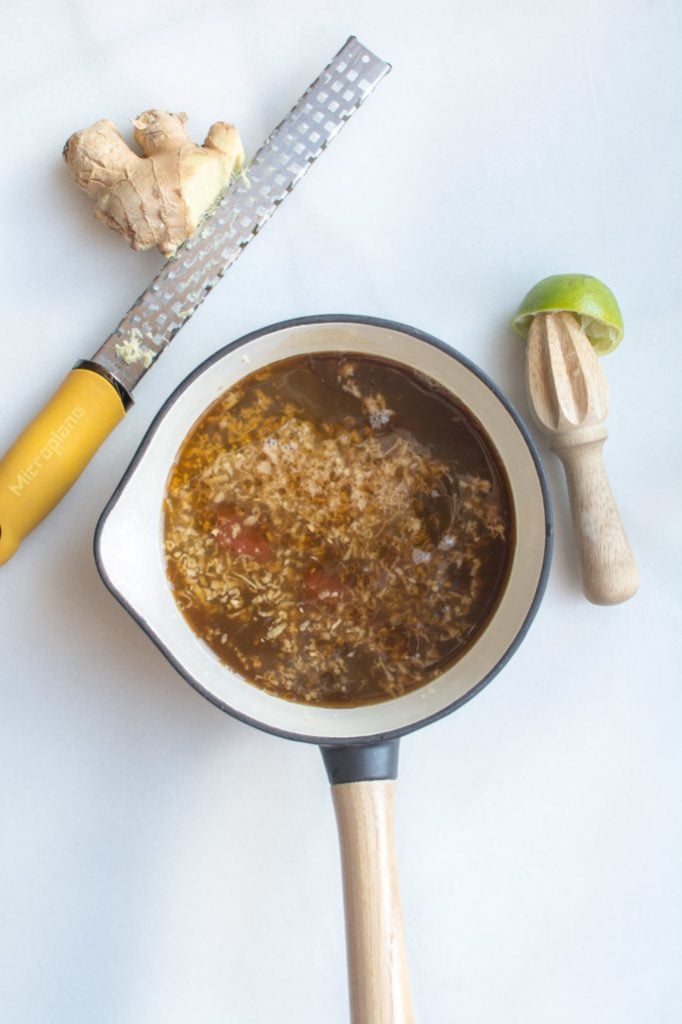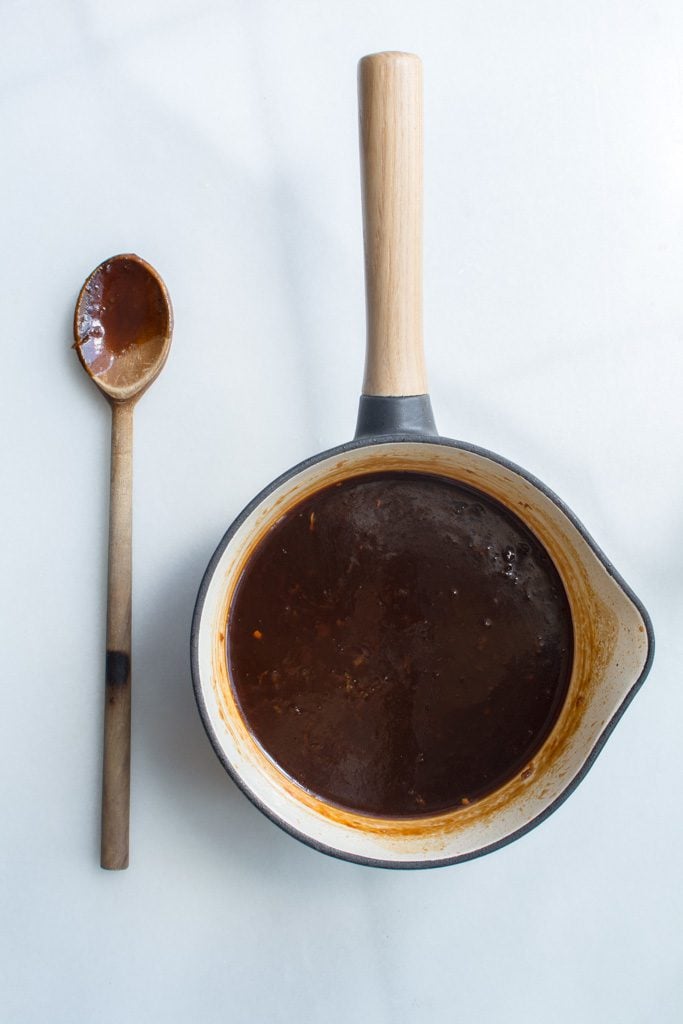 To make the Huli Huli Sauce: Place all ingredients in a sauce pan and simmer over medium/low heat until reduced by 1/3. Stirring occasionally.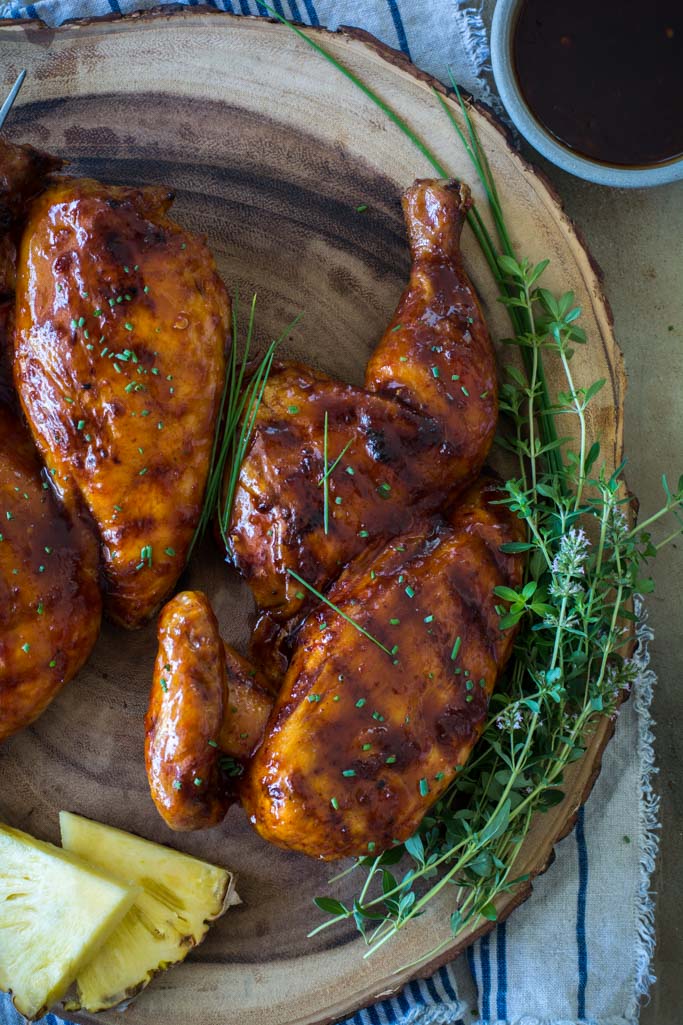 Place rubbed down chicken on a hot grill. I like to turn off or "off set" the heat on once side of the grill. Cook chicken on the cool side of the grill with the lid closed down. This will help with flare ups and will cook the chicken low and slow. When the internal temperature of the chicken reaches 155F degrees start basting the chicken with the Huli Huli sauce and continue to turn every 5-10 minutes, basting chicken on every turn, until the temperature reaches 165 degrees. Remove from grill. Serve with remaining Huli Huli sauce.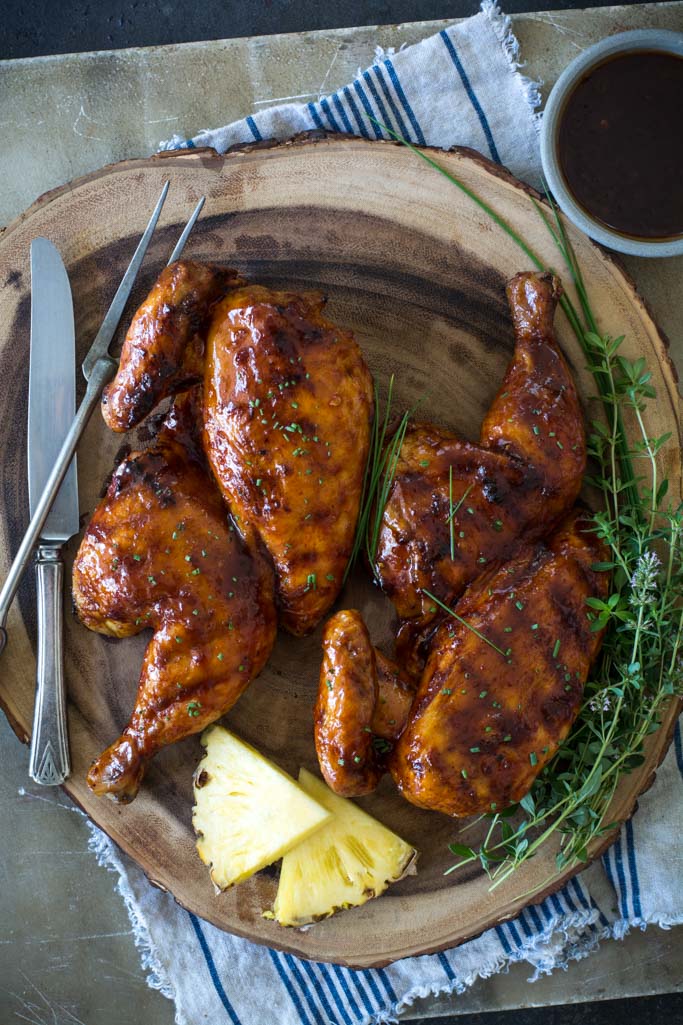 Summer is here! Heat up that grill or smoker and throw on some Huli Huli chicken.
Do you like smoking your chicken? Be sure to check out my notes in the recipe section for instructions for making Huli Huli chicken on a smoker. It's amazing smoked! I now have a smoker and this is why…I sent my husband to Costco with a grocery list. He actually brought home everything on my list including a ceramic egg grill/smoker. I should mention he is not the guy who loves to grill. I told him smoking had to be his "thing" because I have enough "things" on my plate. Bottom line…looks like I'm now smoking. Huli Huli chicken was my first smoking attempt. I think it turned out perfectly…I think.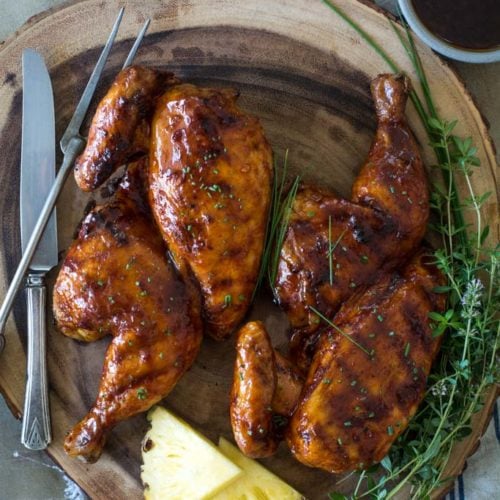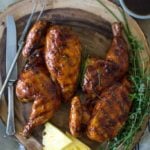 Grilled Hawaiian Huli Huli Chicken
Quick brined chicken grilled and glazed with a pineapple soy ginger bbq sauce. An easy family favorite chicken dish.
Total Time
1
hour
30
minutes
Ingredients
Brining liquid
1

gallon

water

1/2

cup

kosher salt

1/2

cup

brown sugar

2

bay leaves
Chicken Rub
2

tbsp

kosher salt

2

tbsp

garlic powder

2

tbsp

paprika

1

tsp

cumin

1

tsp

ground pepper

1/4

tsp

cayenne
Huli Huli Sauce
1

cup

pineapple juice

1/2

cup

ketchup

1/4

cup

soy sauce

1

tsp

sesame oil

1

tbsp

worcestershire sauce

1/3

cup

honey

1/4

cup

brown sugar

1/4

cup

apple cider vinegar

2

tbsp

ginger

fresh grated

1

lime

juiced
Instructions
Brining liquid
Cut chicken in half and remove the back bone.

In a large pot, bowl, or brining bucket, mix water, brown sugar, 1/2 cup kosher salt, and bay leaves. Stir until salt has dissolved. Make sure the water is cool before adding chicken.

Place chicken in brining liquid and refrigerate for 3-5 hours.
Huli Huli Sauce:
In a medium size sauce pan, add all of the huli huli sauce ingredients until smooth. Simmer over low heat until sauce mixture is reduced by 1/3. Remove from heat. Sauce can be made up to 2 weeks in advance and stored in refrigerator.
Chicken rub
Place all of the rub ingredients in a small bowl and stir to combine.

Remove chicken from the brine and rinse well under cold water. Pat the chicken dry with a paper towel. Rub lightly with a bit of olive oil and sprinkle about half of the rub ingredients over all sides of the chicken. The chicken can be refrigerated overnight or until ready to use.

When ready to cook, place chicken halves on a hot grill. Turn the grill to low and off set the heat. Turning off a portion of the grill and cooking the chicken on that side, while the other sections of the grill are on med/high heat. Cook for 15 minutes per side or until the chicken has fulling cooked basting the last 10 minutes of grill time.
Recipe Notes
To cook in a smoker (which is amazing): Follow instructions for brining and making bbq sauce. Place each chicken half in a smoker heated to 225F degrees, breast side up. Smoke for approx. 45 minutes per side. Remove the chicken from the smoker and turn up the heat/flame of the smoker. Return chicken breast side up to the smoker and continue cooking until the internal temperature of the chicken breast reaches 165F degrees basting with bbq sauce every 5 minutes or so.
Nutrition Facts
Grilled Hawaiian Huli Huli Chicken
Amount Per Serving (4 servings)
Calories 470
Calories from Fat 252
% Daily Value*
Fat 28g43%
Cholesterol 142mg47%
Sodium 1710mg71%
Potassium 442mg13%
Carbohydrates 14g5%
Protein 35g70%
Vitamin A 345IU7%
Vitamin C 3.3mg4%
Calcium 61mg6%
Iron 1.9mg11%
* Percent Daily Values are based on a 2000 calorie diet.
Nutritional facts are approximate.
Don't forget about these great recipes:
June 2016: Apricot Ginger Beer Glazed Ribs
June 2016: Roasted Veggie Tacos with Hibiscus Tortillas