Yogurt. Thick. Luscious. Tart. Tangy.
This is how I make my yogurt.
I tried culturing my own yogurt and didn't have much luck. I wanted a dump and walk away method. That's when I discovered this little gem that has added so much happiness to my life.
I know what you're thinking. Yogurt is so readily available, why make your own?
Answer: Because
I just love homemade better. However, I have to admit that the Honey Greek Yogurt by Greek Gods is just sinfully delicious. It's like eating cheesecake.
This is how I make my yogurt. There are many different techniques and recipes. This works for me.
4 cups whole milk (yes WHOLE milk)
1 package Yogourmet cultures OR 1/2 – 3/4 cup plain whole milk yogurt
Pour milk into a saucepan.
Heat milk to 180 degrees F (82C)
Remove from heat and cool to room temperature.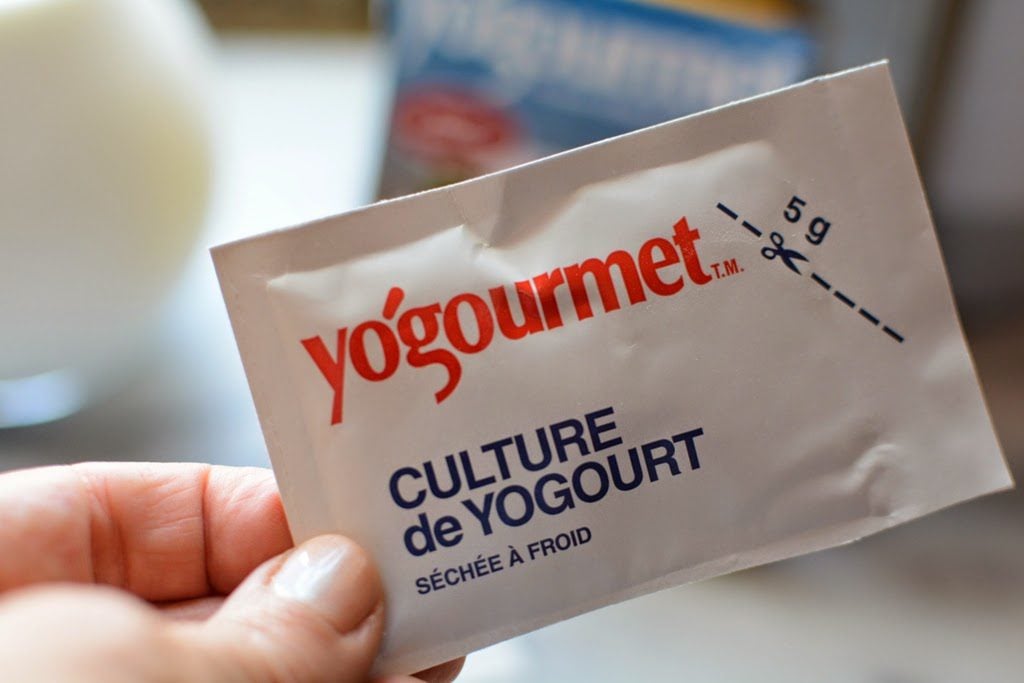 Once the milk has cooled add one package of a freeze-dried yogurt starter.
Yes, you can use yogurt as a starter. I add 3/4 cup plain whole milk yogurt.
Sprinkle it over the milk.
Stir well making sure there are no lumps and the culture has dissolved.
Pour into the yogurt maker bowl.
Cover.
Set timer. If the milk has been heated and cooled again, the yogurt should be ready is 4 – 4 1/2 hour. I check to see if it's thick. You may want to adjust the timing. Most of the time I set it for 8 hours then go to bed.
Let me tell you why this yogurt maker is so wonderful. It will automatically turn off and COOL the yogurt. The yogurt won't be cold, but it will be cool. What a great feature. It's pretty much a no brain way to making yogurt.
This has cultured for 8 hours. It's pretty thick and tart. Notice that it seems to be a bit grainy or lumpy. No problem. I just whisk through it and it's silky and nice, but will thin down the yogurt a bit.
I like to store my yogurt in a glass jar in the refrigerator.
I read many reviews on the Cuisinart Yogurt maker before my purchase. Many reviews stated that the yogurt wasn't thick enough. I have found that leaving the yogurt in the machine longer only makes it more tart not thicker. The reason the yogurt was thin was because of the whey in the milk.
Remedy? Drain the whey!
For Greek yogurt simply drain of the whey. This is so simple. So, so simple.
You will need:
Well chilled yogurt, a strainer and a coffee filter.
1) Place the strainer over a bowl.
2) Line the strainer with the coffee filter.
3) Pour in chilled yogurt.
I should buy larger coffee filters so I can make a larger batch. As you can see I have filled the coffee filter pretty much to the top.
4) Cover and refrigerate until the yogurt reaches your desired thickness. The longer it is drained the thicker it will become.
As you can see the yogurt has reduced considerable. Almost by half.
I drained this batch just overnight. Look how thick it has become.
This is the whey that drained off the yogurt.
DO NOT throw this away. I use it to make Crusty Bread. The whey gives the bread a sour dough flavor.
I lift the thickened yogurt and turn it over into a bowl.
Leave the coffee filter in place. Press it firmly to the top of the yogurt. This will help the yogurt store longer by keeping a tight seal against the top of the yogurt. Cover bowl and store in the refrigerator.
When ready to use just peel off the coffee filter.
Greek yogurt…it only looks like whipped cream.
Reasons why I'm giving away a Cuisinart yogurt maker:
I hate being lazy alone and I would love for one of my readers to be lazy with me.
I hate being so awesome alone and I would love for one of my readers to be just as awesome.
I make about .10 cents (seriously) an hour blogging. I thought it would be nice to share my wealth.
Your comments make my day
Why not?