Lemon Curd Ice Cream is one of my most popular posts. It's refreshing a refreshing and tart. I have placed Lemon Curd Ice Cream at the top of my ice cream favorites list.
You will need:
1 3/4 cup cream
3/4 cup 2% milk
3/4 cup sugar
1/4 teaspoon salt
5 egg yolks
1 cup lemon curd (purchased may be used, but if I were you I'd try the recipe link and make your own)
In a saucepan add 1 3/4 cup cream and 3/4 cup 2% milk.
In a small mixing bowl, whisk egg yolks.
Add 1/4 cup remaining sugar whisking constantly.
Set aside.
When the milk begins to steam, slowly add milk mixture into the egg yolk mixture in small amounts.
Add all of the hot milk.
Return mixture to the same saucepan and continue to cook over low heat,
Stir constantly. DO NOT let the mixture boil.
Continue to cook until the mixture coats the back of a spoon. Approximately 160-170 degrees F.
Remove from heat and strain mixture into a bowl. I like to strain the custard just in case a bit of the egg cooked and to ensure a smooth creamy texture.
After setting overnight, the mixture will be very thick and creamy. Remove plastic.
Pour into an ice cream maker. Follow manufactures instructions for freezing.
Once the ice cream is the consistency of thin soft serve ice cream, add the lemon curd.
Spoon lemon curd into ice cream with the ice cream maker running and continue to freeze for another 5-10 minutes. The curd will mix into the ice cream completely.
I pretty much licked the jar and spoon clean. The great thing about making the lemon curd recipe on my blog is that makes 2 cups. That leaves you with an additional cup to spread on bread, toast, cakes, cookies or just eat with a spoon. It's delicious.
Once the ice cream has churned completely, turn off the machine and transfer the ice cream to a container and place in the freezer to firm completely.
However, I love to eat this ice cream right now. This is perfect and I always scoop myself a bowl full then lick the container clean.
The texture is smooth, creamy, and dense like Italian Gelato.
Put this on your favorite ice cream ever list. Ya, It's that good.
Have you ever tried smashing lemon curd ice cream between two ginger cookies? You should! Lemon Curd Ginger Ice Cream Sandwiches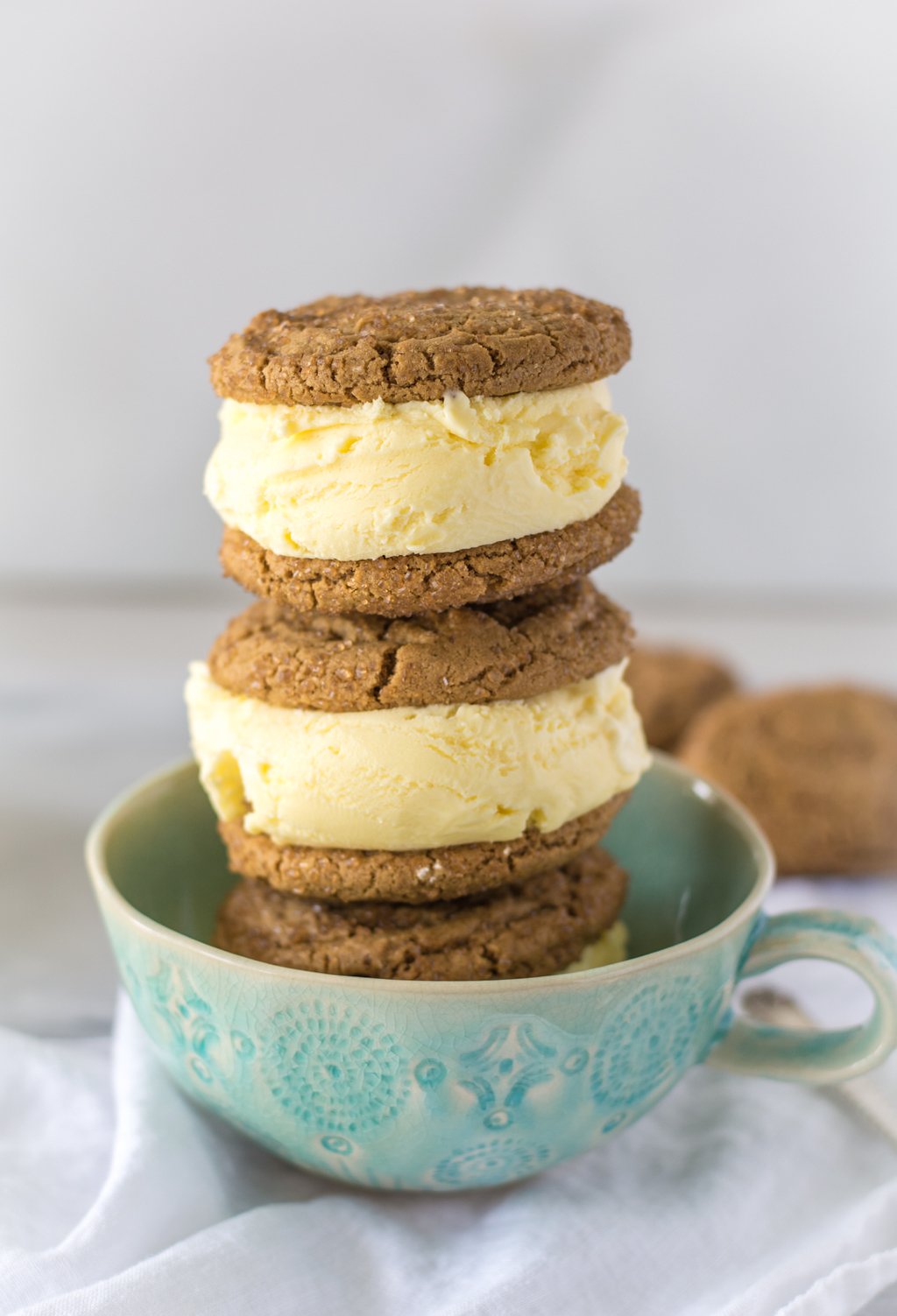 Here's another smashing ice cream…Honey Lavender Ice Cream