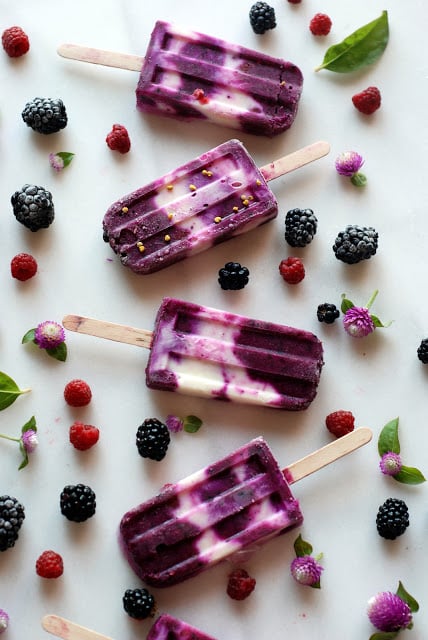 Go ahead and ask my family just how much Pitaya (dragon fruit) and Acai frozen packets I have purchased this summer. I'm completely obsessed with the bright magenta color of pitaya. It rivals with beets and I think that beets are the most beautiful colored vegetables created for this earth. I save beet drippings in a jar in my freezer to use in place of food color. Enough about beets.
We have had too many days this summer with temperatures in the triple digits. I decided to turn my pitaya smoothie bowls into pitaya pops so I can just grab one out of my freezer at the end of a long hot run (count down for marathon #28 in 4 weeks). They are so refreshing. I'm in love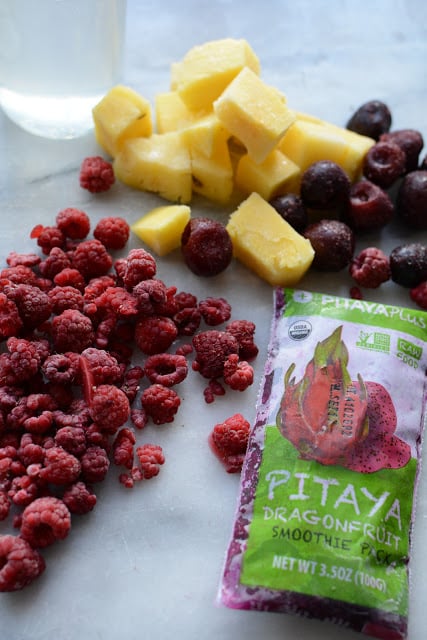 Pitaya Pops are very simple to make. I'm not lucky enough to find dragon fruit at my local market so I purchase frozen pitaya puree. You will need:
1 pkt or 4 oz. pitaya (Dragon fruit) puree
1 cup mixed frozen fruit of your choice (berries, cherries, pineapple, bananas, etc)
1 cup coconut water
Put all of the ingredients into a blender.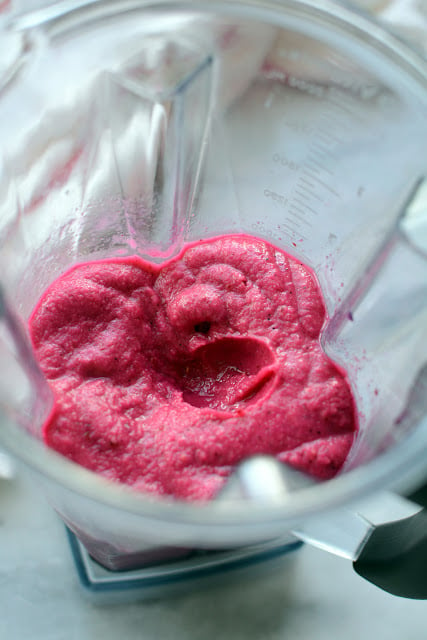 Blend until thick and smooth. That's it!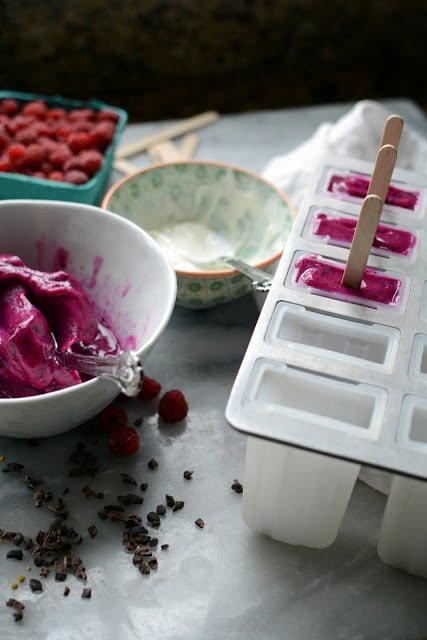 I like to layer my pops with pitaya blend and Greek Yogurt. You can be creative and make the pops to your liking. My liking is pitaya/yogurt/raspberries, cocoa nibs and a bit of bee pollen.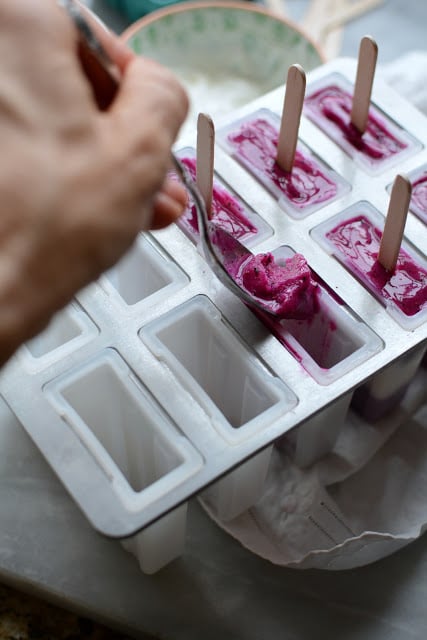 First add a layer of the pitaya blend.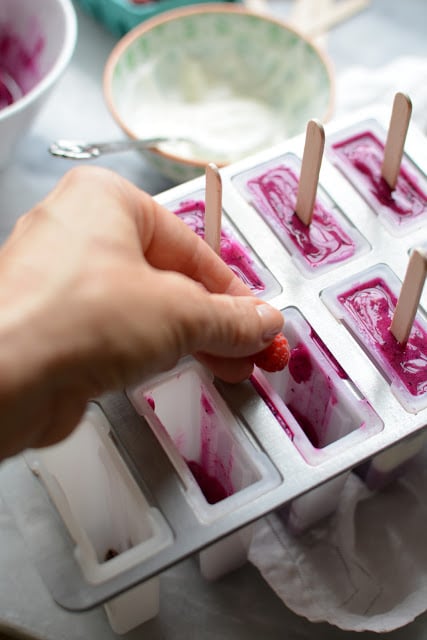 Crop in some berries and a few cocoa nibs.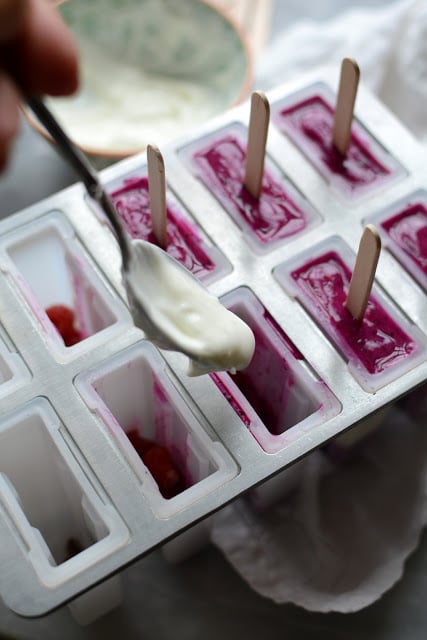 Add a spoonful of yogurt. Let me confess that this isn't Greek yogurt. It's Noosa coconut yogurt. It's my new guilty pleasure when I feel deserving.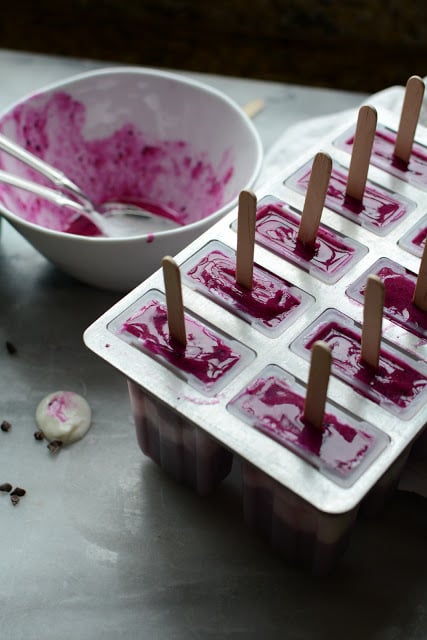 Repeat layers. Add popsicle sticks and freeze for a few hours or overnight.
Just run a bit of warm water around the popsicle mold and they will slide out. Sprinkle with more cocoa nibs and bee pollen.
Have I mentioned my obsession with cocoa nibs. I have a love affair with them. I put them in and on EVERYTHING! My husband recently informed me that he didn't have the same love affair for them as I do. Really? So I have gone through 3 lbs of cocoa nibs the past 6 months on my own?
Side note: Runners world listed cocoa nibs as something all runners should include in their diets. Boom!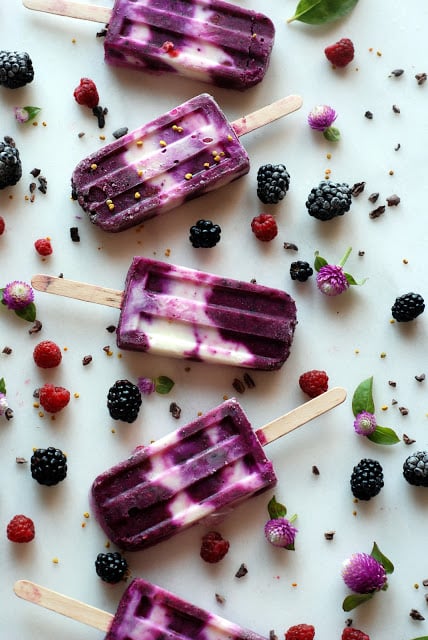 If by chance you don't have a mold for popsicles or you just feel like eating it from a bowl, just layer, and top with a cherry and more cocoa nibs for one refreshing, healthy treat.
You're welcome.
Pitaya Pops
Pitaya (dragon fruit) popsicles mixed with cream are a summer's dream!
Ingredients
1

cup

coconut water

1

packet of pitaya puree

1

cup

frozen fruit of choice

1/4 - 1/2

cup

Greek yogurt

1/2

cup

fresh fruit

toppings: cocoa nibs

bee pollen, nuts
Instructions
Blend in a blender until smooth. Layer into molds beginning and ending with pitaya/fruit blend. Layering with pitaya/berries/yogurt, repeat. Freeze molds for 3 hours or overnight.
Nutrition Facts
Pitaya Pops
Amount Per Serving
Calories 15
% Daily Value*
Fat 0g0%
Cholesterol 0mg0%
Sodium 25mg1%
Potassium 92mg3%
Carbohydrates 3g1%
Protein 0g0%
Vitamin A 35IU1%
Vitamin C 9.3mg11%
Calcium 8mg1%
Iron 0.2mg1%
* Percent Daily Values are based on a 2000 calorie diet.