I thought I was the coolest person I knew because I made my own cultured butter. Then I decided I wanted to make my own Ricotta…I amaze myself.
Grocery store Ricotta was so dry and crumbly, even gritty. I found a brand of ricotta that I really liked at a small market. It was smooth and creamy. The problem? It was a 30 minute drive and cost $7.99 for and 8 ounce container. It just didn't make sense to drive so far and spend so much.
I had a thought. If I can culture cream and make butter, surely I can make my own ricotta. Wouldn't you know I had saved an article from a Bon Appetite magazine containing instructions on how to making ricotta. I went to work, but I wasn't thrilled with the results. I just wasn't getting enough curd out of a batch to make it worth my time and effort. I started to search and compare recipes. I made a few batches that were ok, but not great.
That's when I decided to combine a few recipes and techniques. Voila! I had the ricotta I had always dreamed of. It was smooth and so creamy and I could get about 3 1/2 pounds of curd from a batch.
You will need:
1 gallon of whole milk (yes whole)
1 cup whipping cream
1 quart buttermilk
cheesecloth
In a very large pot, pour in the gallon on milk. I'm using Winder Farms milk. I firmly believe in supporting local businesses and I know it's fresh.
To the milk add 1 cup cream.
And 1 quart buttermilk.
Heat over medium/low heat. Only stir occasionally so that the milk doesn't scorch on the bottom of the pan. Clip on a thermometer. You can use a candy thermometer or an instant read thermometer.
Heat the milk mixture until it reaches 200 degrees.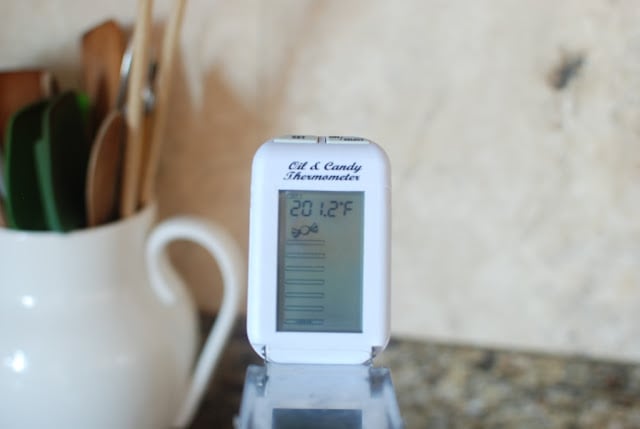 I'm over by a degree. No problem.
The mixture may begin to bubble just a bit. You will notice that some of the curd is beginning to form.
Notice how the curd has formed and separated from the whey.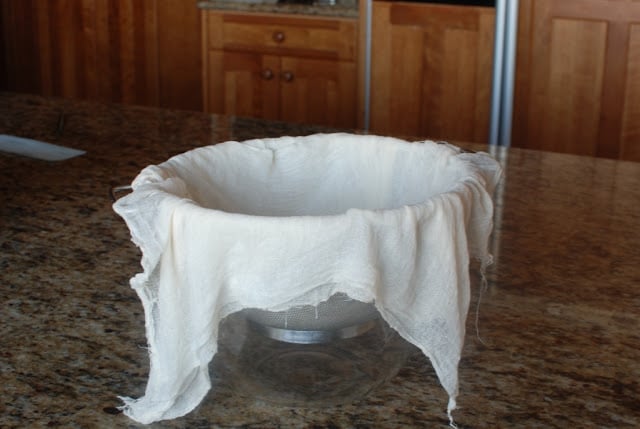 I like to line a wire mesh strainer with four layers of cheesecloth. It really helps to wet the cheese cloth first. This way it will stay in place and hug the strainer. Place the strainer over a very large bowl or pot.
Pour the warm ricotta/whey mixture into the strainer.
You will need to stir the ricotta gently to help remove the liquid whey. I like to scrape the sides of the strainer along the cheese cloth to allow the liquid to drain out.
You will be amazed at how much whey is left over. I had almost 3/4 of a gallon of whey.
Don't think you are wasting a full gallon of milk. This whey is good stuff. I use the whey in place of the water in the crusty bread recipe. It gives the bread a sour dough flavor. I have used the whey in pancakes and waffles. It's great to have on hand. I pour the whey into the milk container, label it and return to the refrigerator for later use. I'm searching for other uses of whey. Please let me know if you use whey for anything wonderful.
Fold the cheesecloth over the ricotta.
Place this in the refrigerator over night or 24 hours. This will allow more of the whey to drain out of the ricotta.
Remove the ricotta from the refrigerator. Notice that I have more whey that has drained off.
Remove the cheesecloth from the ricotta. I like to store my ricotta in glass containers with an airtight lid.
Side note: Glass is a new kick I'm on. I have pitched all plastic and I now store in glass containers…just because.
Another side note: I rinse out my cheesecloth and reuse it. I just wash it by hand and hang it to dry. It will last through several batches of ricotta.
You will be tickled pink. This batch produced almost 4 lbs of ricotta. The total cost was about $8. You can probably make it for less, but I purchased more pricey ingredients. (Supporting my local farmers)
During the past 48 hours I have made Buttermilk Ricotta Gelato (post coming soon), Lemon Ricotta pancakes (out of this world amazing), Buttermilk Ricotta Gnocchi, Asparagus Ricotta Walnut pizzas, and Buttermilk Ricotta Omelette's with spring chives.
This is so creamy and delicious I can eat it with a spoon right from the jar.
Please don't send me a comment stating the amount of fat I have consumed. I don't want to know!
I'll run it off tomorrow… or something….