When your wonderful neighbor/beekeeper brings you spring honeycomb and lavender is in full bloom AND it just happens to be Bastille day, what do you make? Honey Lavender Ice Cream, of course.
I had to search back several years for my recipe of honey lavender ice cream. It's one of my favorite ice cream flavors. I love the subtle hint of lavender. Perfect for Bastille day celebrations.
Honey is steeped with lavender blossoms that infuse the wonderful but subtle lavender flavor. The ice cream is made from a cooked custard that is smooth, rich, and so creamy. I love making small batch ice cream, which makes about 1 quart of the best ice cream you'll ever have.
Simply, simple recipe. Use the freshest ingredients you can find. Support your local dairy and egg farmers. Local honey is always best.
If you don't have fresh lavender, use dried lavender blossoms. Just make sure the lavender is for culinary use only.
Bring the mixture to a simmer over medium heat.
Set aside and allow the honey and lavender to steep for 1 hour.
Pour whipping cream into a large bowl. Fit the bowl with a mesh strainer.
Pour the honey, lavender mixture (that has steeped for 1 hour) into the cream. Set aside.
Pour milk into a medium size saucepan. Add sugar and salt. Bring to a simmer.
In a small bowl, whisk egg yolks.
Ladle the warmed milk mixture slowly into the beaten egg yolks. Beat well after each addition.
Return the mixture to the saucepan and continue cooking, over low heat. Stir with a heatproof rubber spatula, scraping the bottom as you stir.
Cook mixture until slightly thickened. Test the mixture by drawing your finger across the spatula. It should leave a path.
Pour the thickened mixture through a strainer into the cream/honey mixture.
Pour mixture through a fine-mesh strainer.
Stir the cream mixture and cooked custard together.
Add two more tablespoons of lavender blossoms to this mixture.
Stir to combine. Cover with plastic wrap and refrigerate overnight.
Before freezing, Pour them mixture through a strainer to remove lavender blossoms.
Remove ice cream to a freezer container and freeze for at least 4 hours or overnight.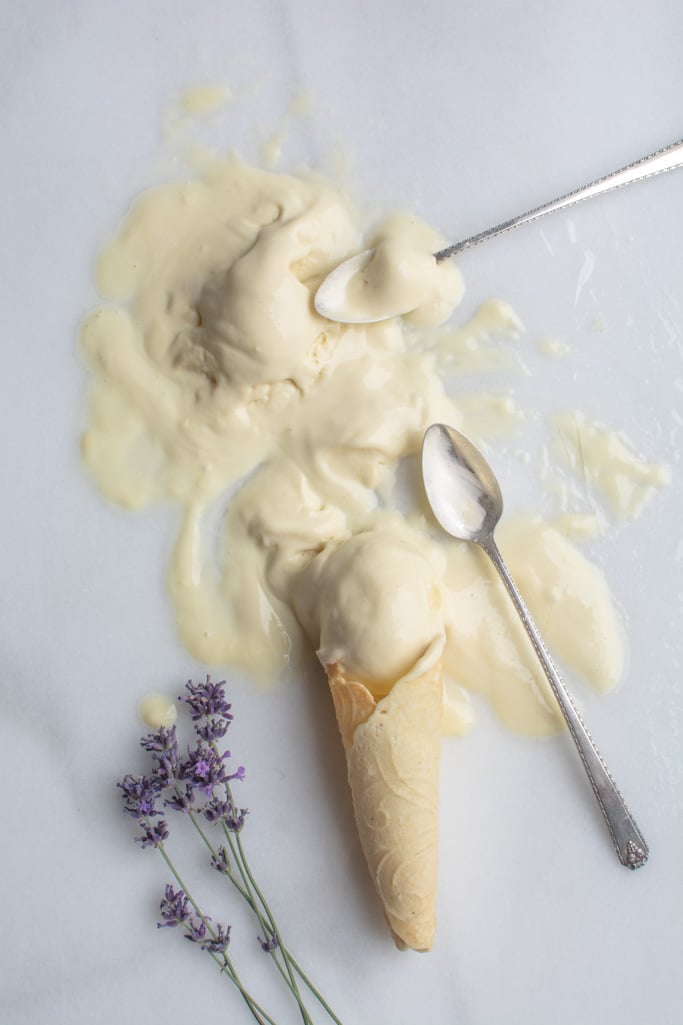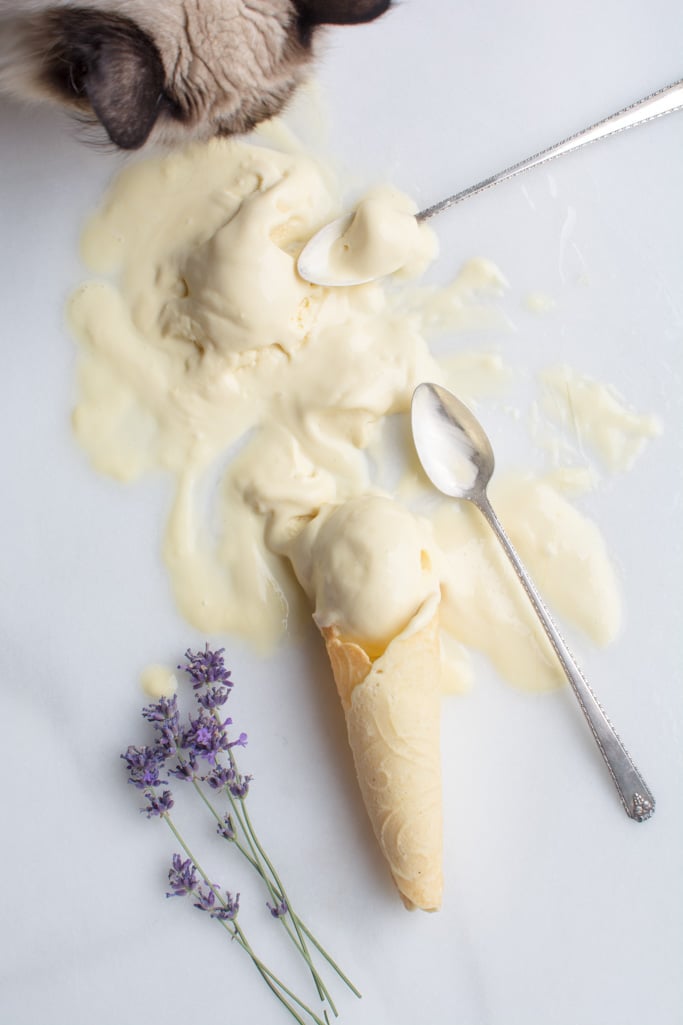 Excusez-moi? Happy Bastille Day! "Vive la France!"
Previous years posts: Don't forget about these great recipes
July 2017 post: How to make French Croissants
July 2016 post: Strawberry Cherry Coriander Ice Cream