When the weather turns cool and there is a chill in the air, I love to snuggle down with a bowl of simple brothy lentil soup. When I want to ramp up the nutrition and make a heartier soup, I will roast some broccoli and cauliflower and place on top of the bowl of soup. It didn't take long for my husband to turn his nose up at all those "veggies". I decided to disguise his lentil soup with any form of meat. I have topped his bowl with ham, bacon, and Italian sausage. It's a pretty simply fix.
It's a pretty simple soup to make two ways. I'm happy and he's happy.
For the lentil soup you will need:
1 1/2 cups dry French lentils
2 tablespoons olive oil
1 large onion, diced
2 carrots, peeled and diced
2 celery ribs, diced
8 cloves garlic, smashed and chopped
8 cups chicken or vegetable stock
1 teaspoon dried thyme
1 bay leaf
salt and pepper
1/3 cup fresh parsley, chopped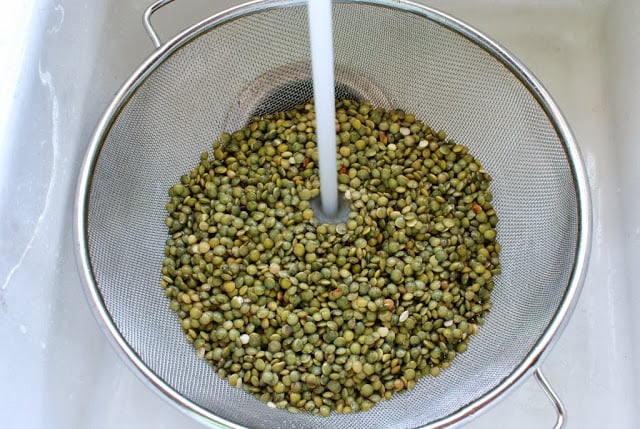 You need to plan a head to make this soup. Little French green lentils are hard and need to be soaked for a good 24 hours. I have soaked them for 10 hours and had to simmer all day to soften them up.
Rinse the lentils well.
Place in a large bowl because the are going to swell.
Cover lentils with water and let them soak for about 24 hours or more. I have let them soak out for 36 hours.
After the lentils have soaked well, begin to prepare the soup by chopping 1 large onion.
Add to a large pot with 2 tablespoons of olive oil.
Chop 2 celery ribs.
Chop 2 peeled carrots.
Add to the pot with the onions and olive oil.
Saute for about 5 minutes or until the onions begin to soften.
Add 8 cloves of garlic.
Smash each clove.
Then chop.
Add to pot of sauteed vegetables.
Cook until onions are translucent.
Drain soaking lentils.
Add to the pot.
Add stock. Homemade chicken stock is great. You can use a good quality purchased chicken or vegetable stock.
Add the bay leaf.
Add several grinds of pepper and 1 teaspoon salt.
Add 1 teaspoon dried thyme.
Cover the pot and let simmer for about one hour or until lentils are tender. This could take longer depending on how long the lentils were soaked.
Test the lentils and make sure they are nice and tender.
Right before serving chop a handful of fresh parsley and add to the soup.
To add roasted vegetables. Place chopped cauliflower and broccoli on a baking sheet drizzle with olive oil and salt and pepper.
Place in a preheated 425F oven.
Roast for about 15 minutes or until the vegetables begin to brown.
I love to eat the veggies right off the pan with my fingers. In fact I had to roast another batch because I snacked on the first pan. Love.
For the meat eater:
Dice precooked ham.
Melt 1 tablespoon butter in a sautee pan.
Add ham.
Saute until the ham begins to brown and is a little crisp. I have to admit the ham gives the soup a delicious smokey flavor.
To serve: Remove bay leaf and discard.
Check the seasonings. Add more salt and pepper if needed. Add a good handful of chopped parsley.
Simple French lentil soup two ways.
Hers.
His.
Either way this is warming comfort food for a chilly day.