When my bee keeper neighbor picked two beautiful eggplant from his garden and handed them to me, the only thing that went through my mind was "Ratatouille". Everyone knows that ratatouille is best when all of the ingredients have been locally grown or even better picked from your own garden. The only thing my garden was lacking was egg plant (thanks Kenny).
As you know I STRONGLY believe in supporting our local farmers and growers. If you don't have a garden of your own, please visit a farmers market and purchase the fresh produce for this recipe OR be lucky to have neighbor good gardeners.
Several years ago my husband and I surprised out then 16 year old daughter with a trip to France. We were staying in the Provence town of Avignon. What a beautiful town. We had chosen to eat at a lovely cafe where we had a fabulous view of Palais des Papes. I decided that I was going to order locally inspired dishes from the menu. I had a lovely fresh salad, ratatouille, Beef Daube and lavender creme brulee. A perfect meal for our location. The ratatouille was memorable.
Years later while attending a French cooking class, we were taught how to make a Provencal ratatouille. This recipe most resembled what I had eaten in Avignon. This recipe comes from the same Chef that shared the Zucchini Gratin. I hope you love it as much as I do.
You will need to grow the following in your garden or visit a local farmers market:
1/4 cup olive oil
2 large onions
4 red and yellow pepper
5 garden fresh tomatoes
1-2 heads of garlic
2 large eggplants or 4-6 Japanese eggplant
1 rib celery
2 bay leaves
fresh thyme sprigs
fresh parsley sprigs
strip of orange peel
2-4 small zucchini
salt and pepper
fresh basil
Peel onion and chop two large onions.
Add 1/4 cup olive oil to a large heavy pot.
Add onions and cook over low heat for about 10 minutes.
Add vegetables in order of preparing beginning with peppers.
Seed, de-rib and chop peppers. I'm using green and red peppers instead of red and yellow because that's what I have in my garden.
Add to the sauteed onions.
Peel, seed and chop 5 tomatoes.
Add to pot with peppers.
Peel 1-2 heads of garlic.
Add to pot.
Cut eggplant into cubes.
Add to pot.
Add 1 tablespoon of salt and several grinds of fresh ground pepper.
Turn heat up to medium and bring to a simmer.
To make the bouqet garni:
Take two 2-3 inch pieces of celery.
Add the bay leaves.
Strip of orange zest.
Add a fresh bunch of thyme.
Add a bunch of fresh parsley.
Top with remaining celery.
Tie together.
Add to simmering vegetables. Push down into the veggies.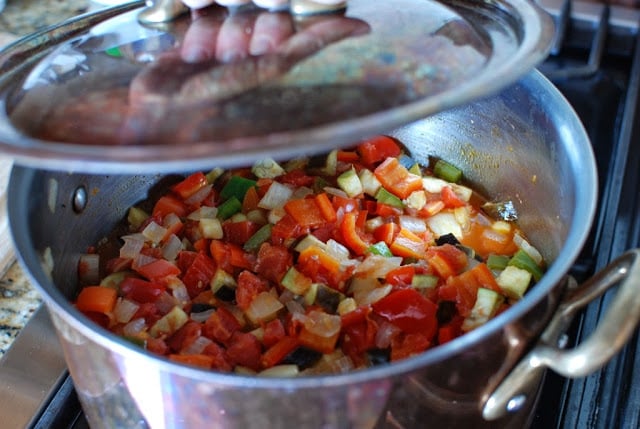 Cover and simmer for 30 minutes of medium heat.
Meanwhile, chop the zucchini.
After 30 minutes add to pot of simmering vegetables.
Cover and simmer for 1-2 hours depending on how large you have chopped the vegetables. I thought one hour was enough.
Remove lid.
Pour ratatouille into a strainer and strain off all of the juices.
Remove bouquet garni and discard.
Return juices to a sauce pan and bring to a simmer.
Slowly simmer until the juices have caramelized and is a dark amber color.
Pour over ratatouille.
Drizzle with the best olive oil you have and add a few grinds of pepper.
Chop fresh basil including blossoms.
Sprinkle on top of Ratatouille.
Ratatouille is French rustic comfort food for fall.
You must eat Ratatouille at least once in your lifetime!
Ratatouille Nicoise
1/4 cup olive oil
2 large onions, chopped
4 red and yellow pepper, seeded, deribbed and chopped
5 garden fresh tomatoes, peeled, seeded and chopped
1-2 heads of garlic, peeled left whole
2 large eggplants or 4-6 Japanese eggplant, cut into cubes
1 rib celery, 2 2-3 inch slices
2 bay leaves
fresh thyme
fresh parsley
strip of orange peel
2-4 small zucchini, cut into cubes
kosher salt and fresh ground pepper
fresh basil
Warm 1/4 cup oil in a large pot over low heat. Add the onions and let them soften for 10 minutes or so. As you prepare the other vegetables, add them in turn, with the exception of the zucchini; start with the peppers first. After the additional of the eggplant, raise the heat to medium and add 1 tablespoon of kosher salt. Stir well. As it begins to boil turn the heat to low. Make the bouquet garni by placing the bay, thyme, parlsey, orange peel then another in between the two pieces of celery and tie together. Press the bouquet garni into the center, cover and continue to simmer for 30 minutes.
Meanwhile prepare zucchini and after 30 minutes add to simmer vegetables. Gently pressing down on zucchini. Cover and let simmer for 1-2 hours. Remove from heat and drain the vegetables in a strainer, catching the juices in a heavy saucepan. Discard the bouquet garni. Bring the juices to a boil oh medium high until they have reduced to a thick syrup. Continue to add any accumulated juices from the draining vegetables. Pour the vegetables in a large bowl; our the syrup on top and gently stir. Drizzle with olive oil and a few grinds of pepper. Garnish with fresh basil leaves and basil blossoms.