The creamiest Homemade Vanilla Ice Cream you will ever eat. Rich egg and cream-based custard with the perfect amount of vanilla.


Vanilla ice cream may seem plain to some, but a scoop of vanilla ice cream can transform a slice of pie. A slice of cake is always better with ice cream. After one bite you'll notice how the cream coats your lips. The ice cream isn't pure white because the custard is thickened with egg yolks. The egg yolks I used to make the ice cream are from local free-range chickens with amazing dark golden yolks.
This vanilla ice cream recipe is the base for most small-batch ice cream flavors that I make. I came across this recipe many years ago in a recipe book by Bi-Rite creamery. With this simple vanilla ice cream recipe, you can create any flavor you can dream of.
Homemade Vanilla Ice Cream Custard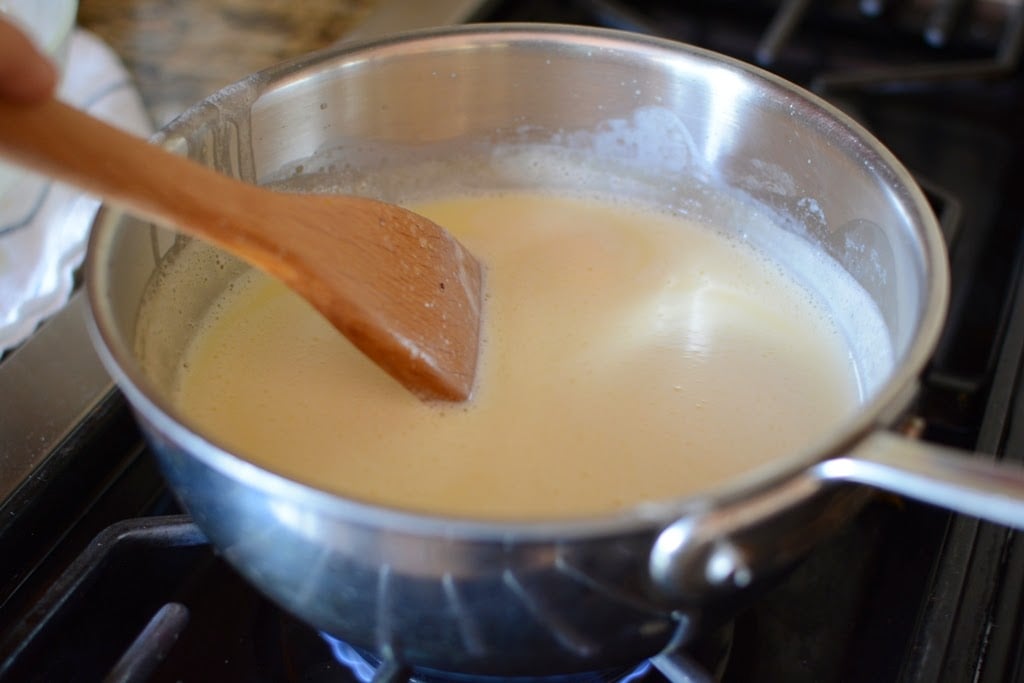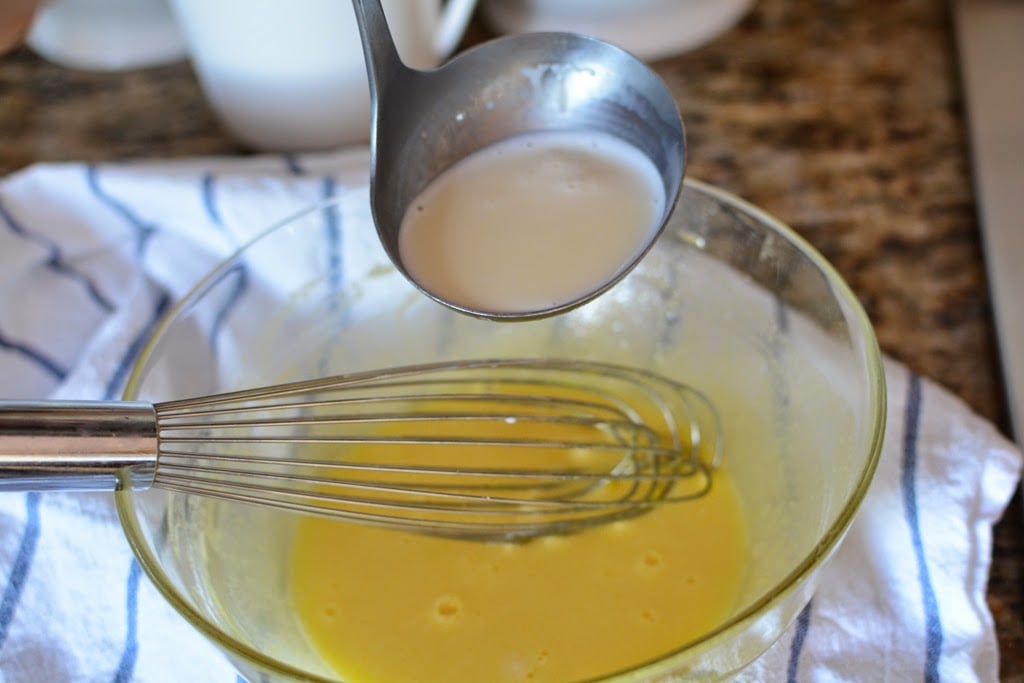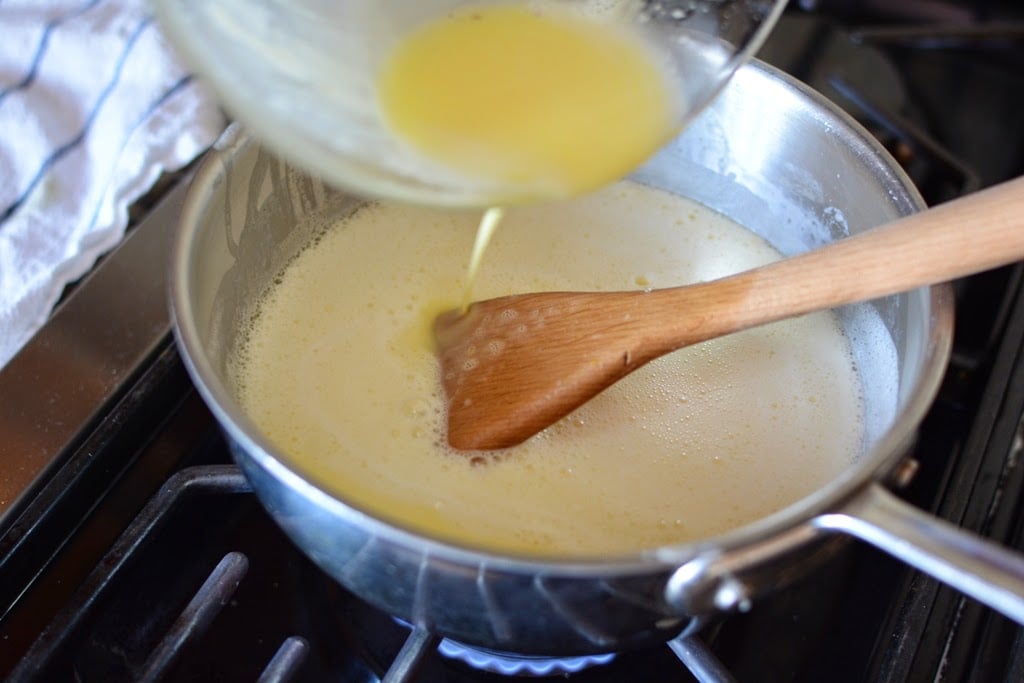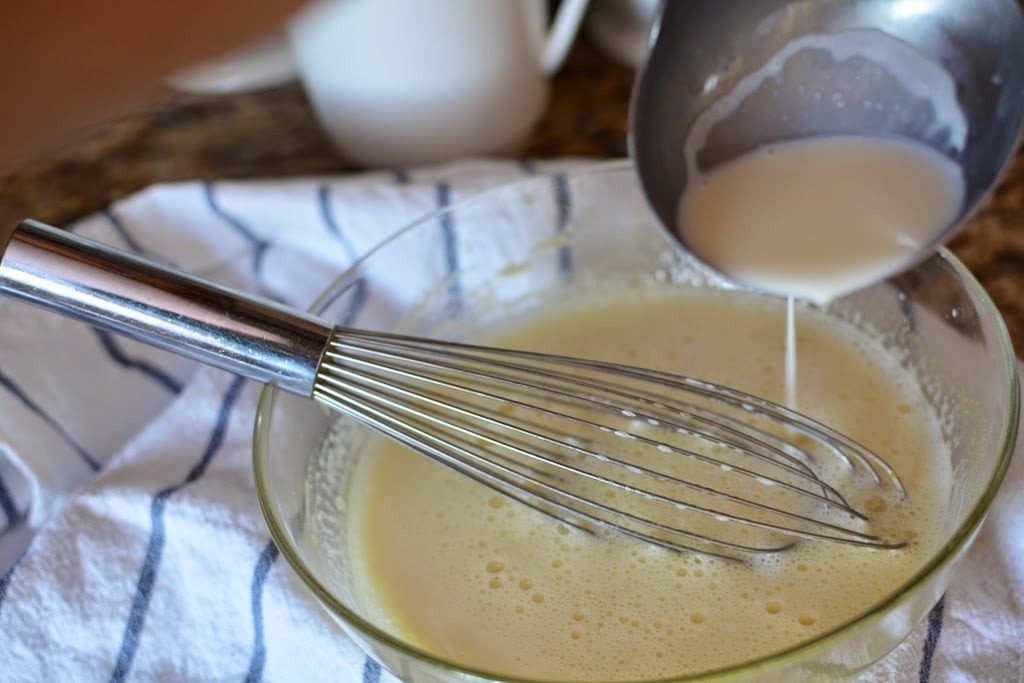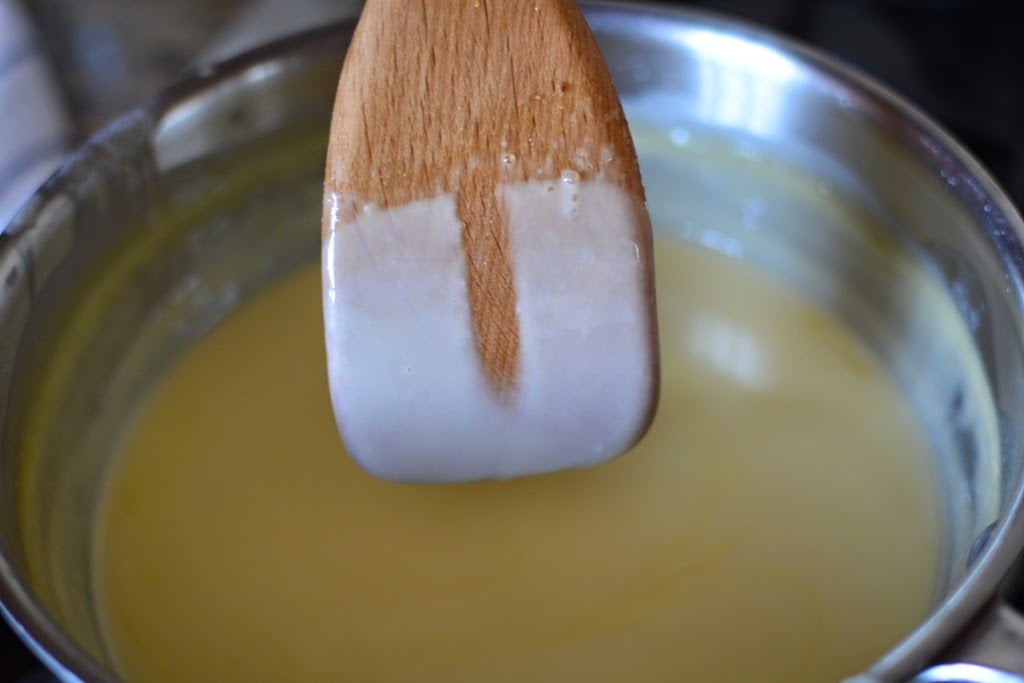 Add 1 3/4 cup heavy cream, 1 cup milk, 1/4 cup of the sugar, and 1/4 teaspoon salt. Stir over low heat.
While the cream mixture is heating, beat 5 egg yolks in a large mixing bowl. Slowly mix in the remaining 1/4 cup sugar.
Once the milk has begun to steam a bit, add the hot cream mixture to the egg yolks one ladle full at a time. Continue until at least 1/2 of the cream mixture had been incorporated into the egg yolk mixture. This will temper the yolks so they don't turn into scrambled eggs in your ice cream.
Slowly pour the egg/cream mixture back into the remaining hot cream.
Continue to cook over low heat. using a wooden spoon to stir constantly. Do not boil.
Cook custard just until the mixture coats the spoon. Approximately 160℉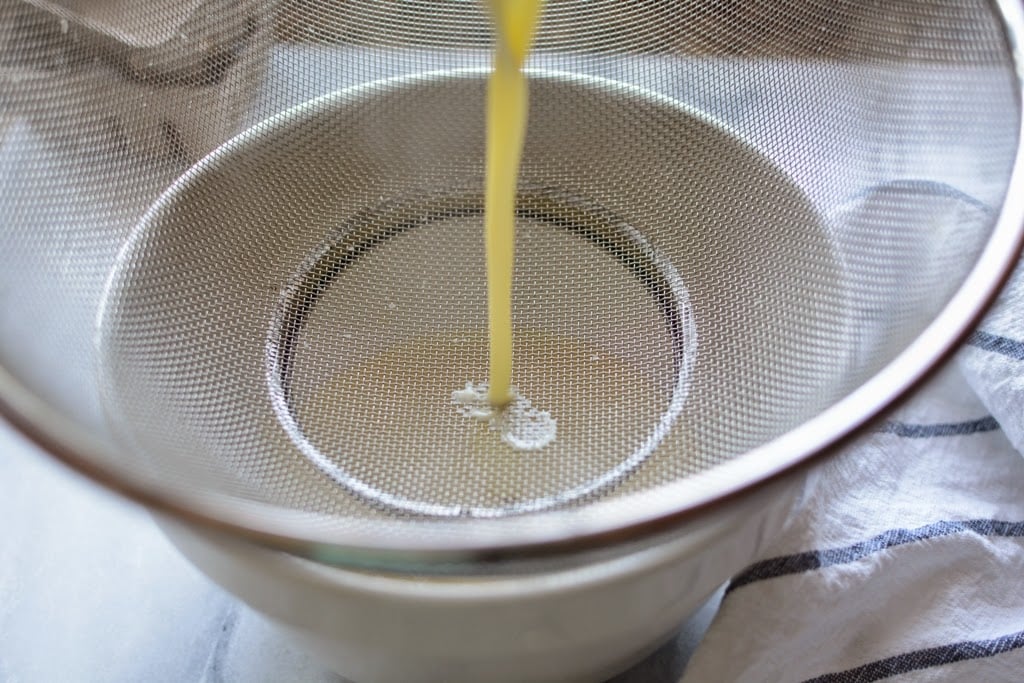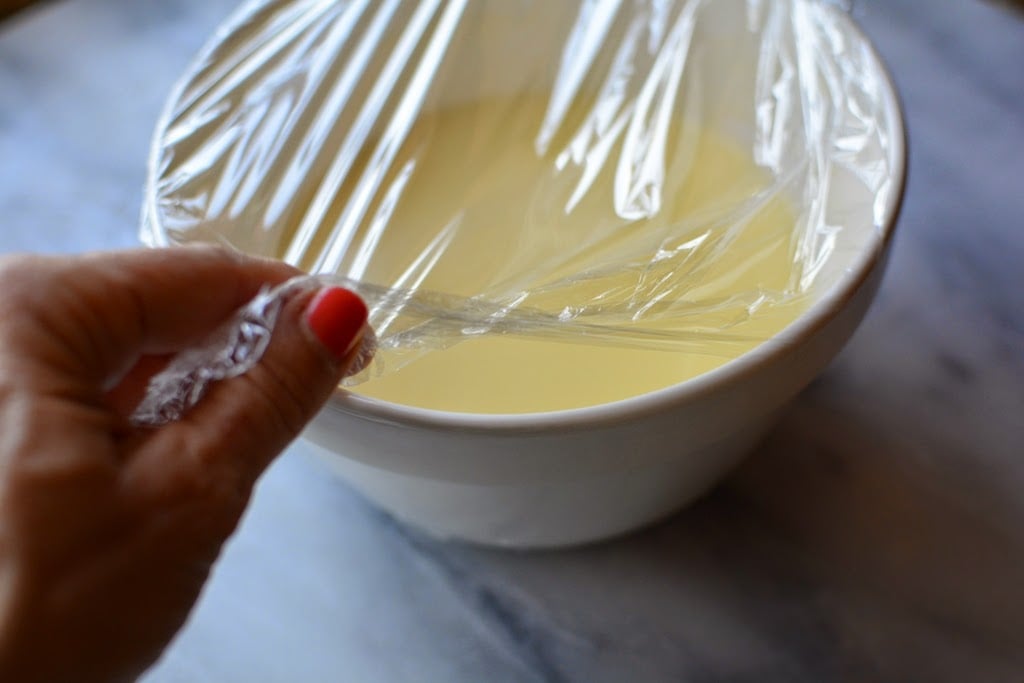 Strain hot mixture through a mesh strainer to catch any lumps. ALWAYS strain your custard. Sometimes there are bits of cooked egg in the custard. Straining will make a very smooth ice cream base.
Pour into a bowl and cover. Chill for at least 3 hours or overnight.
Churning Tips:
Always follow the manufacturer's instructions and recommendations for churning. As stated above for the frozen bowl ice cream maker.
Make sure your custard is very cold. I like to chill my custard overnight. In a pinch, I will put the bowl of cooked custard in an ice bath and stir until it is cold, then chill for another 2 hours.
Don't overfill the bowl of the ice cream maker. I think I have overfilled every type of ice cream maker. It can be a mess and just doesn't completely freeze and churn the ice cream.
The center of every churn has a dasher. That churns the custard mixture. Most are plastic. Make sure you remove the dasher and lick it clean. I remember, as a child, fighting over who got to lick the dasher clean. It's the best!
Don't freeze the ice cream in the bowl of the ice cream maker. It will freeze rock solid and will take a jackhammer to get it out! Always transfer the ice cream to a separate container. Preferably a chilled container.
Churning the Ice Cream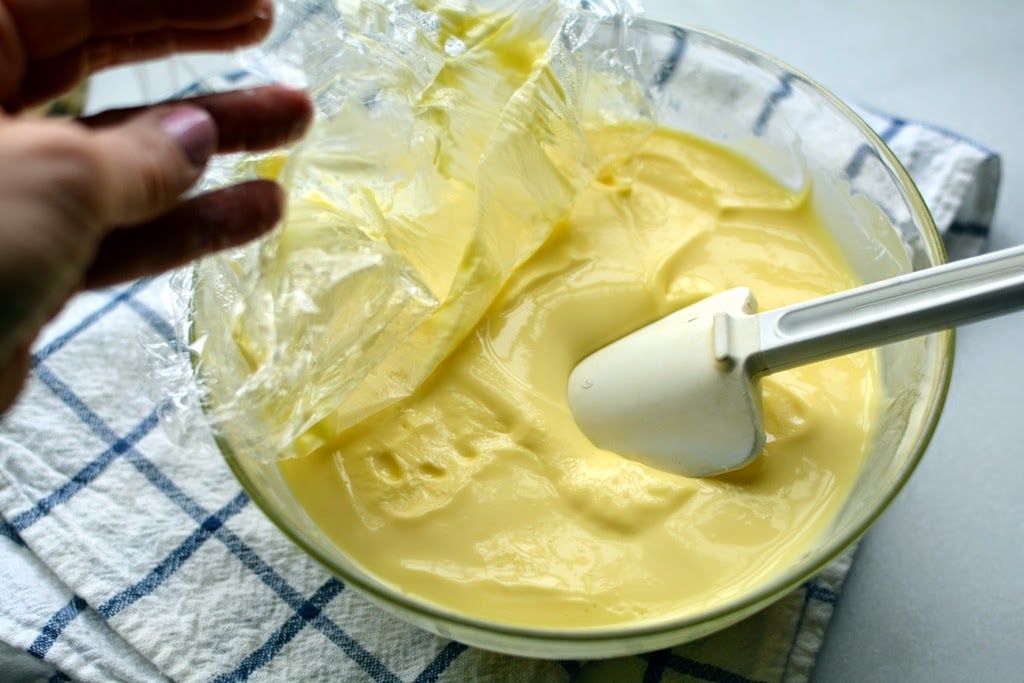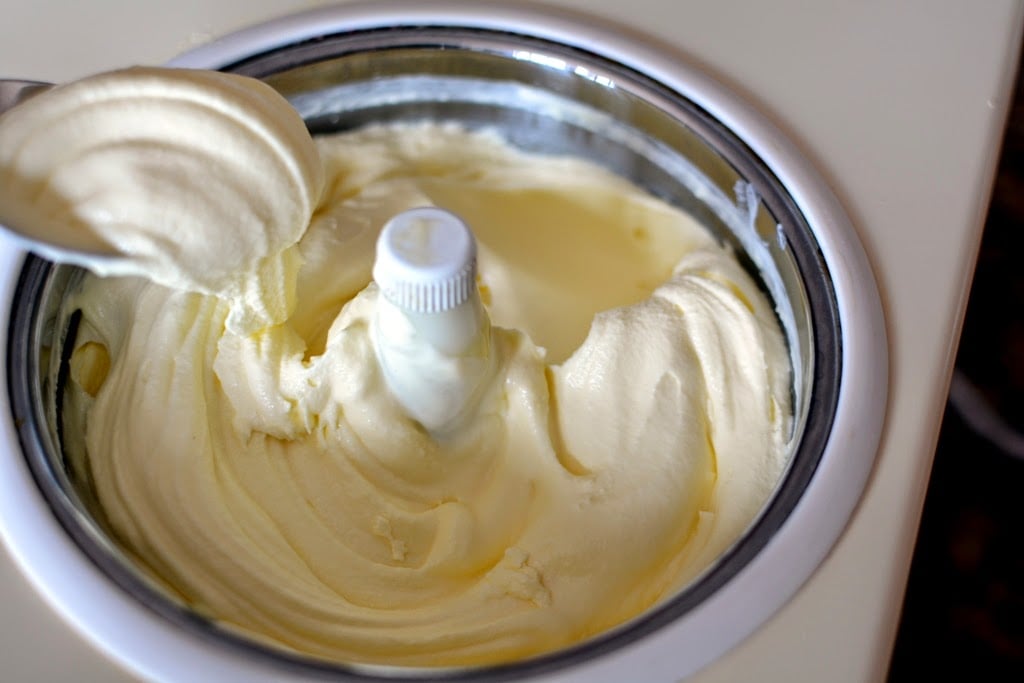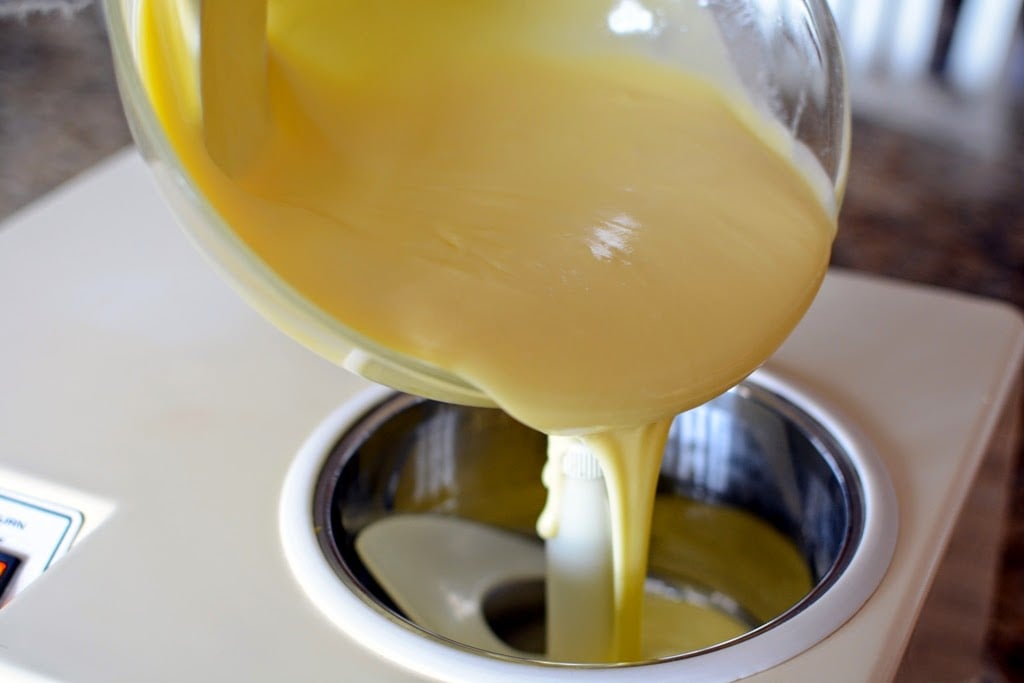 Remove ice cream custard from the refrigerator. Just look how thick and rich the custard is! Carefully life the plastic wrap and scrape off any custard that may have stuck to the wrap. Stir in the vanilla extract.
Pour vanilla ice cream custard into the ice cream maker and freeze according to manufacturers directions.
Ice cream will be thick smooth and creamy when the ice cream has finished churning. Remove from the maker into a separate container. I like to freeze the container before I start churning the ice cream. An ice-cold container will help the ice cream from melting before transferring to the freezer. It's a good idea.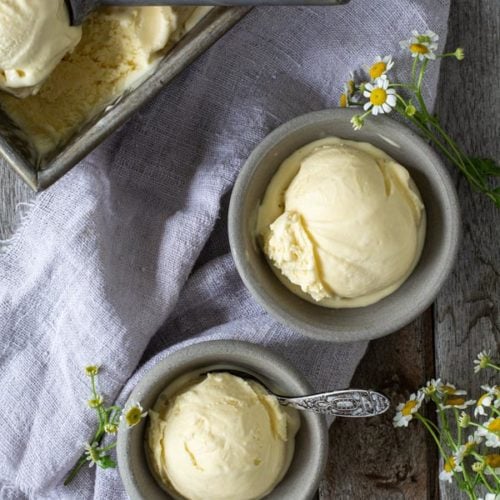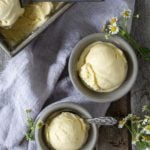 Homemade Vanilla Ice Cream
The creamiest vanilla ice cream you will ever eat. Smooth, decadent, and rich.
Overnight chill or 2 hours
2
hours
Ingredients
1 3/4

cups

heavy cream

1

cup

2% milk

1/2

cup

sugar

5

egg yolks

1/4

teaspoon

salt

2

teaspoons

pure vanilla extract
Instructions
How to make Ice Cream Custard
In a medium-size saucepan add cream, milk, 1/4 cup of the sugar and salt. Heat over medium/low heat until steaming. Whisk egg yolks and slowly add the remaining 1/4 cup sugar. When the cream mixture is hot and steaming, slowly pour a small amount of the hot cream mixture into the egg yolk mixture stirring constantly. Continue to add at least 1/2 of the hot cream mixture. Slowly pour the egg/cream mixture back into the pan and cook over low heat until the mixture coats the back of a spoon. Stirring constantly with a wooden spoon. Remove from heat and pour into a bowl. Cover and chill completely about 2 hours or overnight.
Churning the Ice Cream
Pour chilled custard into an ice cream maker and freeze according to manufacturers directions. Makes 1 quart of ice cream.
Nutrition Facts
Homemade Vanilla Ice Cream
Amount Per Serving (1 servings)
Calories 376
Calories from Fat 270
% Daily Value*
Fat 30g46%
Cholesterol 261mg87%
Sodium 149mg6%
Potassium 123mg4%
Carbohydrates 21g7%
Protein 5g10%
Vitamin A 1277IU26%
Vitamin C 1mg1%
Calcium 112mg11%
Iron 1mg6%
* Percent Daily Values are based on a 2000 calorie diet.
Types of Ice Cream Makers
Traditional Ice Cream Makers:
Generally 4-6 quart machines with a motor that attaches to the top of a wonder bucket. There is a metal cylinder that has a metal and wood dasher that goes into the center of the cylinder along with a lid that the motor attaches to. I love the metal dasher so much more than a plastic one because the metal freezes down the middle of the cylinder. The ice cream freezes from layers of crushed ice and rock salt. The rock salt melts the ice and makes an ice-cold brine that freezes the ice cream mixture in the metal cylinder. My favorite brand is White Mountain Ice Cream Maker. They, also, carry a hand churn ice cream maker that can be a lot of fun AND a lot of work.
Frozen Bowl Ice Cream Maker:
These machines require freezing the bowl of the maker for at least 12 hours. I recommend 24 hours at least. In fact, just store the bowl in the freezer at all times so it's frozen and ready when you have the craving for some quick ice cream. Follow instructions for use precisely. The downside to this type of ice cream maker is that there is a certain window of time that the bowl remains frozen, which is about 20-30 minutes. If the ice cream still seems soft and you would like it to be more firm, churning longer than the 20-30 minutes will cause the ice cream to begin to melt because the frozen bowl is beginning to warm and thaw. Yes! This has happened to me.
Built-in Freezer/ Compressor Ice Cream Machine:
This is my favorite little gem. I pretty much keep mine on my counter during the summer. These machines have their own built-in compressors that constantly cool the mixture as it's being churned. All you do is pour the mixture into the machine, press a button, and wait. It's that simple! I purchased an old model "The Ice Cream Boy". I found it on EBay. Great find. I have had it for years. The downside to this model is the metal drum is not removable, which makes it challenging to clean. It's great for making frozen yogurt on a whim. Just pour in the yogurt and freeze! Add berries. I love it!
You May Also Love