Simple French Madeleines with a touch of meyer lemon zest… c'est bon!
Several years ago I decided to take French classes in the home of a French woman. She taught her French classes in the living room of her home. I was going to visit my daughter in France while she was studying art history. She was lucky enough to roam the streets of Paris and eat at every boulangerie-patisserie she passed. She studied weekly in the Louvre and passed the Pompidou museum daily as she walked to class. I was so anxious to visit and wanted to know enough French to confidently ordered from a menu and know exactly was I was ordering.
My teacher would host French cooking classes on occasion. I attended one particular class taught by a local pastry chef. It was at this class that I learned out to make madeleines. They were so simply. Buttery and crisp on the outside and cake like and tender in the inside. The flavors are only limited to your imagination.
Every now and then I will come across Meyer lemons at my local grocer. Today was my lucky day. I was able to snatch up a small bag of the wonderful little citrus beauties. I decided to use the zest in making a batch of these tender cookies. (Oh man! I just ate three uploading photos and want another)
Unfortunately you will need a madeleine pan. The pan creates the shell like design on the back of the cookie.
Generously butter madeleine pans.
Dust with flour.
Melt 1/2 cup (110 g) butter. Set aside to cool.
Add lemon zest to 1/2 cup sugar.
Stir to combine.
Add the lemon zest sugar mixture to a mixing bowl.
Add 3/4 cup (116 g) flour.
Add pinch of salt and 1/2 teaspoon baking powder.
Stir to combine.
Add 2 eggs.
Mix until well blended.
While mixing slowly add the cool and melted butter.
Mix until smooth and creamy.
Spoon batter into prepared pans. Fill 3/4 of the way full.
Cover with plastic wrap and refrigerate overnight.
I just how awful it is to have to refrigerate cookies overnight, when you want to eat them now. This part is important for this reason: Refrigerating the dough will create the large hump in the madeleine as they bake…you'll see.
The next day remove from the refrigerator and uncover. Place in preheated 400 degree F (202 C) for 12-15 minutes.
Can you see it? The mound or hump in the middle? That's why I refrigerated the dough overnight. Now I have a thick moist cake like center. Surrounded with a crisp buttery shell.
Make sure the center is cooked by gently pressing on the dough. If it springs back like a cake, then they are done.
Remove from the oven. Immediately turn the pan over and give it a whack on the counter to remove the madeleines. If your pan is nonstick, you might not have to do this.
Eat a few while they are hot.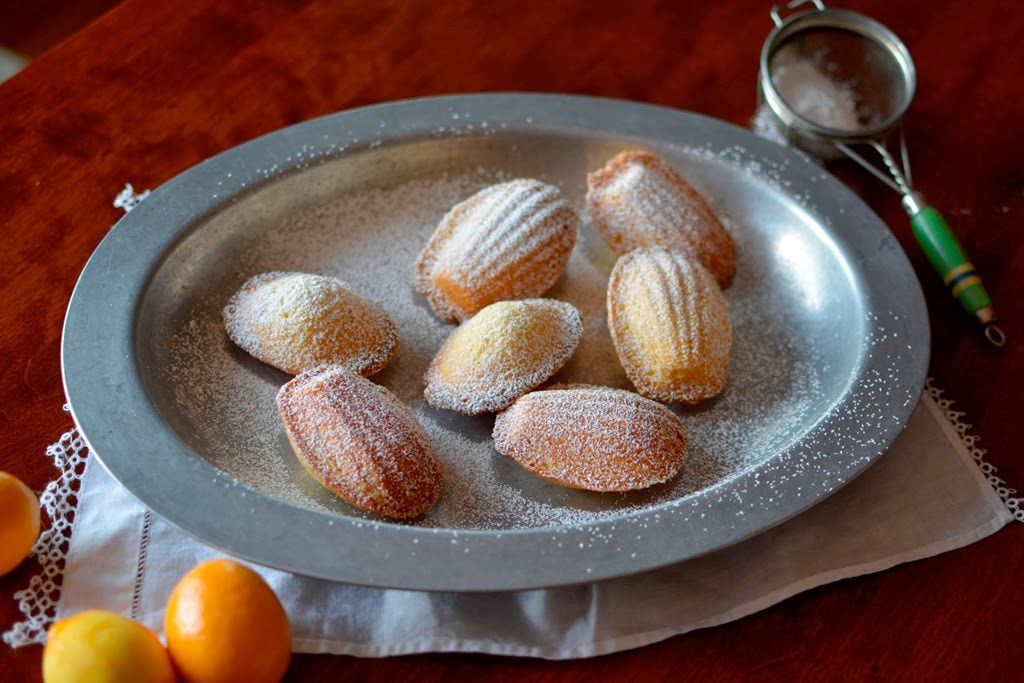 Dust with a little confectioners sugar.
Pretty little cakes that are perfect with a cup of herbal tea or an almond milk steamer