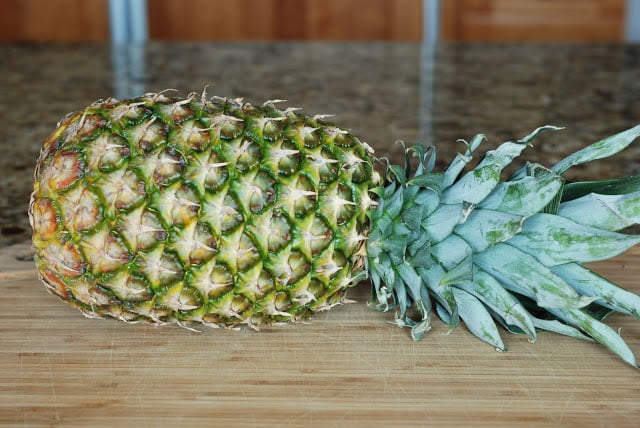 This is how I cut a pineapple. You can cut it anyway you choose.
Cut off the top.
Save the top for Grandpa. I'm sure you're wondering why I save the top for Grandpa? Well, my dad plants the tops. Yep, he just sticks the top of the pineapple in some potting soil and starts to water it. Now this particular top has seen better days, but it doesn't matter. Eventually it will start to grow. Some day this man is going to grow pineapple in Utah! My mom and dad have lived several years as missionaries in Tahiti. Every time my dad gets a pineapple plant large, they leave on another mission and put me in charge of watering the pineapple plant. After about 6 months it dies. I'm a terrible daughter.
Back to the pineapple. Now cut off the bottom. No need to save.
Cut down the sides. Make sure you remove all those little brown things. They hurt your tongue.
I'm cutting my pineapple into spears. Cut it in half.
Then cut the halves into quarters.
I like to remove the center core. I save the core for my juicer.
Slice into spears or whatever size you desire.