Final Cinco de Mayo recipe. Carne Asada Tacos. Carne Asada is marinated beef/steak. I used flank steak, but you can use what ever beef you like best. The marinade is extremely strong in flavor. It can really pack a punch. All the boys gave it two thumbs up.
For the marinade you will need, oil, red wine vinegar, lime juice, orange juice, fresh garlic, white pepper, salt, cumin, chili powder, Mexican oregano, ground cloves, 1/2 orange and cilantro.
In a medium size mixing bowl combine the vinegar,
lime juice,
orange juice,
oil,
cumin, chili powder, and Mexican oregano. I found the Mexican oregano in the Mexican isle of my grocery store. If you can't find it, just use whatever oregano you have, but I wouldn't use ground. You can also play with the flavor and spices with this marinade by what chili powder you use. You can use mild or spicey. I don't have to tell you what I'm using. Right?
Colorful.
Add the white pepper,
ground cloves,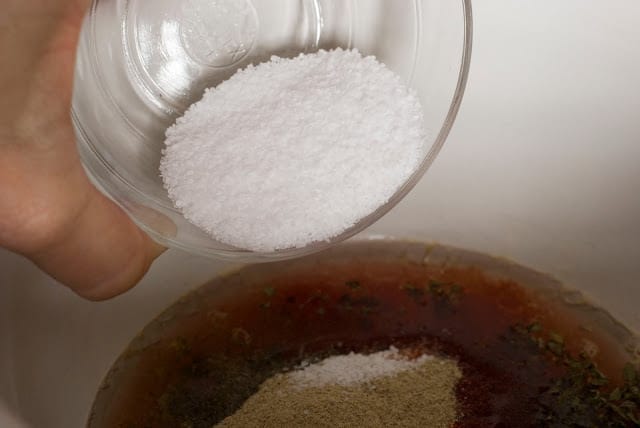 salt,
and garlic. The recipe calls for 2 tablespoons of garlic. I'm not sure what this will measure out to be, but I don't care. I like garlic. This looks right.
I'm going to smash this garlic. I just take my knife and whack it with my fist to smash it.
Smashed garlic.
Chop the smashed garlic.
Add to the marinade.
Add the chopped cilantro.
Stir everything together.
Last of all add the orange slices. This makes enough marinade for about 4 lbs of meat.
Take a flank steak (about 2 lbs.) and score the top going both directions. This will make a diamond pattern on the meat. Turn it over and do the same to the other side. This will allow more flavors to penetrate the meat and will also tenderize the flank a bit.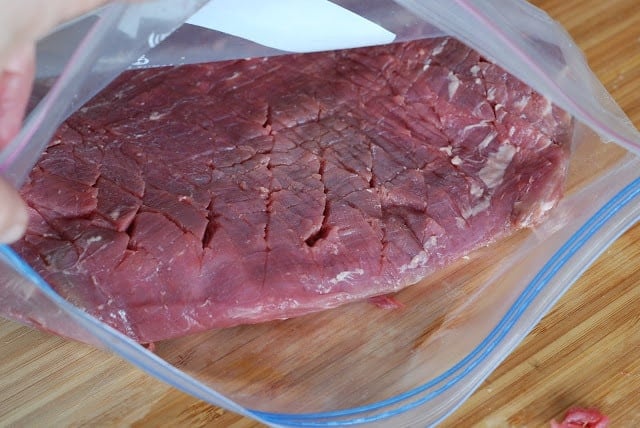 Place the meat in a resealable bag.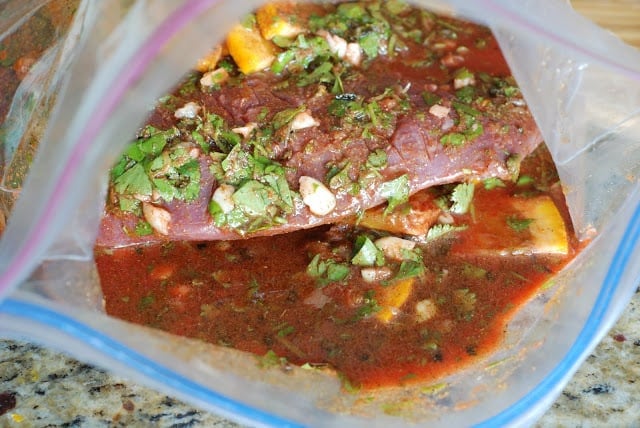 Pour the marinade over the beef.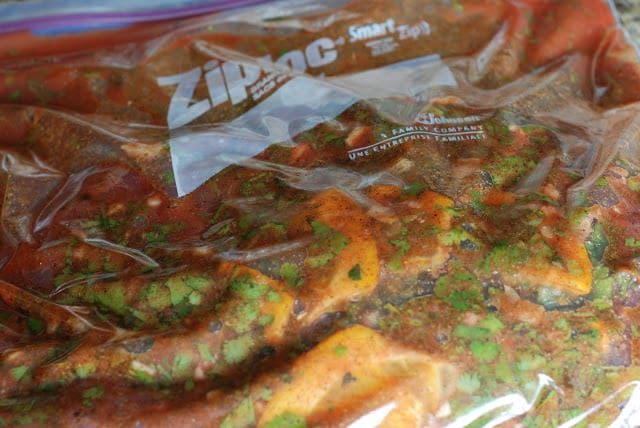 Reclose the bag removing any air. Squish the marniade around to make sure that the meat is completely saturated with all of the seasonings. Refrigerate 24 hours for the most flavor.
Heat grill to about 400-450 degrees. Remove flank steak from marinade and place on a hot grill.
Immediately after I place the flank on the grill I turn the burners to low heat and close the lid. Cook the meat for about 6-7 minutes per side which should give you a medium cooked flank.
Turn the meat over, close the lid back down and continue cooking for an additional 6-7 minutes. Cook less time if you like rare or longer if you like well done. While the meat is cooking you can prepare the tortillas.
This is how I steam my corn tortillas. I use a glass souffle dish with a lid.
Add one tablespoon of water.
Place a clean light weight dish towel in the bowl over the water. The towel will absorb the water.
Place 16 corn tortillas in the dish.
Fold the dish towel in over the tortillas.
Put the glass lid on the dish and microwave for two minutes. Do not remove the lid. Just let the tortillas sit and steam until you are ready to use them.
Remove the meat from the grill and place on a cutting board to rest.
I like to tent the flank steak with foil and let it rest for about 8-10 minutes. This allows all the juices to stay in the meat. If you cut into the meat immediately, all of the juices with run out onto your cutting board and you will have dry, tough meat – No es bueno!
Dice a red onion.
Pinch off some cilantro leaves.
Slice the meat against the grain. I tilt my knife to a 45 degree angle as I'm slicing. I think it helps the meat not be so chewie.
To assemble the tacos, remove two warm corn tortillas, layer with the sliced carne asada, red onions, cilantro and that fire roasted salsa that I made the other day. Give it a squeeze of lime and enjoy. You can add any other taco toppings that you like. This is how we like our carne asada tacos. Enjoy!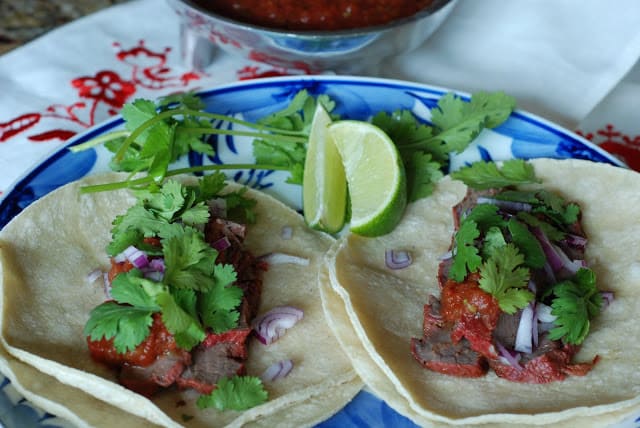 Serve with your favorite rice and beans, chips and salsa and finish the meal with Tres Leche. There you have it a fabulous meal for your Cinco de Mayo celebration.
(Please do not tell me that you don't celebrate Cinco De Mayo)
Carne Asada Tacos
Carne Asada Marinade:
1/4 cup oil
1/2 cup red wine vinegar
1/3 cup lime juice
1/3 cup orange juice
2 tablespoons garlic, chopped
1 tablespoon white pepper
1 1/2 tablespoons salt
1 tablespoon ground cumin
1 tablespoon chili powder
1 tablespoon Mexican oregano
1/4 teaspoon ground cloves
1/2 orange, sliced
1 cup cilantro, chopped
Combine all ingredients in a mixing bowl and whisk to combine. Place a scored beef flank steak in a resealable bag and pour marinade over. Reclose the bag removing all of the air. Move the marinade around the meat to make sure you have the meat completely covered. Refrigerate for 24 hours.
Heat grill to 400-450 degrees. Remove meat from marinade and place on hot grill. Immediately close lid of grill and turn grill temperature to low. Discard any remaining marinade. Grill meat for 6-7 minutes per side. Remove from heat and place on a cutting board. Tent the meat with foil and let rest for 8-10 minutes. Slice the flank steak against the grain. Place slices of steak on warm corn tortillas. Top with diced red onion, cilantro, salsa and a squeeze of lime. Makes 8 tacos
Feliz Cinco de Mayo!