While at a local farmer's market, I purchased a lovely bushel of peaches and farm fresh green beans fo this farmer's market salad. Adding a dollop of ricotta is a creamy addition to any salad.
For the salad you will need:
1/2 cup ricotta cheese
1 – 2 teaspoons sugar or honey
zest from 1/2 of an orange
3 tablespoons Champagne vinegar or fresh lemon juice
2 – 3 tablespoons lemon flavored olive oil
salt and pepper
Fresh leafy greens and arugula
1 cup green beans
2 – 3 peaches
1/3 cup Marcona almonds
If you have never tried a dollop of ricotta on a salad, you are in for a treat. Place 1/2 cup ricotta in a small mixing bowl.
Add sugar or honey, if desired.
Add zest from 1/2 an orange. Stir mixture until smooth and set aside.
In a small mixing bowl add 3 tablespoons champagne vinegar or lemon juice. I love champagne vinegar. Look for different flavors to mix up the flavor of a vinaigrette.
Add a pinch of salt to taste.
A few grinds of pepper.
Add 2 -3 tablespoons olive oil. I like my dressing on the acidic side and I try to use the least amount of oil necessary.
Whisk together and and set aside.
Snip the ends off of the green beans. If you're lucky you can find hericot vert, which is a thin french green bean. I wasn't so lucky this time but the beans are still great.
Cut the beans on an angle about 2-inches long.
Drop the beans in boiling water. This will enhance the green color and cook them just a bit.
As soon as the beans are a bright vibrant green, remove them from the boiling water and put them in a bowl of ice water. The ice water will stop the cooking process and leave the beans crisp and green.
Place a about 6 cups of mixed greens in a large serving bowl.
(I'm having lighting issues today. I only use natural light and one minute it's gray and raining and the next minute it's bright and sunny…ahhhh)
Top with blanched green beans.
Peel and slice 2 – 3 peaches. I guess removing the skins is optional. If you like the skin, then leave it on. It's your salad.
Top with sliced peaches.
Drizzle with dressing.
Add macrona almonds.
Serve with a dollop of orange ricotta.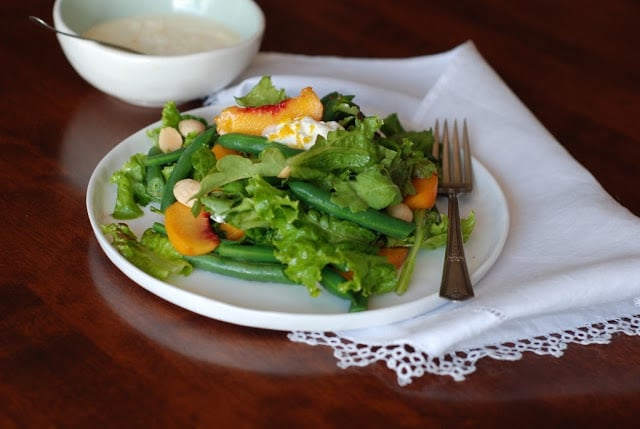 My farmers market salad with a creamy ricotta topping…to make up for the peach shake that I wish I had about right now.