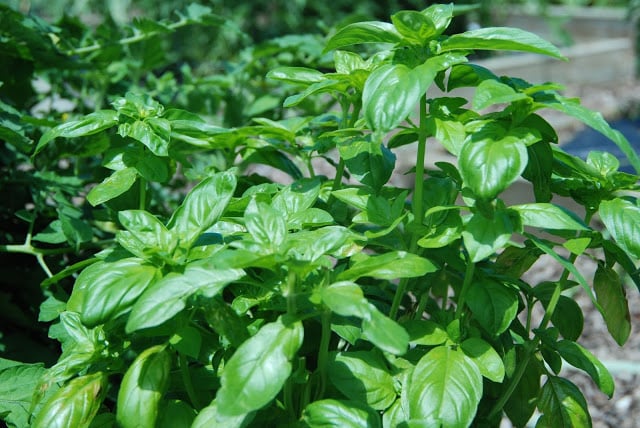 My basil is just beautiful right now. It's always a good idea to pinch back your basil during the summer months. Pinching off the blossoms will help keep the basil full and thick. When using your basil, always pinch the leaved from the top of the plant. Taking the large leaves from the bottom of the plant will not help promote thicker growth. If you don't have a plethora of basil, you won't be able to make and freeze batches of basil pesto for winter use.
I find that it's best to use up basil right away. Basil isn't fond of cold temperatures. The minute basil gets word of the temperatures dropping, it turns brown and dies. I have waiting too long to make pesto in years past because I love having it so available right outside my door. One night, unexpectedly the temperatures take a drop and I wake up to brown pesto. Now it's too late to make my winter pesto.
This year I am determined to stay on top of the basil and make pesto early. It's always worth the time and effort it takes when I want to freshen winter soups and pasta dishes.
Try my Basil Pesto recipe. As usual you will find step-by-step photo's and instructions. I think you will love how bright and green the pesto remains from blanching the basil leaves quickly in boiling water.
Spread on top of a warm slice of
crusty bread
brings so much happiness to my taste buds.
Have I mentioned how much I am enjoying the fruits of herbs of the season?