If you are looking for a fresh, light salad for the summer. This is it. It's easy. It's fast. It's fabulous.
You will need:
1/2 pound baby arugula leaves
2 pounds seedless watermelon, 3/4-inch-diced (3 pounds with the rind)
1/3 cup good olive oil
1/4 cup freshly squeezed lemon juice (2 lemons)
1 teaspoon kosher salt
1/2 teaspoon freshly ground black pepper
1/2-pound chunk Parmesan cheese
I actually hate shopping for watermelon. I feel like closing my eyes and just grabbing one. Buying a watermelon is like buying a lottery ticket. The chances of getting the perfect watermelon that's crisp and not mushy is a huge gamble. You can sniff, thump and press and still get a not-so-perfect melon. It's bogus!
I was trying to pick the perfect melon today, when a gentleman asked me how to pick a watermelon. He wife had sent him to the store to buy 2 watermelons. I showed him how I do it. I told him to just close his eyes reach in and grab one. It just luck of the draw. I have looked for bee stings, yellow spots where the melon was sitting on the ground. I have thumped it while holding it against by stomach to see if I could feel the vibrations coming through….everything. I probably only get a great melon less than 50% of the time.
It's really best for me to just wait for the farmers market to start selling locally grown melons. In the meantime, I will thump my way through the process.
Remove the rind from the watermelon and dice. Sometimes my dices get a little larger than they should be.
That's ok. I, also, have a tendency to use a little more watermelon too.
In a large bowl or platter arrange the arugula. Well, you're not exactly arranging the arugula because you're going to be tossing it soon. Basically just slap in on there.
Top with your amazingly sweet, juicy and crisp melon.
Juice 2-3 lemons until you have 1/4 cup.
I know you wouldn't dare use the bottled stuff. Gross.
Add 1 teaspoon kosher salt. Less if you are using table salt.
Freshly grind 1/4 teaspoon pepper.
Let me tell you something about pepper. Fresh ground is best. I don't even own any of the canned stuff. I through that out YEARS ago. If you want to freshen the taste of your food, change to fresh ground pepper and kosher or sea salt. Yes, it's that simple. Your food will taste better.
Whisk in 1/3 cup good flavored olive oil. I'm using lemon olive oil because I have it and I love it.
Pour the dressing over the watermelon and arugula.
Toss gently. I like using my hands.
I like to sprinkle my salads with a bit of Maldon sea salt. I love this salt. It's just a great flavoring salt and accent to any dish.
I'm using a potato peeler to slice off large shavings of the Parmesan cheese. I'm actually using Grana Padano because I love it.
That's it. How fast was that?
I can eat this entire plate full. The sweetness and crust of the watermelon with the peppery arugula is just so addictive. I'm a texture person. I love things with a bite. Kind of like cold dark chocolate. I just can't stop.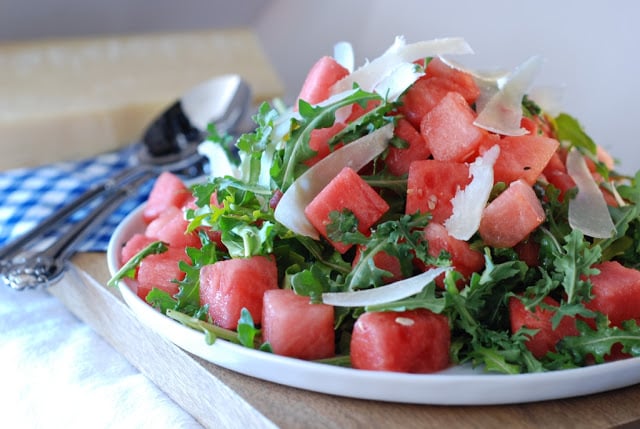 Your next summer salad.
Let me know if you have sure formula for selecting the perfect watermelon. Just closing my eyes isn't working so good lately.
Enjoy.