Spiced Cranberry Wassail is made with cranberry juice, fresh orange juice, and a hint of lemon. Steeped with my favorite holiday spices.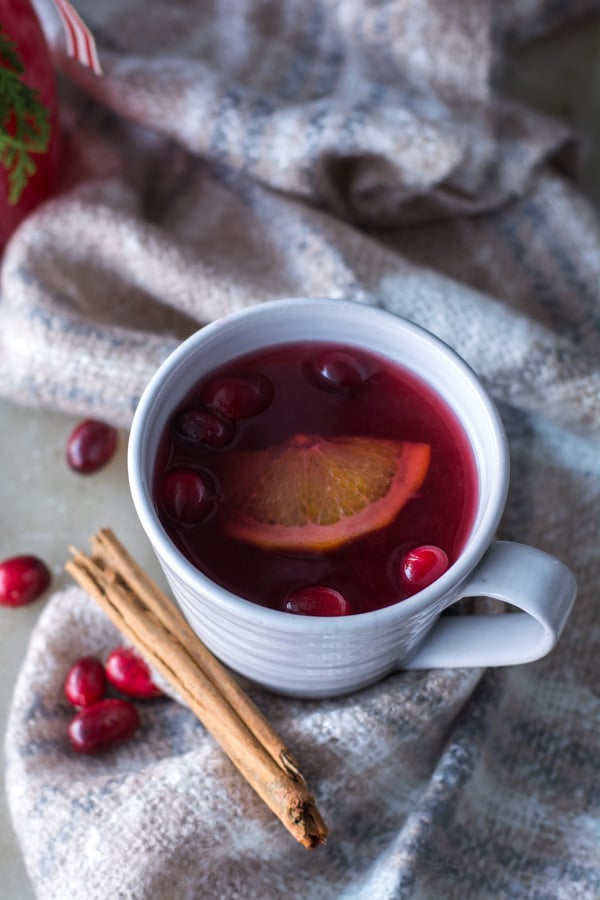 Wassail is what Christmas smells like in our home.

Tradition
I have deep British roots where "wassailing" has been associated with Christmas and New Years as far back as the 1400s. It was a way of passing on good wishes to family and friends. It was traditionally made with apples and served in a large pewter or silver bowl.
My great aunt broke tradition and added cranberry juice and served it from a large pot.
Easy to make wassail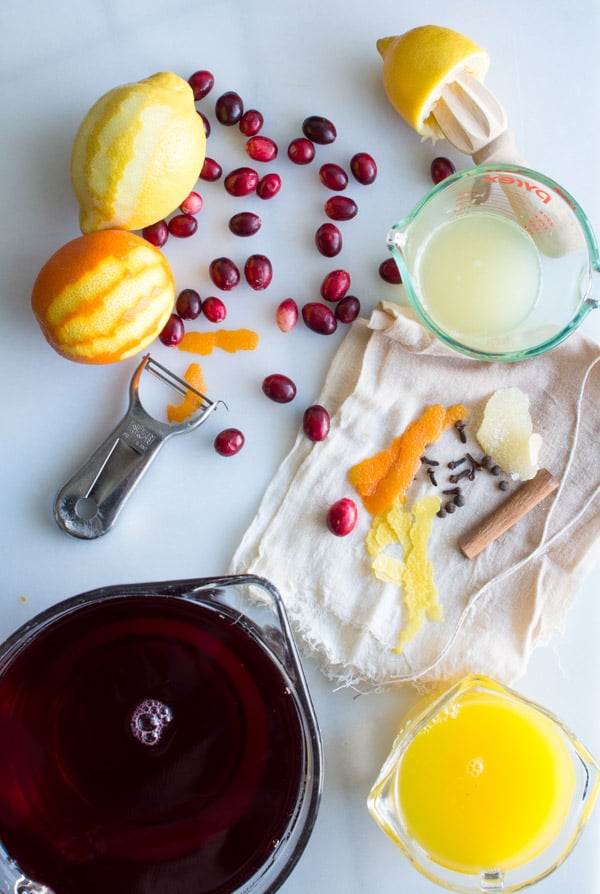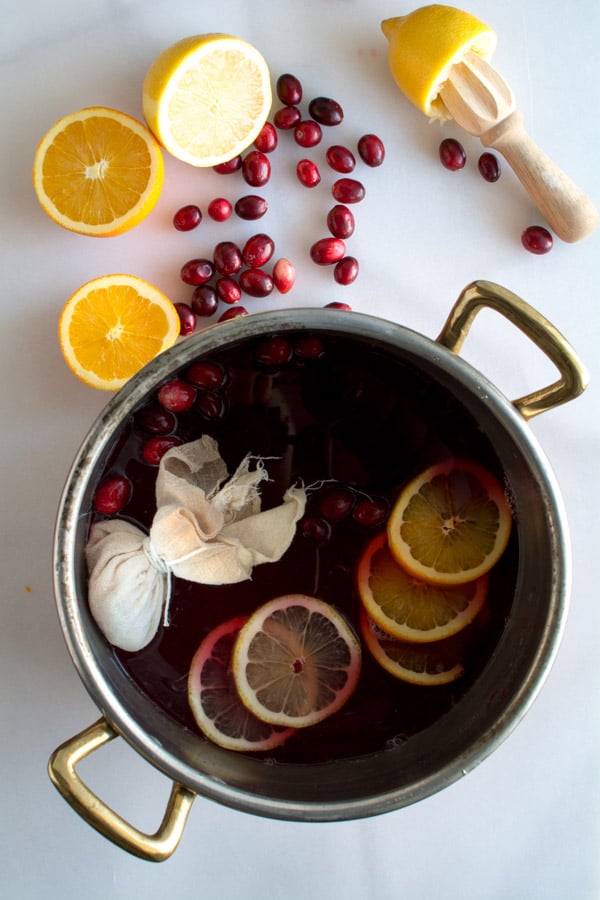 Stir cranberry juice, orange juice, lemon juice, and sugar in a large pot. Be sure to use a stainless or enamel coated pot. Why? Because Foods cooked in reactive pots, like aluminum, cast iron, or copper will often pick up a metallic flavor. No good for your wassail.
Taste the wassail to make sure it has enough sugar. I start with 1/2 cup cane sugar and adjust up from there.
Create a spice sachet using a double thickness of cheesecloth filled with orange and lemon zest, a slice of fresh or candied ginger along with spices. Gather edges together and tie with string. Drop sachet into the juices. Push the sachet down to absorb the juices and help it sink. Optional: feel free to add slices of orange or lemon and a handful of cranberries. It looks pretty and adds a bit more flavor.
DO NOT BOIL Heat the wassail only until steam starts to rise from the liquid. Hold this heat for about 5-7 minutes. Turn heat off, cover, and allow to steep for 20 minutes or so depending on how strong of a spice flavor you would like.
Remove spice sachet. Serve hot.
Wassail can be made a week in advance. Remove spice sachet and fruit, pour into a container, refrigerate. Reheat to serve.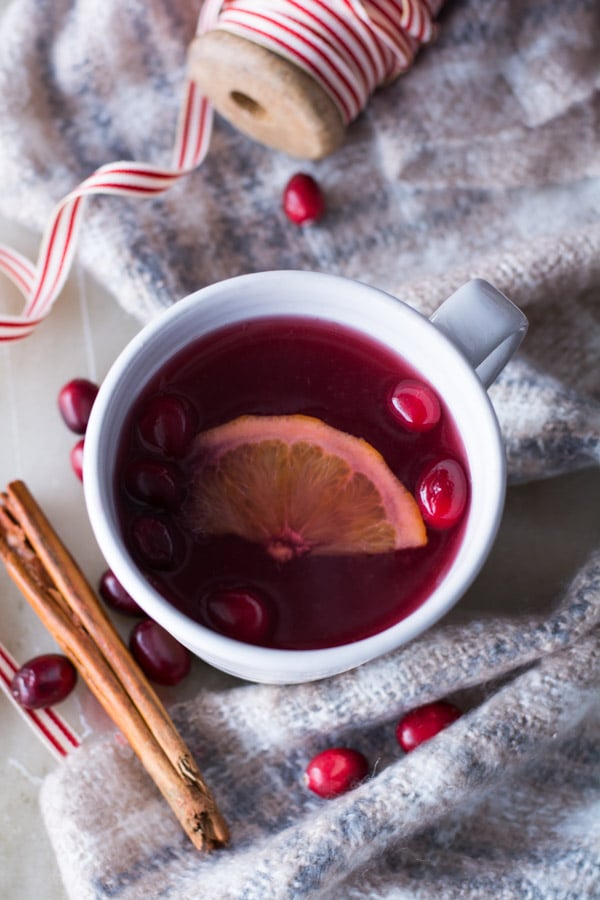 Wassail isn't just great for the holidays
I like to have wassail on hand during the months of January and February. Cold and flu season! I love sipping on wassail when I'm sick. It's comforting and loaded with vitamin C. Take a jar full to a sick friend.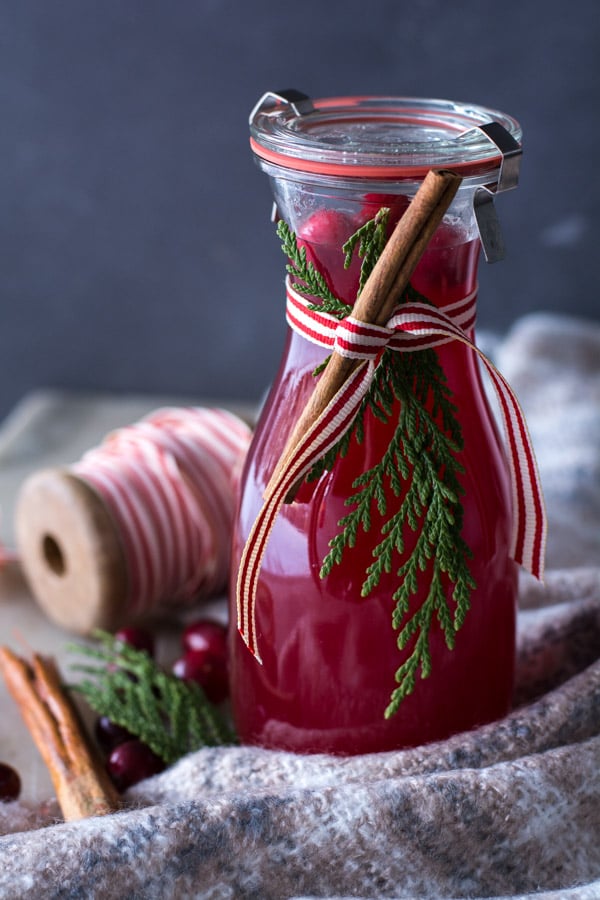 Spiced Wassail for the perfect gift
Ladle wassail into jars or decorative containers for a fun holiday gift. Just add a bow, cinnamon stick, and a tag. For a large batch try this Christmas Wassail recipe or for a more naturally sweetened and gourmet flavors try Apple Pear Rose Cardamom Cider. It's a bit more work but has amazing flavors.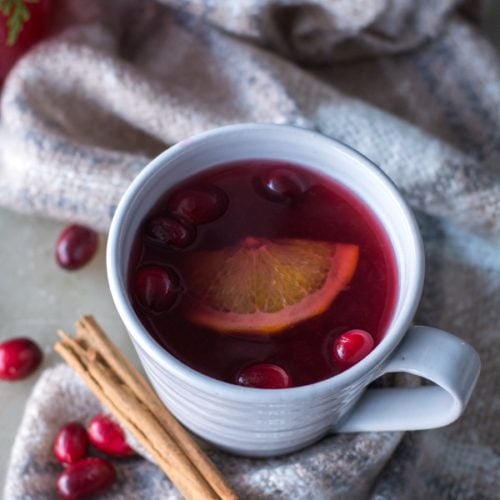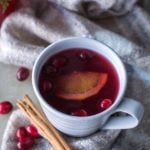 Spiced Cranberry Wassail
A mixture of cranberry, orange, and lemon juice steeped with cinnamon, cloves, allspice, and ginger.
Ingredients
Wassail
64

ounces

cranberry juice

bottled

4

cups

fresh orange juice

1/4

cup

fresh lemon juice

1/2 - 1

cup

cane sugar
Spice sachet
1

cinnamon stick

10

whole cloves

6

allspice berries

optional

zest from 1/2 orange

zest from 1/2 lemon

slice of fresh or candied ginger
Instructions
Combine juices in a nonreactive pot and stir in 1/2 cup sugar. Taste the mixture to determine if more sweetener is needed and adjust according to your taste. Heat just until steam begins to rise from the mixture.

Combine the spices, zest, and ginger in a piece of cheesecloth. Gather the edges and tie them together so the spices can't fall out.

Drop sachet bag into steaming cranberry juice mixture. Press the sachet down into the juices. Continue to heat wassail without boiling for 5-7 minutes. DO NOT BOIL. Cover pot with a lid and allow to steep for 20 minutes. Remove lid and sachet. Serve.

Wassail can be made in advance and refrigerated. Reheat and serve. Can be made at least 1 week in advance.
Recipe Notes
I used bottled cranberry juice. Unsweetened can be used. Sugar amount will need to be adjusted according to taste.
Some oranges are sweeter than others, which will change the tartness of the wassail.
I only used fresh orange juice, but bottled can be used. This would decrease the amount of sugar.
Simmer in a stainless steel or enamel covered pot. Aluminum, cast iron, or copper can give the wassail a metallic taste.
Fresh pressed apple juice can be used which will add more sweetness, but the color won't be as vibrant. It will still be delicious.
Whole spices work best. I don't recommend using ground spices.
Wassail is so soothing when sick. I love drinking this when I have a cold.
DO NOT BOIL. Boiling the wassail kind of makes the citrus pulp curdle. It doesn't look so pretty.
Nutrition Facts
Spiced Cranberry Wassail
Amount Per Serving (8 ounces)
Calories 210
% Daily Value*
Fat 0g0%
Cholesterol 0mg0%
Sodium 5mg0%
Potassium 430mg12%
Carbohydrates 53g18%
Protein 1g2%
Vitamin A 350IU7%
Vitamin C 86mg104%
Calcium 32mg3%
Iron 0.8mg4%
* Percent Daily Values are based on a 2000 calorie diet.
Fun wassailing facts:
"Here we come a-wassailing…."