Fall is in the air and peaches are still in abundance. I will eat them non-stop until I can't find another peach for sale at a farm stand!
Last year I found myself with a stack of crepes and a basket full of fresh ripe peaches. My first thought was peach filled crepes with whipped cream. Oh snap! I was out of whipping cream. My eyes caught glance of a jar of fat sauce, yada yada yada, peaches, crepes and fat sauce.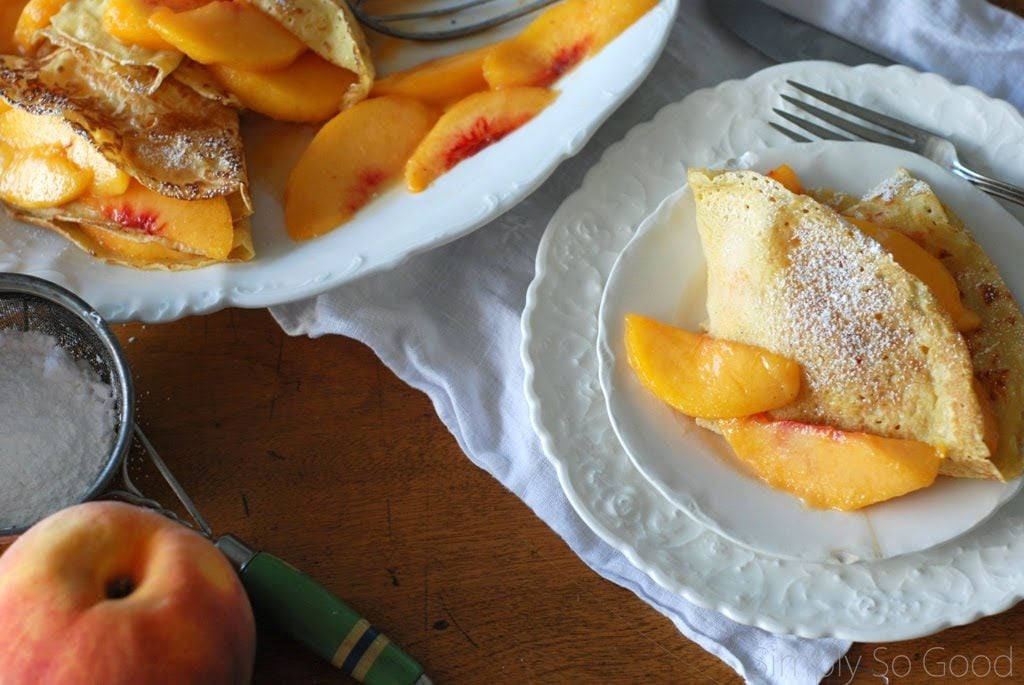 I ended up eating three.
You will need the following:
Peaches, Crepes, and Fat Sauce
5-6 peaches, peeled and sliced
8 crepes
1/2 cup fat sauce
Warm a large skillet, add fat sauce and heat until sauce barely begins to bubble. Add sliced peaches and cook until peaches release some of their juices and peaches are beginning to warm. Divide peaches among 8 crepes. Fold into a triangle shape. Dust with confectioners sugar, a dollop of whipped cream, or yogurt. Makes 8 generously filled crepes
Peel, pit and slice peaches. I plan on about 1 peach per crepe, if the peaches are small.
Pour fat sauce into a warm skillet.
Add prepared peaches.
Barely bring to a simmer. I like the flavor of fresh peaches, so I don't want them to cook. I only want to bring the fat sauce to a simmer so that the peaches will release a bit of juices to create a sauce.
Spoon peaches into crepes.
Fold in half.
Fold over again to form a triangle. Pour any remaining peaches and juices over the the top.
EAT!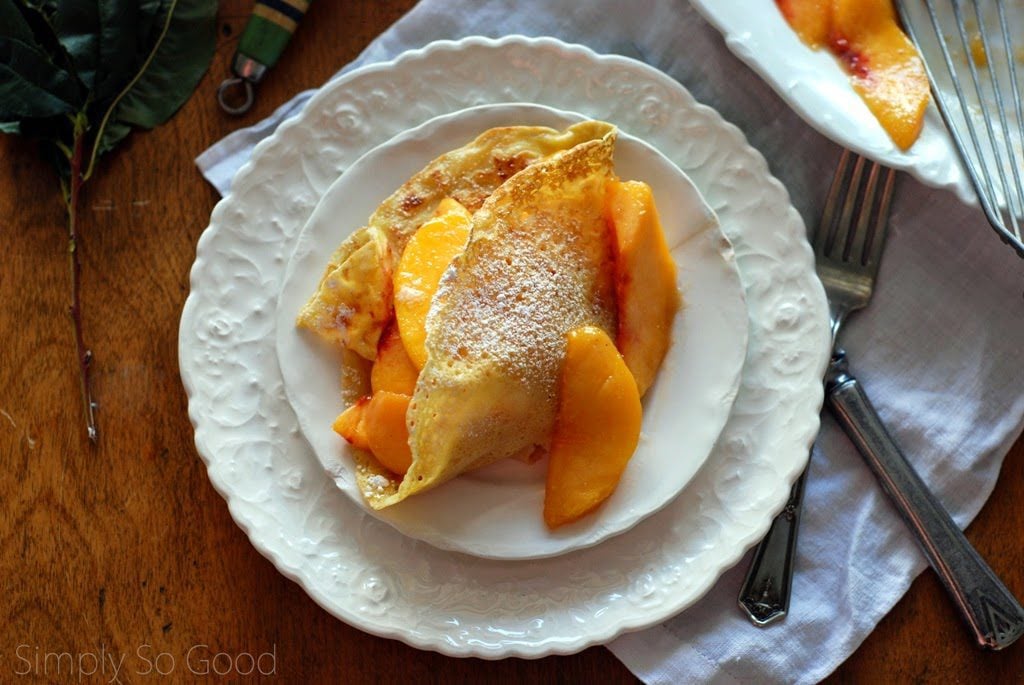 This is a pretty simple recipe. Crepes only take a few minutes to make and you should ALWAYS have fat sauce in your refrigerator.
Sprinkle with a little powder sugar. You can serve will a dollop of whipped cream or yogurt.
A fabulous wake up and smell the Autumn air or a great dessert…or both.
Peaches, Crepes, and Fat Sauce
5-6 peaches, peeled and sliced
8 crepes
1/2 cup fat sauce
Warm a large skillet, add fat sauce and heat until sauce barely begins to bubble. Add sliced peaches and cook until peaches release some of their juices and peaches are beginning to warm. Divide peaches among 8 crepes. Fold into a triangle shape. Dust with confectioners sugar, a dollop of whipped cream, or yogurt. Makes 8 crepes
Basic Crepe Recipe
1 cup flour
2/3 cup cold milk
2/3 cup cold water
3 large eggs
1/4 teaspoons salt
3 tablespoons melted butter, plus more for brushing pan
Add the the ingredients into a blender and blend until smooth. Batter can be mixed with a whisk as well.
Heat a crepe pan or a 8 or 9-inch skillet. Brush with butter and pour about 3 tablespoons of the batter into the center of the pan. Tilt the pan in all directions to cover the bottom of the pan. Cook until the batter appears dry on top. Carefully turn the crepe over and cook briefly. Repeat process until all the batter has been used. Makes about 10 – 12 crepes. Julia Child's master crepe recipe