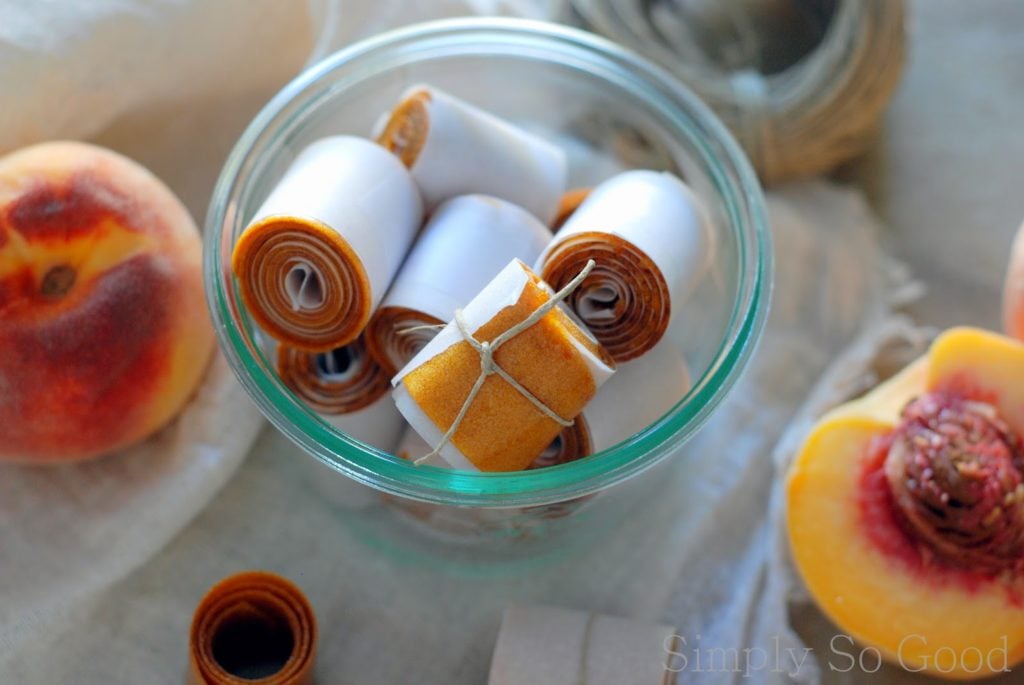 Do you think you can put up with one more peach recipe?
I happened to have a few over ripe peaches and decided to try my luck with fruit leather.
Nailed it!
I think kids of all ages love fruit leather. I know my adult children as well as grandchildren love it when I buy a box of fruit rolls at the store. The problem is they are loaded with sugar.
The great thing about making fruit leather at home is that you control what goes in. My peaches were already very sweet, so I just added a bit of honey and the results were perfect.
You will need:
4 cups peach puree or 4-6 ripe peaches depending on the size
1 tablespoon honey
1/2 teaspoon ascorbic acid (fruit fresh) , if desired to prevent browning
Special equipment:
Blender
Baking sheet
Silpat mat or parchment paper
Wash the peaches really well by rubbing the skin.
You can leave the skins on, but if they are bruised or have blemish marks on them, remove them.
Remove pits.
Place peaches in a blender.
Look to the right of the picture and check out my amazing honey that was given to me by my amazing bee keeper neighbor. I love the honey comb.
Add 1/2 teaspoon ascorbic acid (fruit fresh). I like to add this to prevent the peaches from going an ugly brown. The ascorbic acid helps keep the color of the leather bright and peachy.
Drizzle in 1 tablespoon raw natural honey.
Blend until the mixture is completely smooth and there are no lumps or peach chunks remaining.
Line a baking sheet with a Silpat mat or parchment paper.
Parchment paper works great if a silicone mat isn't available.
Carefully pour the puree onto the lined baking sheet.
Using an offset spatula carefully spread the puree. Trying not to go over the edges.
Easier said than done. Don't stress if the puree sneaks over the edge. You will just have to wash the baking sheet. No real harm will be done.
Place in a preheated 250 degree Fahrenheit oven. Bake for 2-4 hours. I know that's a huge time difference, but it just depends on your oven, how thick the puree is and how thick the puree is spread.
After 2 hours check every 15 minutes or so. Touch the middle of the leather. If some of the puree sticks to your finger than continue to cook.
The top of the puree needs to be dry to the touch.
Let the leather sit for at least 2 hours.
A couple of tricks I have learned:
Letting the leather sit overnight in the oven, once the oven is turned off, can be a good idea
If the edges get crispy, don't fret. Remove from oven and allow the leather to cool completely. Cover with plastic wrap overnight and the leather will soften up.
Once the leather is completely cooled and dry, remove from the parchment paper or silicone mat.
Cut into strips any size you want. I like to put the quilting ruler that my grandmother gave me to good use. I placed the ruler on top of the leather and used a pizza cutter to cut the strips. I cut my strips
1 1/4 -inches wide.
Cut strips of parchment paper the same width as the leather.
I'm sure there is an easier way. This works for me and I like the end result.
Roll fruit up with the parchment paper strip.
Tape the end of the paper to hold in place.
Sometimes the tape doesn't stick well to the parchment so I had to tie a little string around them.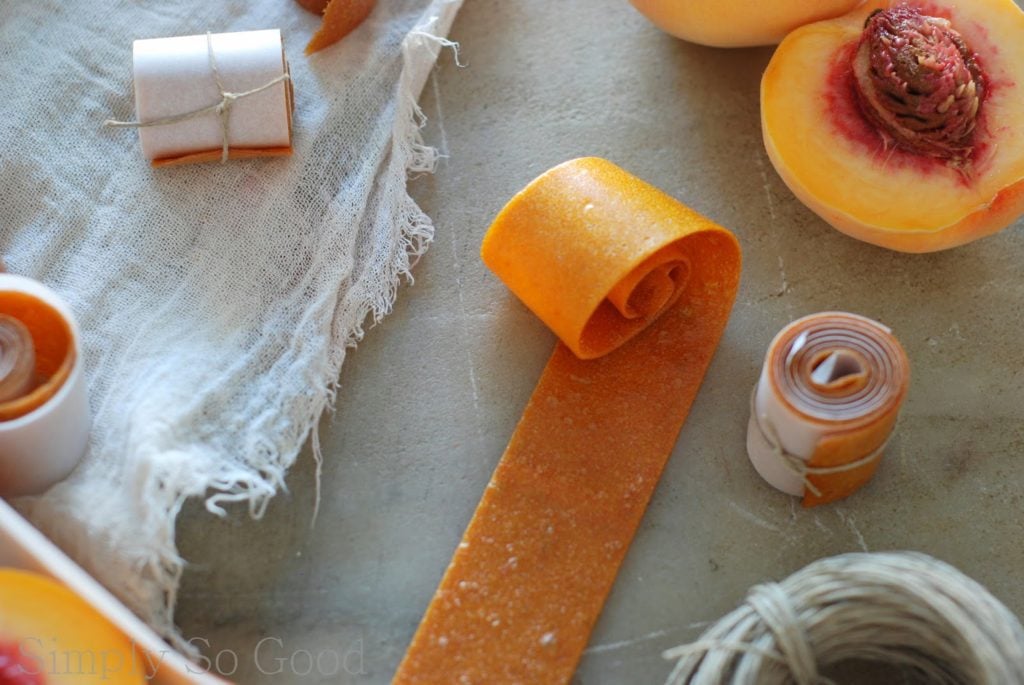 Peach Fruit Leather
4 cups peach puree, 4-6 peaches depending on size
1/2 teaspoon ascorbic acid or fruit fresh
1 tablespoon raw honey
Preheat oven to 250 degrees Fahrenheit. Line one baking sheet with a silicone mat or parchment paper. Set aside.
Wash peaches. Remove pits and skins if blemished. Put peaches, ascorbic acid and honey in a blender. Blend until completely smooth.
Carefully pour puree onto prepared baking sheet then smooth puree evenly into a rectangle. Make sure not to let the puree go completely to the edges of the parchment or mat. Place in preheated oven and bake for 2-4 hours. After 2 hours check every 15 min. Press finger onto leather. Leather should feel dry to the touch and not stick to fingers.
Allow to cool 2-3 hours. Once leather is cool remove from mat and cut into desired size strips. Cut strips of parchment the same size and roll leather onto the parchment paper. Store in an airtight container.
Makes 9-10 that have been cut into 1 1/4-inch strips.