The hot temperatures in Utah have made my garden explode.    I picked my first zucchini on July 2nd and immediately went into the house and made zucchini pancakes.  They were delicious.  My husband HATES any form of squash.  He despises it.  I have been told that I am not to grow any type of squash in my garden…like I listen.
When he was young, he would pick the squash from his mother's garden and throw it on the roof of his house.  In hopes that it would never be found so he wouldn't have to eat it.  To this day I still believe that he sprayed my zucchini plants with Round Up one year.  Yet he denies it.
He's just like a kid…no worse.  Little does he know that I grated up a zucchini and cooked it in his marinara sauce last night.  The lengths I have to go to sneak healthy foods into his body.
I swear zucchini's can grow 6 inches overnight.  Zucchini is that vegetable that you leave on your neighbor's porch at night, ring the door bell and run.
Right on schedule the raspberries are ripe and ready around July 4th.  While picking raspberries I noticed I had a basket full of zucchini ready to pick.  Dang!  I have to hide it before it mysteriously ends up on my roof or the garbage cans.
I decided to combine zucchini and raspberries.  I'll hide the zucchini in a cake, which makes an incredibly moist cake, and top it with raspberries and he will never know.
For the Chocolate Zucchini Sheet Cake you will need:
2 1/2 cups all purpose flour
1/2 cup cocoa
2 teaspoons baking soda
1 teaspoon salt
2 eggs
2 cups sugar
1 cup light flavored olive oil
1/2 cup buttermilk
2 teaspoons vanilla
1/2 cup boiling water
2 cups grated zucchini
Spray a 12 x 18-inch baking pan with a non-stick stray or lightly grease and flour.
Line the baking sheet with parchment paper.
Spray the parchment with non-stick spray.  This will make it easy to remove the cake from the pan without the cake breaking or sticking.
Grate 2 cups fresh zucchini.  Set aside.
In a large bowl add 2 1/2 cups flour and 1/2 cup cocoa.
Add 2 teaspoons baking soda and 1 teaspoon salt.
Sift together.
Set aside.
In a large bowl, add the eggs.
Slowly add 2 cups sugar while mixing the eggs.
Beat until the mixture is light yellow.
While the mixer is running slowly add the 1 cup oil.
Add 1/2 cup buttermilk.
And 2 teaspoons vanilla.
Mix well.
Mix the in the flour/cocoa mixture.
Fold in shredded zucchini.
Add 1/2 cup boiling water and mix thoroughly.
Pour batter into prepared baking sheet.
Spread evenly and bake in a 350 degree oven for 25 minutes.
Or until the cake springs back when lightly touched.
Remove from oven and let cool for 5 minutes.
Run a knife around the edges of the cake to release from the sides of the pan.
Place the cooling rack on top of the cake and carefully invert cake onto the cooling rack.
Carefully remove the parchment paper.
Allow cake to completely cool.
Using a 3-inch biscuit or cookie cutter cut out 14 rounds of cake.  Sometimes I partially freeze the cake, which makes this process a bit easier.  Set the cakes aside.
You will have excess cake left over from around the circles.  Not a problem.  I have always found someone willing to eat them.
For the chocolate glaze and whipped cream filling you will need:
6 ounces chopped semi-sweet chocolate
6 tablespoons boiling water
2 cups heavy cream
2 tablespoons confectioners sugar
1 teaspoon vanilla
Raspberries
In the top of a double boiler, bain marie, or a bowl placed over a small saucepan, add the chopped chocolate.
Stir chocolate over simmering water until completely melted.
Immediately pour 6 tablespoons of boiling water into the melted chocolate.
I know what you're thinking…if she adds the water the chocolate will seize.  Not if you add it all at once. This will make a wonderful chocolate glaze.
Stir until the glaze is smooth and has a thin consistency.
Place 1/2 of the cakes (7 of them) on a rack over a baking sheet.
Spoon chocolate glaze over the tops.
Spread the chocolate until the glaze begins to drip down the sides.
Let the cakes sit while the chocolate becomes firm.  This will take 20-30 minutes.  If you place them in the refrigerator the chocolate will loose it's pretty shine.
For the cream filling:
Pour 2 cups of heavy cream into a large bowl.
Add 2 tablespoons confectioners sugar.
And 1 teaspoons vanilla.
Beat until stiff.
To assemble the cakes:
Place one of the un-iced cakes on a plate or platter.
Spread with whipped cream.  You can put the cream in a pastry bag fitted with a large tip or just dollop the cream on top of the cake.
Add raspberries, or strawberries, or fresh fruit of your choice.
Top with a glazed cake.
Pipe on a bit more whipped cream.
Garnish with more raspberries.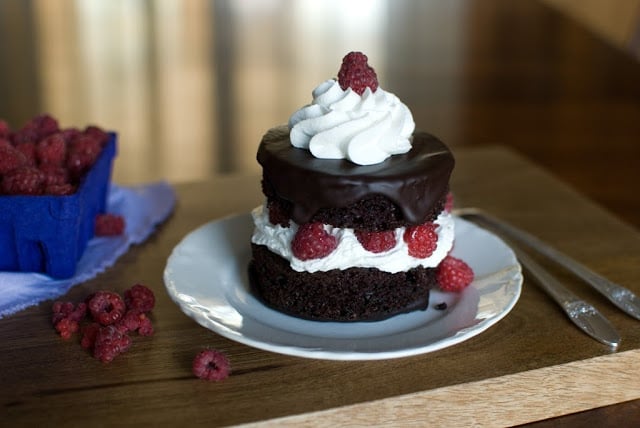 A delicious way to use the abundance of zucchini this season.
Oh my gosh!  I'm in the process of devouring this photo…This.  Is.  Amazing.