Have you ever purchased those tubes of almond paste in the grocery store? They cost a fortune and 9 times of out 10 they are hard as a rock. I never know how long they have been sitting on the shelf.
A few years ago I started making my own almond paste. It's fast, easy and will last a long time when refrigerated. My almond paste is always soft and pliable. I have tried several recipes and I keep coming back to this recipe. I'm not real fond of the recipes that use confectioner's/powdered sugar. Too pasty for my taste. This one is just perfect.
You better go purchase the ingredients and make it today. I will be posting a cookie recipe that requires almond paste and you are going to wish you had a stash in your refrigerator.
You will need:
2 cups blanched almonds
1/2 cup granulated sugar
2 egg whites
4 tablespoons unsalted butter, softened
2 teaspoons almond extract
In the bowl of a food processor fitted with a metal blade, add the blanched almonds. I'm using slivered because they process easily, but whole blanched almonds work great.
Add the granulated sugar.
Process until the almonds and sugar are a fine powder.
Add the 4 tablespoons butter that has been softened to room temperature.
Add the 2 egg whites.
Add 2 teaspoons pure almond extract.
Process until the mixture forms a ball.
20 ounces. Perfect
I live to divide the paste in half. I make 2 10-ounce longs. Wrap in plastic wrap and refrigerate until ready to use.
How easy was that? Yes, this does make a large batch. I figure that I might just as well make extra and refrigerate what I don't use. You can, also, store the extra almond paste in the freezer. It will last even longer when frozen.Get your paste ready to go. Tomorrow's cookies are to die for!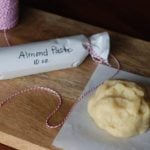 My favorite Almond Paste
Always have fresh almond paste on hand with easy to make almond paste in just minutes with a food processor and 5 ingredients.
Ingredients
2

cups

blanched almonds

1/2

cups

sugar

2

egg whites

4

tablespoons

unsalted butter

softened

2

teaspoons

almond extract
Instructions
In a food processor, process the almonds and sugar until powdery, about 1 minute. Add the egg whites, butter and extract. Process until the mixture forms a ball.

Wrap in almond paste in plastic wrap and refrigerate. The paste will last in a refrigerator for at least a month and forever if frozen. (I'm not really sure if it lasts forever, but it lasts a long time).