If you are from Utah and are as old as I am, you will think fondly of the department store ZCMI. Zions Cooperative Mercantile Institution, known as ZCMI, the "People's Store," is what one historian called America's First Department Store, and was founded in March 1868.
ZCMI had the most wonderful collection of Madame Alexander dolls. I would dream of owning one someday. The toy department had the smell of a new doll. I would stroll through their fine china department dreaming of the day I could select my china and silver, which is where I purchased my silver flatware, best china and crystal.
The highlight of ZCMI was their bakery and candy counter. ZCMI was famous for their Raisin Filled Cookies, Mint Brownies, HUGE Chocolate Eclairs, and my children's most memorable cookie of all the "Marzipan Cookie". When my sister came in town she would purchase a dozen of the marzipan cookies to take home to her children. I would push the kids in a stroller while shopping and promise them a trip to the candy counter and bakery if they were good.
It was a sad day in our lives when ZCMI sold out to Meier & Frank in 1999. I think everyone is Salt Lake was mostly concerned about what was going to happen to the bakery. Surely Meier & Frank would keep the bakery? They didn't! The bakery was forever gone. Sadly, the recipes seemed to have vanished. Local newspapers have printed so called "ZCMI recipes", but they were not the originals and come up short.
There is a Facebook page where people are requesting to know if anyone worked in the bakery or if they knew anyone who has worked in the bakery. I have given up hope. As far as I'm concerned the recipes have been vaulted somewhere for an unknown reason. Why would they just disappear completely? You would just think that the Lion House would have gathered the recipes and sell them in their restaurant or package them side-by-side with the famous Lion House Rolls? Until the recipes are discovered once again, I guess I will be left to replicate them to the best of my knowledge.
My children talk about the famous "ZCMI marzipan cookie" often. Well after years and years of saying that we need to recreate that cookie, I finally gave it my best shot. After a few pounds of butter and a few pounds of almond flour, I have created a recipe that we like. It's not exactly like the old ZCMI version, but it makes my Matt smile. If my memory is correct, the original was rolled and cut. I would almost stake my life (no, my husbands life) on the fact that it was made with shortening and not butter. I remember thinking that it would taste better if it had been made with butter. The original was topped with a slice of marzipan. I'm using almond paste instead. I didn't really like the results with marzipan.
I could go on and on about my memories of ZCMI. Let's get baking.
For the cookie dough you will need:
1 1/4 cup unsalted butter, softened
1/2 cup light flavored olive oil
1 1/4 cup sugar
3/4 cup confectioner's sugar
2 eggs
1/4 teaspoon almond extract
1/2 teaspoon baking soda
1/2 teaspoon cream of tartar
3/4 teaspoon salt
2 cups almond flour (preferably blanched almond flour)
3 1/2 cup all purpose flour
I have become very fond of this almond flour by Honeyville Farms and runs about $35 for a 5 lb. bag. and is available through Amazon for the same price.
In a large bowl combine all purpose flour and almond flour.
Add baking soda, cream of tartar and salt.
Stir or sift together. Set aside.
In a large mixing bowl, add the softened butter.
Add the sugar and cream mixture together.
Slowly add the oil while the mixer is running.
Add the two eggs.
and almond extract. Mix until light and fluffy.
Stir in the flour/almond flour mixture.
The dough will be slightly sticky.
Scrape down the sides and cover with plastic wrap. Refrigerate dough for at least 2 hours or overnight. I like the dough to be cold and firm.
Once the dough has chilled, remove from refrigerator.
Drop dough onto a parchment lined baking sheet in rounded tablespoons. This particular scoop I am using hold about 1 1/4 tablespoons. This amount creates a 3-inch round cookie.
I like to use the bottom of a glass cup to flatten the cookies.
Dip the bottom of the cup in cold water.
Press to flatten the dough slightly.
Remove that wonderful almond paste that you made yesterday from the refrigerator.
Cut slices about 1/8-inch thick.
Place on top of flattened cookies.
Press down slightly.
Bake in a preheated 350 degree oven for 12-14 minutes.
Remove from oven when the edges are barely beginning to brown. Let cool 5-10 minutes on the baking sheet.
Generously sift confectioner's/powdered sugar over the tops. Allow to cool.
I'm still picking raspberries from my garden so I decided to top of a few with fresh raspberries. That was a good idea.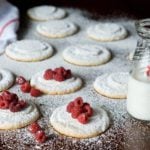 Simply So Good Version of ZCMI Marzipan Cookies
These marzipan cookies were a bakery favorite of mine growing up so I had to remake them with my own special tweaks.
Prep Time
1
hour
15
minutes
Total Time
1
hour
30
minutes
Ingredients
1 1/4

cup

unsalted butter

softened

1/2

cup

light flavored olive oil

1 1/4

cup

sugar

3/4

cup

confectioner's sugar

2

eggs

1/4

teaspoon

almond extract

1/2

teaspoon

baking soda

1/2

teaspoon

cream of tartar

3/4

teaspoon

salt

2

cups

almond flour

3 1/2

cup

all-purpose flour

12

ounces

of almond paste
Instructions
In a large bowl sift together baking soda, cream of tartar, salt, almond flour and all-purpose flour. Set aside. In a large mixing bowl cream together the butter, olive oil, sugar and confectioner's sugar. Add eggs and beat well.

Add sifted dry ingredients mixing until completely incorporated. Scrape down the sides of the bowl, cover with plastic wrap and refrigerate for at least 1 hour.

After dough has chilled, remove dough from refrigerator and preheat oven to 350F degrees.

Drop dough by heaping tablespoons onto a baking sheet that has been lined with parchment paper. Dip the bottom of a glass into cold water the press dough to flatten slightly.

Top each flattened cookie with a slice of almond paste. Bake for 12-14 minutes or until just barely starting to turn golden around the edges.

Remove from oven and allow to cool for 5 minutes. Dust with confectioner's sugar. Makes about 4 dozen 3-inch size cookies.
Nutrition Facts
Simply So Good Version of ZCMI Marzipan Cookies
Amount Per Serving
Calories 184
Calories from Fat 99
% Daily Value*
Fat 11g17%
Cholesterol 19mg6%
Sodium 51mg2%
Potassium 41mg1%
Carbohydrates 18g6%
Protein 2g4%
Vitamin A 160IU3%
Calcium 26mg3%
Iron 0.8mg4%
* Percent Daily Values are based on a 2000 calorie diet.