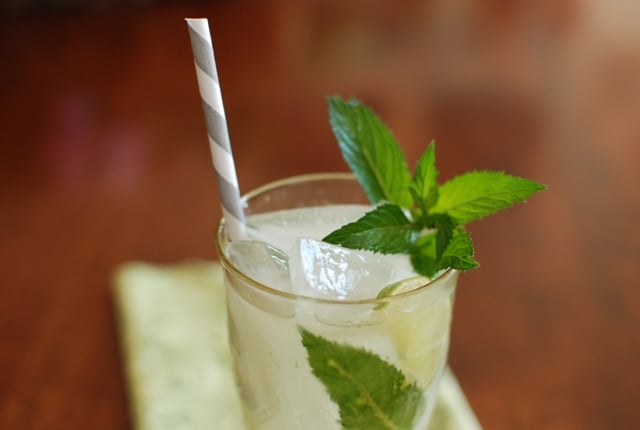 You will need a boat load of fresh ginger, sugar, water, limes and a bit of mint which is optional, but you really shouldn't omit it.
Peel the ginger.  I just use a pairing knife and gently scrape the skin off.
Place the ginger into a medium size sauce pan.
Add 2 cups of water.
Place over medium-high heat and bring to a simmer.
2 cups peeled and chopped fresh ginger
2 cups water
1 1/2 cups sugar
1 large bottle of sparkling water
fresh limes
fresh mint leaves
To make the Ginger syrup:  In a medium size sauce pan, heat the water and ginger until it reaches a low simmer.  Simmer for five minutes.  Remove from the heat and cover.  Let stand for 1 hour.
After one hour, drain the juices through a fine mesh strainer.  Discard the ginger pieces.  Let cool then place in a jar and refrigerate.
To make the Ginger Ale:  In a tall glass, add 1 part lime juice (about 1/2 lime per glass), 2 parts ginger syrup, and 3 parts sparkling water.  Stir to combine the liquids.  Fill glass with ice.  If desired, add fresh mint.
Thanks, Ry, for being our beverage connoisseur.