Miracles do happen!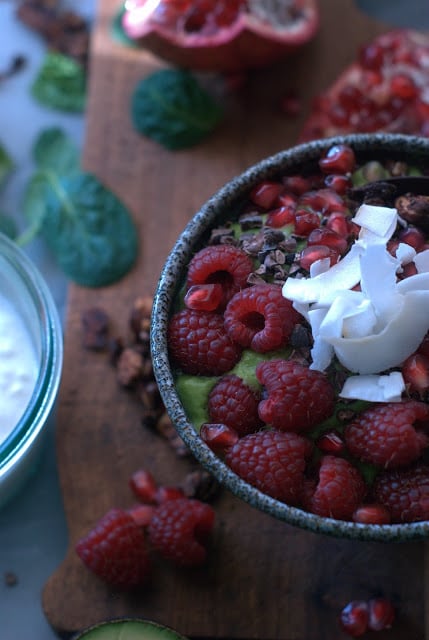 Not too long ago one of my son's friends reminded me that it had been 6 MONTHS SINCE MY LAST POST! I didn't realize anyone was keeping track.
I would like to say that I have spent the past 6 months taking photography classes, brushing up my blogging skills, researching recipes, experimenting on new recipes, etc.
Nope.
I've been chillin'.
I have been eating this avocado smoothie bowl. Everyday!
It has become my new addiction.
I insisted that my son and 9 year old granddaughter take a bite while they were visiting over the holidays. I'm happy to say that they became rather fond of this bright green and red breakfast as well.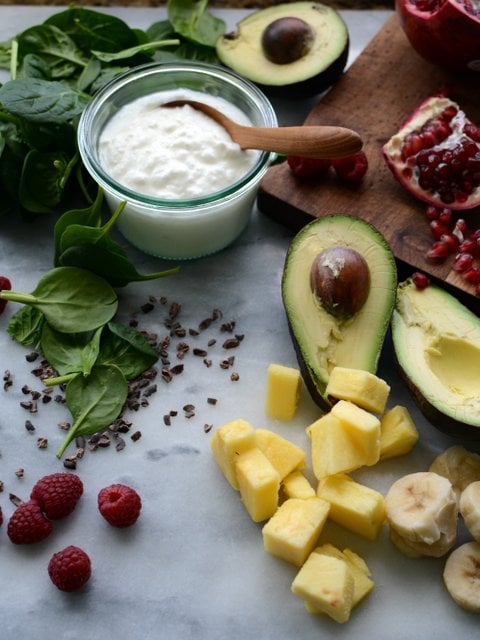 The recipe is pretty simple and you can improvise the recipe depending on what ingredients you have stashed in your freezer and refrigerator.
I use the following:
1 whole orange peeled (Not in photo. What was I thinking?)
1/2 cup nut milk or homemade yogurt
1 teaspoon maca powder
1/2 avocado
2 handfuls of spinach
1 handful of frozen bananas
1 handful of frozen pineapple (only because I'm out of my frozen peaches from the fall. Sad.)
a ton of pomegranate arils
cocoa nibs (another obsession)
Any other toppings you so desire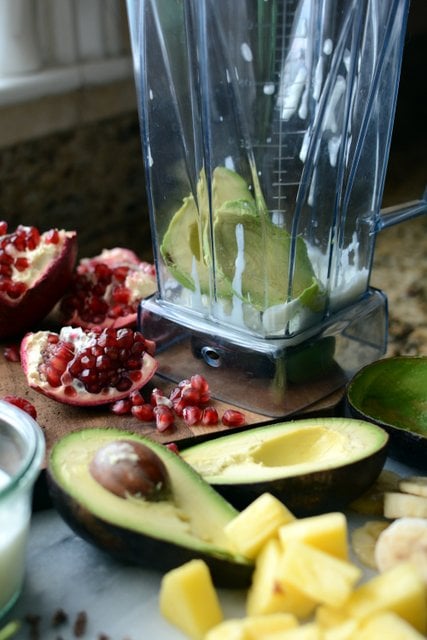 I begin by layering all of the ingredients in a blender.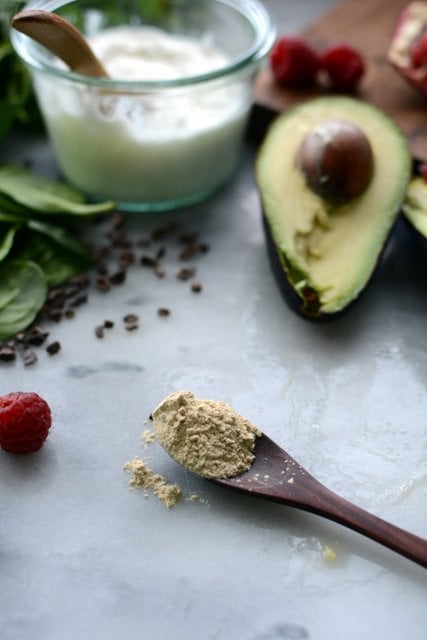 I start with the liquid then add in the orange, avocado, maca powder, spinach, then frozen fruit.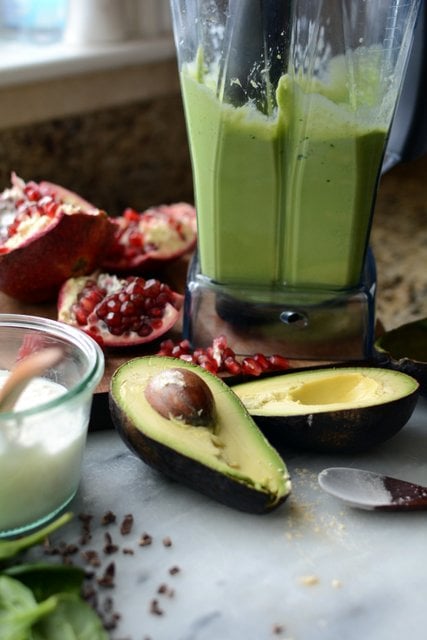 Blend until smooth and creamy.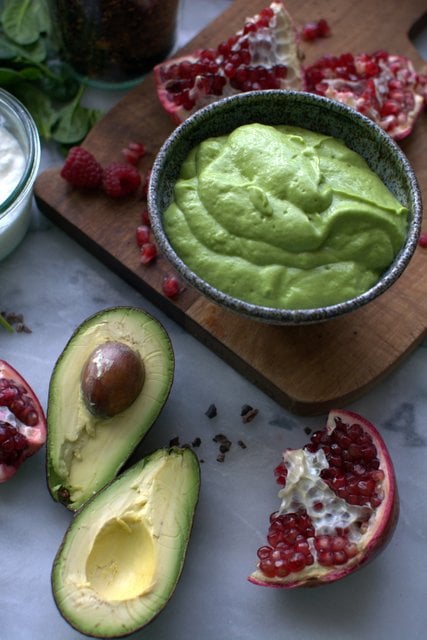 Top with your favorite fruits and nuts.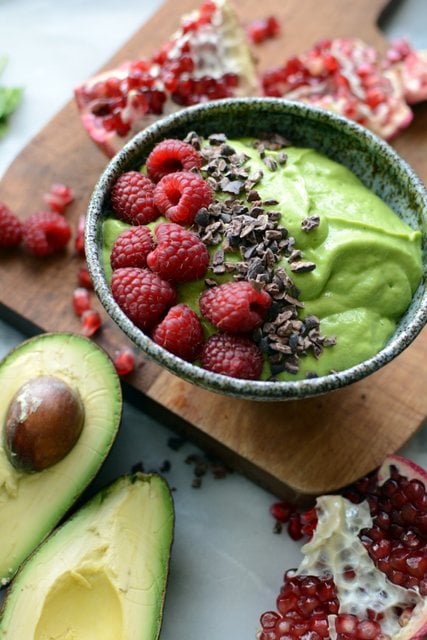 I have seriously purchased 4 (12 oz) bags of cocoa nibs. I LOVE the bit and crunch along with the bitterness of the raw cacao.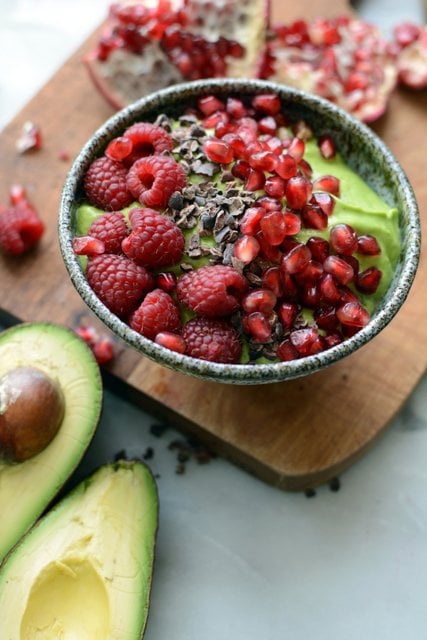 I have decided that one cannot use too many pomegranate arils. It's just not possible. I have been having a difficult time finding pomegranates lately. I don't know what I will do if I can't find them.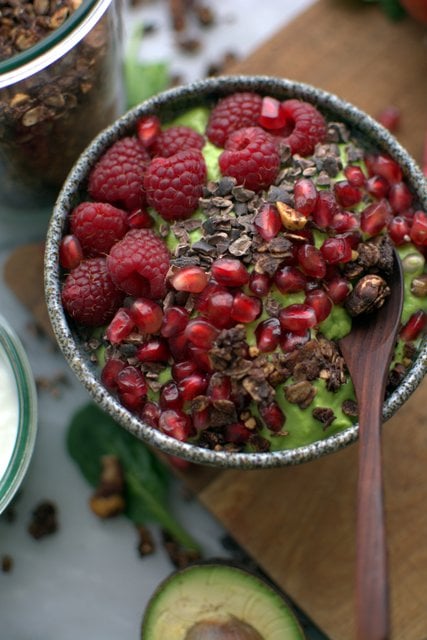 A sprinkle of granola is completely optional. I love the crunch so I used someChocolate Almond Coconut Granola that I made. I substituted hazelnuts in place of almonds. Fabulous!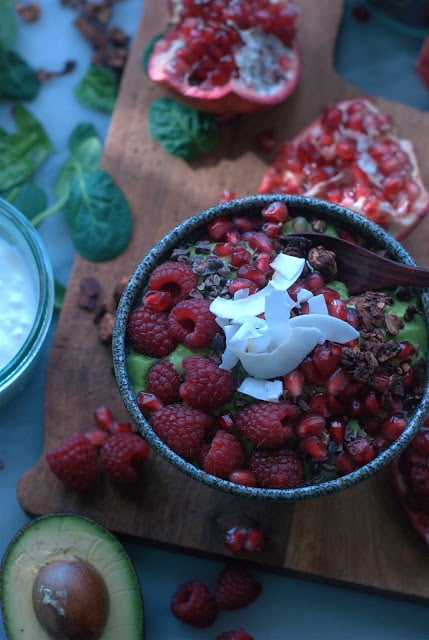 Sprinkle on a bit of coconut flakes.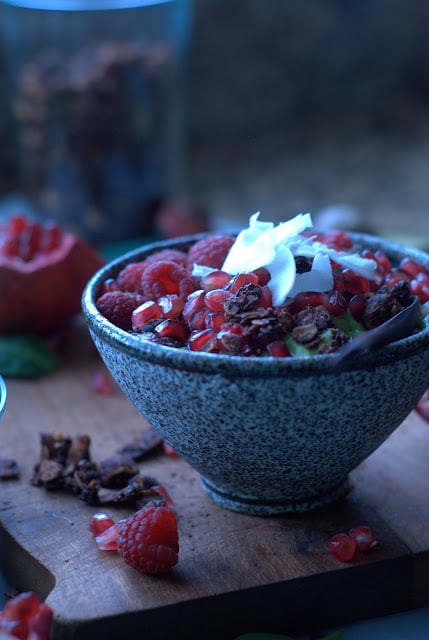 We have had a lot of snowfall in Utah this winter and the temperature and been pretty darn cold. You would think I would come home and have a steaming hot bowl of oatmeal. I still have my smoothie bowl after a cold run with the girls. I just start with a cup of hot chocolate to warm me up first.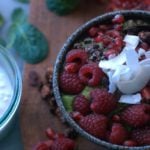 Avocado Smoothie Bowl
Avocado makes your morning smoothie creamy like ice cream. It also adds healthy fats to keep you full.
Ingredients
1

orange

peeled

1/2

cup

nut milk or yogurt

1

teaspoon

maca powder

1/2

avocado

2

handfuls of spinach

1

handful frozen bananas

1

handful frozen pineapple or peaches
Topping:
pomegranate arils

raspberries

cocoa nibs

Chocolate almond coconut granola

Flaked unsweetened coconut
Instructions
Place the orange, nut milk, maca powder, avocado, spinach, bananas and pineapple in a blender. Blend until smooth and creamy. Pour into a bowl and top with desired toppings
Nutrition Facts
Avocado Smoothie Bowl
Amount Per Serving
Calories 812
Calories from Fat 153
% Daily Value*
Fat 17g26%
Cholesterol 0mg0%
Sodium 181mg8%
Potassium 2213mg63%
Carbohydrates 173g58%
Protein 11g22%
Vitamin A 1230IU25%
Vitamin C 523.8mg635%
Calcium 352mg35%
Iron 3.8mg21%
* Percent Daily Values are based on a 2000 calorie diet.
P.S. I need to polish my photography skills. I can't believe how much I have forgotten. For this post I played around with a couple of lenses…I'm sure you noticed that. Like they say, practice makes perfect and I am completely out of practice. Shame on me.