There is a secret to fabulous stuffing and that is to dry your own bread using a mix of bread flavors, cornbread, crisp buttery croissants, tons of butter, and tons of fresh herbs.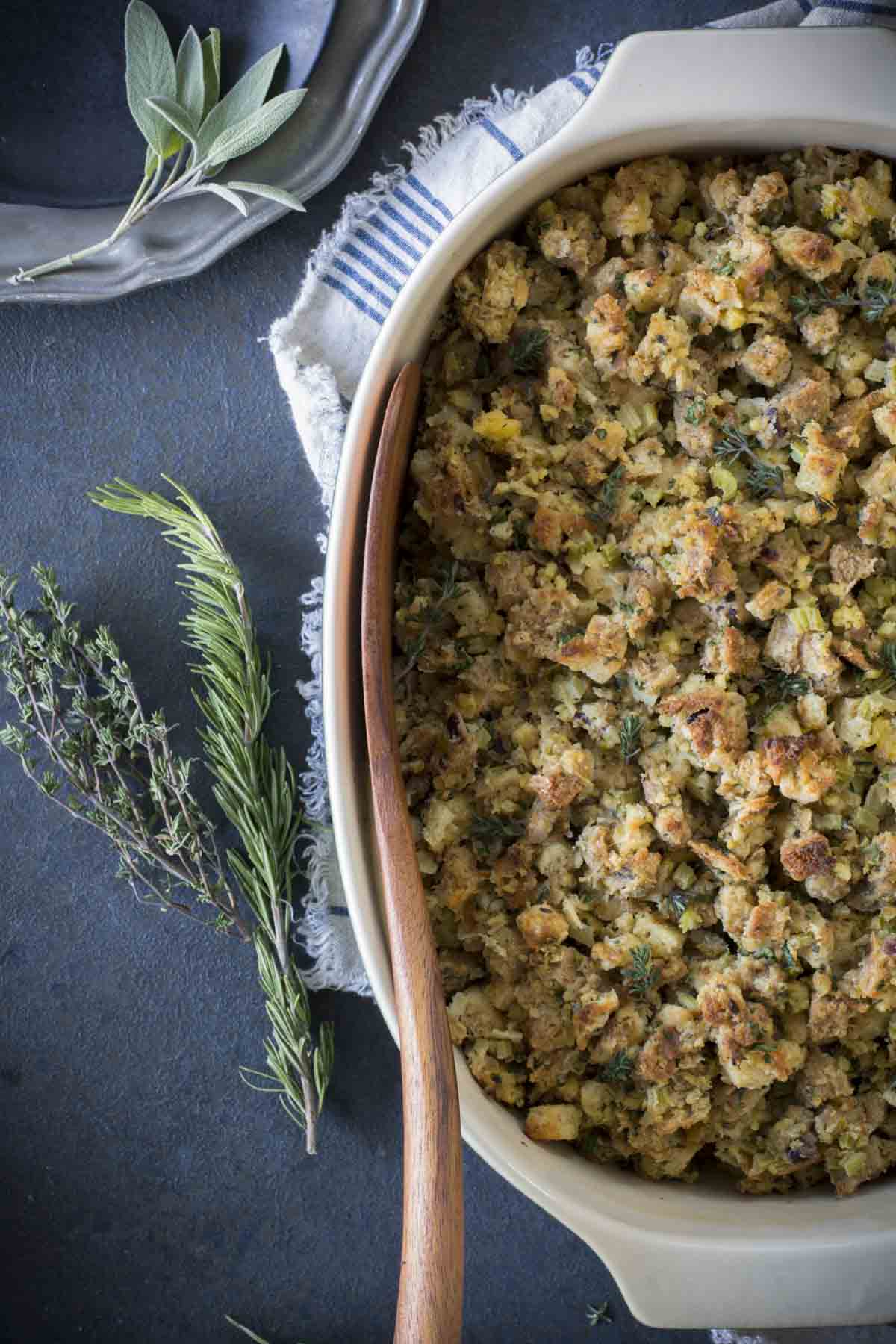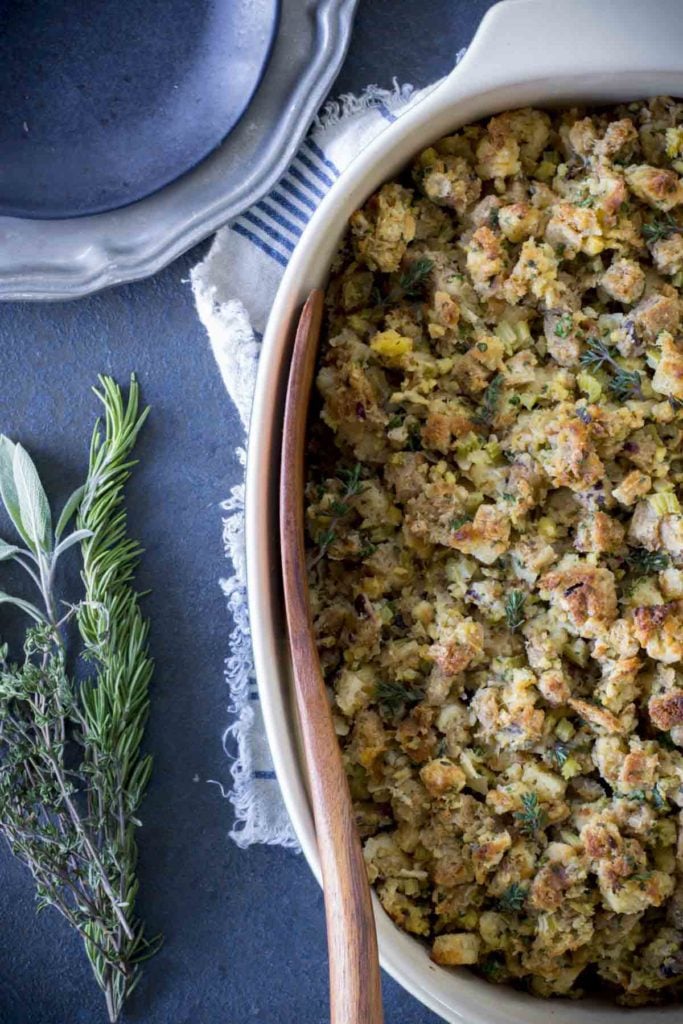 There is a secret to fabulous stuffing and that is to dry your own bread, tons of butter, and tons of fresh herbs. This is how I create my fresh herb turkey stuffing.
I like using a mixture of bread. I like to have dense white bread and the flavor of the whole grain. I drive 20 miles to a bakery that has these amazing dense, buttery croissants. They make amazing stuffing. Then I like to throw it a little sweetness with some cornbread and leftover brioche rolls or bread. I even love to toss it a bit of cranberry orange bread.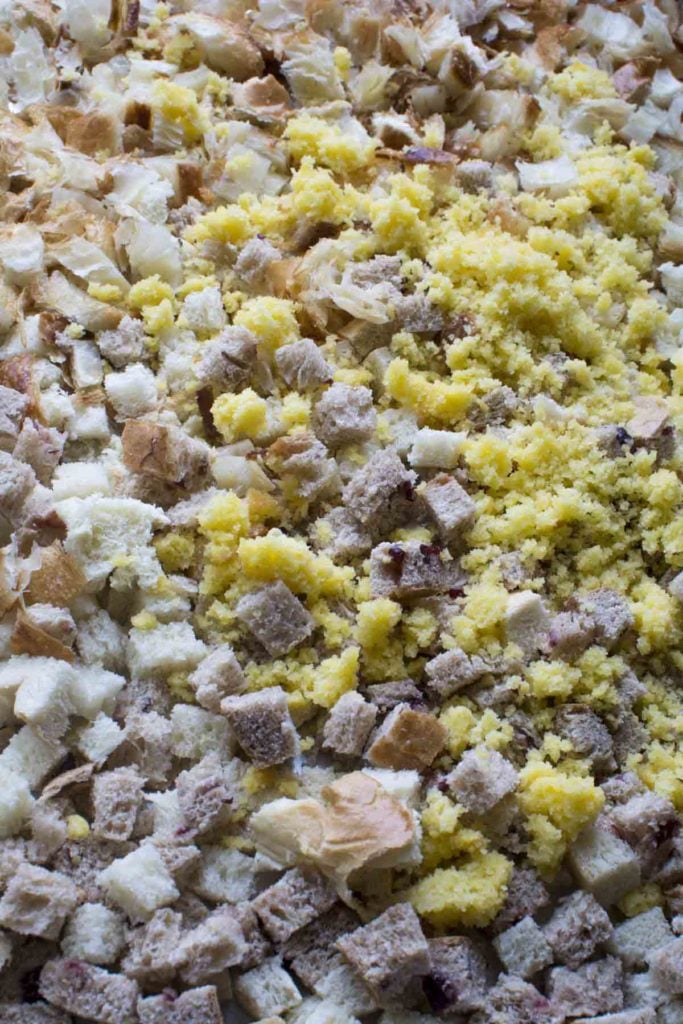 Break or cut up the bread into small bite-size pieces. Place in a 250F degree oven and bake for about 20 minutes or so to dry the bread out. This can be done weeks in advance. After the bread is completely dry, I put the dried bread into a container and place it in the freezer. I freeze the bread just in case some of it hasn't completely dried to avoid the risk of it going moldy. Yikes!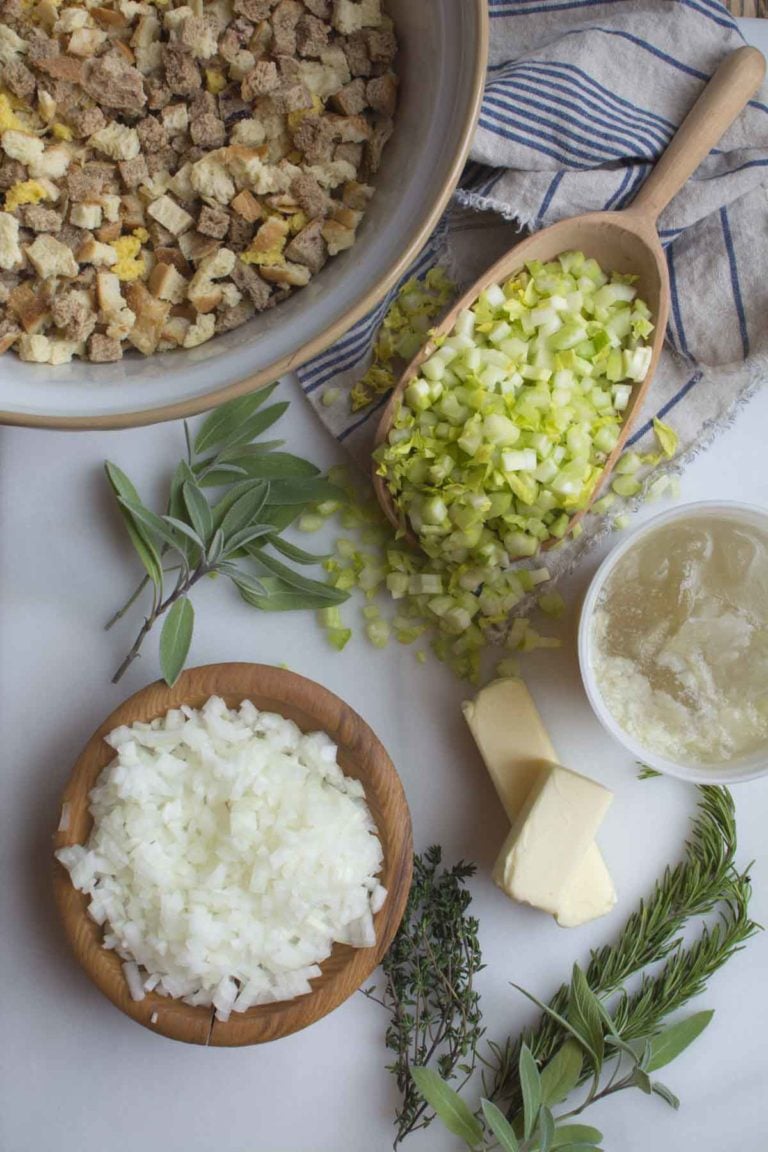 Gather, chop, and measure all ingredients.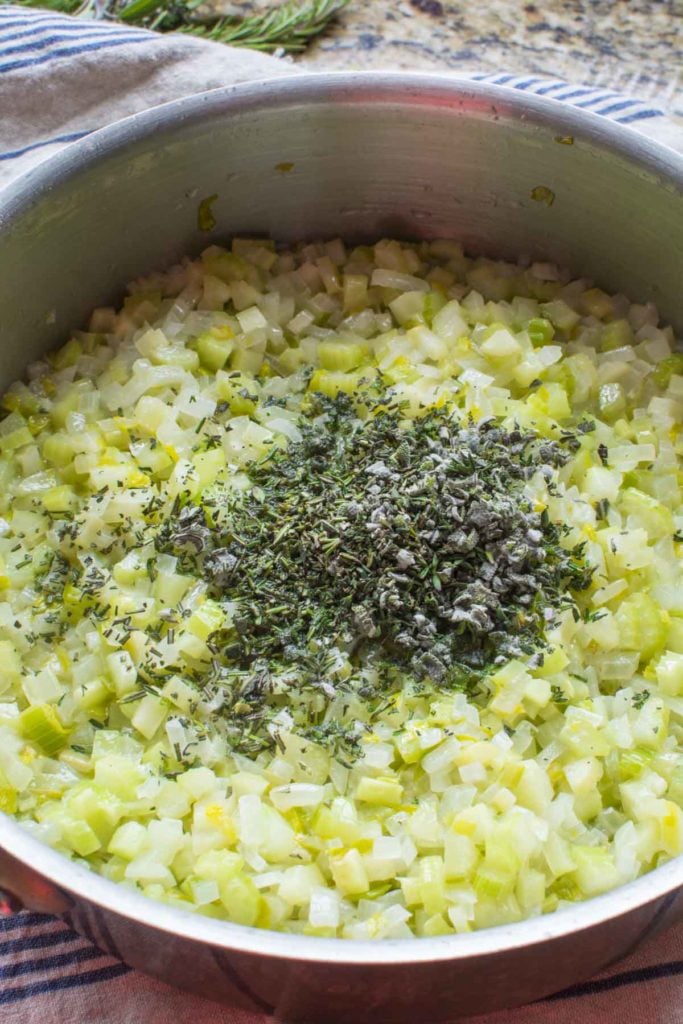 Melt the butter in a large skillet then add chopped celery and onions. Saute over low heat until the vegetables are tender. Add the fresh herbs and stir. Remove from heat.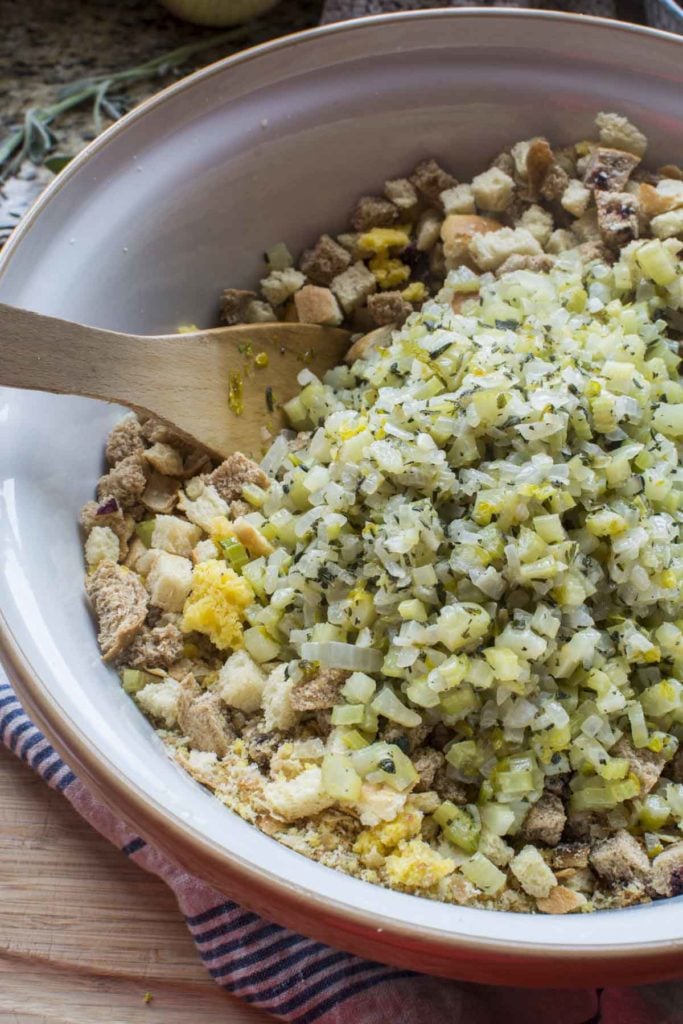 Pour over dried bread and stir to coat. You will need a HUGE bowl to do this.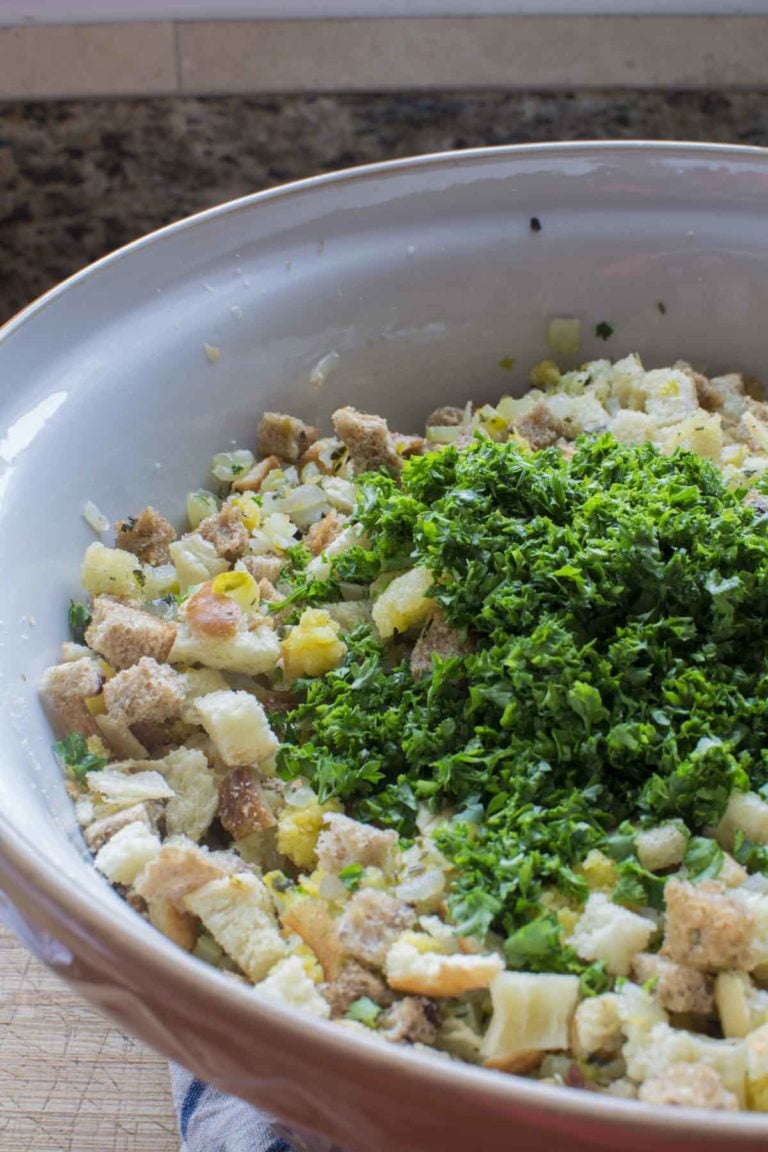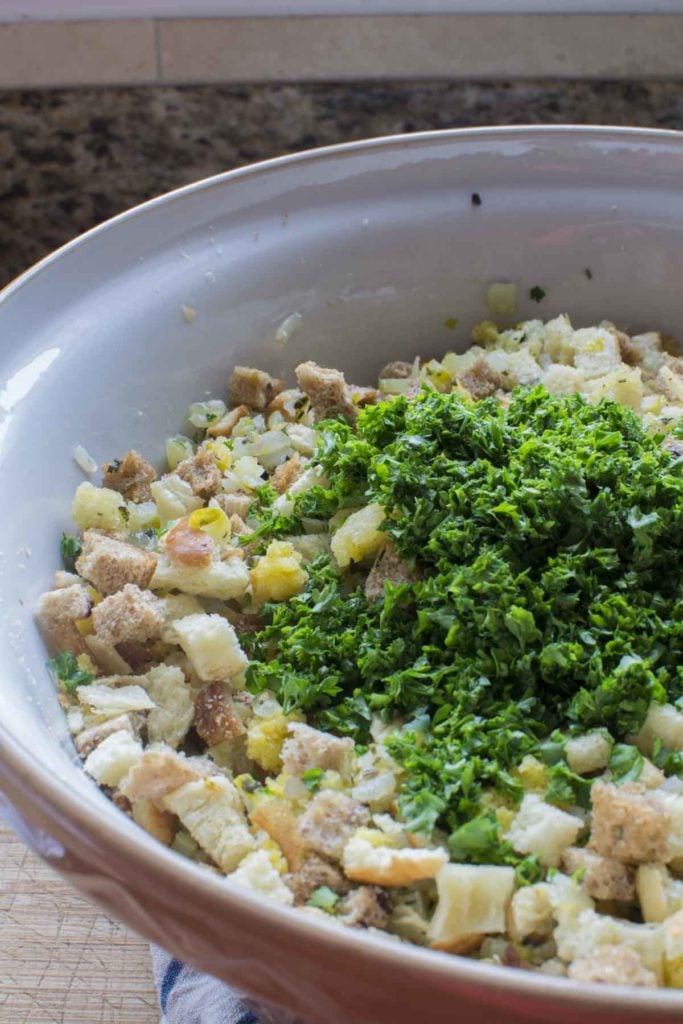 Add a lot of parsley then slowly stir in turkey stock until you reach a consistency that you like. I'm somewhere in the middle. Not too wet, but not too dry. At this point, you can cover with plastic wrap and refrigerate for up to 2 days OR you can even freeze the stuffing at this point for a couple of weeks. Now that's planning ahead!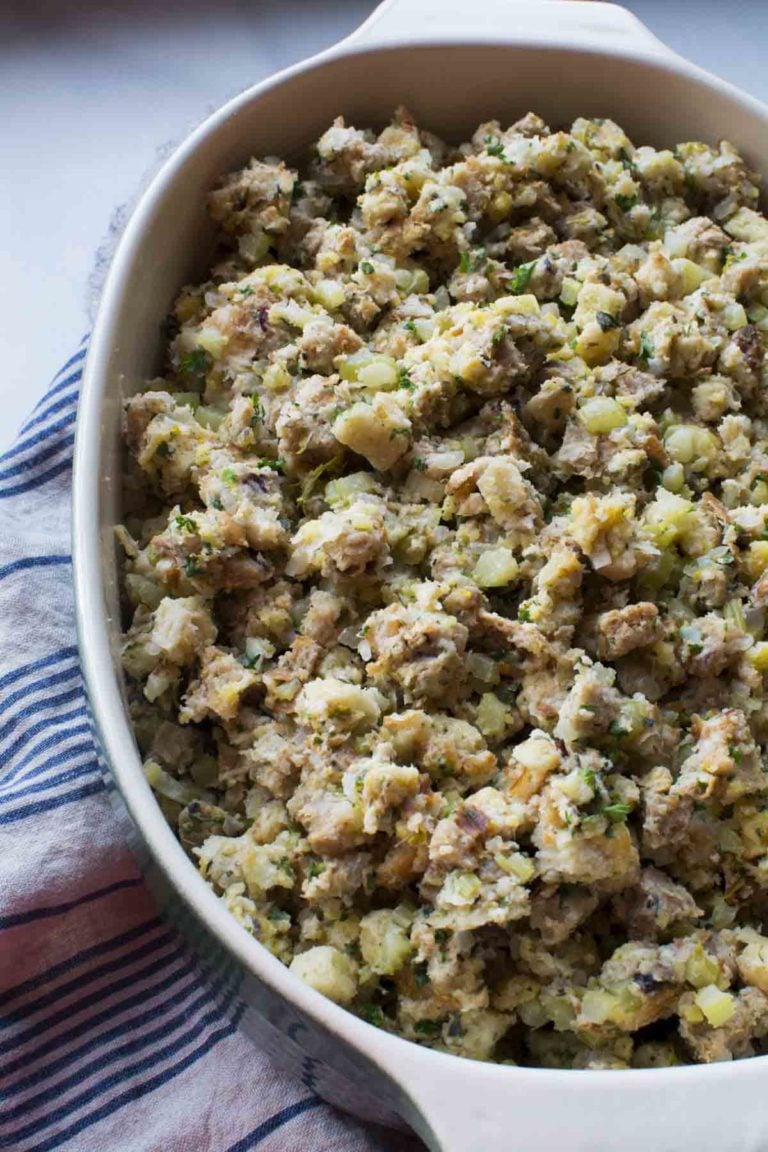 Pour into a large buttered baking dish and bake at 375F degrees for about 30-35 minutes or until crisp on the top OR you can stuff it right into the cavity of the bird you are roasting.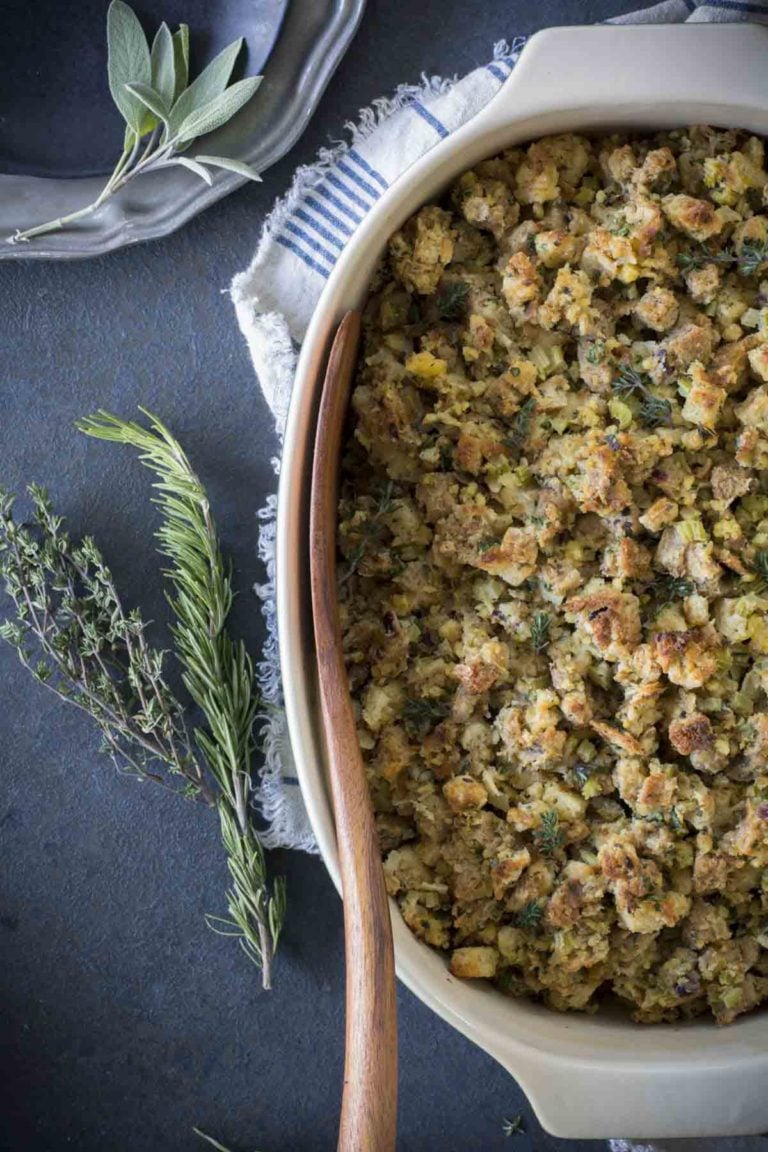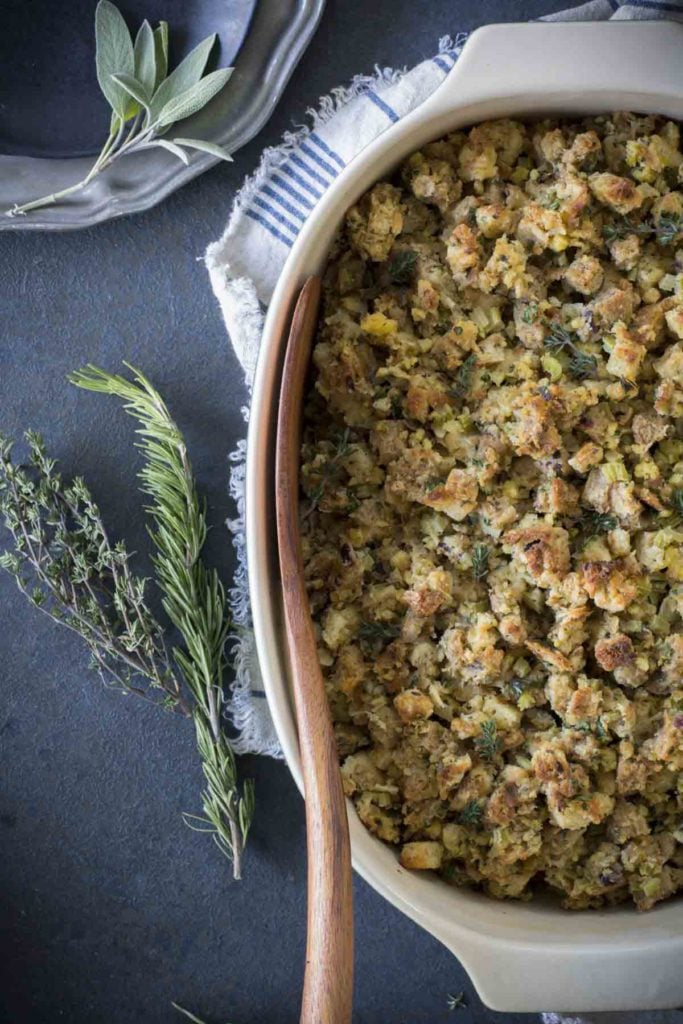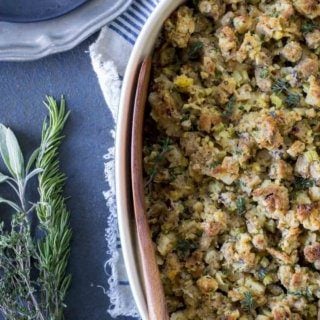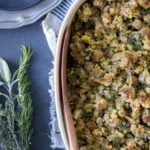 Fresh Herb Turkey Stuffing
Fresh herb turkey stuffing made with a variety of bread including croissants, cornbread, white, and wheat bread.
Total Time
1
hour
7
minutes
Servings
20
servings as a side dish
Ingredients
16

cups

dried bread

cut into bite size pieces

2

cups

celery

diced

1

large onion

chopped

3/4

cup

butter

yes, that's a lot

2

tablespoons

fresh sage

1

tablespoons

fresh thyme

1

tablespoons

fresh rosemary

1/2

cup

fresh parsley

2 -3

cups

turkey stock

salt and pepper to taste
Instructions
Place dried bread in a large bowl. Set aside.

Butter a large baking dish. Set aside

In a large skillet saute onions and celery in melted butter until soft. Add fresh herbs.

Pour over dried bread. Mix well

Slowly add turkey stock until you reach your desired consistency.

Transfer to prepared baking dish and bake for 30-35 minutes or until golden brown.

Alternatively stuffing can be put into the cavity of a turkey and roasted with the bird.
Recipe Notes
Use a variety of bread to create great flavors.
Add cornbread or brioche for sweetness.
I like to salt after turkey stock has been added to prevent from over salting. (Done that)
I highly recommend dense croissants...not the airy kind. Note: this will up the calories.
Nutrition Facts
Fresh Herb Turkey Stuffing
Amount Per Serving (15 g)
Calories 126
Calories from Fat 63
% Daily Value*
Fat 7g11%
Cholesterol 18mg6%
Sodium 186mg8%
Potassium 89mg3%
Carbohydrates 12g4%
Protein 2g4%
Vitamin A 415IU8%
Vitamin C 3.4mg4%
Calcium 45mg5%
Iron 1mg6%
* Percent Daily Values are based on a 2000 calorie diet.