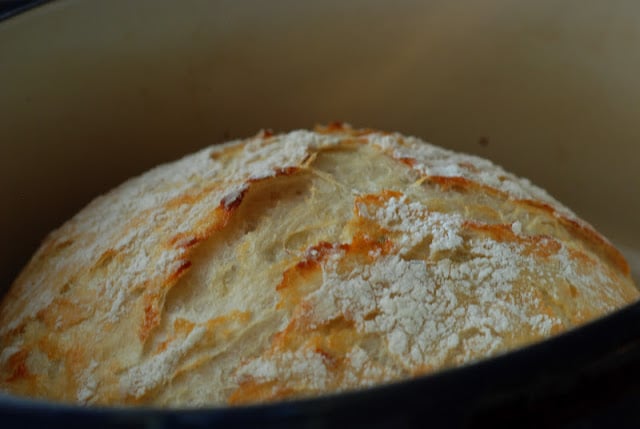 I realize that asking a question and trying to get or even FIND the answer is getting a bit ridiculous on the Crusty Bread page. This is by far the most popular post I have with over 1.2 MILLION page views. Who knew???? Oh my gosh. I knew the first time that I made this bread that I had to share it with the world. It's so easy, yet so delicious and has SO many possibilities. Here is your turn to share, ask, comment, complain, or rave about your bread success.
I will first begin with the most frequently asked questions. After that I would love for you to share your amazing bread creations. I just can't believe some of the combinations that have been shared so far. What fabulous cooks you are.
I hope this works and makes it easier for you to view comments and ask questions and get responses.
If you haven't heard of the "No-Knead" bread that produces easy artisan bread, here is the link: https://www.simplysogood.com/crusty-bread/
I must begin by saying where the recipe originated if in fact, it originated anywhere…really. I think bread has been baked for centuries using flour, salt, water, and yeast or another form of leavening. As far as I know, the recipe for "No-Knead" bread dough was printed in the New York Times. I don't know what month, day, or year. The originator is Jim Lahey of Sullivan Street Bakery. That's all I know. I found the recipe in a booklet using enamel cast iron pots. At the time I posted the recipe I had no Jim Lahey even existed or I would have definitely given the man full credit for this wonderful bread and idea. That said
….
Remember before beginning to create that this bread is highly forgiving. Don't stress over the fact that you haven't proofed the yeast or that you're not giving the dough a second rising time. It's super duper sticky and will stick to your hands, feet, and hair or anything else it comes in contact with. Play with the recipe for your location. Altitudes differ and that can affect the bread. This recipe is not your ordinary bread recipe. Just chill and follow the instructions. There are some fabulous comments and suggestions. Hopefully, you can find answers to questions a bit easier now.
Q: Do I have to use an enamel covered cast iron pan?
A: NO. You can use anything that can take the heat. The following have been used that I know of:
Clay pots with lids, Pizza stone with a bowl to cover the bread, insert from a crockpot, pyrex baking dish with a lid, stainless steel pot with a lid, baking dish covered with aluminum foil, old cast iron dutch oven.
Q: Do I have to use unbleached flour?
A: I always use unbleached flour. You can try bleached flour.
Q: Can I use self rising flour?
A: I don't know. I would just stick to all-purpose.
Q: What size is my pan?
A: My smallest pan is 5.5 quart and the loaf barely fits.
Q: What type of yeast do I use?
A: I use SAF instant yeast. Any yeast should work.
Q: Why is my bread turning out flat?
A: I don't know. You could try using less 1/4 cup less liquid. Or add a bit more flour. Make sure your dough appears to be dry when you first mix it. It will have more moisture during the rising time. There are many determining factors when bread making. Is your flour old? It does make a difference. Sometimes store brand, sale flour isn't so great and should probably be left on the store shelf. Make sure your flour is fresh and a good quality brand and make sure your yeast is fresh and active.
Q: Can my dough sit out longer than 18 hours? Does it HAVE to be between 12-18 hours?
A: No. I have let some dough sit as long as 24 hours and the bread was beautiful.
Q: Have you tried Gluten-free?
A: No. I'm still waiting for someone to venture into the realm of Gluten-free. If you try it, let everyone know.
Q: Do I have to grease or oil the pan? Will my bread stick?
A: No you don't need to grease the pan. I have never had the bread stick when using a cast iron pot. I haven't tried anything else. The best way to be certain that the bread won't stick is to form the loaf on a sheet of parchment paper and lift the bread into the pan using the sides of the parchment. Leave the paper in the pan. It's won't burn. When the bread has baked, just lift the sides of the parchment out of the pan. Voila!
Q: What temperature should my water be?
A: I just use cool water straight from the tap.
Q: Can I add sugar?
A: Sure.
What is the difference between active dry yeast and instant yeast (also known as bread machine yeast)?
Instant yeast is a little more potent than active dry yeast and can be mixed in with your dry ingredients directly. I generally find it easier to work with. Active dry yeast works just as well as instant yeast but requires being activated in a little bit of warm water before being added to the rest of the ingredients. Failure to properly activate it will result in your loaf not rising adequately.
http://www.thefreshloaf.com/faqs/baking/yeast
My most recipe comment that will be so helpful to all of you. Thank you so much, Cory – Falling Star Lane:
Hi! Me again! I have some input – mostly add in ideas that have been huge hits! I found that using the parchment makes all the difference – to any loaf, it makes it easy to put in and take out and never burns.
Also, I reduced the baking time by 5 minutes for each step – more tender bred, and just as crispy crust.
I also add 1 T of raw sugar to each loaf – they rise higher for me.

As to add ins –

1. Turkey bacon and cheddar – huge hit
2. Rosemary, feta and sundried tomatoes – i found the ones in oil to bring a fantastic flavor
3. Jalapeno, and pepper jack – wow!!! used canned peppers – small can
4. Chocolate and cranberry
5. Rosemary and sharp cheddar
6. Chocolate chip and orange infused cranberries
7. Apricot, cranberry, and chocolate – I put too much in – so i had very dense bread – but it got eaten!!
8. Rosemary and Feta
9. Marinated artichokes and raw garlic – sliced 6 cloves very thinly – oh boy!
10. Orange infused cranberry, almond and orange zest
11. Lemon zest, feta, and rosemary

S0 far, none have been rejected, and I have become something of a bread baker to my friends – I bring a couple varieties to potluck, and they are very nicely received! I still need a 2nd dutch oven – days i bake 3-5 loaves it gets pretty hot around here! 🙂

I hope listing these is ok – i spent soooo long scrolling thru to see other peoples ideas, it seemed like this would be a good thing – found a few to try, and in fact making a pistachio and cranberry tonite, and an olive mozerella – new is good – but i get asked for the Jalapeno one most often!!

Thanks again for this blog post!
Most of the comments I receive are pretty fabulous like this comment. Keep them coming.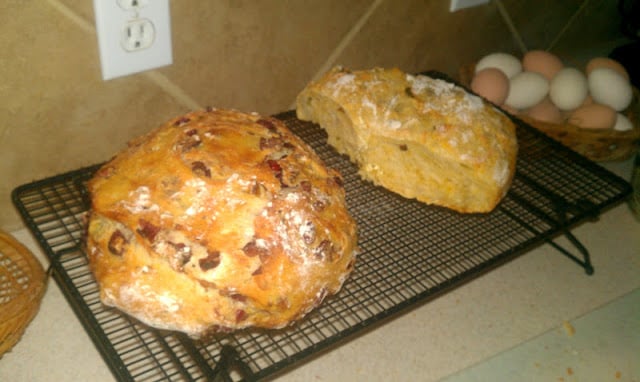 Thanks, to Sarah for submitting photo's of her cranberry/pistachio and jalapeno /cheddar loaves. Don't they look amazing?