I asked my son what kind of birthday cake he would like for his birthday party? (He's 28 and yes I'm still doing the parties). He said that he had a challenge for me.
A birthday cake challenge and it must include Ferrero Rocher candy, Dove dark chocolate, and hazelnuts. He called it my "chopped" challenge without a time restraint. He said, "you must use these three items and it has to be an ice cream cake".
Pshhh. You call that a challenge? Please.
I created a Chocolate Hazelnut Gelato Cake using a basic gelato recipe with hazelnut paste and a Texas sheet cake. It was pretty simply, but rich and amazing.
For the Hazelnut Gelato you will need:
2 cups whole milk
1 cup heavy cream
1/2 cup sugar + 1/4 cup sugar
4 egg yolks
1 teaspoon vanilla
1/2 cup hazelnut paste, (you can use hazelnut butter or Nutella type spread)
9 Ferrero Rocher candy or other hazelnut chocolate coated candy
In a saucepan add 2 cups whole milk.
1 cup heavy cream.
1/2 cup of the sugar.
Bring to a low simmer over medium-low heat to dissolve the sugar.
In a mixing bowl, beat the 3 egg yolks.
And the remaining 1/4 cup sugar.
Beat until the mixture thickens and turns light yellow.
Pour some of the hot milk mixture into the egg yolk mixture. This will temper the egg yolks so they don't cook and look like scrambled eggs. I add about 4 ladles full of hot milk.
Pour the egg yolk mixture into the pan of hot milk mixtures.
Cook over low heat, stirring constantly.
Cook until the mixture coats the back of a wooden spoon.
Pour the hot mixture through a wire mesh strainer.
Add 1 teaspoon vanilla.
Add hazelnut paste.
Stir until the mixture is smooth.
Cover and chill until completely cold or overnight.
For the cake you will need:
1 cup butter
1 cup water
1/4 cup unsweetened cocoa
2 cups sugar
2 cups flour
1/2 teaspoon salt
1/2 cup buttermilk
2 eggs
1 teaspoon vanilla
1 teaspoon baking soda
In a small saucepan heat 1 cup butter and 1 cup water.
Add 1/4 cup cocoa powder.
Whisk until smooth and the butter has completely melted.
Remove from heat and set aside.
In a large mixing bowl and 2 cups flour and 2 cups sugar.
Add 1/2 teaspoon salt.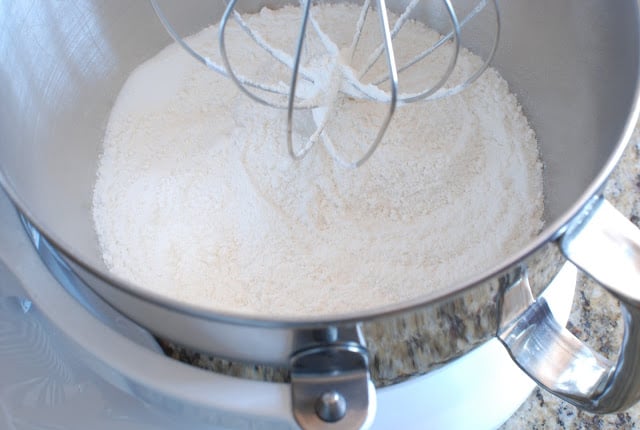 Stir together.
Pour in the warm butter, chocolate mixture. Blend until smooth.
Add 1/2 cup butter milk.
Add 2 eggs.
1 teaspoon baking soda.
And 1 teaspoon vanilla. Mix until smooth.
Spray a baking sheet with a non-stick spray or grease and lightly flour.
Line a sheet of parchment.
Spray parchment.
Pour batter into prepared pan.
Bake in a 350F degree oven for 30 minutes.
Remove from oven.
Allow to cool for 5 minutes.
Invert cake onto a wire rack and remove the parchment paper and cool completely.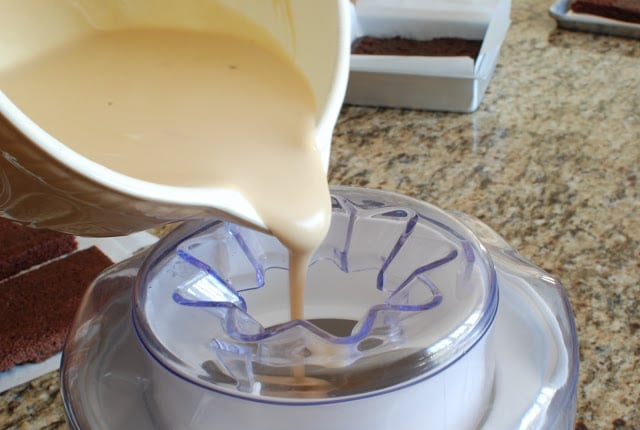 When ice cream has chilled, pour the mixture into an ice cream maker and freeze according to manufacturers directions.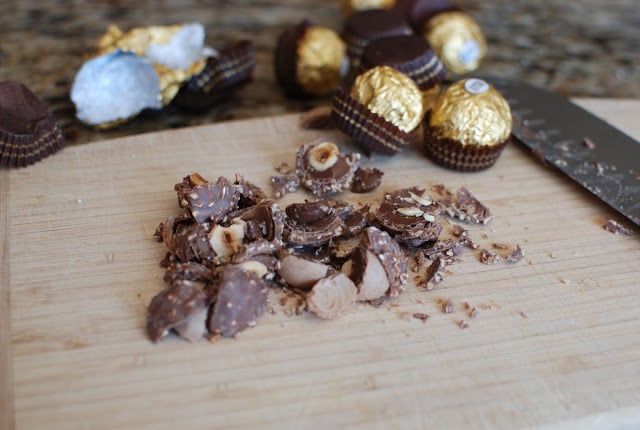 Remove the wrappers from the Ferrero Rocher and coarsely chop.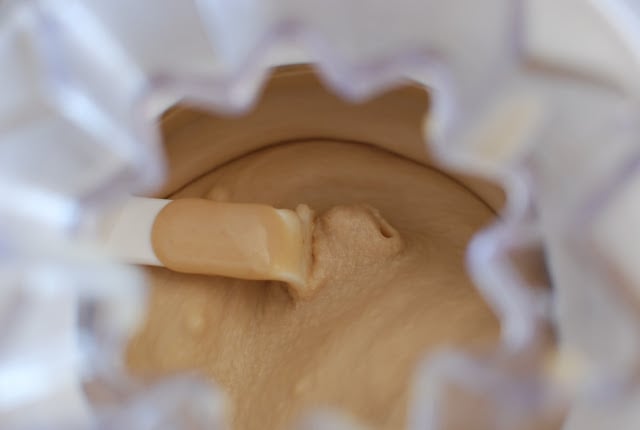 When the ice cream is almost complete,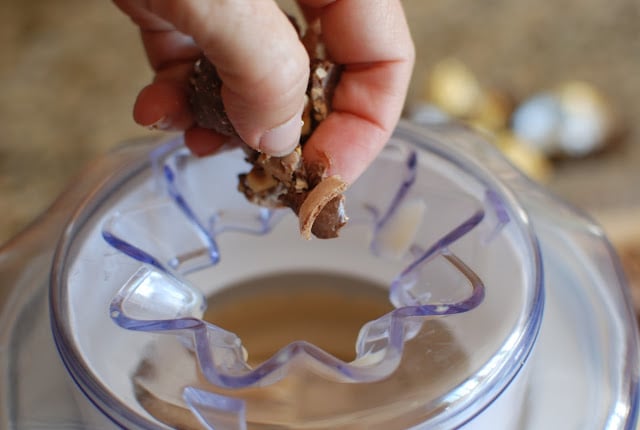 Add the candy as it is turning.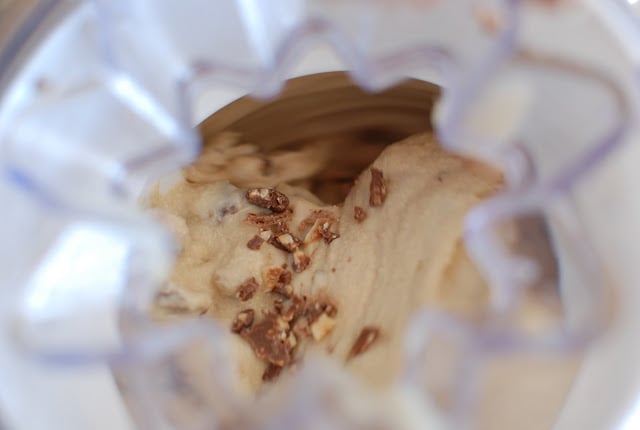 Meanwhile, prepare the pan for the cake and ice cream layers.
I'm using an 8 x 8-inch square pan. You can use a 9 x 9-inch pan as well.
Cut two sheets of parchment to fit into the pan.
I fold and crease the parchment so it will stay in place better.
Cut the sheet cake to fit the size of the pan.
You will need two pieces the same size.
Place one of the pieces on the bottom of the pan.
You will have some left over cake, which someone will gladly eat. I'm saving my calories for the finished product.
As soon as the ice cream is set. Remove the center dasher and lick it clean. I'm pretty sure hazelnut gelato is my favorite flavor. The addition of Ferrero Rocher just pushes it right over the top.
Spread the entire amount of ice cream over the bottom cake layer.
Smooth.
Place the second layer of cake over the top of the ice cream.
Press down.
Fold over parchment ends and cover with plastic wrap or foil.
Freeze until hard and firm.
Two challenge ingredients left. The Dove dark chocolate and the hazelnuts. Combine the two and this would make one fabulous candy bar. Hint, hint Dove.
You will need:
1/2 cup heavy cream
8 oz Dove dark chocolate or other semi-sweet chocolate
1/2 cup chopped hazelnuts
Chop 8 oz of semi-sweet chocolate and place in a mixing bowl.
Coarsely chop the hazelnuts and set aside.
In a small sauce pan pour in 1/2 cup heavy cream.
Heat until bubbles begin to form around the edges of the pan.
Pour the hot cream over the chopped chocolate.
Let stand for 5 minutes to allow the chocolate to completely melt.
Gently stir the mixture until the chocolate and cream and smooth. If bits of chocolate still remain, place the bowl in a microwave for 20 seconds and that should melt the remaining chocolate.
Remove the frozen cake/gelato from the freezer and remove plastic wrap.
Pour warm ganache over the top cake layer.
Smooth ganache over cake.
Sprinkle with hazelnuts.
Return to freezer until the ganache is firm and set.
Remove the cake from the pan. If it would just slide out, place a warm, wet wash cloth around the edges and that should do the trick.
Cut the cake in half.
Slice into 1 1/2-inch slices or however thick you would like it.
Rich and D.I.V.I.N.E.
Looks like I nailed the challenge. Booya, Ry!
I wonder what next years challenge will be? Bring it!