This past week another year was added. I celebrate (ha) by making my own birthday cake. I generally lean towards a rich carrot cake, but this year I decided to make just a tiny cake, le petit gâteau, with some of my favorite flavors.
I'm obsessed with beets right now especially their color. The red color of a juiced or roasted beet is glorious. Oh, don't get me going on how beautiful golden beets are juiced. The gold is almost neon. LOVE, LOVE, LOVE.
I remember my grandmother telling me that they used to use beets in cakes to help make them moist. So I decided to add some pureed cooked beets to a chocolate cake batter. I'm becoming more anti-artificial color, so I decided to use that glorious beet juice to give a hint of pink to my rose buttercream.
Happy Birthday to me.
Don't let all the steps and photos scare you. I like to be precise with my instructions. Follow them and you will have a beautiful little cake. Worth the time.
I somehow deleted the photo of all of the ingredients, but I'm pretty sure you can visualize these simple ingredients.
For the chocolate beetroot cake you will need:
2 1/2 cup flour
1/2 cup cocoa
2 teaspoons baking soda
1 teaspoon salt
2 cups sugar
2 eggs
1 cup oil (I used light flavored olive oil)
1 cup buttermilk
1/2 cup pureed cooked red beets
3/4 cup boiling water
1 teaspoon vanilla
2 (6-inch x 3-inches high) round cake pans or 2 8-inch will work as well.
I'm using 6-inch round cake pans because I want one small cake, but there will be enough batter to make 2 of the 6-inch cakes. I'll just freeze the other one for future use.
Butter cake pans.
Coat with sifted cocoa powder.
Set aside.
Luckily I had some leftover cooked beets, which saves a lot of time.
This is how I like to roast my beets. You can boil them as well.
Scrub 2-3 beets.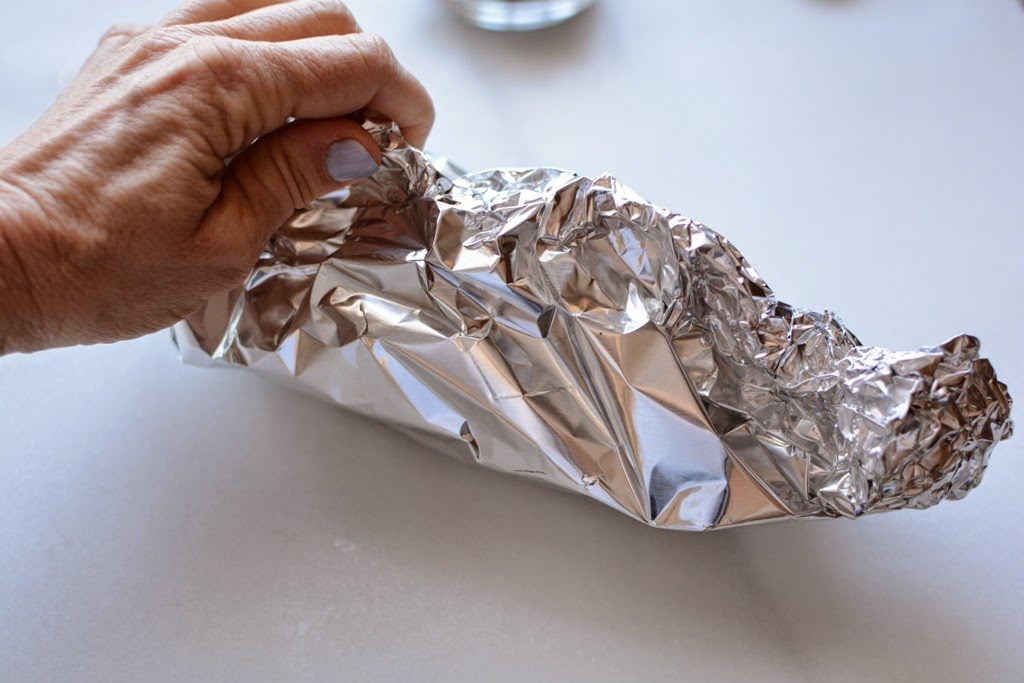 Wrap tightly in heavy duty aluminum foil. Place in a 350 degree oven and bake for about 30-40 minutes. This can be done a few days ahead of time.
Remove from oven and poke beets with a fork to make sure they are soft and tender.
I like to reserve this beet juice to color the icing.
Gorgeous red.
Peel the beets. The skins generally just rub right off.
Place the beets in a blender.
Puree. Set aside.
Mix together 2 1/2 cup flour, 1 tsp. salt, 2 tsp. baking soda,
and 1/2 cup cocoa.
Sift together and set aside.
In a large bowl add 2 cups sugar.
Add 2 eggs.
Beat until light yellow.
While beating slowly add 1 cup oil.
Add 1 cup buttermilk alternately with flour mixture.
Mix until smooth, but don't over mix.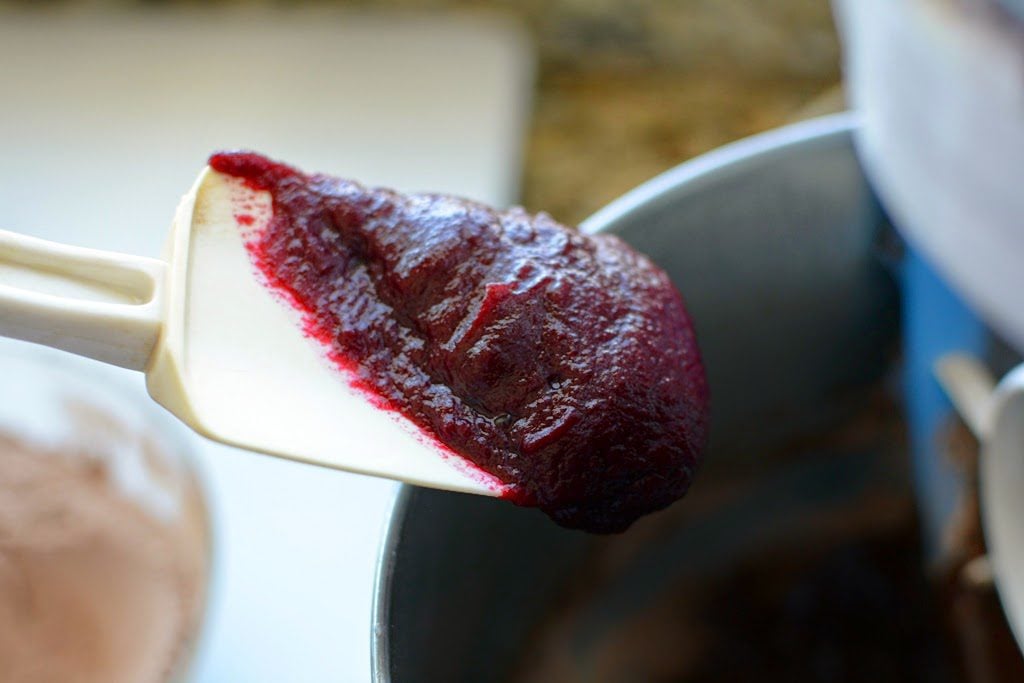 Add the reserved beet puree and blend just until mixed in.
Slowly mix in 1 cup boiling water.
Add 1 tsp. vanilla
The batter will look a little funky in color almost a purple. No worries it will bake up to be a beautiful dark chocolate color.
Divide batter into prepared pans.
Place in a 350 degree F oven and bake for about 40-45 minutes for a 3-inch deep pan. If your pan is only 2-inches deep then bake for 30-35 minutes. Test by poking a toothpick into the cake center. If the toothpick comes out clean, the cake is done.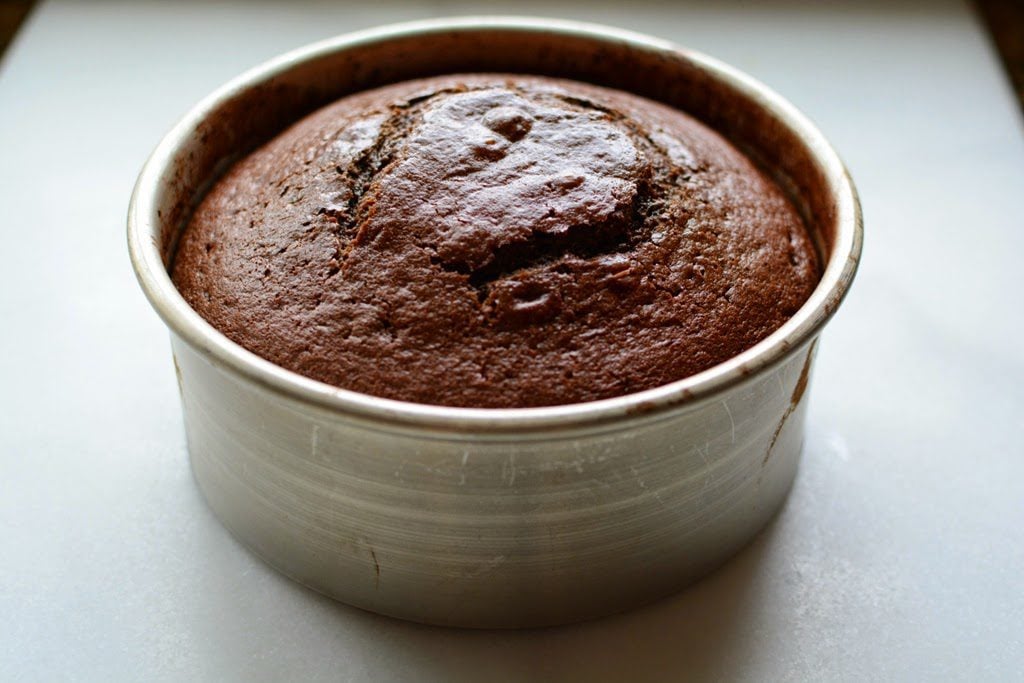 Allow to cool in pan to 5 minutes.
Remove from pan and place on a cooking rack to cool completely.
Once the cake is cooled it can be wrapped in plastic wrap then in heavy duty aluminum foil and placed in the freezer for 2-3 weeks.
Prepare icing:
For the Cardamom Rose Swiss Meringue Buttercream you will need:
2/3 cup (150 g) egg whites
1 1/4 cup (250 g) sugar
1 1/2 cups (340 g) or 3 cubes unsalted butter
pinch of salt
1 teaspoon vanilla
1/2 – 1 teaspoon rose water
1/4 – 1/2 teaspoon beet juice or a few drops of red food color
tiny pinch of cardamom
Slice each cube of butter into 8 equal slices or 1 tablespoon slices or cubes.
I like to arrange them on a plate to soften. Important note: You do NOT want your butter to be a room temperature. You want to softened, but still cool.
Pour 2/3 cup egg whites into the bowl of an electric mixer. Make sure the bowl is very clean and free from fat or grease.
Add 1 1/4 cups sugar.
Whisk together.
Place the bowl on top of a pan of simmering water. Do not let the bowl touch the water.
Stir constantly until the temperature reaches 160 degrees F and the sugar should be dissolved.
Remove from heat.
Rub a small amount of the mixture between your fingers to make sure the sugar has dissolved.
Using a whisk attachment, whip the mixture.
Beat until a stiff meringue forms and the bottom of of the bowl is cool to the touch. I'll repeat that, the bottom of the bowl should be cool to the touch. If the bowl is still warm, continue beating until it is cool.
Remove the whisk and attach the paddle attachment.
Take the softened butter and add it to the meringue mixture.
Turn the mixer on and add butter one tablespoon at a time until incorporated.
Repeat.
You will notice that the meringue will slightly deflate. DO NOT PANIC.
Wait for it…
Continue to add the butter while mixing.
Wait for it…
As the last tablespoon of butter is added the buttercream will finally come together. It is complete!
Add the salt and a pinch of salt.
Add 1/2 teaspoon rose water. You can add more to taste. I just wanted a subtle hint of rose.
Add just a small smidgen of cardamom.
Last but not least the BEET JUICE!. I'm adding about 1/4 teaspoon because I wanted a very light pale pink. By all means add more if you want a vibrant pink. I promise you will not taste the beet juice at all.
The recipe makes quite a bit. If you decorate the cake as follows, you will have leftover icing. It freezes well OR you can just eat the remaining icing with a spoon.
I turned my cake over so I could have a flat surface to work on.
I'm sure you remember that I'm slightly "piping" challenged.
I filled a large pastry bag with a large round tip to create my little mounds of buttercream.
I made a few practice mounds. Eh good enough.
Sprinkle with a few chopped pistachio's.
Mon petit gâteau.
My little birthday cake almost tasted as good as the chocolate cake with sprinkles that my grandkids made for me. That was a cake to behold.