When I was young, I loved those frozen chicken pot pies in the freezer section of the grocery store. On nights when my parents were going out (seldom), my mom would pop them into the oven for quick dinner for the kids. I loved the smell of the them baking. Anything was better than her tuna casserole. Dang I hated that casserole…still do. Canned Tuna mixed with cooked egg noodles and cream of mushroom soup with the crushed potato chips on top (I'm starting to throw-up in my mouth). That was about the only think my mother made that I didn't like.
Homemade chicken pies are so much better.
Pot pies are comfort food for cool Autumn nights.
To make the little pot pies you will need:
Combination of fresh herbs – parsley, sage, rosemary & thyme (just like the song)
1/4 teaspoon nutmeg
4 tablespoons butter
3 tablespoons flour
1/2 small onion, chopped
2 tablespoons more butter
1 1/2 cups red chopped potato
2 carrots, chopped
3 cups chicken stock
1/2 cup heavy cream
2 cups cooked chicken
Pie dough for one pie crust or 1 sheet puff pastry
1 egg
6 individual serving containers (jars, bowls, crocks, etc.)
Let's start with the fresh herbs.
Finely chop about 2 tablespoons fresh parsley. Place in a small bowl.
3 Sage leaves, finely chopped.
Add to the parsley.
1 sprig of rosemary, finely chopped.
Add to the other herbs.
6-7 sprigs of thyme, finely chopped.
Add to the other fresh herbs.
Mix all of the fresh herbs with 1/4 teaspoon nutmeg. Use fresh grated if available.
Set aside.
To make a roux: melt 4 tablespoons of butter in a small sauce pan.
Add 3 tablespoons flour.
Whisk until smooth.
Cook for about a minute. Remove from heat and set aside.
Chop 1/2 of a small onion.
Peel and chop 2 carrots.
Cut 1 1/2 cups red potato, about medium size potatoes. I leave the skin on. You can peel if you prefer.
Cut or shred 2 cups precooked chicken. A rotisserie chicken works great for this. I roasted my own chicken so I could make a rich chicken stock.
Melt 2 tablespoons butter in a medium size sauce pan.
Add onions and cook until transparent.
Add potatoes to onion.
Saute until potatoes begin to brown.
Add carrots.
Saute until the potatoes and carrot begin to soften.
Pour in chicken stock.
Stir.
Cover pan with a lid and simmer for about 30 minutes or until vegetables are tender.
Pour in 1/2 cup heavy cream.
Add about 1 tablespoon of the roux. Stir until the roux dissolves. Don't worry it shouldn't leave lumps in the stew. Let simmer for a minute or so. If you would like the mixture thicker, add another tablespoon of the roux. Repeat process until desired consistency in achieved.
Stir in the fresh herb mixture.
This addition makes all the difference in the flavor of the pot pie. I think it just pushes the flavor over the top.
Season with salt and pepper to taste.
Gently stir in the cooked chicken.
I add the chicken last because I don't want the chicken to fall apart. Gently stir the chicken so you can keep the chunks of chicken in the pie.
I'm using 8 oz canning jars. You can use individual crocks or a 9 x 9-inch baking dish.
Fill with chicken filling.
Note: You will notice in photo's later that I over filled the jars. Whoops. I just knew I should be able to get 6 servings out of my recipe.
For the crust topping: Roll out pie dough about 1/4 inch thick.
Purchased puff pastry dough works perfectly as well.
A 4-inch biscuit cutter is the perfect size for a wide mouth 8 oz canning jar.
Place on top of each individual filled jar.
Cut a few slits in the top to allow steam to escape.
Whisk one egg.
Brush tops with egg wash for a nice golden crust.
Since I have leftover pie dough I decided to pull out my Martha Stewart leaf cookie cutters, purchased years ago (pre-prison era).
You can make a few knife marks in the dough to make it look like the veins of a leaf.
I really wish I had the awesome Williams-Sonoma leave cutters. They're so cute and make the little scores so you don't have to. I think they'll be on sale after Thanksgiving.
Brush again with the egg wash.
Place in a preheated 375F oven. Bake for 20 minutes or until the tops are golden brown and the filling is bubbling.
Oh whoops. I filled them too full. I knew I could get 6 servings out of this recipe.
My bad. Now I have to wipe off the jars. Ugh.
Note: Don't over fill the jars!!
I think these little pies are perfect for a pre-trick or treat meal.
Caution: Filling is HOT! Allow to cool before diggin in.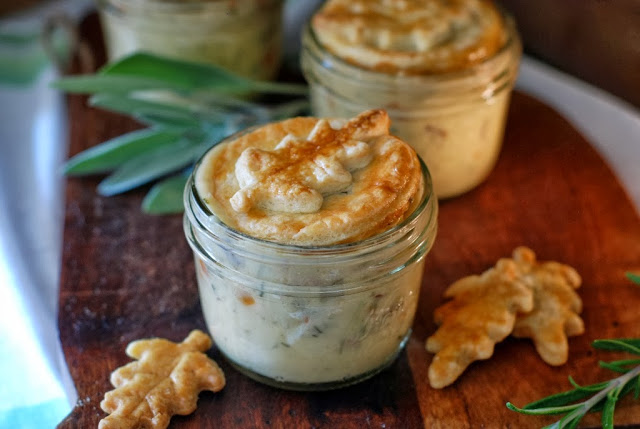 I love comfort food.