Everyone in my family loves East meets West dishes. What's not to love?
Everyone else loves a do-ahead-meal.
I have one for you.
Day 1: Step 1
First I want to put a dry rub on a pork butt roast and let it sit overnight.
You will need:
4 – 5.5 lbs pork butt or pork shoulder roast
2 tablespoons brown sugar
1 tablespoon ground ginger
1 tablespoon onion salt
1 tablespoon garlic powder
1 – 1 1/2 teaspoons cayenne pepper (depending on what heat level you want)
In a small bowl mix 2 tablespoons brown sugar with 1 tablespoon ground ginger.
1 tablespoon garlic powder
1 tablespoon onion salt.
1 1/2 teaspoons cayenne pepper. I like it hot.
Mix it up.
Place the pork butt on a large sheet of heavy duty aluminum foil. Pour the dry rub over the pork butt.
Rub it ALL over. Rub it good.
Gather up the ends of the foil.
Fold the ends to and crimp them together tight. Place in the refrigerator overnight.
Day 1: Step 2
I'm now going to make pickled jalapenos and shallots to top off the pulled pork.
You will need:
1 1/2 cups rice vinegar (divided)
2 teaspoons salt
2 Tablespoons sugar
3 jalapenos
3-4 shallots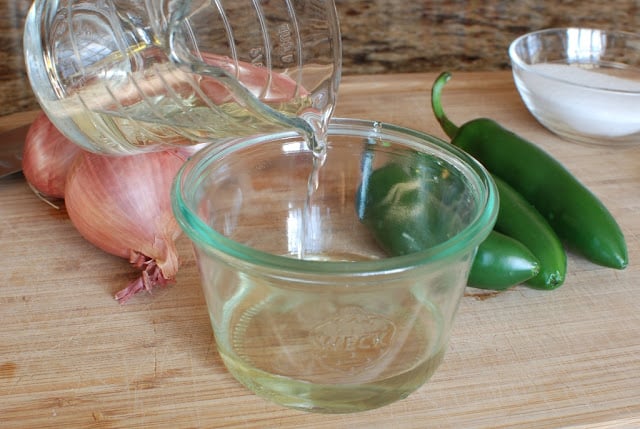 For the pickled jalapenos:
In a small bowl or measuring cup add 3/4 cup of the rice vinegar.
Add 1 tablespoon sugar.
1 teaspoon salt. (I use kosher)
Whisk together to dissolve.
Slice the jalapenos very thin.
Add the jalapenos to the vinegar mixture.
For the pickled shallots:
Just repeat the process. Pour the remaining 3/4 cup rice vinegar into a small bowl.
Add the remaining tablespoon of sugar.
Add the remaining teaspoons of salt.
Stir to dissolve.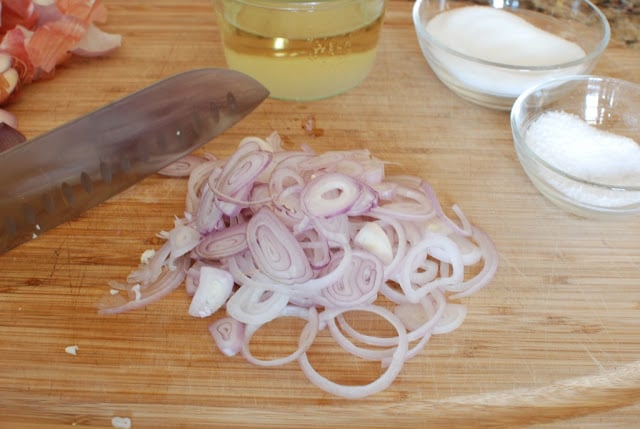 Peel and slice the shallots.
Add to the vinegar mixture.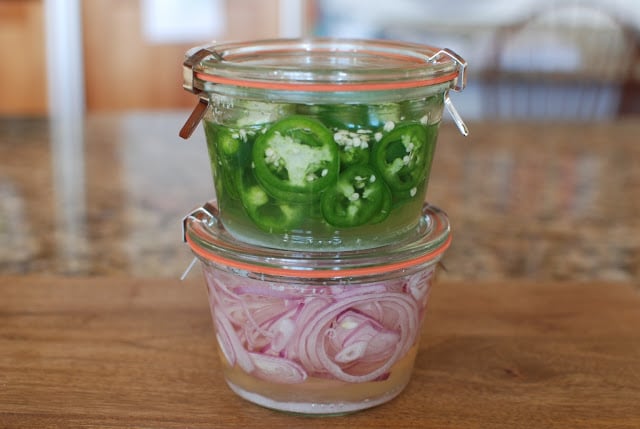 Tightly cover. Refrigerate over night.
Day 2: Step 1
I'm going to cook my pork in a crock pot, but you can bake in a low oven.
I'm cooking my pork low and slow for about 7-8 hours. If you are baking in an oven, preheat the oven to 250 – 275 degrees F.
Just drop the aluminum foil package into the crock pot.
Cover. Let simmer slowly all day.
After 8 hours of cooking time, open the foil.
I love using the sealed foil method. It keeps all of the juices and flavors around the pork to create a moist flavorful pork.
Using two forks shred the pork.
Keep in the crock pot or oven while making the sauce.
Step 2
To make the Asian sauce you will need:
2 tablespoons fresh ginger, minced
5 cloves fresh garlic, minced
1 tablespoon olive oil (oops not pictured)
1/4 cup fresh cilantro, chopped
1 tablespoon fresh ground garlic paste (Sambal Oelek found in grocery store)
1 tablespoon soy sauce
2 tablespoons brown sugar
1 tablespoon sesame oil
2 tablespoons rice vinegar
3/4 cup Hoisin sauce
1/4 cup water
Peel and slice the fresh ginger. Ahhhh I just love that fragrance.
Cut the slices into match sticks.
Slice the match sticks into a fine dice.
Finely chop garlic or put through a garlic press.
Chop the fresh cilantro.
Add oil to a medium size sauce pan.
Add chopped ginger.
Add chopped garlic.
Saute until fragrant, but don't the the garlic brown.
Add the garlic paste, but don't inhale the fumes (experience).
Add soy sauce.
Add brown sugar.
Add sesame oil and rice vinegar (I don't know what happened to that pic)
Add Hoisin sauce.
Add water. Bring to a simmer.
Add chopped fresh cilantro.
Mix well and simmer for a minute or two.
Add caption
Pour over shredded pork.
I like to keep the pork in the crock pot simmering until I'm ready to serve.
I just love the crunch of cabbage on a pulled pork sandwich. I can't resist.
Shred 1/2 head of cabbage very fine, if desired (I desire)
To assemble:
Remove the picked shallots and jalapenos from the refrigerator.
I'm pretty sure I didn't mention that you will need soft rolls or buns.
Layer with pork, pickled veggies and cabbage.
If you are feeling brave and want an amazing sandwich, just whip up some steamed Chinese buns.
I was brave.
I should let you know that I eat ALL of the photo's that I take. Right now my lips are still burning from the heat of the pickled jalapenos. Love, love, love the burn baby.