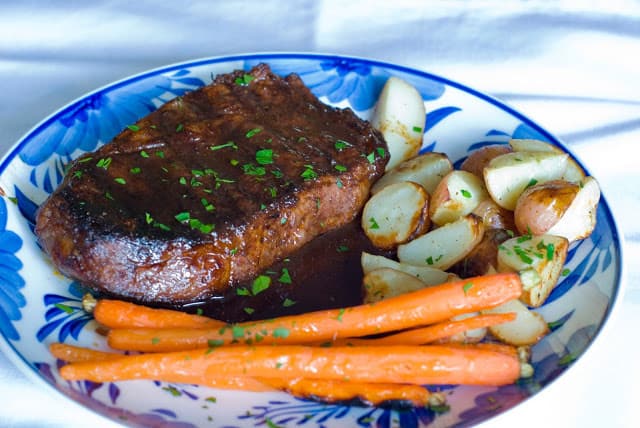 I love this Ancho Chile rub and sauce for Rib Eye Steaks. You can, of course, use your favorite choice of steaks. I have used Fillet Mignon and New York as well.
Mix together the spices: ancho chile powder, paprika, cumin, cayenne and sea salt. Ancho chile powder is more available and I have seen McCormick brand in the grocery store. I have, also used kosher salt. I really like sea salt, however. What ever you have is great. I suggest you use sea salt or kosher salt to make it better!
Mix the spices together.
Rub the spices all over the tops and bottoms of the steaks.
Drizzle with olive oil and rub over top of spices.
Cover and chill for three hours.
For the sauce you will need to gather the following: whole cloves, beef stock, water, sliced onion, brown sugar, honey, ancho chile powder, unsweeten cocoa or instant coffee, Worcestershire sauce, cayenne, sea salt and butter.
I just thought that I'd show you what brands I use for stock and sea salt.
In a heavy medium saucepan, add the broth and water…
…brown sugar…
…honey…
…Worcestershire…
…ancho chile powder, cocoa (or coffee), cayenne and sea salt…
Add the onion slices.
Bring to a brisk boil.
Boil until reduced to 1 cup.
Strain sauce through a fine messed sieve. Press on the solids to extract as much as the liquids as possible. Throw out the solids.
Whisk in the butter 1 tablespoon at a time.
Let me tell you something. The original recipe calls for 8 tablespoons butter. I reduced it by half and I think it is just as good. If you would like to add the full 8 tablespoons and you are not worried about the size of your fanny, by all means add the entire amount!!
Continue to whisk in each tablespoon of butter.
The finished sauce should look like a thin chocolate sauce. At this point you can cover it and keep it warm until the steaks are cooked. It can be made in advance and refrigerated for a few days if you'd like. Just don't re-boil it. If you bring it to a boil again, the butter could separate and it will look oily and gross. Just barely warm it in a small sauce pan.
Place the rubbed steaks on a hot grill. Turn the grill to low and cook for about 6-8 minutes for a medium cooked steak. 4-6 minutes if you would like your steak more rare.
Aternately you can broil the steaks in your oven for about the same amount of time.
Turn the steaks and continue cooking.
I just steamed some new potatoes and baby carrots, drizzled then with olive oil and salt and pepper, and threw them in this grill basket. They can cook while the steaks are cooking. You really need to steam the potatoes first or it will take hours for them to cook through on a grill (my opinion).
You can find this grill basket at Williams-Sonoma. I found mine at TJ Maxx for $15. Great deal!
Drizzle the sauce over the steak. Serve the remaining sauce on the side.
It's a manly meal!
Ancho Chile Rubbed Steaks with Cuban Sauce
6 Rib eye steaks
Ancho Chile Rub:
2 tablespoons ancho chile powder
2 teaspoons paprika
2 teaspoons ground cumin
½ teaspoon cayenne
¾ teaspoon fine seat salt
½ teaspoon black pepper
1 ½ tablespoons olive oil
Cuban Sauce:
10 whole cloves
2 cups beef stock
½ cup water
½ onion, sliced
¼ cup packed brown sugar
¼ cup honey
1 tablespoon ancho chile powder
1 tablespoon cocoa powder or 1 ½ teaspoons instant coffee granules
1 ½ teaspoons Worcestersire sauce
½ teaspoon cayenne
½ teaspoon fine sea salt
4 tablespoons butter, cut into 1 tablespoon slices
Stir together the spices. Pat the steaks dry with a clean paper towel. Rub the spices on the top and bottom of the steaks. Then rub oil on top of the spices. Cover with plastic wray and chill for 3 hours or more.
For the Sauce: Combine all of the ingredients except the butter in a heavy medium saucepan and simmer briskly, stirring occasionally. Simmer until sauce in reduced to about 1 cup (aprox. 30 minutes). Strain the sauce through a fine-meshed sieve into a bowl. Press hard on the solids to extract as much of the sauce as possible. Discard the solids. Return to a clean saucepan and bring back to a simmer. Remove from heat. Whisk in the butter 1 tablespoon at a time. Check for seasoning, you may need to add more salt. Remove from heat and cover until ready to use. If you re-boil the sauce the butter will separate and you will have an oily sauce. The butter thickens the sauce and it should look like thin melted chocolate.
Heat a gas grill to about 400 degrees. Turn heat to low and place steaks on grill. Grill for about 6-8 minutes per side for medium cooked steaks. Less time for rare, approx. 4-6 minutes per side depending on how thick your steaks are. Remove from heat and serve with Cuban sauce.
The Cuban sauce is sweet and spicey. Grill the steaks up on the new, big, fabulous grill that you're buying for your husband for Father's Day.
Hey! Great way for someone to get a larger grill! That's how I got my fabulous waffle iron…which is another story that I'll share some day.