My garden is still over flowing with zucchini. I ONLY HAVE TWO PLANTS! They are happy plants and producing very well. I can only hope my tomato plants will do the same. I am throwing zucchini in every dish I make. Have you ever shredded zucchini into pancake batter? They were fabulous pancakes.
Several years ago I decided to take french lessons. At the time we had many friends visiting from Tahiti and I was also planning a trip to Paris to visit my daughter during her study abroad. I wanted to be able to somewhat communicate.
My french teacher hosted french cooking classes on occasion and this wonderful gratin was taught at one of them. After several classes and a few one on one sessions in my french teachers living room je parle un peu francais but J'adore la cuisine française.
For the Zucchini Gratin you will need:
2 small zucchini (about 1 lb)
1 onion, finely chopped
2 cups whole milk
1 cup fresh bread crumbs
3 eggs, beaten
3/4 cup Parmesan cheese
1/2 cup uncooked white rice
1 teaspoon salt
1/2 teaspoon pepper
2 teaspoons fresh thyme
Extra-Virgin Olive oil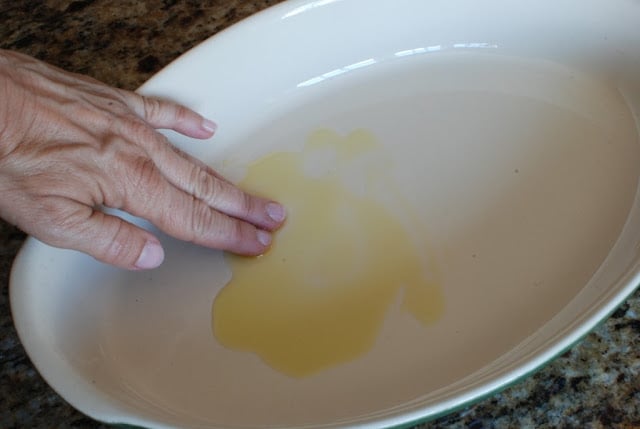 Oil or butter a 6 cup gratin dish. Set aside.
Cut one onion in half.
Make several slices length wise.
Then make a couple of slices in the opposite direction.
This is how you can finely dice an onion.
Drizzle about 2 tablespoons of extra-virgin olive oil into a skillet. Use the best quality of EVOO as you can afford.
Saute the onion over low heat until soft, but not browning at all.
Slice the zucchini coin thin.
Add to sauteed onion and cook an additional 2-3 minutes. Set aside.
Grate 3/4 cup parmigiano reggiano.
In large mixing bowl add 1 cup fresh bread crumbs.
Pour 1 cup of the milk over the bread crumbs.
Add three beaten eggs.
Add 1/2 cup of the cheese.
1 teaspoons salt. I'm using kosher.
1/2 teaspoon fresh ground pepper.
A splash of olive oil, about 2 tablespoons.
Add two teaspoons of fresh thyme. You can add more if you would like.
I like to use the buds as well.
Stir together.
Add the cooked onion zucchini mixture.
Add the rice.
Stir until thoroughly mixed together.
Smooth the top of the mixture.
Pour remaining 1 cup milk over the top.
Sprinkle with remaining cheese.
Place in preheated oven.
Bake until golden brown. Serve nice and hot.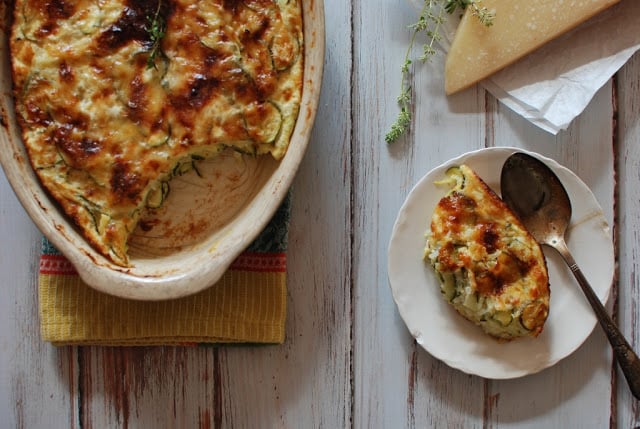 I love to eat this served along side of a spring salad with french vinaigrette. A perfect garden meal.