Nothing! And I mean nothing, makes me feel better when I'm hit with a cold or flu than a huge bowl of brothy Pho. The best Pho I have ever had was in Seattle while visiting my son and daughter-in-law. It was loaded with veggies. No beef. No tofu. Just a ton of veggies. It was so perfect. It inspired me to make a simple vegetable Pho.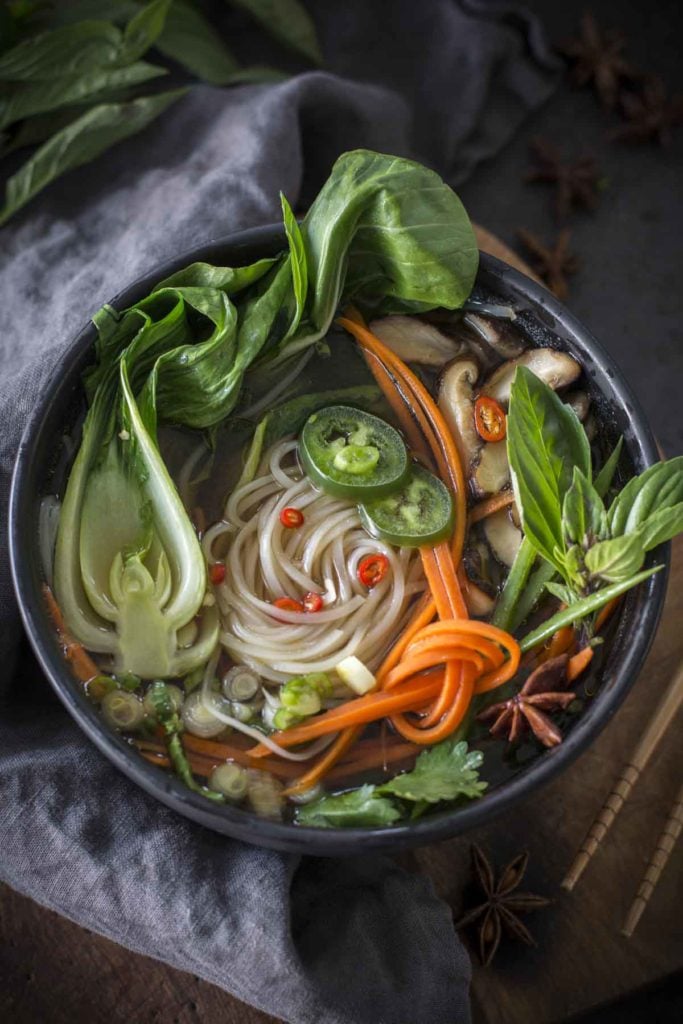 Just before Christmas I came down with major sinus issues. Long story. Short version is I felt like my face was going to explode from all the pressure. While one son took me to the emergency room, my other son was picking up a large take-out order of Pho. I came home to the perfect hot and spicy remedy and a beautiful orchid plant (thanks Tiff) and a disgusting hospital bill. Ugh…not going there.
Brothy soups are perfect for winter illness. They are brothy, warming, and restore the body with needed fluids and sodium. Pho is the perfect remedy.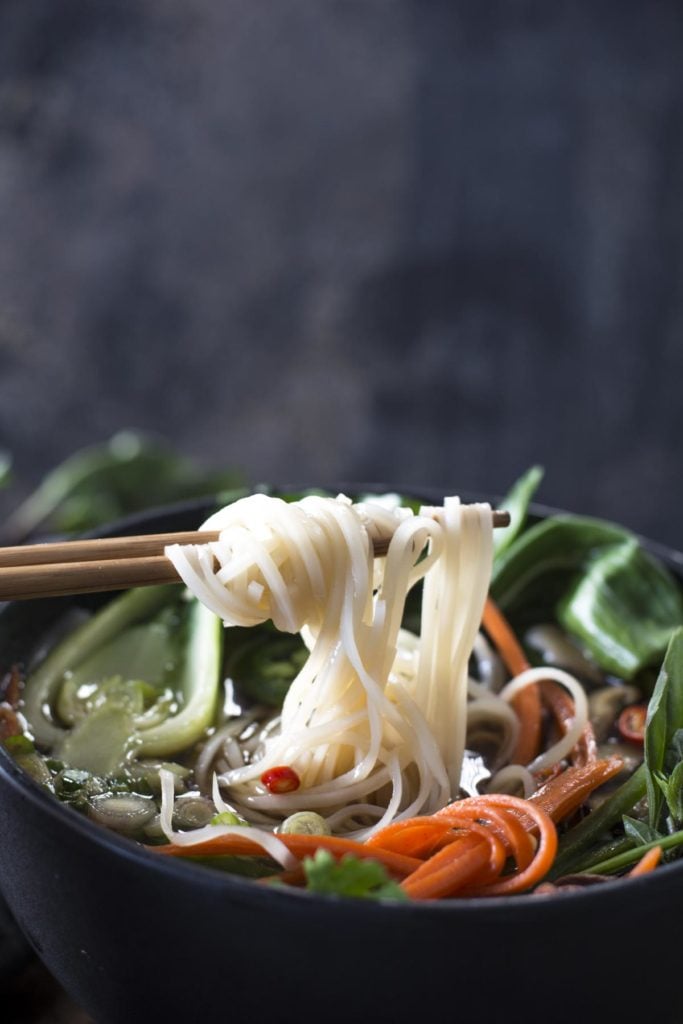 The best find in my local Asian market was a bag for fresh Pho noodles. These are amazing and means that this simple vegetable Pho is ladled into your bowl in no time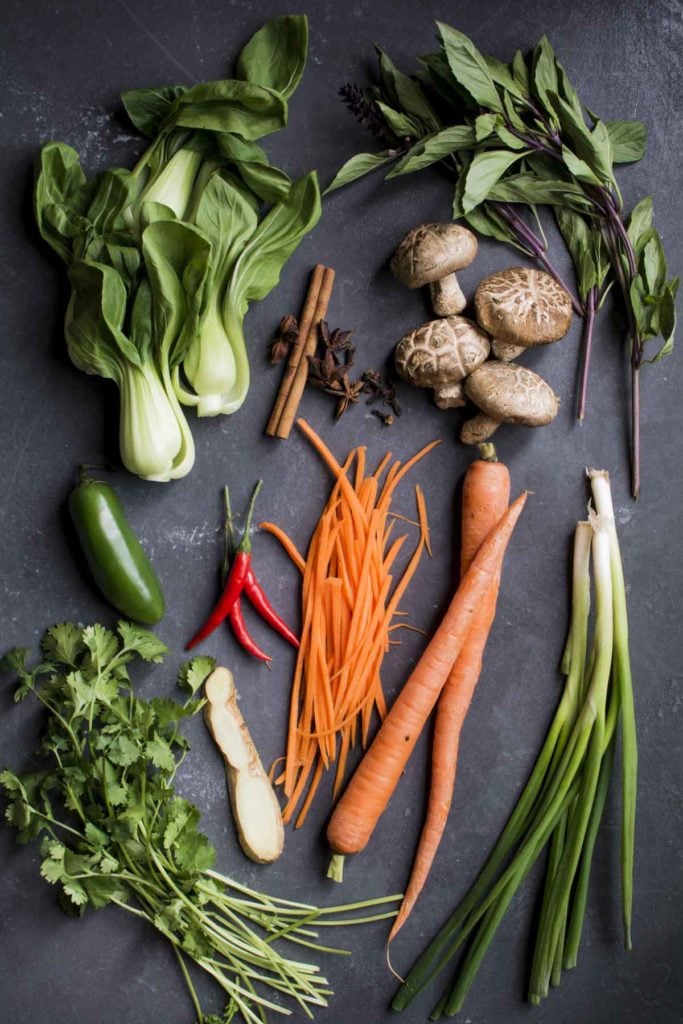 You can pretty much custom design your own bowl with your favorite veggies.
Pho Broth:
5 cups vegetable broth
1 cinnamon stick
2 whole cloves
5 cardamom pods
1 star anise
1-3 teaspoons Tamari or soy sauce, to taste
Bowls:
5-6 shitake mushrooms, stems removed and sliced
1 tablespoon coconut oil
1 carrot, peeled and julienned into thin strips
4 baby bok choy, cut in half
8 -10 snow pea pods, julienned
4 ounces fresh Pho noodles, or dried rice noodles
Sambal or Sriracha to taste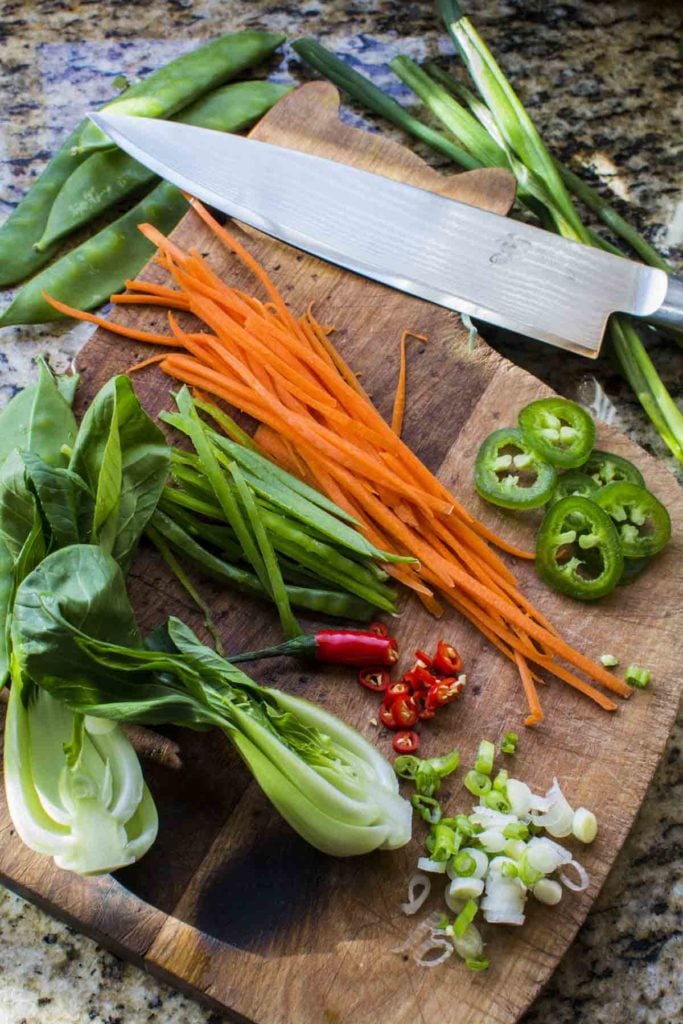 I like to julienne my carrots, and snow peas so the hot broth can quickly cook them just until tender, crisp. Slice the baby bok choy in half. Prep all topping by slicing a jalapeno and a red thai chili pepper, cilantro, thai basil, etc.
Slice 5-6 large shitake mushrooms. Remove the stems and save them for making vegetable stock.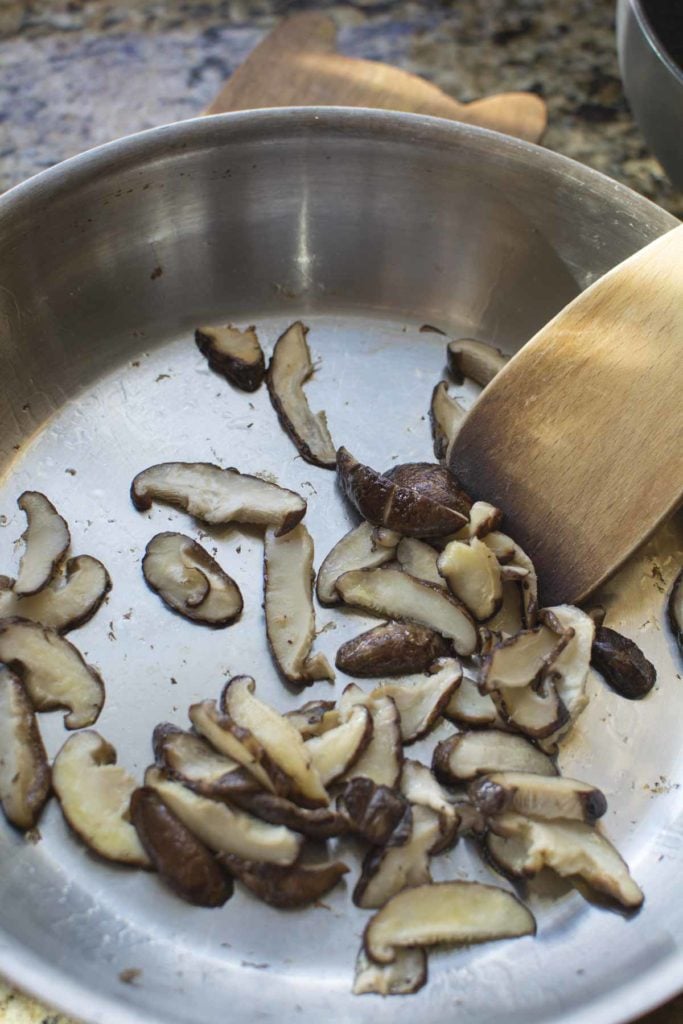 Add 1 tablespoon coconut oil to a skillet and saute sliced mushrooms, just until beginning to caramelize. Set aside.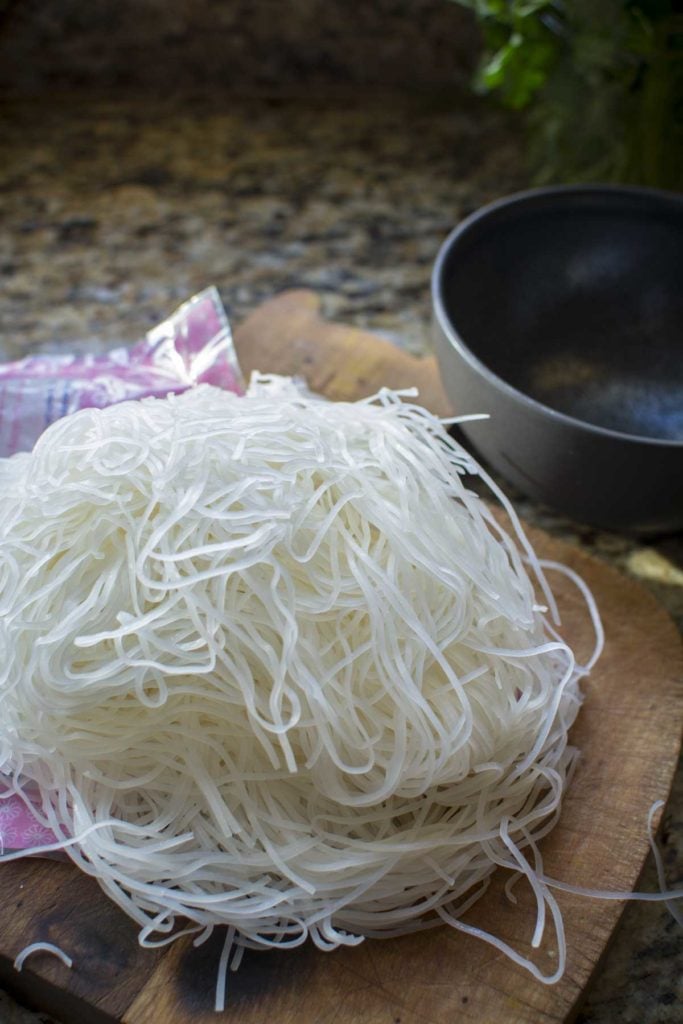 Take a look at this huge pile of rice noodles. This is about 8 ounces. It looks like a ton, but they really cook down.
Pour vegetable broth into a large pot. Add sliced ginger, cinnamon stick, star anise, cardamom pods and whole cloves. Bring to a simmer and cook for about 15 minutes. Cover pot and let steep for another 15 minutes or so. Taste the broth, if more seasoning is needed add 1-3 teaspoons of Tamari or soy sauce. To add a depth of rich flavor, I like to use healing bone broth. It's a great option.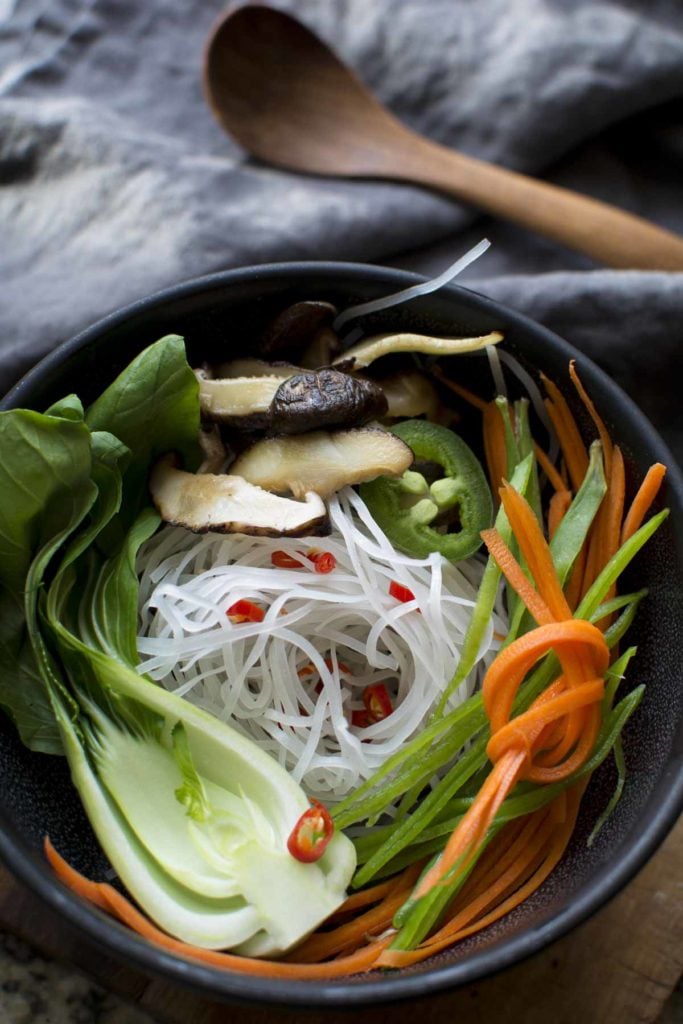 Here's the fun part. Add your prepped veggies into a large, deep bowl.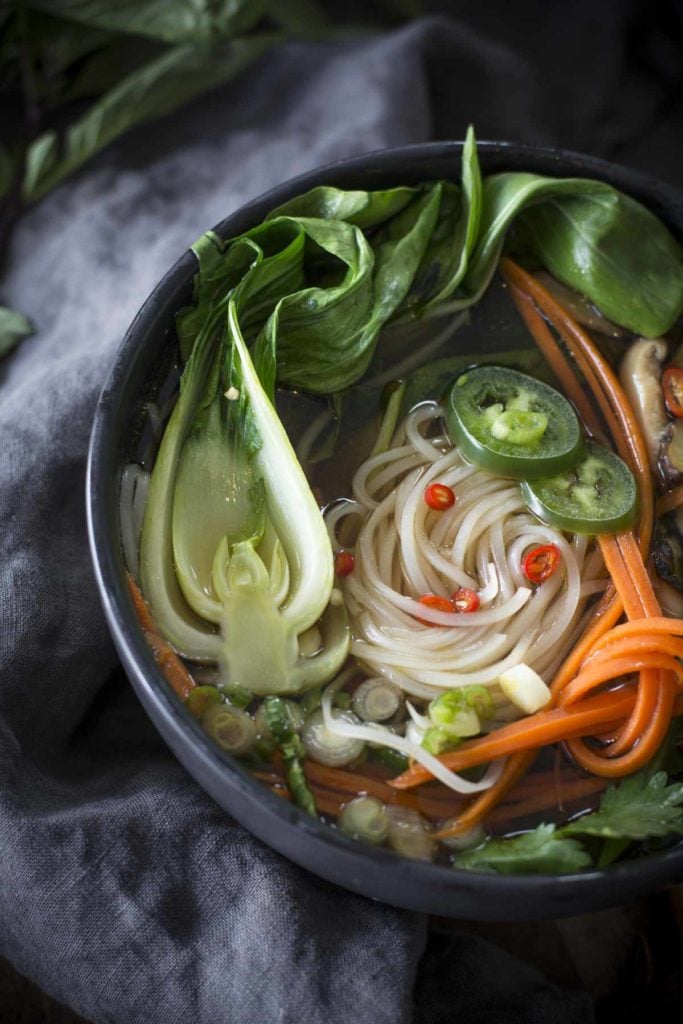 Pour hot, steaming broth over the top and let stand for 5-10 minutes. By the time the hot broth is cool enough to eat, the veggies are tender crisp and perfect for eating. The rice noodles will be perfectly cooked as well.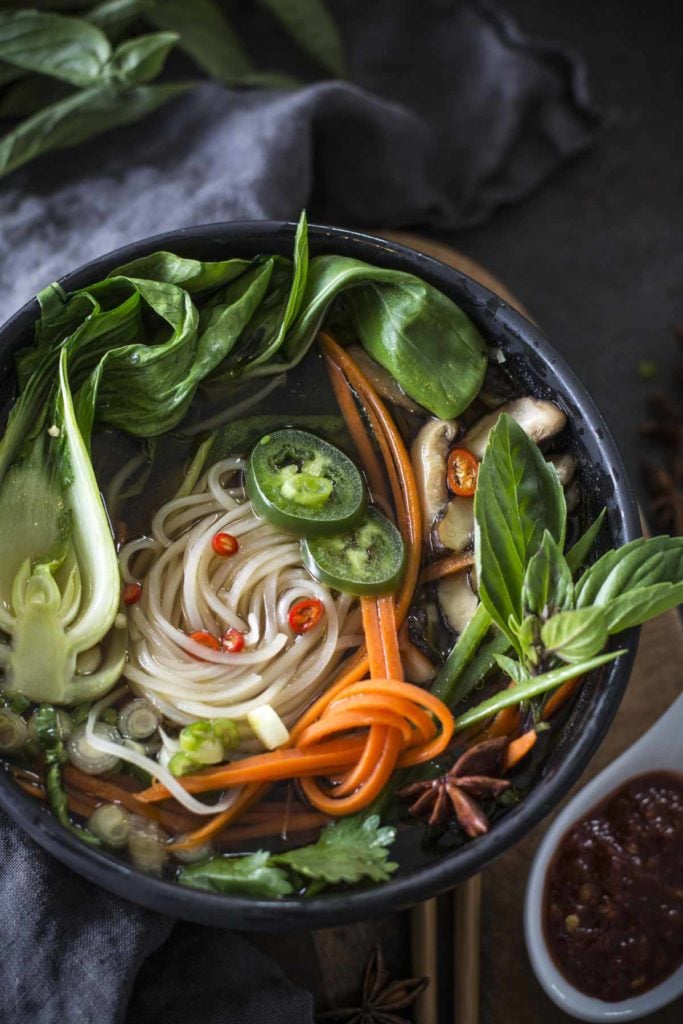 At this point I like to add a spoonful of Sambal or a big squirt of Sriracha for a good burst of heat .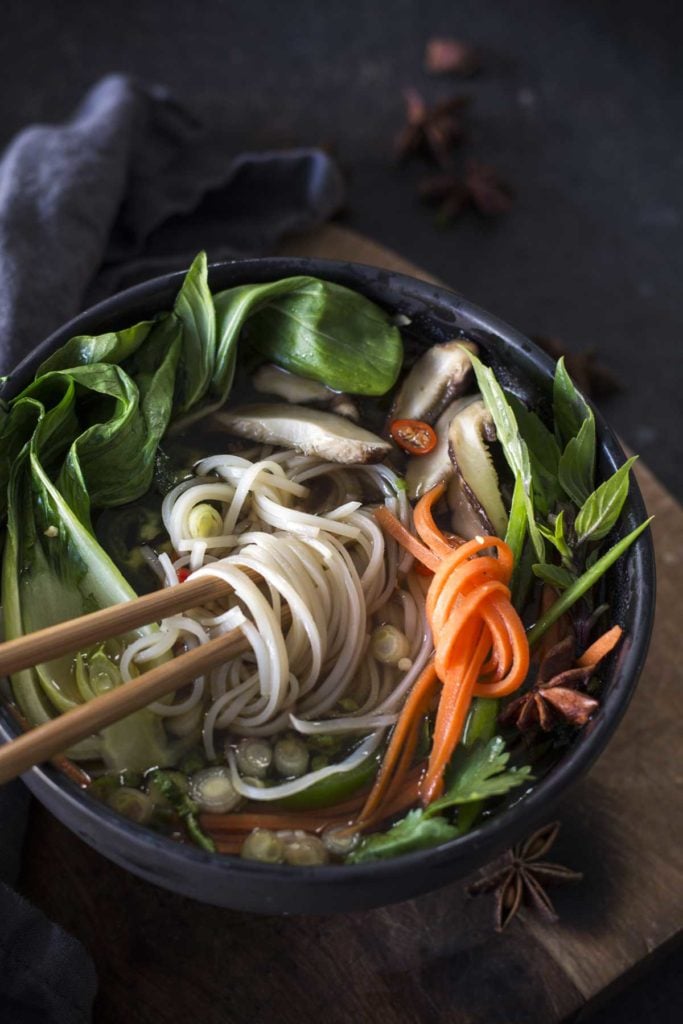 Healing and comforting.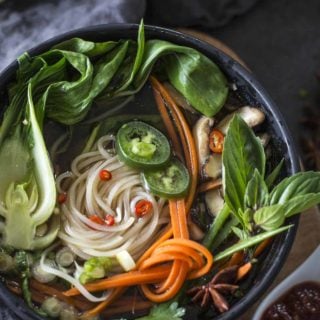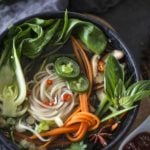 Simply Vegetarian Pho
Brothy soups are warming, and restore the body with needed fluids and sodium. Loaded with vegetables makes this a satisfying and healing meal.
Ingredients
Pho Broth:
5

cups

vegetable broth

1

cinnamon stick

2

whole cloves

5

cardamom pods

1

star anise
Bowls:
5-6

shitake mushrooms

stems removed and sliced

1

tablespoon

coconut oil

1

carrot

peeled and julienned into thin strips

4

baby bok choy

cut in half

8

snow pea pods

julienned

4

ounces

fresh Pho noodles

or dried rice noodles

1-3

teaspoons

Tamari or soy sauce, to taste
Toppings:
Thai basil

fresh cilantro

green onions

jalapeno slices

green or red

Sambal chili sauce

Lime wedges

Sambal or Sriracha
Instructions
In a large pot, add broth and spices. Simmer for 15 minutes. Cover and let stand while preparing other ingredients. Add tamari as needed. The amount depends on how salty the broth is. I lightly salt my homemade broth so I will add 3 - 4 teaspoons.

In a small skillet, melt coconut oil. Add sliced mushrooms and sautee until beginning to wilt. Set aside.

Prep veggetables. Cut carrots and snow peas into thin julienne slices. Cut baby bok choy in half. Chop green onions, jalapeno, thai basil, and cilantro.

If not using fresh Pho rice noodles, In a pot of salted boiling water, prepare the noodles according to the package directions. Drain and rinse.

When ready to serve. Arrange prepared veggies and rice noodles in each bowl.

Pour steaming hot broth over top of veggies. Allow to cool 5-10 minutes to allow veggies to cook.

Top with Sambal or Sriracha, lime wedge, Thai basil, cilantro, green onions and hot peppers.
Recipe Notes
Beef or chicken broth may be used for a richer Pho
If you want veggies cooked more than tender, crisp. Simmer in hot broth for 5-7 minutes before serving.
Add any veggies you like. Make a custom bowl.
Sodium content will vary in nutrition facts. Homemade sodium is far less than purchased.
Nutrition Facts
Simply Vegetarian Pho
Amount Per Serving (3 -4)
Calories 271
Calories from Fat 67
% Daily Value*
Fat 7.4g11%
Cholesterol 0mg0%
Sodium 500mg21%
Potassium 0mg0%
Carbohydrates 42.6g14%
Protein 14.1g28%
Vitamin A 0IU0%
Vitamin C 0mg0%
Calcium 0mg0%
Iron 0mg0%
* Percent Daily Values are based on a 2000 calorie diet.