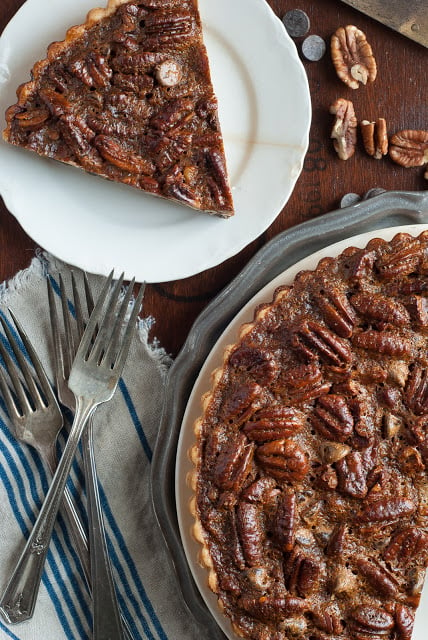 Check.  Pecan Chocolate tart is baked, wrapped, and in the freezer.   Thanksgiving morning I will remove it from the freezer, unwrap, bring to room temperature, EAT!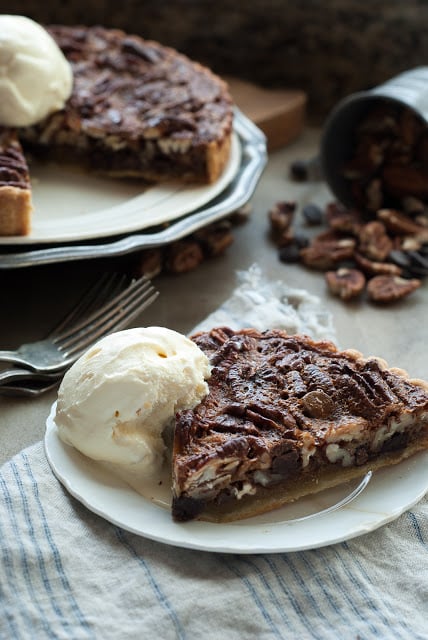 If you're a baking pro, you can just print the recipe below.  You've got this.
Pecan Chocolate Pie
1/4 cup Lyle's Golden Syrup or honey
1/2 cup plus 2 tablespoons light corn syrup
2 tablespoons unsalted butter, melted and cooled
1/2 cup semi-sweet chocolate chips
1 prepare (unbaked) tart crust
1.  Preheat oven to 375 degrees.
2.  Whisk the eggs an sugar together in a big bowl just enough to combine them.  Whisk in the golden syrup and the corn syrup.  Add the butter, cream and whisk until smooth.  Stir in pecans and chocolate chips.  Pour  the mixture into the prepared tart shell.
3.  Place the tart on the center rack in the oven and bake for 50-55 minutes, or until the filling is firm to the touch and the nuts and crust are golden brown.
4.  Remove the tart from the oven, and set it on a wire rack to cool slightly.
5.  To remove the tart from the pan, rest it on a big can.  Make sure the tart is steady and balanced.  Slide the outside ring of the pan down off the tart.  Move the tart to your work surface, and slide the tart off the pan bottom onto a serving dish or cutting board.
6.  Serve warm or wrap with plastic wrap then aluminum foil and freeze for up to 2 weeks.