How do you roast a 40 pound Turkey?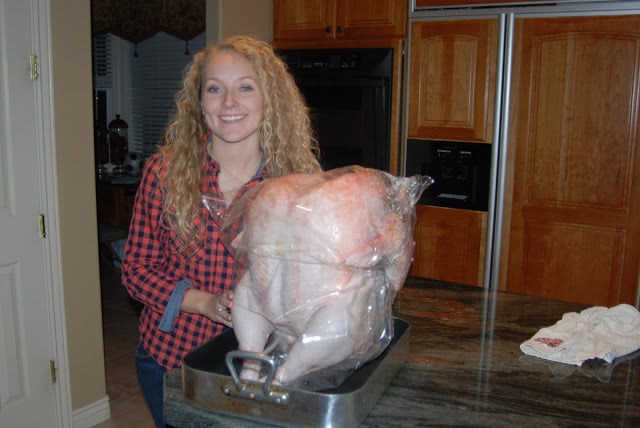 This is my darling niece, Cara. Her boyfriends father (are you following me?) raised a few Turkeys for Thanksgiving. Because Cara is so wonderful, her boyfriends father gave her one of the turkeys. Since I was hosting Thanksgiving this year, she gave me the bird to roast.
I was told the bird was going to be huge. I didn't know it was going to be over 40 pounds huge!!!
I don't even think "huge" describes how big this bird was.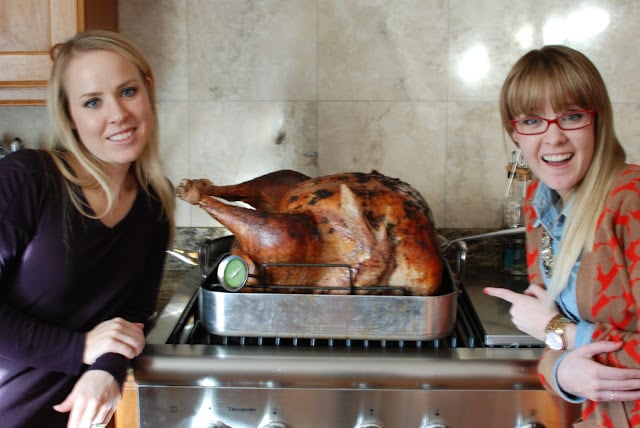 The turkey barely fit in my largest roasting pan. We had to grease the birds thighs to get it to fit.
I put the turkey in a 250 degree oven at 10:00 the night before thanksgiving.
I was told to roast it low and slow and that it would take about 12 hours.
At noon on Thanksgiving day the bird was still NOT cooked. They temperature read 140 degrees.
Needless to say I had to finally crank up the heat to 375 degrees and we didn't eat until 4:00 p.m. That was only an hour later than we had planned.
My two lovely daughters, Charees and Tiffany are standing in front of the bird after it had been removed from the oven.
This is my nephew, Daniel, attempting to eat the drumstick.
We had such a wonderful meal. I think I was full for three days.
Probably because I ate the entire pecan chocolate tart myself in two days…pathetic.
How do you roast a 40 pound turkey?
Low, slow, and long.