Just three months after I got married my parents moved from Salt Lake City, Utah to Mesa, Arizona. My father had been raised in Park City, Utah where the winters can be bitter cold. As he basked in their warm winters he would say, "you don't have to shovel the sunshine".
They stayed in Mesa for 20 years. During that time we became very extremely fond of the Arizona citrus. Receiving a box of Arizona oranges helps me make it through our cold, gray winters.
Guess what just arrived?
Direct from *B & B Farms in Mesa…MY ORANGES.
I always order a 40 lb box of large navels and I have them through in a few grapefruits (since my sister won't drive to Utah to bring me a car load from her tree). In reality I'm the one who should be driving to Arizona to get out of this cold dreary state. What an I thinking?
Why don't I just buy my oranges from the local grocery store?
PLEASE. No. Comparison. The end.
The temperature outside tells me that I want a bowl of soup and a cup of hot chocolate. My mind tells me that I have these amazing sweet and juicy oranges that need to go into a salad. My body is just craving something crisp, light, and fresh.
On this dreary, gray day I'm bringing some sunshine into my life.
For this salad you will need:
2 oranges
1 Fennel bulb
4 cups Arugula
1/2 pomegranate Arils (seeds)
Sugared hazelnuts:
Dressing:
1/4 cup white wine vinegar
1/4 cup fresh squeezed orange juice
Zest from 1/2 orange
1/4 teaspoon vanilla
1 tablespoon sugar
1/3 cup light olive oil
salt and pepper
In a small skillet melt the butter.
Add the chopped hazelnuts (yum).
Stir to coat the hazelnuts with butter. I'm rather fond of the hazelnut.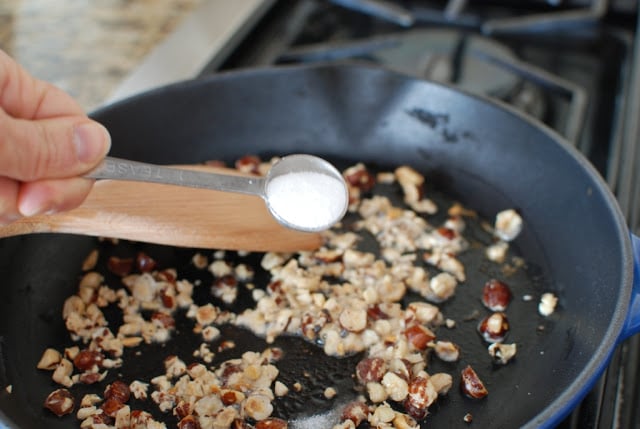 Sprinkle the sugar over the hazelnuts.
Throw in a couple of pinches of salt.
Cook, stirring constantly, until the hazelnuts are lightly brown and toasted.
Remove the hazelnuts from the pan to an paper towel. Set aside.
Oh that's just great. I left my disgusting hot pad in the back ground. Now you know…I need new hot pads. I always need new hot pads.
I don't even USE Crisco.
You can purchase pomegranate seeds already…what do you call it…seeded?
It makes life easier to just dump the arils from a carton. HOWEVER, 9 times out of 10 the carton I purchase has fermented. So, I'm sticking with the whole pomegranate.
I'm going to show you how I seed them.
You will need a bowl filled with water. Break the pomegranate into large pieces and place the piece in the water.
Gently remove the seeds under water. The seeds will sink to the bottom while the other stuff floats to the top.
Just scoop the floating pieces off and discard.
This just works for me.
Set the arils aside.
For the dressing you will need a good quality champagne vinegar. You could use white wine vinegar if you would like.
I make a run through TJ Maxx every now and then and find great vinegar's for half the price.
I'm going to use the citrus champagne vinegar because it's amazing.
Pour 1/4 cup fresh squeezed into a small mixing bowl.
Add 1/4 cup champagne vinegar.
1 tablespoons sugar
1/4 teaspoon vanilla.
The zest from 1/2 an orange.
A couple pinches of salt.
A few grinds of fresh ground black pepper.
(You know how I feel about the canned stuff…toss it…in the garbage)
Drizzle 1/4 light olive oil while whisking the mixture.
SOAP BOX: I make my salad dressings rather that purchase them. Why? They are better. I know what's in my salad dressing. I have no idea what most of the ingredients are on the label of the bottled stuff. Oil free dressings compensate for their lack of flavor by adding extra sugar. That ups the calories.
I can control the amount of sugar, salt and oil when I make my own. You will notice that the salad dressing is quite thin. I add the smallest amount of oil that I can get away with. You can adjust the oil, sugar and salt to your liking. Just stick your finger in the bowl and taste it. It's your salad.
Enough said…you can just set the dressing aside for a few minutes. You can even prepare it a day in advance and just put it in the refrigerator until you are ready to dress the salad.
How to chop fennel. To be honest I really have no idea. This is how I attempt to chop the fennel.
Fennel has a great crunch and a Anise flavor. Delicious.
Cut off the bottom and cut out the little hard center.
I like to slice it as thin as I can.
Then cut into a julienne slice.
Like little match sticks.
Place the 4 cups of arugula in a large salad bowl. Add the sliced fennel.
Remove the ends of the oranges.
With a sharp knife, cut the peel including the membrane.
I like to use a sharp serrated knife. Cut each orange segment down along the side of the membrane.
The orange is now in clean segments that are easy to eat.
I like to squeeze the remains into the salad dressing.
Add oranges to the arugula and fennel.
Add the pomegranate seeds.
and hazelnuts.
Drizzle with only half of the amount of dressing. No need to over dress the salad. Taste the salad. If you would like more dressing, add it. I like my salads under dressed.
The best way to toss a salad is with your hands. I feel like I can be more gentle with the salad. I don't want the orange segments to break apart.
I just brought a little Arizona sun into my kitchen today.
Happy.