Guess who's going to make brownies for breakfast?
I think it's a bit much to consider a recipe "the best" or "million dollar" because food is so subjective. With that said, in my opinion these are worth a million bucks on a day like today.
You are going to love this simple recipe for homemade brownies.
You will need:
3/4 cup walnuts, toasted
2 cups sugar
1 cup all-purpose flour
1 cup cocoa, dutch processed preferred
1 teaspoon salt
1 cup butter, melted
4 eggs
1/2 tablespoon vanilla
1/2 cup semi-sweet chocolate chips
Let's start by preparing the pan. You can use a 9 x 13-inch pan or a 9 x 9-inch pan depending on how thick you want your brownies to be. I'm using a 9 x 13-inch.
I'd prefer to use a 9 x 9 because I love thick brownies. I used to have a beautiful 9 x 9-inch pan. My neighbor called to borrow it one day. I knew the chances of me getting my pan back were slim and that's why I gave my pan a hug and said, "I love you, you're an awesome 9 x 9". I gave it a little squeeze. She was an awesome lady with many talents. She was just a little on the ditsy side about returning items she borrowed. Needless to say she moved and took my pan with her. I will never see that 9 x 9 again.
I need to break down and buy another one.
Anyway…I like to line my baking pan with parchment for easy removal and easy cutting. The pan may be buttered and lightly floured, if you parchment isn't available.
To toast the walnuts, place them on a baking sheet and put them in a 350 degree oven for about 7-10 minutes.
Once the walnuts are beginning to brown, remove from the oven and set aside to cool.
In a small sauce pan, melt 1 cup butter (salted or unsalted, you choose). Set aside.
In a large mixing bowl, add 2 cups sugar.
Add the 1 cup flour.
Add 1 cup cocoa.
Add 1 teaspoon salt. Chocolate and salt go very well together.
Whisk the dry ingredients together.
Add the 1 cup melted butter to the dry ingredients. Mix well.
Add the 4 eggs.
Mix just until blended.
Add 1/2 tablespoon vanilla.
Take a moment to disregard how close up and washed out these photo's are. What the heck was wrong with me while taking these photos? My apologies. Seriously, I don't know what my deal is today?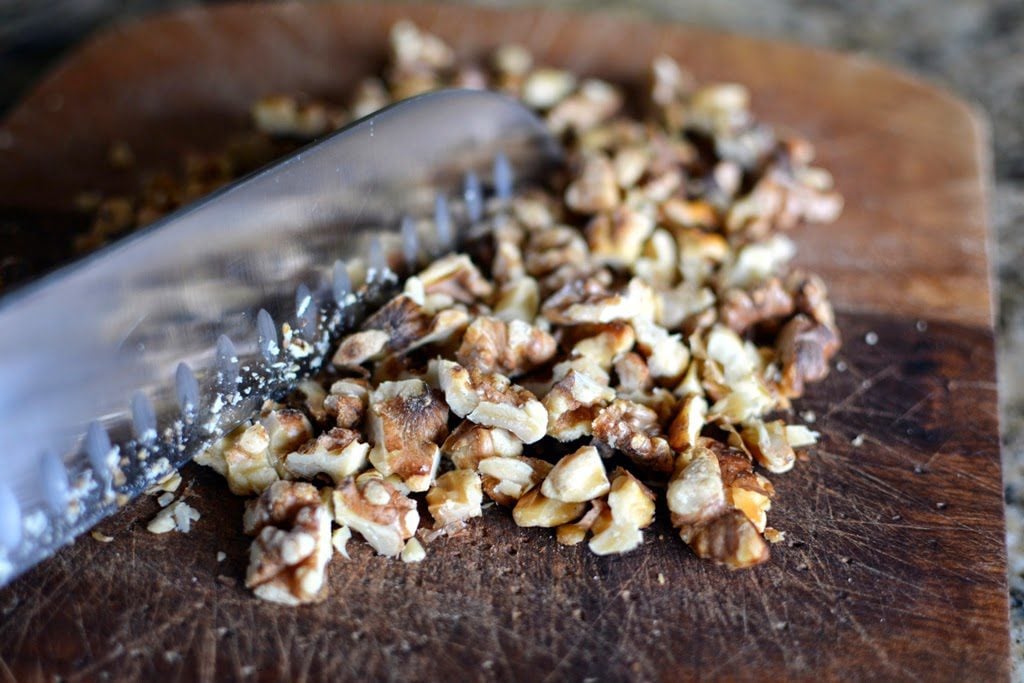 Coarsely chop the 3/4 cup toasted nuts that were set aside.
Reserve 1/4 cup.
Add 1/2 cup chopped walnuts and 1/2 cup chocolate chips. Stir together.
Stir just until blended.
Carefully spoon batter into prepared pan. It's a bit more difficult to spread with the parchment.
Spread as evenly as possible.
Sprinkle with reserved 1/4 cup walnuts. Have I mentioned how much I love walnuts in brownies? I DO!
I'm sprinkling more walnuts on top just to show off.
Place in a preheated 350F oven.
Bake for 25-27 minutes for a 9 x 13-inch pan or 27-30 minutes for a 9 x 9-inch pan.
The brownies are done when they have puffed up slightly and are beginning to brown around the edges. Careful not to over bake.
Remove from the oven and allow to cool.
When the brownies have cooled, lift them out of the pan. However, they are delicious hot with a scoop of vanilla ice cream on top or a big glass of cold milk.
Slice into desired size. My desired size is BIG.
Feel free to omit the walnuts and chocolate chips. The brownie will still be moist and delicious, just not FABULOUSLY OVER THE TOP.