Who doesn't like rice crispy treats? I'd rather have a cookie, because cookies are my favorite food. Every now and then I do accept requests to post rice cripsy treats. It was brought to my attention that not everyone can make a great rice crispy treat. Some are hard as a rock and some are just downright dry.
Let's start by ignoring the recipe on the box. Follow this recipe above.
Years ago my daughters friend was asking how I made my rice crispy treats. I decided to show her. She explained to me that she wasn't allowed to butter the pan that her mother made her use pan spray. I poo pooed that idea. Butter is flavor! Plain and simple.
Butter your pan or baking dish. If you want your squares to be about 1 1/2-inches thick, use a 9 x 13-inch pan. If you want a thicker square then use a 9 x 9-inch pan. Just make sure you butter the bottom and sides.
In a microwave safe bowl add the 1/4 cup butter. Yes, you can do this on the stove top using a pan.
Place bowl in a microwave and melt the butter for 30 seconds.
Add the 16-ounce bag of marshmallows.
Stir to coat the marshmallows with butter.
Place in the microwave for 60 seconds. NO LONGER!
Remove from microwave and stir until the marshmallows begin to melt.
If you are doing this on a stove top, heat only until the marshmallows begin to melt then remove from the heat.
The marshmallows will melt in just a few minutes. Don't over stir. It's alright if there are a few marshmallows floating around that haven't melted.
Pour the rice cereal into the melted marshmallows all at once.
Gently stir to coat all of the cereal.
Gently pour into the prepared dish or pan. Notice how stringy the marshmallow is. Perfect.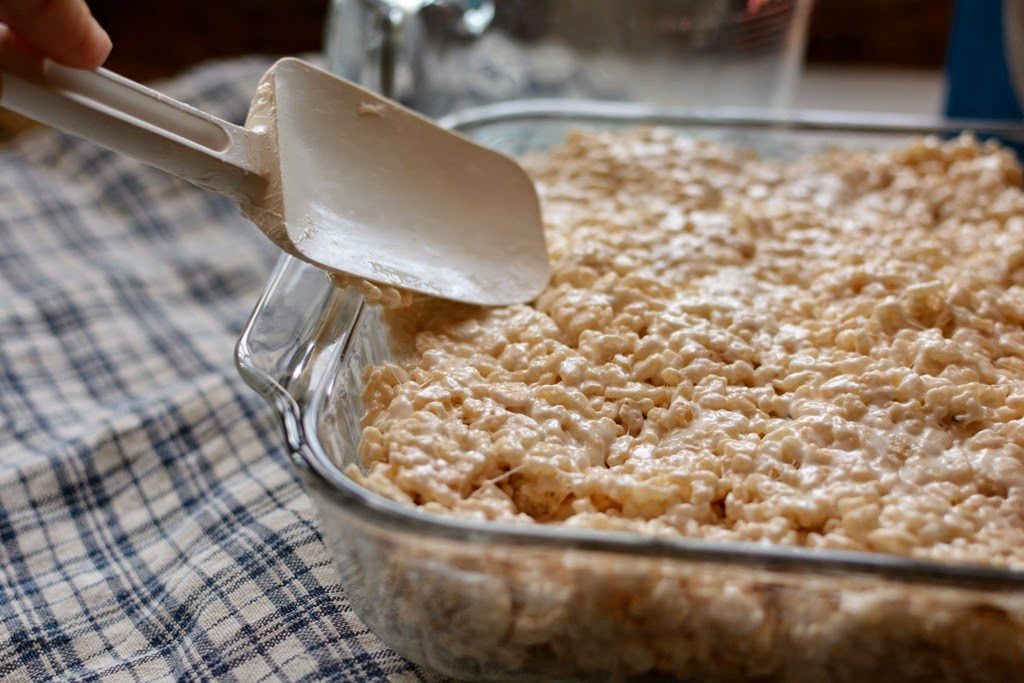 Next tip: Gently smooth out the top. DO NOT press hard into place.
Set aside for 30 minutes or so to allow the marshmallow to firm up.
Using a sharp knife, cut into squares. Cut them big or small. I don't care.
I realize that food is subjective even rice crispy treats. This is how I like mine. Soft and chewy. Barely melting the marshmallows helps maintain the chewy softness.