My mother-in-law is famous for her Black Licorice Caramel. She makes a batch or two every year at Christmas along with her white fudge and shortbread. The are always soft, chewy and literally melt in your mouth. They are completely addicting. I can never eat just one.
During the holidays I am usually up to my elbows in chocolate and never get around to making them. Why not get ahead of myself and make the perfect Halloween treat?
Black Licorice Caramel.
Don't panic thinking you can't make candy. As far as caramel goes, this recipe is pretty simple with only a few ingredients. I think it's pretty fool proof. I was stopping the process and taking photo's. I was certain I had over cooked the caramel because it sat in the pan while snapping pics, but it was just as soft and smooth as I remember. You can even get by without a candy thermometer just using the cold water test that you will see as you scroll down. Give it a shot…why not?
You will need:
1 1/2 cups light corn syrup
1 (14 ounce) can sweetened condensed milk
1/4 teaspoons salt
2 cups sugar
2 sticks (1 cup) butter
3/4 teaspoon licorice or Anise oil
3/4 teaspoon black gel food color
Line a 9 x 9-inch pan (or 9 x 13, if you prefer) with non-stick aluminum foil.
Press into the edges and corners.
Lightly butter bottom and sides. Set the pan aside.
In a heavy medium size sauce pan, add corn syrup.
Add condensed milk.
Stir.
Add 1/4 teaspoon salt.
Add 2 cups sugar.
Mix together well.
Place over medium heat and add 2 sticks of butter.
Stir to blend in melting butter.
Continue to cook over medium heat until the mixture begins to boil.
Clip on a candy thermometer.
Continue to cook caramel until temperature reaches 232 degrees Fahrenheit. STIRRING CONSTANTLY.
The recipe states to cook ingredients to 234 degrees, but all thermometers vary as well as boiling point and altitude, so I start checking the candy at about 232 degrees in a cold water test.
Drizzle some of the hot caramel into a cup with cold water.
Pick up the caramel, once it has cooled, and shape into a ball.
Once the caramel holds it shape and is soft to the touch, remove the caramel from the heat.
Now we are going to add the flavoring and color.
Add 3/4 teaspoon licorice oil. If you are using licorice extract, use 2 teaspoons.
Add 3/4 teaspoon black gel food color. I like to make sure it's really black so I'm adding a heaping teaspoons.
Stir until the caramel is completely black with no streaks of the caramel color coming through.
Pour into prepared pan and let set for 24 hours at room temperature before cutting.
After the caramel has set overnight. Turn out upside down onto a cutting board.
The non-stick foil will peel right off.
Let the caramel upside down to cut. For some reason this helps the caramel keep its shape and it won't smoosh down as it is cut.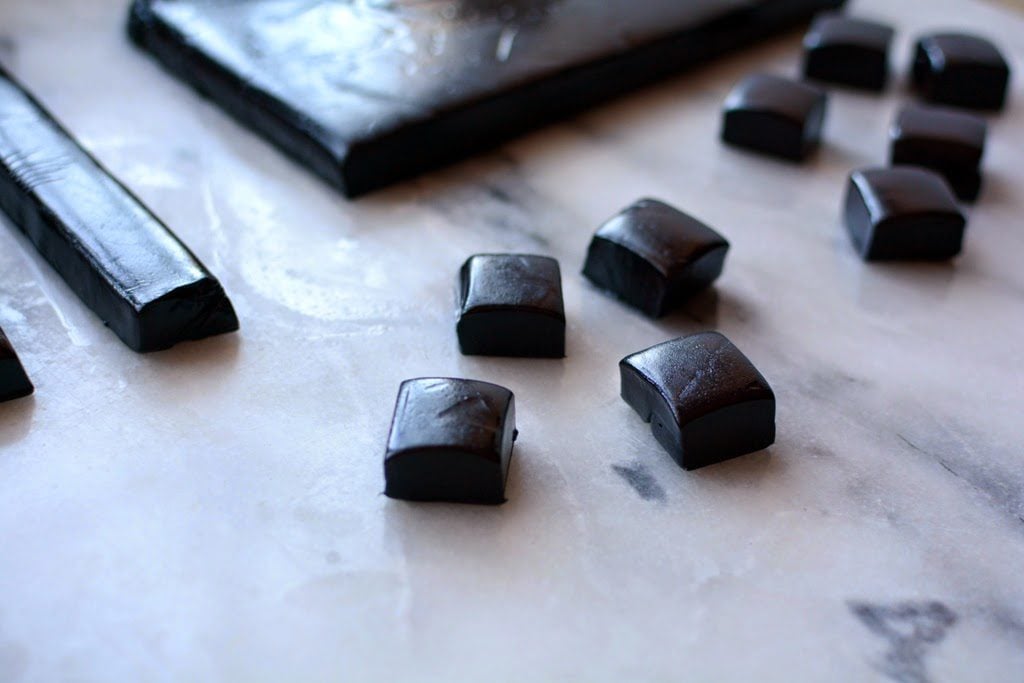 I made each square a little less than 1 x 1-inch square.
Cut rectangular shaped pieces of waxed paper to wrap each caramel in.
Fold over each side.
Give the ends a twist.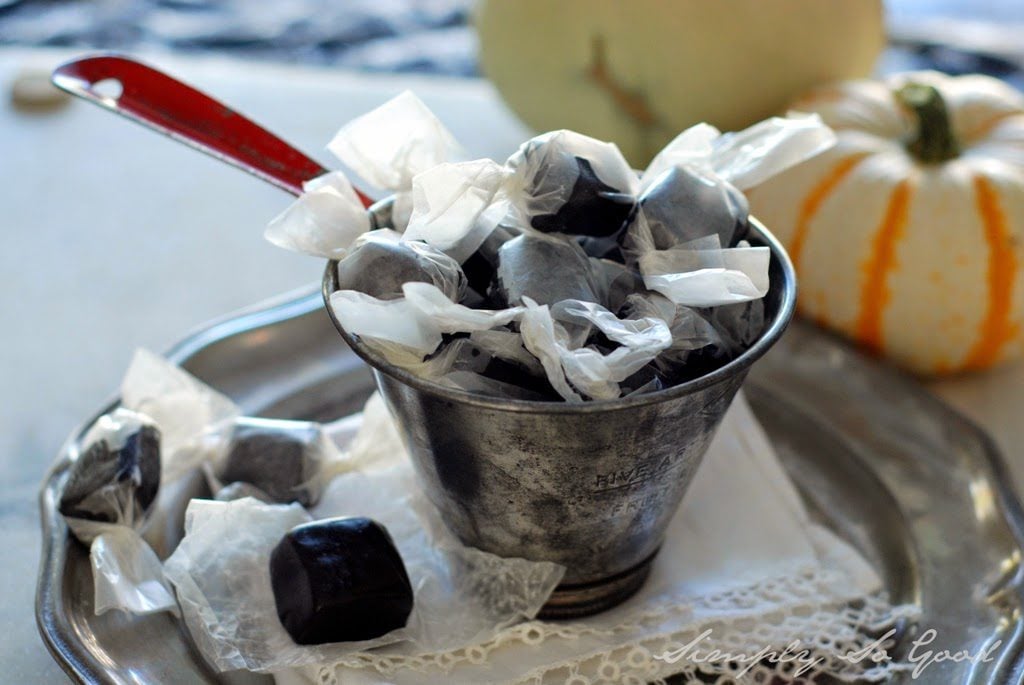 You May Also Love:
Most Popular Halloween Recipes