I am lucky enough to have my grandmothers old wooden recipe box. I was thumbing through this old box looking for her recipe for chili sauce. I carefully pulled out recipes that had been handwritten on recipe cards, torn sheets of paper, and even napkins. I can see her sitting at a ward church potluck and using her napkin to write down the recipe of a new dish she had never had before. I found a recipe written on a piece of paper from a small desktop calender dated back to 1954. Many of the recipes did not have instructions or specific amounts. I chuckled to myself when I read things like a "handful of…" or a "box of…"
I
I thought it would be fun to turn the icing into a fun cupcake for Halloween. I was lucky enough to have my grand kids visit last week and thought how fun it would be to make this recipe with them. I had forgotten how much chaos is involved with these cuties. I told my daughter that the Midwest tornadoes had nothing on her kids. We had fun times with some fun memories and I'm just getting around to making the cupcakes and the grandchildren are hundred of miles away (self pity).
You will need the following to make Grandma's boiled icing recipe:
1 1/2 cups sugar
1/2 cup hot water
1/4 teaspoon cream of tartar
3 egg whites
1 teaspoon vanilla
18 chocolate cups cakes Here are two great recipes to choose from: Grandma's Devils Food OR Mumma's Chocolate Cake
mini chocolate chips or candy eyes
In a small sauce pan add 1 1/2 cups sugar.
Carefully add the 1/2 cup hot water.
Add 1/4 teaspoon cream of tartar.
Sorry about the blurry pics on this post. I had a few camera setting issues. I'm still trying to figure out this new camera that I've had for 7 months.
This is very important. Carefully stir the water, sugar and cream of tartar. I try very hard not to let any sugar crystals stick to the sides of the pan.
Because there isn't any fat in the recipe, if sugar crystals form then the icing could turn to sugar. Gently stir while warming over medium heat until the sugar has dissolved.
When the mixture begins to boil, clip on a candy thermometer. Notice that no sugar is around the edges of the pan. If there are sugar crystals present, just wet a pastry brush with water and wash the sides.
Let the mixture gently boil over medium heat until it reaches 240 degrees Fahrenheit.
When the temperature has almost reached 240 degrees, add the 3 egg whites and 1 teaspoon vanilla into a large mixing bowl.
Mix until egg whites begin to foam.
When the temperature of the sugar mixture reaches 240 degrees, remove from heat and pour into a heat proof measuring cup.
With the mixer running slowly pour the hot mixture into the egg white mixture.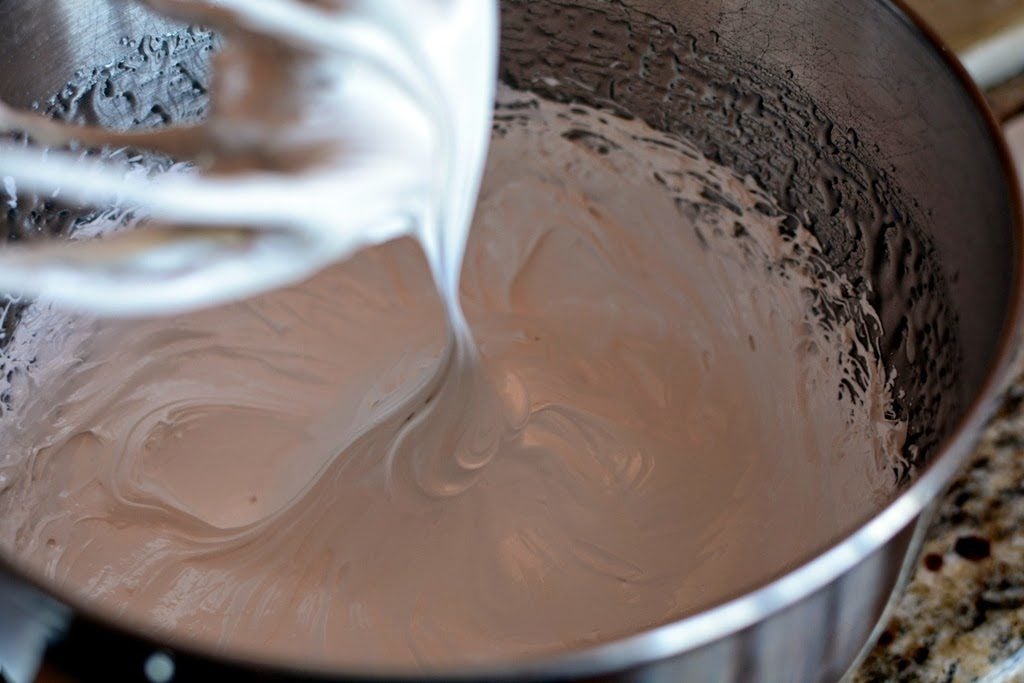 Beat for about 10 minutes until very thick and shiny and just barely warm.
Another blurry pic…
I like to use a disposable pastry bag fitted with a large round tip.
It helps to place the bag into a large cup to fill.
Pipe onto cooled chocolate cupcakes.
Add candy eyes or mini chocolate chips.
I can't believe that I was out of mini chocolate chips, but found some candy eyes.
CUTE!
Ghostly Cupcakes with Boiled Icing
1 1/2 cups sugar
1/2 cup hot water
1/4 teaspoon cream of tartar
3 egg whites
1 teaspoon vanilla
18 chocolate cups cakes Here are two great recipes to choose from: Grandma's Devils Food OR Mumma's Chocolate Cake
mini chocolate chips or candy eyes