My Grandmas recipes are tried and true recipes for over 100 years. Her chocolate cake topped with her boiled icing was always a favorite. I have taken these two great recipes to create Ghostly cupcakes for Halloween.
Piped fluffy boiled icing with two eyes make a ghostly cupcakes that my kids just love.
Because my grandkids are visiting from Denver, I have a great excuse to make some fun cupcakes. I had forgotten how much chaos is involved with these cuties. Midwest tornadoes have nothing on my wonderful grandkids. We had fun times with some fun memories
Here is the link for step-by-step instructions for a great moist chocolate cake
To Make Boiled Icing.
Gather and measure icing ingredients.
Making a sugar syrup:
In a small sauce pan add 1 1/2 cups sugar.
Carefully add the 1/2 cup hot water.
Add 1/4 teaspoon cream of tartar.
Sorry about the blurry pics on this post. I had a few camera setting issues. I'm still trying to figure out this new camera that I've had for 7 months.
This is very important. Carefully stir the water, sugar and cream of tartar. I try very hard not to let any sugar crystals stick to the sides of the pan.
Because there isn't any fat in the recipe, if sugar crystals form then the icing could turn to sugar. Gently stir while warming over medium heat until the sugar has dissolved.
When the mixture begins to boil, clip on a candy thermometer. Notice that no sugar is around the edges of the pan. If there are sugar crystals present, just wet a pastry brush with water and wash the sides.
Let the mixture gently boil over medium heat until it reaches 240 degrees Fahrenheit.
Making of the meringue:
When the temperature has almost reached 240 degrees, add the 3 egg whites and 1 teaspoon vanilla into a large mixing bowl.
Mix until egg whites begin to foam.
When the temperature of the sugar mixture reaches 240 degrees, remove from heat and pour into a heat proof measuring cup.
With the mixer running slowly pour the hot mixture into the egg white mixture.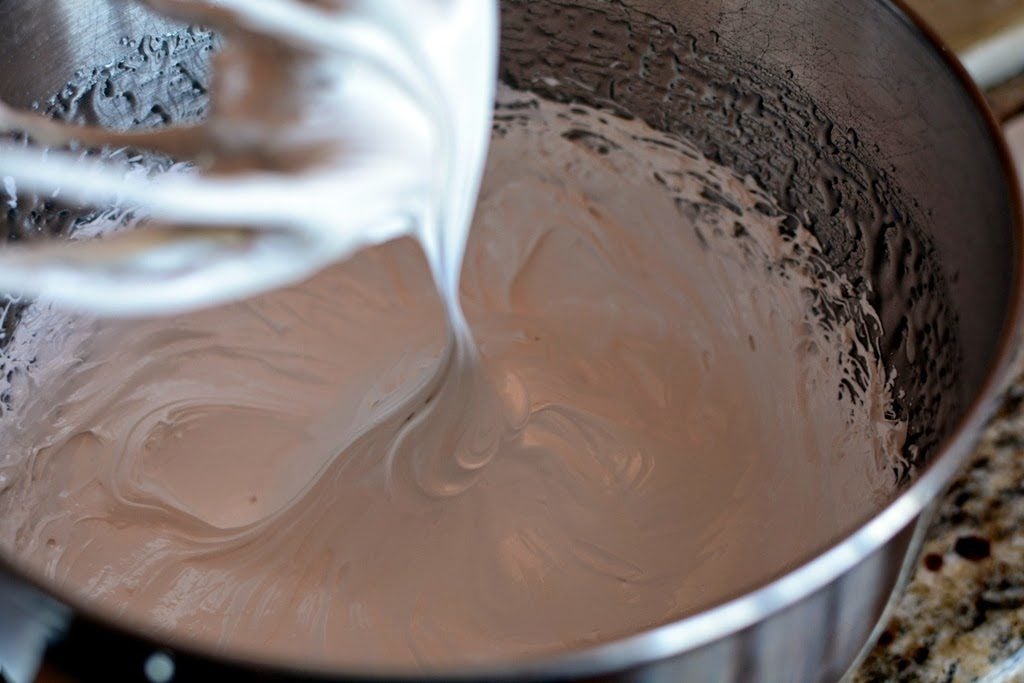 Beat for about 10 minutes until very thick and shiny and just barely warm.
Another blurry pic…
I like to use a disposable pastry bag fitted with a large round tip.
It helps to place the bag into a large cup to fill.
Pipe onto cooled chocolate cupcakes.
Add candy eyes or mini chocolate chips. I can't believe that I was out of mini chocolate chips, but found some candy eyes. CUTE!