My daughter was perusing through my countless recipes and came across this recipe for layered chocolate cream cheese brownies. She started to drool over the layer of chocolate brownie, then a layer of cream cheese and chocolate chips, followed by a cream cheese chocolate icing.
Not to mention layered chocolate cream cheese brownies are loaded with walnuts in every single layer! Let's not forget about the chocolate drizzle on top.
Don't skip over this recipe because you don't like walnuts or can't have nuts. The nuts can be completely omitted from the recipe entirely. Pecans or hazelnuts (yum hazelnuts) can be used in place of walnuts. Create your own layered chocolate cream cheese brownies.
Brace yourself, my old photo's are about to begin. If you have no desire or need for step-by-step photo's and instructions, just hit the "jump to recipe" at the top of the page. This button will shoot you directly to the printable recipe.
Gather and measure all ingredients.
I am lining a 9 x 13-inch baking pan with parchment and spray with non-stick spray. You don't have to do this but it makes removing and cutting the brownies so much easier. This way I don't end up leaving knife marks in the bottom of my new pan that I'd like to keep looking new.
In a small bowl add the unsweetened chocolate and butter. Microwave for 45-60 seconds. Alternatively, you can melt the butter and chocolate in a small saucepan on the stove top. Whisk the ingredients.
Until smooth. Set aside.
In a 2-quart mixing bowl, sift the flour, sugar, salt, and baking powder.
Mix in the chocolate mixture. Using an electric mixer, blend.
Add eggs and vanilla, mix until smooth. Stir in chopped walnuts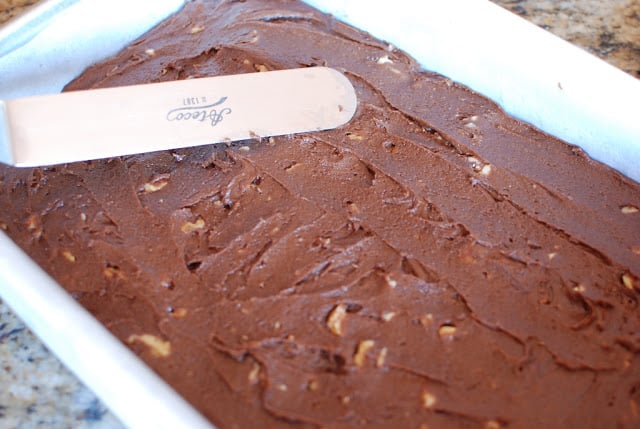 Carefully spread the mixture into the prepared pan. You will notice that it's a little tricky to spread over the parchment. Just gently spread. Spread evenly. Set aside.
Gather and measure all of the ingredients for the cream cheese layer.
In a small mixing bowl, add butter, cream cheese, and sugar. Blend until smooth.
Mix in eggs, flour, and vanilla.
Beat until creamy. Fold in chopped walnuts.
Very gently spread the cream cheese mixture over top of the brownie mixture. Sprinkle with chocolate chips and gently press into the top of the cream cheese mixture. Place in a preheated 350 degree F oven and bake for 25-30 minutes or until the cream cheese mixture is set and no longer jiggles.
After 30 minutes remove from the oven. I let the brownies cool for about 10 minutes then I place them in the freezer. Freezing them slightly makes it easier to ice them.
Gather and measure all the ingredients for the third and final layer.
n a medium size, bowl add the butter, cream cheese, and chocolate. Melt for about 40 seconds in a microwave or melt in a small saucepan over low heat. Stir the mixture until smooth.
Add confectioners sugar and vanilla.
Add the cream one tablespoon at a time until desire consistency.
Remove brownies from the freezer and spread icing evenly over the cream cheese layer.
If desired, add an additional 1/4 cup chopped walnuts. I double dare you.
Return to the freezer and freeze until the icing has set. Now is the time to add the optional chocolate drizzle…why not?
Slice into 2 x 2-inch squares. I used to cut them into 1 x 1.5-inch servings but ended up eating 2 of them. Now I just cut them larger.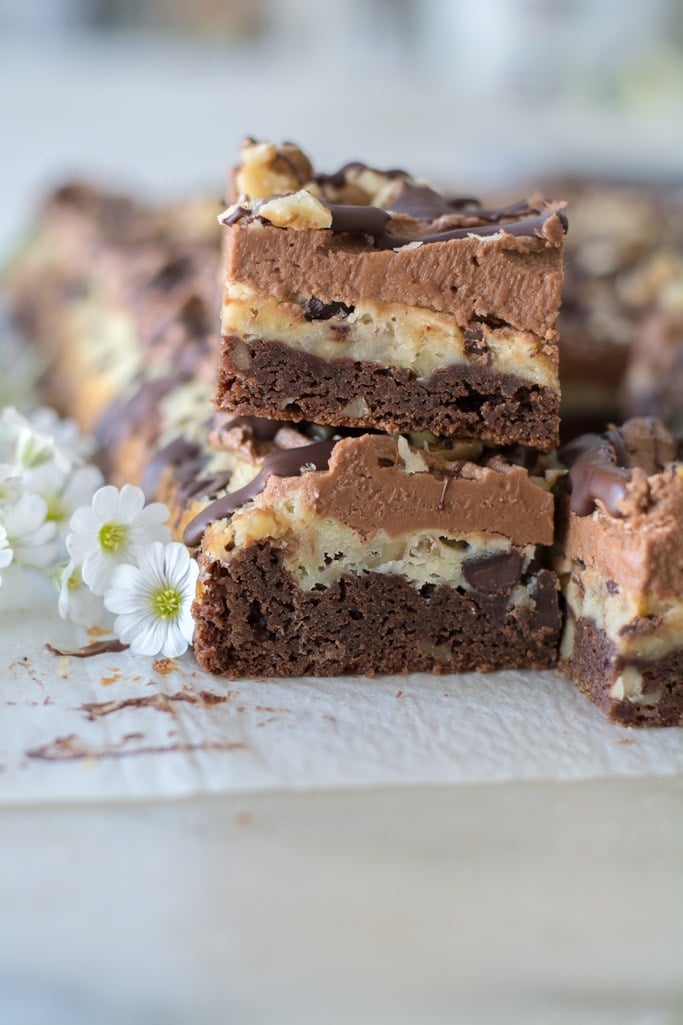 Layered Cream Cheese Brownies are great for picnics or a BBQ during these fun days of summer. Please be sure to let me know if you make them. I love receiving your comments. Don't forget to rate my recipe.
xoxo Janet