Dark chocolate covered raspberries and Valentines Day. Tradition. Salt Lake City has a famous chocolate company that makes dark chocolate covered raspberries, milk chocolate strawberries, and grapes. I generally request all of them for Valentines Day. My husband has waited in lines out the door just to make me happy. Bless his heart.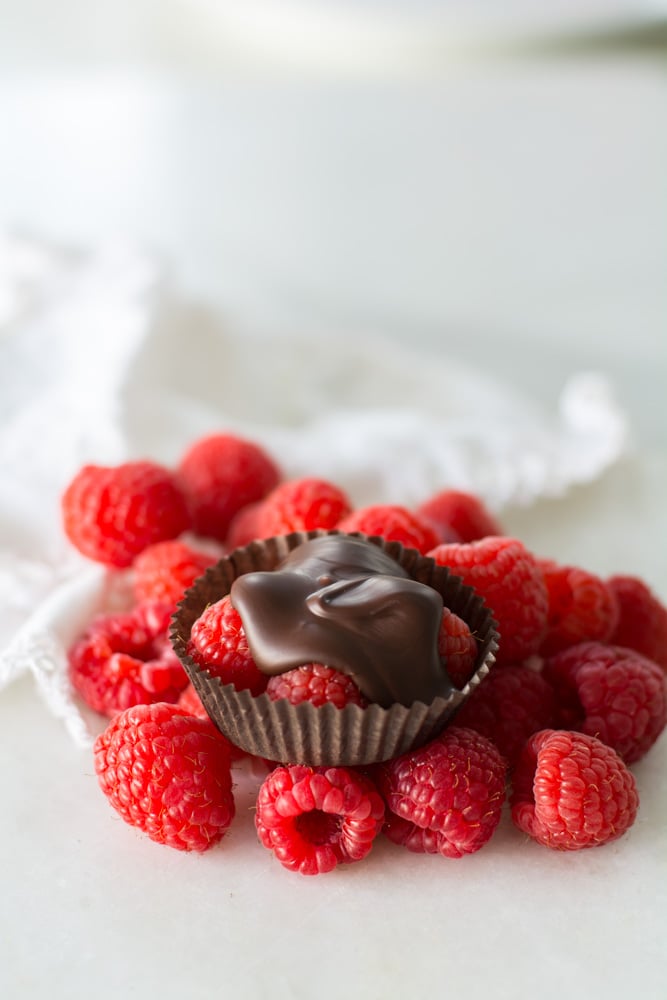 This year I decided to spare him the long lines and make his favorite. Dark chocolate covered raspberries.
I purchased organic raspberries. I prefer them on the small size, but this time of year I didn't have much of a choice. All of the organic raspberries were quite large, but red and juicy. Perfect.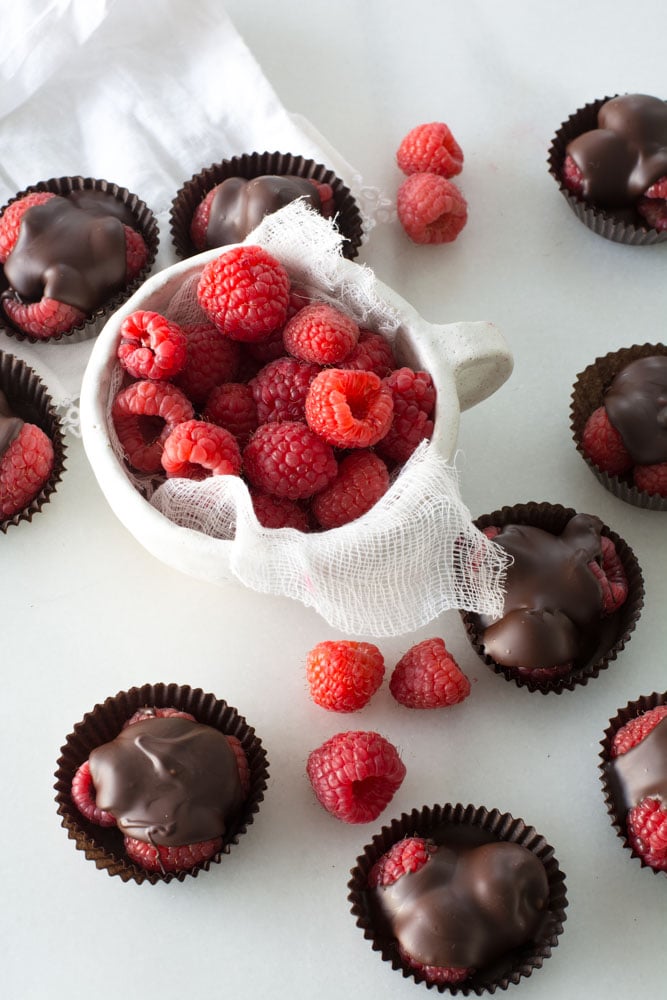 Dark chocolate covered raspberries are a great Valentines dessert because they are healthy and fresh or in my case an hourly snack.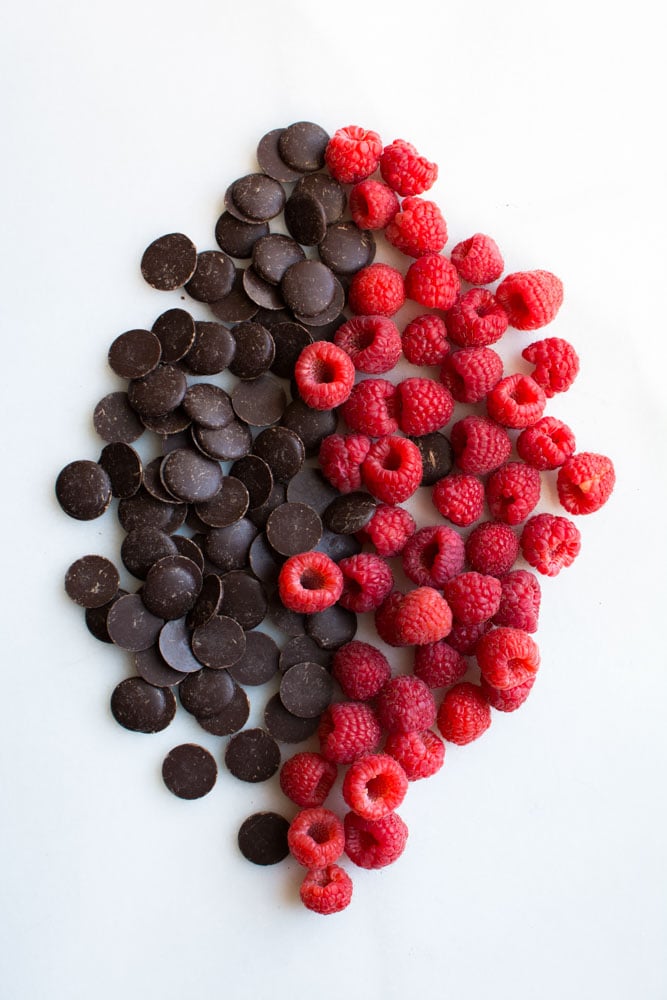 You will need:
6 oz. dark chocolate
1-2 pints fresh raspberries (I like to purchase extra, so I can pick through them and use the best)
candy cups
That's it! I am using a 72% E. Guittard chocolate. It's dark bitter flavor goes so well with tart raspberries. If milk chocolate is your chocolate of choice, then go with your favorite milk chocolate. I would suggest Callebaut. It is an amazing milk chocolate.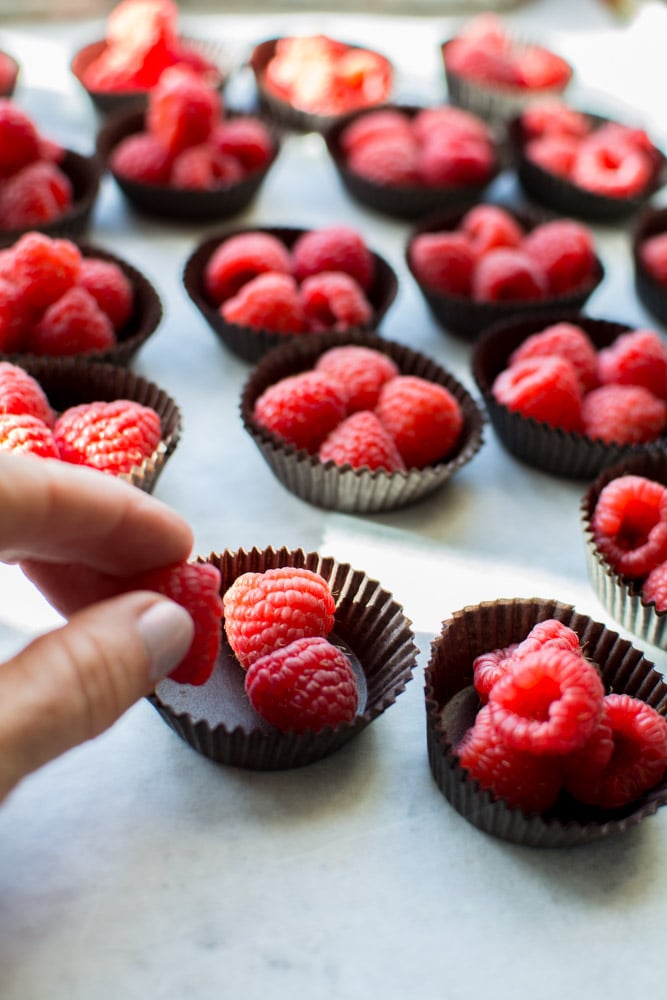 Gently place clean, dry raspberries into paper candy cups. The amount of raspberries placed in the cups depends on the size of your berries. Some of my berries are pretty dang big. It, also, depends on the raspberry to chocolate ratio that you desire. I like to make sure I have an equal amount of raspberry and chocolate in every bite.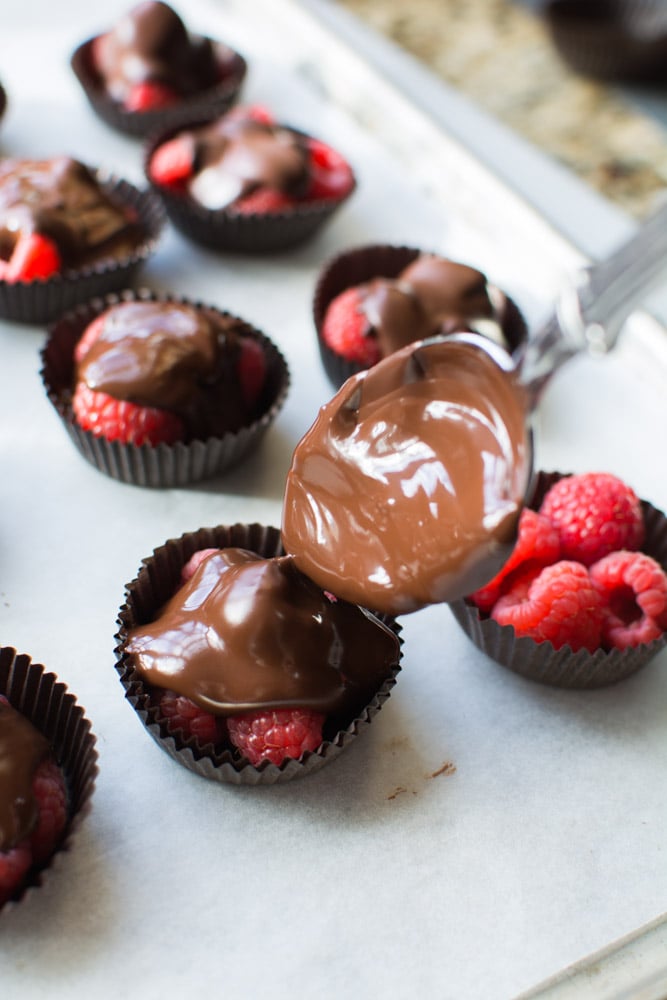 Drizzle tempered chocolate over the tops of the berries. I like to cool my chocolate a bit more than for dipping candy. The cooler chocolate will sit on top of the raspberries and drip down just enough to hold them together. A thinner chocolate will run nicely down the sides but pool at the bottom, which isn't a bad thing.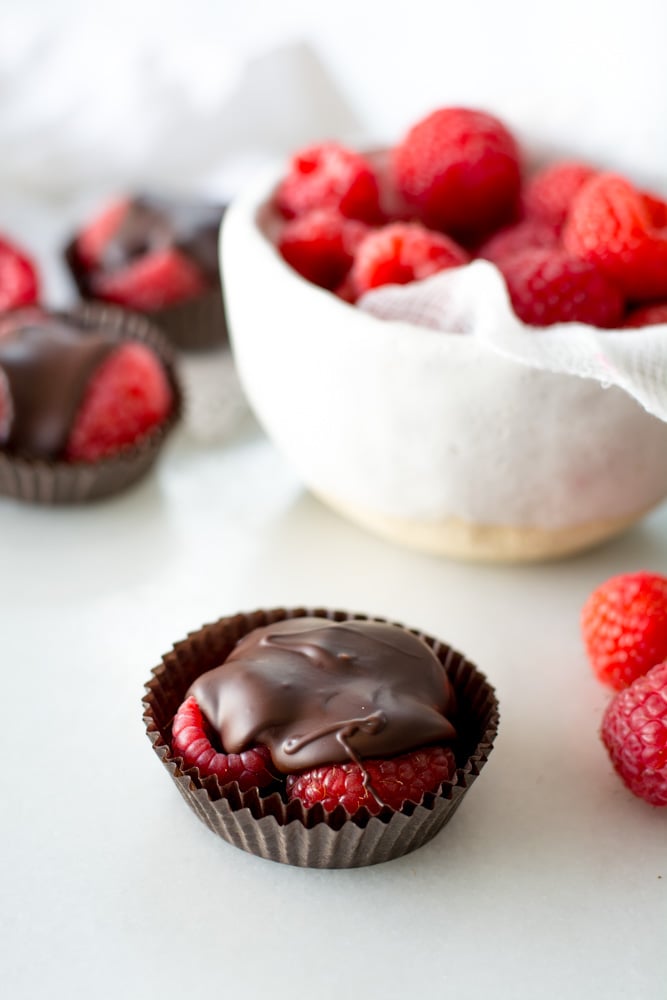 Chill until the chocolate is nice and firm.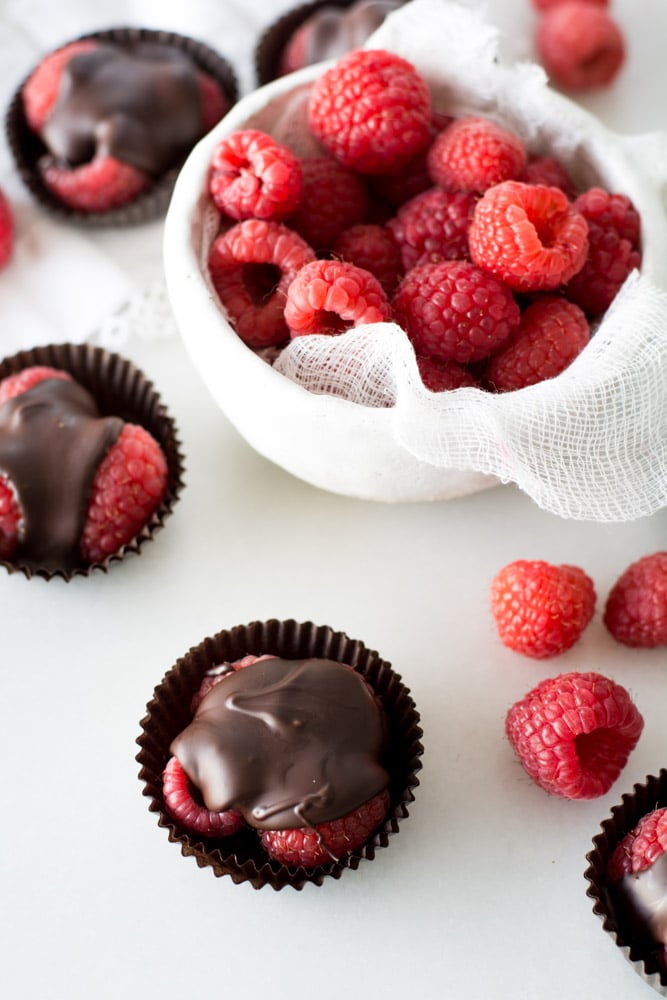 Enjoy again and again.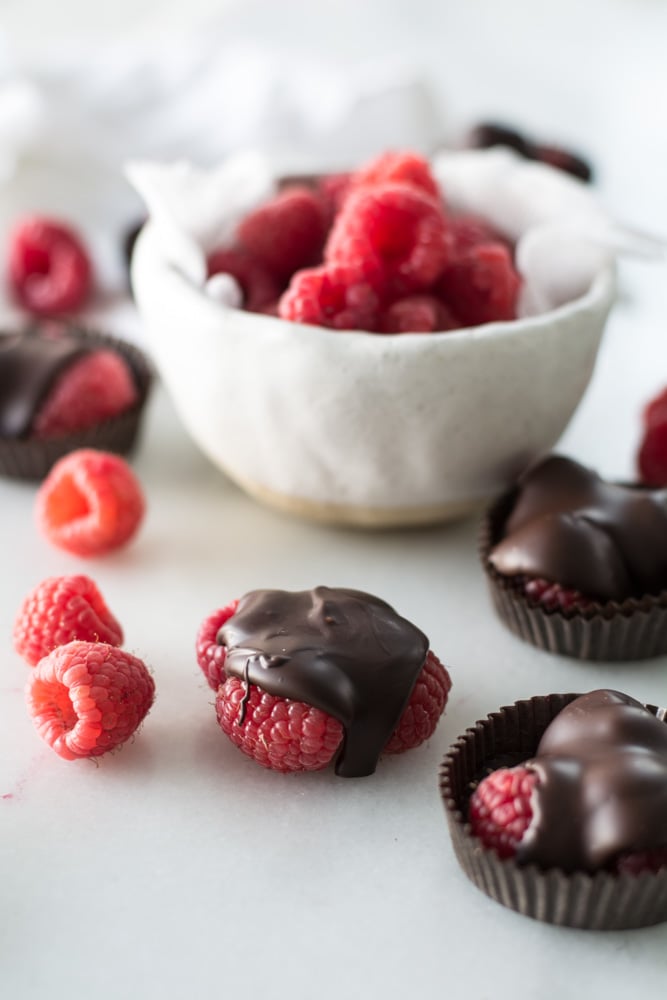 I used 1 lb of chocolate and purchased 2 (12 oz) cartons of raspberries, which made about 3 dozen. Enough to eat and enough to share with about 8 oz of raspberries left over for my yogurt…yum.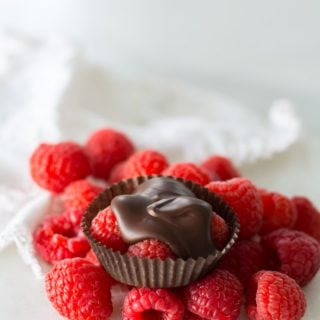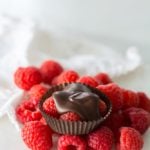 Dark Chocolate Covered Raspberries
Fresh raspberries covered with dark chocolate.
Ingredients
6

ounces

dark chocolate

1-2

pints

fresh raspberries

paper candy cups
Instructions
Place clean, dry fresh raspberries in a paper candy cups. Set aside.

Place chocolate in a glass bowl and place over a pan with hot, barely simmering, water.

Stir until melted and if using couverture chocolate heat to 113F degrees. Remove from heat and stir until the temperature drops to around 86F degrees. The chocolate should become thick at this point.

Drizzle cooled chocolate over raspberries.

Chill until chocolate is firm.
Recipe Notes
If using chocolate chips, you must add 1 tsp of coconut oil to the chocolate in order to make it smooth. Chocolate chips were made to hold their shape in a cookie while baking. They will not melt into a smooth thin chocolate. The addition of coconut oil will thin the chocolate.
Molding chocolate may be used as well. Molding chocolate can be melted in 30 second increments in a microwave or use the chocolate melting method of placing a glass bowl over hot water and stir until melted and smooth.
Nutrition Facts
Dark Chocolate Covered Raspberries
Amount Per Serving (1 g)
Calories 76
Calories from Fat 37
% Daily Value*
Fat 4.1g6%
Cholesterol 0mg0%
Sodium 0mg0%
Potassium 0mg0%
Carbohydrates 10.3g3%
Protein 0.1g0%
Vitamin A 0IU0%
Vitamin C 0mg0%
Calcium 0mg0%
Iron 0mg0%
* Percent Daily Values are based on a 2000 calorie diet.
More Valentines Day recipes:
https://www.simplysgood.com/chocolate-pot-de-creme/
https://www.simplysgood.com/valentines-acai-bow/
https://www.simplysgood.com/chocolate-cupcakes-with-strawberry/
Dinner for two:
https://www.simplysgood.com/brined-pork-chops-with-dijon-fig-glaze/